Samsung's Galaxy Note is the biggest phone we've ever held to our ear, pushed in our pockets, and held on a bus. With a 5.3 inch touchscreen, it's positively huge. Does bigger mean better?
Features
Samsung's first huge screen phone, the Galaxy Note is a hybrid device that sits somewhere between a phone and a tablet. Many in the industry are referring to this idea as a "phablet",  a name that's as silly as it sounds. We'll just stick to calling it a big phone and see how that works for us.
The first of these devices, Samsung has given the Note a truly huge 5.3 inch Super AMOLED screen supporting a HD-capable resolution of 1280×800 and covered with Corning's scratch-resistant Gorilla Glass. While the screen doesn't have quite the same quality as Apple's 330ppi Retina grade screen found on the iPhone 4 and 4S, it's not far off, reaching a highly respectable 285ppi that should prove itself to be more than pleasing for the eyes.
A big screen needs some pretty decent internals, and Samsung looks to have provided them in spades. The Galaxy Note is equipped with a dual-core 1.4GHz processor, dedicated graphics chip, 1GB RAM, and 16GB storage built in. A microSD slot is included for expanding the memory.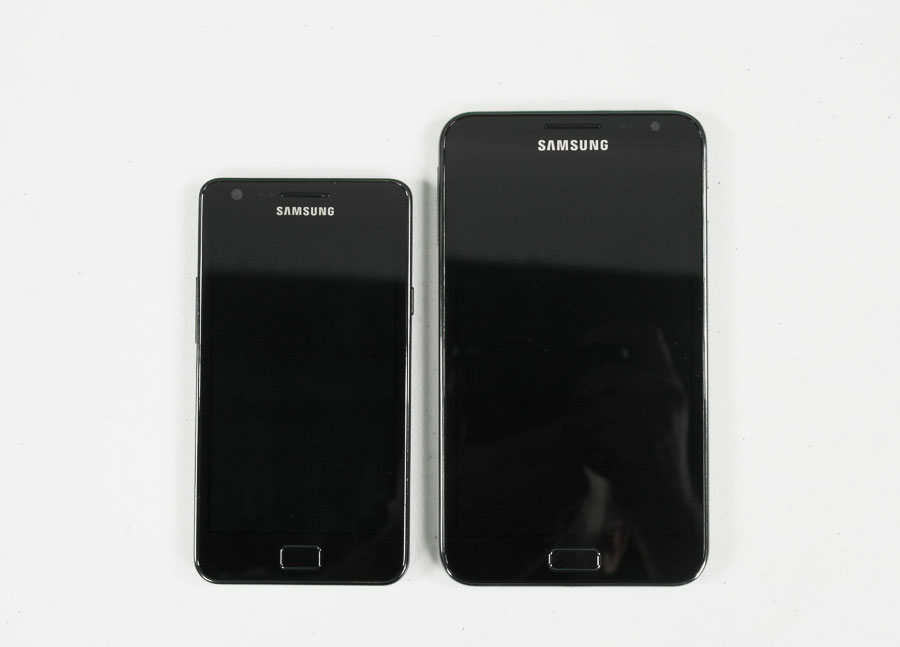 Much of this technology is similar to what Samsung has used in last year's Galaxy S2 handset, albeit with slightly updated specs.
This re-use of Galaxy S2 technology continues with the multimedia and wireless connectivity, with the inclusion of the 8 megapixel rear camera, 2 megapixel front camera, WiFi 802.11 a/b/g/n, support for DLNA, Bluetooth 3.0, GPS, and HSDPA 21Mbps maximum downlink connection.
In fact, the case is very similar, with Samsung opting to go with a similarly textured plastic back in the Galaxy Note.
The front is very much the same, with a main centre button at the bottom of the device flanked on each side menu and back buttons that light up when the phone is in use. Other buttons include the power button on the right side and the volume rocker on the left side of the handset.
Ports are fairly limited on the Galaxy Note, with a microUSB port sitting on the bottom of the handset and a 3.5mm headset jack at the top.
The back of the phone also houses an accessory, with a small black plastic stylus – the "S-Pen" – kept close to the Galaxy Note for when you need to write notes or make a scribble.
Under the back of the handset, Samsung has provided a 2500mAh battery for the Note, a number that far exceeds any other battery we've seen in a phone released locally thus far. The battery is so big that it occupies almost half the physical size of the Galaxy S2.