Performance
One of the biggest phones you're ever likely to see, the Galaxy Note is a monster of a handset, and one that's likely to surprise you.
Let's start with the size: yes, it's big. It's very big. In fact, if you line the Samsung Galaxy S2 up with the Note, you can see for yourself just how huge the handset is, a device that practically dwarves anything else that has come before it.
Despite the huge size, it's still relatively thin, coming in at 9.65mm. In fact, it's genuinely surprising how comfortable the Galaxy Note is to hold and use.
While the phone is very big, the body still manages to feel comfortable in a hand hold, especially when the large angular body of Motorola's new RAZR managed to be rather uncomfortable in comparison. It's not the lightest handset by a long shot, but it's neither heavy, providing a fairly solid heft that at 178 grams makes for a comfortable build.
Using the Note is definitely a two-handed affair, but we haven't seen many touchscreen smartphones that get away with single-handed use. Still, even with large hands, it's a two-handed phone.
If you carry a phone in the pocket of your pants, there's no doubt that the Galaxy Note will be felt as you walk. Whether you're packing loose, casual, or tight jeans, it's hard not to notice the massive shape protruding from your pants. And that's not a euphemism.
Getting the Note out and using it as a device is better than you'd otherwise expect, and is like carrying a tablet around with you. Anyone who has ever questioned why they'd need a phone and a tablet will instantly love the sort of appeal the Note offers.
The screen on offer in the Note is excellent, offering HD resolution in a 5.3 inch form factor. In a way, it's like you're carrying a small version of Samsung's recently released Galaxy Tab 7.7, albeit one that can make phone calls and runs on the phone version of Android operating system.
Images and text look very sharp on the screen, and browsing the web on the large screen is much easier with a bigger screen at your disposal.
The eight megapixel camera is just as good as it was on the Galaxy S2, though it's certainly not as sharp as the shooter found on Apple's iPhone 4/4S.
As always, Samsung has provided a few extra bits and pieces that offer more than just a handset in the package.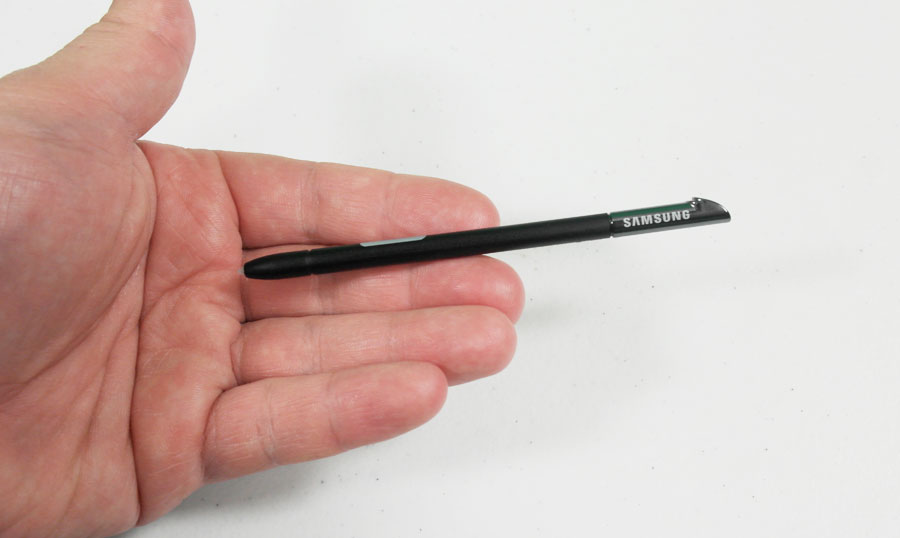 The most notable of these is the stylus, called the "S-Pen" by Samsung. This small plastic pen can be tucked away in the back of the Galaxy Note and features a small tip for a feel and response like that of a pen and less like the rubber tipped styluses normally used on tablets. Samsung has made this stylus to be pressure sensitive, applying different strengths of digital ink depending on how hard you press.
That's how it's supposed to work in theory, but when you apply a small amount of pressure, nothing happens in some of the apps. It's not like taking notes on a piece of paper, and you don't get a faint line as you write or draw. In fact, we had to push hard to get the stylus to be recognised, in comparison to writing with a capacitive rubber stylus or using our finger, which was recognised instantly.
Samsung has apps that are designed to work with the S-Pen, including S Memo and S Planner, but you can also use your finger or another stylus for these. The S-Pen may take some time before we're fully getting the best out of this feature.