You may ask why the strange LOR headline. Well, that is the way I, and many hundreds of thousands more, feel about the Samsung Galaxy Note series. No one, not wizard Gandalf, brave Frodo or even my wife can stand in the way of me getting a Galaxy Note10 or Note10+.
The Samsung Galaxy Note10 and it is bigger brother the Note10+ (and even a 5G version) are objects of envy and desire to a bald (or hirsute) journalist or Gollum. Why? It has something that no other has – an S Pen.
If you want to know more about my rational desire, read "Confessions of a wannabe Samsung Galaxy Note10 user" here.
OK if you do not read that let me sum up
39% of Note owners are evangelical about the S Pen (like me)
61% would miss it if they did not have it (even if they do not use it all the time)
That is 100% of Note owners. And the Note10 series S Pen has even more features.
Let me position the Samsung Galaxy Note10, Note10+ and 5G
6.3-inch Galaxy Note10 costs $1499 for the 8/256GB version
6.8-inch Note10+ costs $1699 for the 12/256GB/microSD to 1TB version
6.8-inch Note10+ 5G costs $1,999 for the 12/512GB/microSD to 1TB version
Now that is a significant chunk of change, especially as Telstra et al., can no longer hide the cost in a 'bundle plan'.
We judge phones against comprehensive paradigms and then slot them into price categories.
Foldable $2500+
Premium Flagship $1600-2499 (usually a flagship with more memory/storage, additional camera lens and now 5G)
Flagship $1000-1599 (account for about 10% of sales)
Premium mid-market $800-999 (10% and often last year's flagship at run-out price)
Mid-market $500-799 (about 25% of the market)
Mass-market $200-499 (about 25% of the market)
Value pre-paid <A$199 (about 30% of the market – good for pre-paid and children)
The Galaxy Note10 at $1499 represents 300 Dominos pick-up Pepperoni pizzas, a half-decent lappy (that is a Windows PC, not a dance), three excellent mid-market Samsung Galaxy A50 smartphones, three decent 50-inch smart TVs, 70+new release DVDs, ten months Netflix subscription, food on the table…
Suddenly you realise that your previously bundled smartphone costs real money.
That may be fine for businesses that can immediately write-off such devices or claim them as tax deductions, but for Joe and Jane Average it must be about need over want.
To counter this, Samsung is pushing its trade-up program, and it includes Apple iPhone 5s, Google Pixel, Samsung S5 and Oppo R17/Find X or later. For example, my Note9 512GB gets up to $410 and an iPhone XS Max 512GB gets $950 trade-up.
Alternatively, Latitude Finance offers 24-months interest-free (Latitude Card terms apply, e.g. $198 fee over two years plus 24.99% penalties for not paying it off in time).
Also, some Telco's and recyclers like Alegre offer cash-back schemes (usually at lower rates).
So, ask yourself – how much do you need the S Pen, or will you be happy with a Galaxy A50?
The answer, now, is that the 6.4-inch Galaxy A50 is a damned good handset and you would be mad to spend more. But we all aspire to more, so more is what you get.
Samsung Galaxy Note10 (includes comparisons to the untested Note10+/5G)
Website here
Manual here
Note that the Australian model is SM-N970F with a C-Tick in the regulatory information screen. It comes only in Aura Glow or Aura Black.
Do not buy any with an SHV prefix, nor the N or W suffix, nor the Qualcomm SD855 model – these are not for Australia.
In the box – Samsung Galaxy Note10
Galaxy Note10
USB fast charger Power Delivery 2.0 5V/3A, 9V/2.77 (25W) or PD 3.0 from 3.3-11V/2.55-3A (28W)
AKG premium USB-C buds/mic, braided cable, and replacement tips
USB-C to USB-C cable
USB-A to USB-C adapter
Clear plastic bumper case
S Pen and replacement tips
First impression
I am currently a 6.4-inch Note9 user, and the 6.3-inch Galaxy Note10 (remember it is the base model) looks and feels so much smaller. The Note9 is 161.9 x 76.4 x 8.8 mm x 201g and the Note10 is 151 x 71.8 x 7.9 mm x 168g – yes significantly smaller. Even the Note10+/5G is smaller and lighter than the Note9.
In part, it is due to the 19:9 versus the Note9's 18.5:9 screen. But the most significant change is the negligible top and bottom bezels enabled by the centre-top Infinity O-Hole camera and under-glass fingerprint sensor.
The power/Bixby key and volume up/down are now on the left. Initially, I found the 'side' key as Samsung calls it, a nuisance as it tended to launch Bixby if you pressed for a microsecond too long until I found where you can disable that and return it to a double press for the camera.
Now to turn it off, you must press the power and volume down keys or use the notification panel. This is a little confusing as you also use the keys for screen capture (or swipe your hand across the screen). BTW you can now screen record and overlay a video of you as well.
I suspect the Galaxy Note10 will become the Note of choice, especially for those that did not want to carry a Note9 due to size/weight.
Let's highlight the main differences – the Left to Right columns following are Note 10, Note 10+ and Note10+/5G. Our review is only for the Galaxy Note10, and we will update it later if we receive review units for the others.
We also have to apologise that the short review period and unfavourable weather did not enable the standard photography tests.
Screen (the 5G is the same as the Note10+)
Galaxy Note10
Note10+
4G or
/5G
Size: 6.3-inch, 2280 x 1080
PPI: 401ppi
Ratio: 19:9
STBR: 91%
Dynamic AMOLED
6.8-inch, 3040 x 1440
498ppi
Same
91%
Same
Colour depth: 16M
Brightness: Claimed 1200 nits on Auto
Average/peak 750/790 nits
Contrast: Infinity
Grey-to-grey: 8ms – suitable for games
HDR: HDR10+ (like Dolby Vision san royalty fees and also scales HDR/HDR10/Dolby Vision)
Colour gamut: 100% DCI-P3
Delta E: 2.5 (excellent and customisable)
Settings: Natural (sRGB) and Vivid (DCI-P3) and Vivid White balance (cool to warm) as well as RGB.
Not tested yet but will be similar
AOD: Clock: digital clock, analogue clock, world clock, and edge clock (option to choose the colour.) Calendar: Month view calendar, Today's eventsImage: select an image from Gallery and set it as an image for the AOD screen.Animated GIFSong information Edge Panel display on right side
Same
Glass: Gorilla Glass 6
Screen protection: Factory fitted
Same
Notch: Infinity O-display
Same
Daylight readability: As good as it gets
Same
PWM: At 236Hz. Because this screen is so bright, highly sensitive users may notice with brightness ramped down.
Low Blue Light TUV Rheinland certification
Same
How can you fall in love with a screen?
When its Samsung's Dynamic OLED albeit the Galaxy Note10 has a 1080p display, and the others have 1440p. In reality, 99.999% of Note owners will default to the battery saving 1080p anyway. And it is one way that Samsung has kept the Galaxy Note10 cost in check.
Screen summary: We have yet to test the Note10+, but this is a screen worthy of a Note flagship.
Power
Processor
Exynos 9825 7nm
2×2.73GHz Mongoose M4
2×2.4GHz Cortex-A75
4×1.9GHz Cortex-A55
Same
Same
GPU
Mali-G76 MP12
Game Boost mode
Adobe Rush video edit
H263/4
Same
Same
RAM/Storage
8GB LPDDR4X
256GB UFS 3.0
No microSD
12GB
256 or 512GB
microSD to 1TB
Hybrid dual SIM
Same as
Note10+
Dedicated micro SD slot
The Galaxy Note10 and its brothers share the same processor. It has a healthy 8GB of RAM and 256GB of fast UFS 3.0 storage.
The Exynos has two 'heavy lifting' Mongoose cores, two A75 cores (also heavy hitters) and four A-55 for most work. This is an advance on typical 4+4 Big/Little architecture – it is now Thumping Big/Big/Little and helps battery life and temperature management.
We threw every heavy load test we could at it passed all with ease.
GeekBench5 is 832/2262 which is faster than the S10 at 789/2096 and Note9 at 501/2187 (multiply by five to get equivalent GeekBench4 ratings).
The 15-minute CPU Throttling test shows 153,312GIPS to 127,555GIPS (average 141,660GIPS or 88%). That is excellent and shows that Samsung has perfected the vapour chamber cooling for this super chip. Interestingly the four smaller cores are the ones that throttled – the two Mongoose and two A-75 are rock solid.
The unit got a little warm at around 40° on the back and front. Don't put it in your pocket at 100% prolonged load.
GPU: The Mail-G76 MP12 is a powerhouse GPU and can handle all modern mobile games at maximum fps. There is a Game Booster and Game Launcher to allocate resources to the gameplay.
RAM/Storage: Critics will point to no microSD slot expansion in the Note10 (not its bigger brothers) but conveniently forget the massive 256GB of fast UFS 3.0 storage. BTW UFS 3.0 is high-speed – sequential read and write are 1500/600Mbps compared to the Note9 at 800/200. It is also a good 35% faster than the Huawei Mate 30 Pro.
With ultra-fast Wi-Fi and OTG support for 2TB external disks, no microSD is something we can live with.
And something completely different is the close integration with Windows 10 devices that allows seamless transfer of files and storage – more on that later.
SoC summary: It and its Qualcomm SD855 version (sold in the US and China) are among the fastest smartphones for 2019.
Comms (Same for Note 10+ /5G)
Wi-Fi
Wi-Fi AX VHT80 MU-MIMO, 1024QAM
1.2Gbps DL/UL
BT
BT 5.0 aptX
Dual Audio: connect two Bluetooth devices
NFC
NFC (Samsung and Google Pay)
USB
USB-C 3.1 gen 1
Supports Alt DP HDMI over USB-C
GPS
GPS, Galileo, Glonass, BeiDou
It is one of the few smartphones to support Wi-Fi 6 (AX), but you need a suitable router. In that case, it should support over 2Gbps. At 1m from our reference, D-Link AC 5300 router it was 1.2Mbps (exceeds the 866Mbps limit by using VHT80 aggregation).
At 5 metres from the router (standard test) Network Cell Info shows -52dBm compared to the Note9 at -48dBm (lower is better) but both achieve 243Mbps. The Note10 held the 5Ghz signal to 10 metres – a record.
GPS was fast to find a signal, recalculate routes, and to report on traffic conditions. It appears to have a 4-6 metre accuracy (most phones are 10 metres), so we expect it is dual-band GPS. You can safely use it as a turn-by-turn navigation device.
Comms Summary: The Note10 has later Wi-Fi aerial technology and Wi-Fi AX support that we cannot yet test.
4G/5G
Sim
Single
*Dual – both active
Single SIM
LTE
Enhanced 4×4 MIMO, Up to 7CA, LAA Cat.20 Up to 2.0Gbps Download / Up to 150Mbps Upload
Same
Same plus Samsung 5G modem
Bands (20)
1, 2, 3, 4, 5, 7, 8,12, 13, 18,19, 20, 25, 26, 28, 34, 39, 40, 41
Same
Same plus Telstra 5G
VoLTE
VoWi-Fi Wi-Fi calling
HD Voice
Yes on both sims
Yes
Yes
Yes
Same
Same
SAR (Exynos SoC)
Head: .209W/kg
Body: 1.523 W/kg
Same
We expect 5G to be a little higher
*Dual sim may depend on the sales outlet.
The Note10 LTE signal strength shines at -86dBM compared to the Note9 at -101dBm.
But the most significant differences are a very good signal stability and finding the next nearest tower/s.
The Note10 varies little between -86 and -90 whereas the Note9 varies between -101 and -141. The Note10 finds the next tower at -101 and several further towers as well. The Note9 does not.
LTE Summary: The Note10/+/5G has Telstra's coveted Bluetick for remote area reception and has almost all bands for international travellers.
Sound (should be the same for Note 10+ /5G)
Sound
Stereo (earpiece/bottom-firing)
3.5mm – no
USB-C premium AKG earphones provided
2 x ANC mics
32-bit/384kHz
UHQ 32-bit and DSD64/128 support
PCM: Up to 32-bit, and DSD64/128 support
Volume
85dB ring, 73dB voice and music
Dolby Atmos
AKG tuning
AAC/+, eAAC
aptX/HD/LL
SBC
LDAC (Sony)
Radio
No
It has a very loud 85dB ring – perfect for me as I have grown to rely on my vibrating Samsung Galaxy Watch to draw my attention. Maximum voice and music are 73dB which is better than almost all we have tested.
Now, we are sceptical about different (earpiece and down-firing) speakers being capable of stereo, let alone Dolby Atmos. Yes, they are different, but AKG tuning takes care of that. And they swap L/R as you rotate the device.
Subjectively it is a pleasure to listen to music with good bass from 70Hz and a flat response up to 18kHz.
The AKG tuned, USB-C buds have offset ear tips for better canal fit and a braided cable for tangle-free use. They sound superb, if a little treble heavy, accentuating the Dolby Atmos effect.
Our reference Sony WH-1000XM3 headphone was in its element with aptX, AAC, and LDAC (Sony Hi-res support). I could have listened all day to this.
Sound signature
We tested in the default flat mode, and that is what we got – excellent. It has pre-set for Normal, Pop, Classical, Jazz, Rock, and Custom. These allow +-10dB from 53Hz to 17kHz – very good. It also has Dolby Atmos pre-sets for Auto, Movie, Music or Voice.
And one that should appeal to the baby boomers – Adaptive sound for the AKG buds/headphones based on age – it can also create a personal profile.
Deep Bass: 20-40Hz – none
Middle Bass: 40-100Hz – building
High Bass: 100 to 200Hz – flat
Low-mids: 200-400Hz – flat
Mids: 400-1000Hz – flat
High-mids: 1-2kHz – flat
Low-treble: 2-4kHz – flat
Treble:4-6kHz – flat
High Treble: 6-10kHz – decline*
Dog whistle: 10-20 – flat to 18kHz
(*This is intentional to remove the harshness of this band)
Sound Summary: Hi-res sound, high res codecs and effective implementation of Dolby Atmos 3D sound. One of the best, if not the best smartphone sounds, I have heard.
Security (should be the same for Note 10+ /5G)
| | |
| --- | --- |
| Security | Fingerprint sensor under the glass |
| Face ID | Yes |
| Knox | On-device encryption of Pin, Pattern, Password and files |
I started using the Face ID in the Note9, and it is excellent in reasonable light conditions. But the new  Face ID is faster and works in lower light. Face ID is 2D, not the more secure 3D or iris scanning.
The ultrasonic fingerprint sensor takes a little practice, but once you find and memorise the sweet spot it is 99.999% accurate and fast.
What I was not aware of is the two settings – quick check (less secure default) and full check (more secure but slower and failed about 10% of the time).
You can also unlock it via the S Pen (not tested).
S Pen
105.8 x 4.35 x 5.8mm x 3.04g
IP68
.07mm tip 4096 pressure levels
BT LE, Active 10m maximum distance
Lithium titanate battery ten hours standby
6-axis sensor, including Gyro and acceleration sensor.
S Pen is the main reason you buy a Note. It is now a BT device so it can act as a gesture initiated remote control, navigate a presentation, play and pause videos, or snap a photo – oh, and write and draw.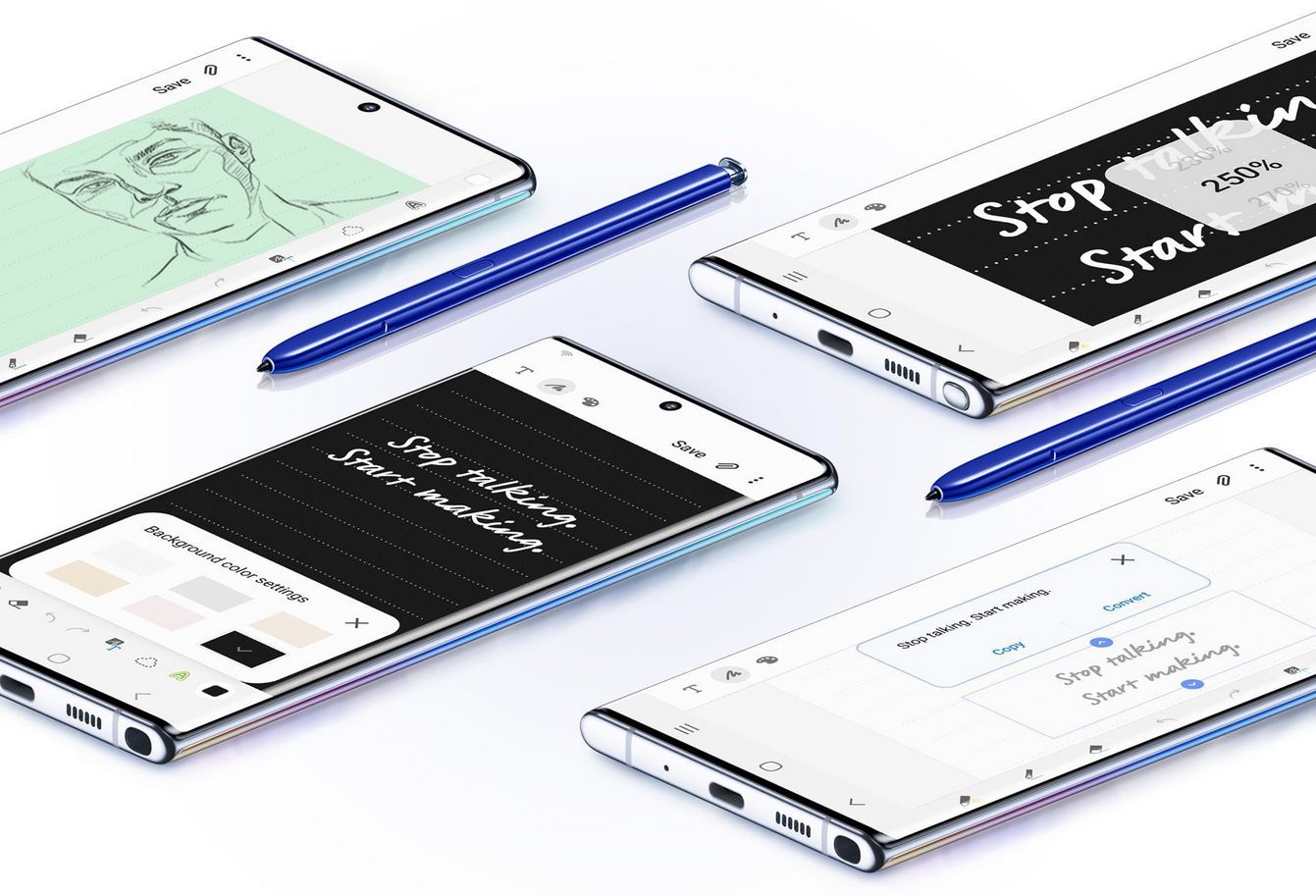 S Pen also works when the Note10 is asleep.
I particularly like the new ability to turn handwritten notes into readable text although it only does a viewable page instead of a long multipage note.
The S Pen is as natural as writing on paper, and you can select different pens, pencils and colours. It features
You can read more about the S Pen here.
S Pen summary: More functional than ever – the reason to buy a Note is to take notes!
Battery (5G is same as Note10+)
Battery
3500mAh
4300mAh
Charger
25W USB-C, PD 2.0
Charge time 0-100%: 1.5 hours
Quick charge: 57% at 30 minutes
Optional 45W
PD 3.0
and 5W USB cable.
Wireless
Accepts up to 20W Qi charge
Same
Reverse Charge
9W
12W
We expect the Note10 and +/5G to have similar battery life as the latter have a larger battery but need to drive a higher resolution screen and the 5G modem.
Using GFX T-Rex test at 100% load, it lasts nearly 7 hours and apart from minor throttling delivers close to 100% horsepower from start to finish.
A 1080p video loop at 50% at screen brightness in aeroplane mode is 18 hours
Heavy use of GPS, web surfing (Wi-F) and music streaming (BT) is nearly 12 hours
Battery temperature started at 27° and slowly rose to 32° – again testament to the vapour chamber cooling.
We had heard about the 45W charging option, and alas, it does not apply to the Note10 – only its bigger brothers. Why?
In theory any 45W USB-C PD 3.0 charger works. These generally provide 5V, 9V and 15V to 3A (45W). It starts at 15V/3A for about 60% top-up, then drops to 9V/3A for about 20%, and the remaining charge is 5V/3A. That is why you can get 57% charge in 30 minutes, but it takes 1.5 hours to get to 100%.
Samsung's 45W goes from 3.6V-20V has added some smarts that allow it to charge at 10V/4.5A (45W) instead of 9V/3A (27W) as PD 3.0 does. The Samsung adapter will not damage other USB-C PD 3.0 devices as its smarts only deliver 9V/3A (27W) to these.
Wireless Charging
At present most Qi chargers are 5 or 10W (and the Note9 uses a 15W version), so you are going to need a new 20W charging pad to reap the ultra-speedy charge benefits. We understand that it will charge the Note10 in about 3 hours.
The Catch 22 is that Samsung currently only sells its 15W fast wireless charger 2.0 stand at $129 until it, Belkin et al., come out with approved 20W versions. Below is a render of the new dual charger but we cannot find it for sale anywhere.
Because Qi is a standard, it is backwards compatible with lower wattage devices.
Reverse charging (Power Share)
When Huawei bought this out on the P30/Pro, it neglected to mention it has a paltry 2W and apart from charging wearables it is useless as…
Samsung's Power Share is a respectable 9W and supports Qi and WPC standards (needed for its Galaxy watches). It will charge iPhones (5W) and other devices quickly.
Battery Summary: I have not used the Note10 long enough to be definitive, but it will give you at least 24 hours in normal use. The 27W charger is fast enough, and it charges overnight on a 5W Qi charge pad.
Operating System (same for Note 10+ and 5G)
Android
Google Android 9
Android 10 coming
1 August Security Patch
UI
One UI 1.1
Bixby
Bixby Vision
Google Apps
All apps
Google Assistant
Google Lens
Google Pay


Microsoft Apps
Office
Outlook
OneDrive
LinkedIn
Samsung
Samsung Galaxy Apps
DeX
Samsung Pay
Smart Switch
Samsung Health
Kids Home
Parental control
Game Launcher
Game Booster
SmartThings and IoT
You may have read recently about the kerfuffle with Huawei not able to use Google Android or its apps, security patches or future versions etc. Huawei now uses an open-source Android fork for its new Mate 30 series, and that is going to kill sales in the western world.
But it has highlighted the power of standardisation. Google Android or iOS is your choice. These offer the selection of millions of Google Play or Apple apps as well as the ecosystem continually feeding back information to make these OS more secure.
You get a stable, reliable, secure OS with regular security updates (at least every two months) and in Samsung's case Android 10 is coming – expect it by late 2019.
I like its One UI to the extent that I miss the 'grease on the wheels' it provides over pure Android. Everything works flawlessly, and I prefer Samsung's apps (phone, mail, calendar, camera, etc) over Google's.
Samsung and Microsoft are collaborating on a close link between Galaxy smartphones and Windows, and this means you can/will be able to unlock your Windows PC with a Samsung phone, seamlessly drag and drop files, share OneDrive and use the Link to Windows features.
DeX is Android on Windows, Mac or a monitor or TV. Drag and drop files from device to device or make quick edits on the big screen with no interruptions. You can even work on your phone while it is connected to the computer via USB to HDMI cable.
Samsung Switch will export from an older Samsung device, Android, iOS or Blackberry device via USB, Wi-Fi, Samsung Cloud, via PC or Mac, or microSD (if applicable). It is fast and foolproof only requiring you to enter logins and passwords again. You can eliminate that step by using the free Last Pass password manager.
Bixby is not a substitute for Google Assistant, instead a phone level assistant that knows what your phone can do.
Samsung Pay also works with Samsung Watches and is fast and convenient to make micro and large payments. I prefer it to Google Pay.
OS Summary: The best that Google Android can offer as well as the beginnings of seamless Windows integration. Who could ask for more?
BUILD
Colours
Aura Glow
Aura Black
Same
Same
Build
Metal frame and Gorilla Glass 6.0 front and back
Same
Same
IP
IP68 – 1.5m for 30 mins
Same
Same
Size
151 x 71.8 x 7.9 mm
168g
162.3 x 77.2 x 7.9 mm
196g
Same as
Note10+
Price
$1499
(8/256)
$1699
(12/256)
$1999
(12/512)
Website
Here
.
.

As you may expect, this is a flagship device with premium look and feel and materials throughout.
Camera (5G is same as Note10+)
The camera is the same as the Note10+ and 5G except for the 3D TOF sensor. The latter score DxOMark 116/117 and 99 for the selfie (the Huawei P30 Pro has 116/89).
Rear camera 1
Main and wide
12MP
Sensor: Samsung SAK2L4, 1/2.55″ GRBG
1.4µm
f/1.5-2.4
27mm 77° FOV
Dual Pixel PDAF, Object tracking AF
OIS/EIS
Digital zoom 10x
Advanced AI
Flash: CRI LED
Raw or JPEG
4K@60fps and HDR10+ record (still in beta test) and only replays on Note10/+
Zoom in mic
Super slow-mo: 0.4 seconds 720p@960 fps – approximately 12 seconds of playback)
Hyperlapse 1080p
Press power key twice to quick launch
Select lens: via icons
Rear Camera 2
Telephoto
12 MP,
Samsung 25K3M3, 1/3.6″
1.0µm
f/2.1
52mm 45° FOV
PDAF
OIS
2x optical zoom
Rear Camera 3
Ultrawide
16 MP
S5K3P9SP, 1/3.1"
1.0µm
f/2.2
13mm 123° FOV
Rear Camera 4
N/A (3D TOF on Note10+ and 5G)
Selfie
Wide
10 MP
S53J1
1.22µm
f/2.2
26mm
25mm 80° FOV
Dual Pixel PDAF – Live focus
Auto HDR
1440@30fps
The Note10 or +/5G are class-leading cameras. Bad weather has stopped our tests so read the DxOMark review here. It has a few comparison shots with the Huawei P30 Pro.
Let me paraphrase:
It achieves the highest scores among devices tested so far pushing its DXOMARK Camera overall score to a record high 117 points. Samsung's wide-angle camera delivers the best performance we have seen in outdoor conditions and is among the best for indoor lighting. Exposure, colour, and detail are good in most conditions.
AI
Scene optimiser (can be turned off): Face, Baby, Person, Dog, Cat, Food, People, Beaches, Sky, Mountain, Sunset, Sunrise, City, Snow, Waterfall, Watersides, Scenery, Stage, Vehicles, Drinks, Flowers, Trees, Greenery, Animal, Shoes, Backlit, Indoor, Text, Clothes, Night view
Shot suggestions
Flaw detection: Blink and blur detection
Night Mode
Pro mode
Test shots
Due to weather conditions and the short review period we were unable to take the shots and will update this if possible, at a later stage.
AI Emoji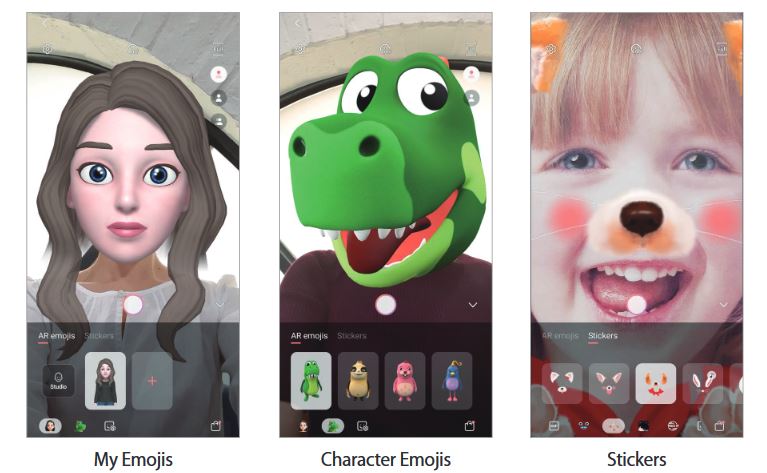 Selfie
Zoom
What shots we did take were among the best I have seen.
GadgetGuy's take – Buy the Galazy Note10, Note10+ or Note10+/5G?
All three are the best Google Android devices on the planet (Huawei may argue about its new Mate 30/Pro, but it does not have Google Android) so if you drive a luxury car and can afford the best – and can use the S Pen – then go for it.
The new Note10 is a slightly scaled-back version of the Note10+, and frankly I think people will overlook any slight differences and go for it as it is lighter, smaller, lower-cost and all around, just as functional.
Please note that due to a tight review period I have not really been able to test all its functionality. We hope to get a Note10 'something' for extended use soon when I can update the review with personal observations about the Microsoft integration etc.
As we were a little later to finish this review, I checked a few respected international review sites to see if we have missed anything.
The uber-critics point to 8GB RAM, no microSD, or 3.5mm jack and 1080p screen. Well, the new Apple iPhone 11 has 4GB RAM, no microSD, or 3.5mm jack and an 828p display.
Me, I like the battery life, love the screen, prefer to hear music over USB-C and Samsung's One UI is what Google Android needs to knock off its rough edges.
Which would I buy?
I would need to see the Galaxy Note 10 and Note10+ side by side and see how much of a difference the 6.8-inch screen makes. And I am curious about how much benefit the 3D TOF rear camera makes.
I guess for these, the 12GB RAM and micro-SD for $200 more may just tip me that way.
I am going to rate it at 4.9 – the Note10+ is a five!
Terrific build and quality you can see and feel
Great display – it and the Note10+ have the best Android display
Great sound, Dolby Atmos 3D and hi-res codecs
More antenna gain (better reception) than any other device ever tested
Superb camera and AI processing
The smaller Note10 is easier to handle
Only that the review time was too short to test everything