The Samsung Galaxy S10 and S10+ are the world's largest selling flagship-class Android smartphones (by volume). This year marks the 10th year of Galaxy S devices. The 10-series improves on the 9-series in every way. Most improvements are subtle – on the inside.
The Samsung Galaxy S10 and S10+ (referred to now as GS10/+) are truly aspirational flagship phones that offer a fully-featured Android choice to Apple's iOS iPhone. Although Huawei has recently knocked Apple of its number two spot (by volume – not profitability).
Before we review the phone – who buys flagship and why?
It would be easy to say those who have the cash to flash. In Australia most phones sell on 12-18-24-36-month Telco lease plans where you return the phone at the end – you never own it. If the phone has any damage, save fair wear and tear, you are up for repair or damage fees. Some Telcos offer upgrade options (Telstra New Phone Feeling) at extra cost to go to a later model during the lease.
Some also have interest-free buy options with a voice/data plan over 24-months, and some offer outright purchase with no carrier lock-in so you can use whichever plan suits.
The catch 22 is that must pay for the cost of the phone either up-front or over time – from $1199-2399 plus voice/data plans. Unless it is a legitimate business expense, it is horribly expensive. Telco's love it as it tends to make it hard to leave them.
OR
Globally flagships account for around 10% of the market share. In Australia, the figure is more like 40% (roughly 52/48% Apple/Android) and in the US that has dropped to around 3%. To quote a movie, it is the "Crazy Rich Asians' that play the greatest part in buying prestige flagships. Then brand snobbery comes into play. What was once Apple is now Samsung or Huawei!
OR
Any flagship device represents the best a maker can do at that time with the available technology.
It will have a camera that rates above the magic 100 on the DxOMark, the most powerful processor and things like IP68 and Qi charging. It is an aspirational purchase for those who can afford fine cars, food and luxuries. Yes, in part it is snob/prestige value (a game that Apple plays so well), or it may be that you simply want the best and can pay for it or need the extra features it offers.
Whatever way – flagships portend the future as their features flow down to lower models – today's newspaper is tomorrow's fish and chip wrapper.
It is time to remind you that any Android smartphone performs basic duties like making phone calls, mail, calendar, contacts, web surfing and playing audio/video content pretty well. There are some amazing smartphones under $500.
How we rate smartphones
Apart from specifications, we need to slot them into a market segment. Over the past few months, those segments have seen Apple's XS/Max (and now G10+) set new sky-high price ceilings, foldables, and 5G. By the time you read this Huawei will have its 2019 P30 series.
Our original four categories have grown to seven, and we review against different paradigms for each category.
Foldable $2500+
Premium Flagship $1500-2499 (usually a flagship with more memory/storage, additional camera lens and now 5G)
Flagship $1000-1499 (globally $1000+ account for about 10% of sales)
Premium mid-market $800-999 (a new category not seeing much action – 10% at best, offering flagship specifications often for a run-out price)
Mid-market $500-799 (about 25% of the market)
Mass-market $200-499 (about 25% of the market)
Value <$199 (about 30% of the market – good for pre-paid and children)
We develop feature/performance paradigms for each level to compare Apples with Apples (because that iOS all we can do?) and Android phones within various price bands.
Buy here – or you will regret it
We issue the standard warning that you must buy the genuine model with Australian firmware as it works on all Australian Carrier LTE bands and can make a 000-emergency call without a sim. These also work with Samsung and Google Pay here.
The Model number is SM-970F (S10e 8/128GB), SM-G973F (S10 8/128GB) and the SM-G975F (S10+ 8/128GB) plus colour and memory variations. The F is Australia, and /DS is dual sim unlocked.
Do not buy the Qualcomm SD855 variants (SM-G970/973/975) with 0, 8, N, U, W, FC, FZ after the base number. These are for different countries, LTE/GSM/CDMA bands and Telcos. A list of GS10e models is here, GS10 is here, and GS10+ is here.
A dead giveaway is the need for an Australian power plug adapter and a dual pin charger.
And don't fall for the term Australian warranty. Samsung Australia only warrants Australian model phones sold by official retailers. All other warranties rely on the merchant to honour them – suspect at best as most are not Australian businesses.
Please check that your supplier has a genuine Australian product. We checked several online stores including Kogan, Catch of the Day, BecExTech, Buy Mobile Australia, TobyDealsAU and all were offering grey/parallel imports meant for elsewhere. We rang Kogan to ask for the model number and processor. The response – it works in Australia and they would not provide any more information than on the website.
This is not good enough and shows the lengths online merchants go to make an extra buck out of unsuitable grey/parallel imports. Remember that sales with most of these online merchants (registered off-shore) are final as they do not have to conform with Australian Consumer Law.
Review: Samsung Galaxy S10 and S10+
We have both units for review, and any differences are in (brackets). Apart from larger screen, battery size/life and a front depth camera they are the same.
The GS10-series uses two different processors – the Qualcomm SD855 in some markets and the Samsung Exynos 9820 in Australia. They perform similarly, but the Qualcomm LTE model does not support all Australian Telco bands.
The GS10-series uses the highest-grade materials like AMOLED screen, memory, camera sensors and optics, etc. You can be certain you are buying the leading Android flagship.
Later in the year, Samsung will launch the Galaxy S10+ 5G version. If you lease a GS10+ from Telstra, you have the option to upgrade for free. To be clear 5G in Australia is still very embryonic and GadgetGuy does not expect widespread use for a few years.
Australian pricing: Samsung Galaxy S10 and S10+
S10e (not reviewed here but shares most of the S10 and S10+ pedigree) in Prism Black, Prism White or Prism Green costs $1199 for 128GB. Samsung was desperate to bring this in at $999, but the weak Aussie dollar stopped that. It would have taken the crown for the Premium mid-market segment.
S10 costs $1349 in Prism Black, Prism White or Prism Green for 128GB and an additional $350 for 512GB
S10+ costs $1499 in Prism Black, Prism White or Prism Green and 128GB
S10+ costs $1849 in Ceramic Black or Ceramic White and 512GB and an additional $550 for 1TB
As these phones support microSD as internal storage and for app execution, you would be better buying a 128/256/512GB microSD card for between $25-40/60-100/200+ (depends on speed – supports up to UHS 3 in FAT, FAT32 and exFAT).
Australian Website here
In the box (made entirely of recyclable material)
Samsung Galaxy S10 and S10+ – factory fitted screen protector
White Samsung Fast Adaptive Charger 5V/2A and 9V/1.67A (15W) with Australian plug
White USB-C to USB-A cable
AKG 3.5 mm earbuds and mic
USB-A to USB-C adapter
The first impression
Trim, tall and beautiful. The S10 review unit is in Prism Green, and the S10+ is in Ceramic White. My personal favourite is the semi-iridescent, metallic, Prism Green. The green wraps around the edge to meet the front glass.
The S10+ has a ceramic white back with a rose gold frame. My wife thinks that looks elegant.
Screen – New Dynamic AMOLED is like nothing else on any other smartphone
Size: 6.1-inch curved Edge (6.4-inch)
Resolution: 3040 x 1440@60Hz
PPI: 550 (522)
Ratio: 19:9
Type: Dynamic AMOLED Always-on-Display
S-T-B-R: 88.3% (88.9%)
Colour depth: 10-bit, 1.7 billion colours
Brightness: claim up to 1200 nits (amazing) – typically 400-800nits, 99% even screen light
Contrast: Infinity but in practice 2,000,000:1
HDR: HDR10+ and displays this from its camera video and stills as well
Colour gamut: 100% certified DCI-P3 (movie standard as good as it gets) or 100% sRGB
Notch: Infinity O-Hole (Dual O-Hole) laser cut from the screen
Screen protection: Gorilla Glass 6 plus a factory fitted screen protector
VR Google Daydream support
TUV Certified: can remove up to 99% of Blue Light for less eye stress and fatigue
Dynamic AMOLED is a step up from Super AMOLED used in the GS9/+ and GN9 – of course; it needs to be better.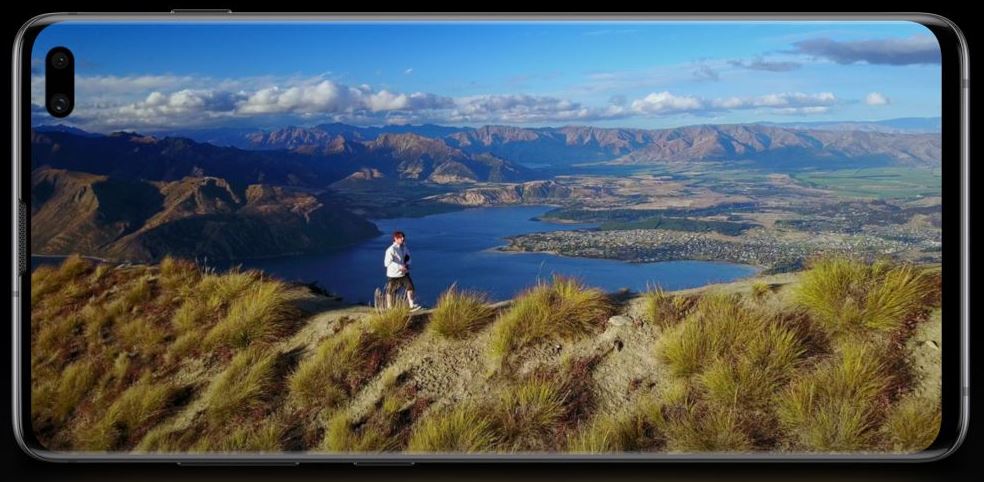 This is an infinity (edgeless) screen in every respect. Wrap around glass with almost no side, top or lower chin (bezel) and things like the fingerprint sensor and ambient light sensor under the glass.
The 1200nits brightness is under laboratory conditions and supports HDR10+ – Samsung's (royalty free) take on HDR/10 and Dolby Vision. It will work equally well with that content.
The Samsung Galaxy S10 and S10+ screens are appreciably brighter than the Samsung GS9+ or GN9 (these have 400 nits and 1,000,000:1 contrast).
Daylight screen readability is excellent – the best, I have ever seen.
Colours are stunning and reflect the 10-bit (over 1 billion colours) and 100% certified DCI-P3 colour gamut as used by Hollywood movie makers. You can change colours from Vivid (DCI-P3) to natural (sRGB) and White balance from cool to warm (default is in the middle). For purists, it also has RGB and white balance adjustments if you really want to get Delta E below 1.7. This screen reflects real colours and professional video, and still, photographers can rely on that.
Night mode reverses all text to a black background with white text and coloured icons. It is very easy on the eye although not all apps support this.
The jury is out over whether the O-Hole will receive the panning that Apple's notch did. The upper right single O-hole (GS10) or the two O-holes (GS10+) are obvious. It is not confronting but it is different, and for a while, you stare at the O-hole (or two) instead of the screen. If you have a dark background screen saver, you may not even notice them. Still, I think it is less obtrusive than a notch or a centre teardrop cut-out.
Gamers will love the 5ms G-t-G response time. It will play all current mobile game apps.
You can hide the O-hole with a black bar – erase the top portion of the screen – that is a waste of screen space.
The S10e uses a flat 5.8-inch, 2280 x 1080, 438ppi, display. I have not seen this screen yet, but it too is Dynamic AMOLED and has HDR10+ support, so I expect it is very good.
Screen summary: Absolutely the best I have ever seen by a considerable margin although you will run it in 2280 x 1080 anyway as the default mode to save battery – and it is still the best screen bar none.
Performance
Processor
Samsung Exynos 9820, 8nm
Octa-core (2×2.73 GHz Mongoose M4 and 2×2.31 GHz Cortex-A75 and 4×1.95 GHz Cortex-A55)
Integrated Neural Processing Unit (NPU)
PUF personal information data store (Knox)
GPU
Mali-G76 MP12
Video encode/decode for all current media formats
Game suitability: Will handle any current mobile game as well as VR and AR
RAM
RAM: 8GB LPDDR4x-2666
Storage: 128GB UFS 2.1 (option 512GB) – around 110GB free
OTG Support: up to 2TB for external SSD
Micro-SD card slot up to 512GB (includes support for micro-SD/HC/XC 4K recording cards as well as formatting as internal storage – Developer Options)
Samsung's Exynos 9820 is very similar to the Qualcomm 855. It is used mainly in EMEA (Europe, Middle East and Africa) and APAC (Asia Pacific) due to the local carrier frequency and licensing. The Qualcomm SD855 is for China, USA, and LATAM.
It has eight CPU cores, and the workload is spread around these as needed. In idle it sits about one-quarter of the CPU rated speeds.
The Exynos 9820 has a GeekBench score 4510/10253 in single/multi-core. By comparison, the 2018 GN9 has 3718/9026. It offers 20% more power and up to 40% better power efficiency than the GN9.
There appears to be a little CPU throttling.
What there is seems to be more about AI determining what power is necessary for the job. Even under 100% load, the maximum external temperature did not exceed 38°.
The Mali-G76 MP12 GPU is 40% faster and 35% more power efficient than the GS9 series.
The separate NPU is seven times faster than the GS9 and provides faster and more AI for the camera, AR, VR and graphics intensive mobile games.
Performance summary: One of the most powerful smartphones comparable to the Qualcomm SD855 platform.
There is an Exynos 9820 feature overview here.
Comms
Comms
Wi-Fi 6: AX, dual-band, 2 x 2 MU-MIMO. Supports VHT80 for 1.2Gbps DL/UL speed
Wi-Di, Hotspot
Bluetooth: 5.0 A2DP, LE, Dual stream audio (two concurrent devices)
USB-C 3.1, Gen 1 supports HDMI/DisplayPort/Data/OTG either via DeX, a USB-C dock/dongle or adapter as well as keyboard and mouse (corded or BT)
NFC: Yes (for PayWave readers)
MST: yes (for swipe card readers)
We have noticed that since the infamous Note 7 (and later) Galaxy Wi-Fi signal strength and ability to hold on to it at distance is excellent. At 2/5m from our D-Link AC5300 VHT80 reference router, it achieves 1.2Gbps/866Mbps gradually dropping to the 2.4Ghz band at 25-30 metres.
Summary: Meets or exceeds every Flagship paradigm with strong connectivity, especially with USB-C flexibility.
Sound
Sound
3.5mm audio jack
AKG premium 3.5mm buds/mic
Earpiece speaker and down-firing acting as stereo
Mics: two with ANC
Codecs: SBC, AAC, aptX, AC3/4, Dolby, FLAC, MPEG2, VORBIS,
Video: V8/9, HEVC, MP4,
Sample rate: up to 32-bit/384kHz
Dolby Atmos for speakers and headphone
Volume
Ring: 87dB
Voice: >80dB
Music: 80dB
Other
Google Assistant: Yes
FM Radio: No
There is almost no bass, mids kick in at 160Hz and are flat and solid right to 16kHz. The nirvana for music and movies is Warm and Sweet, but few phones have any bass, so that makes this a mid-signature.
Clear voice is excellent and loud for hands-free and listening to music.
Bluetooth dual device support is terrific and means either two devices can connect at once. Codecs are SBC (standard), LDAC (Sony), aptX (Qualcomm), FLAC, ACC, and more.
Sound summary: This is a stereo speaker setup, and the earpiece and bottom-firing speaker produce an acceptable sound signature and a good spatial sound stage with Dolby Atmos content.
Other
Other
Under glass ultrasonic fingerprint reader – 3D contours – not just a 2D image
2D Facial recognition
Samsung
Samsung DeX expansion or use a USB-C dock/dongle/cable
Intelligent performance
Bixby Routines
Samsung Knox defence
Rumoured to come – a Samsung Blockchain KeyStore (Cryptocurrency)
Sensors
SpO2 detection
Heart Rate Sensor
All sensors
GPS and e-compass
Intelligent Performance Enhancer recognises your mobile habits, optimising the way you interact with your phone — even anticipating your needs by preloading frequently used apps, so they launch instantly.
The Ultrasonic fingerprint requires a longer set up to create a 3D image, but after that, it is fast and 100% reliable in any weather.
Battery
Battery
3400 mAh 12.7Wh (4100/15.7Wh)
Endurance rating 79 (91) hours
Charger
Charger type. 5V/2A, 9V/1.67 (15W)
Samsung Quick Charge 2.0 compatible (QC PD 3.0) 50% charge in 30 minutes
Wireless Qi charge: 15W
Reverse Qi charge pad 9W (works with Apple iPhone)
While the battery is quite large for this class of device, it is by no means the longest lasting. But there is a reason, and that is it needs a few weeks for the AI to kick in and give you the best life. I expect life to improve by as much as 25% after a month or so.
Recharging time is excellent at around 1.5 (2) hours. We understand that you can use a higher wattage USB-C PD 3.0 charger, and this reduces time to just over an hour – not tested.
Battery tests: S10/S10+
1080p Video loop, 50% brightness, Airplane mode lasted over 14 (15) hours
100% load, maximum brightness and everything turned on. Empty in just over 2.3 (3.5) hours (GeekBench 4 battery test).
Given typical use, both units will last 24+ hours – longer with aggressive screen brightness and dark mode.
Wireless Power Charging (reverse charging) is interesting and more useful when travelling. You can use it plugged into the Samsung charger or stand alone. Enable Reverse charging and can charge most Qi devices.
4G/LTE
LTE
LTE Cat 20 up to 2Gbps/316Mbps download/upload with 8x carrier aggregation
Bands: 700/800/850/900/1500/1800/1900/2100/2300/2500/2600
Sim
Dual (hybrid with microSD)
Can both be 4G
Other
Supports SIP calling
VoLTE and VoWiFi depends on the carrier
The GS10 antenna gives slightly better signal strength than the GN9. There is no doubt it will receive Telstra's Bluetick for regional and remote use.
Operating system
OS
Android: Pie 9.x
UI: Samsung One UI
Update policy: At least one OS version and commitment to monthly Android security patches
Google Assistant: Yes
Bixby: Yes but more of a machine interface for Google Assistant. Bixby Key customisation to remap to Google Assistant coming via firmware update coming soon
Android Pie has loads of new features including AI to learn about your use and adapt the phone to it. In the test week, we started to see minor improvements, especially in the over aggressive adaptive brightness setting.
I avoid commenting on things like supplied apps (all Android phones have Google apps), and Samsung supplants these with its versions (that, on the whole, are better).
We did not give Bixby a test but think of it as the interface that enables OK Google to access the GS10.
I like One Ui – especially for one-handed use on a larger handset. GadgetGuy has an overview here.
Build etc
Colours
Prism Black, White and Green
(Ceramic Black, Ceramic White)
Build
Frame: high-grade stainless steel
Back: Gorilla Glass 5 (Ceramic)
Slippery – get a bumper case
Dimensions
149.9 x 70.4 x 7.8 x 157g
(157.6 x 71.4 x 7.8mm x 175g)
Ceramic adds 20g
S10e is 150g
IP Rating
IP68
What's missing
Missing
FM radio
IR blaster
IRIS Scanners – face recognition is now 2D type
Multiple user accounts
We left this category in because there is nothing missing – zero/zip/nada in comparison to other flagship phones. In fact, we could have made this what is over specification for this category
Screen
Processor/RAM/storage
Battery, Qi and reverse charging
Camera and AI
Camera
Rear Camera 1
Primary
12 MP (standard lens and wide)
Sensor: SAK2L4
Pixel Size: 1.4um (big)
F-stop: f/1.5 (lowlight) or 2.4 (daylight)
8X Digital Zoom
ISO – 50-1250
FOV: 77°
Stabilisation: OIS/EIS or both
Focus type: Phase Detection Autofocus and object tracking AF
AI scene recognition
HDR10+
Flash type: Hi CRI Dual LED
Saved images: RAW or JPEG
Video: 4K@60fps with mono/stereo recording, EIS to 2K@30fps
Video output to 10-bit, HDR10+. H.264/5 or VP8/9 (social media) on the fly.
Google Lens: Yes
Rear Camera 2
16MP ultra-wide angle
Sensor: S5K3P9
1.0 UM
f/2.2
OIS
ISO 40-1250
FOV: 123°
FF
Rear Camera 3
12MP telephoto
Sensor: S5K3M3
2X zoom
1.0 um
f/2.4
OIS
PDAF Auto-focus
Selfie
10MP wide
Sensor: S5K3J1
f/1.9
1.22um
Dual Pixel PADF
Auto HDR
80°
ISO 40-2500
No flash
2D Face recognition
Selfie 2 (on S10+)
8MP for depth
1.12um
F/2.2
90°
The GS10/+ has tied with the Huawei P/Mate 20 Pro for the best rear camera. That is just going to make Huawei try harder with the P/Mate 30 Pro and then Samsung will up the ante with the Galaxy Note10.
In testing, I constantly compare to the Huawei Mate 20 Pro, Samsung Note 9, Pixel 3 XL, and the Nokia 8.1 reference shots (a $699 phone with an amazing camera). In all cases, it is ahead of the pack, in some case by quite a margin.
Sensors: These are all Samsung ISOCELL slim camera sensors using on-die stacked RAM and every bit an equal to Sony Exmor sensors. The main sensor can pixel bin (combine four neighbouring pixels), has dual Pixel Phase Detecting Autofocus and a high-speed 60-fps capture model.
All three lens can operate independently or in various combinations for zoom, depth etc.
If you want to read an independent camera review and app overview, there is one here. And GadgetGuy Thomas Bartlett has just completed a shootout with the new Huawei P30 Pro and his take: Both are extremely good camera, err phones.
Camera Tests
All our tests are in Auto as that is what Joe and Jane Average use.
But the app supports so much more, and a professional photographer will know how to get the most out of it.
Caveat: The reference file sizes are lower than expected – from 1.5 to 3MB where the GN9 is about 3MB+ and the Huawei Mate 20 Pro from 3-7MB. We will revisit this soon.
Daylight, outdoors (normal day around noon)
The best I have seen, not only from Samsung but from other brands as well. Detailed, accurate colours, clean, no noise, high dynamic range – neither adding or taking away from the real scene.
The Ultra-wide lens has image correction to prevent 'barrel-distortion'. Uses the 2x Telephoto for optical zoom and then hybrid zoom after that.
1/1600 sec, ISO 50, 3MB
Indoors Office Light (400 lumens)
Accurate colours, good bokeh, no noise and great detail
1/100sec, ISO 125, 1.6MB
Low light (room with less than 100 lumens)
As good as I have seen with good colour, no blowouts from the computer monitor, and great definition.
1/50s, ISO 320, 2.7MB
Bright Night mode
We were unable to test this. It is in the app but did not need to cut in – the f/1.5 aperture and big pixels capture much light.
Bokeh (Selfie)
The GS10 series relies on a combination of AI and in the GS10+ a front depth camera. Bokeh is accurate and easy to adjust after even after you take a photo. You can have blur, spin, zoom and colour point bokeh.
Selfie
The GS10+ is the highest rating selfie camera to date.
Let's not forget AR Emoji to produce animated gifs of your selfie.
Overall – amazing results in good light and slightly less in low light.
Video
4K@60fps with stereo, HDR10+ and H.265 compression. Drop back to 4K@30fps or less and OIS and EIS kick in including a 'super steady' EIS mode at 1080p (crops from a 4K recording image). You can also select which lens to use – standard, ultra-wide, and telephoto.
AI software
I lose track of the AI in all the cameras! This has face mode, depth of field (bokeh), live focus, scene optimiser (30 popular subjects Face, Baby, Person, Dog, Cat, Food, People, Beaches, Sky, Mountain, Sunset, Sunrise, City, Snow, Waterfall, Watersides, Scenery, Stage, Vehicles, Drinks, Flowers, Trees, Greenery, Animal, Shoes, Backlit, Indoor, Text, Clothes, Night view).
It also has Food, Flower, Shoes, Clothes, trees and scenery modes. Local Tone Mapping automatically adjusts camera settings to the scene to help capture the best shot available. Flaw Detection alerts to potential photo mishaps.
Let's just say that it helps to take a better photo every time.
Social Media upload in VP8/9 on the fly is also standard.
GadgetGuy's take – I am confused like a dog with two bones
As in past years – the GS3, 4, 5, 6 7, 8, 9 and now Samsung Galaxy S10 and S10+ – Samsung makes a product for the aspirational buyer. It must not only be the best that Samsung has ever made, but it should be the best of all brands flagships.
In the Android world, the Galaxy S series has been holistically ahead of LG, Sony, HTC, Pixel, and Huawei. Sure, some other brands/models have unique features, but overall the Galaxy S is the one. It is also the safest to buy in terms of corporate tech giant backing.
That is not to take away from the other brand's excellent phones – you would be happy with any of them. For example, if anyone asks me, last years LG V30+ (now at $799 or less on runout pricing) ticks all the boxes and then more. For a pure Android experience, it's hard to prise the Google Pixel 3 XL out of my hands. The Sony XZ2 as an entertainment device with force feedback is both practical and a damned good phone (Sony have now left the highly competitive mobile market in Australia – see ITy Bytes here).
Last year I awarded 5-out-of-5 to the excellent Huawei Mate 20 Pro
I gave the Huawei Mate 20 Pro a five-out-of-five both because at that time it deserved it and it had new tech not seen before in a flagship. While not hasty I now realise that in adding more paradigms and categories I need to revisit that scale – for now, five-out-of-five means meets or exceeds all flagship paradigms! And yes, sometimes we need to award six-out-five!
But I can now see where the next generation Samsung Galaxy S10 and S10+ edges back ahead. Next week I will be reviewing the Huawei P30 Pro, and it all starts over again. That dog with two damned bones doesn't know which to eat (so starves)!
The Samsung GS10/+ are evolutions – not enough to make a GS9/+ or a GN9 user rush out to buy. Changes are below the surface but are significant – very much faster processor, enhanced camera, better battery life and later tech.
Revolutions – let's see what foldables and 5G bring soon.
So, while the GS10 and GS10+ are not perfect they are so close it does not matter. And then Huawei's P30 Pro will probably take the crown until Samsung's Galaxy Note10 in mid-year…
All I can say is that competition is both healthy and drives us on.
Samsung build quality and style
Battery life – it is a full day phone and more
Camera – hard to beat but Huawei will try
Display – the best bar none
Damn, I missed out on the free Samsung Wireless Buds