We have the Samsung Galaxy S20 Ultra 5G for a short-term review. It is Samsung's uber screen, camera, 5G, everything model that is easily the best Google Android smartphone of 2020 – so far.
Not to take away from the Samsung Galaxy S20 Ultra 5G in any way – it is incredible! But as time progresses, others will try to beat it. Apart from the Galaxy Note20 later this year, we are confident that it will remain the king of the 2020 Google Android flagship heap.
But we must ask if the Samsung Galaxy S20 Ultra 5G at $1999/2249 for 128/512GB is a need or a want?
As far as GadgetGuy is concerned, 5G is a great flop. It is a hoax that does nothing for an average user – even if they could get mythical reception. We will change our opinion when coverage is ubiquitous (2025+), and 5G phones cost no more.
We are not yet past the point where non-5G models like the S20 at $1349 or the S20+ are $1499 – both $150 cheaper than the 5G models – are exquisitely adequate for flagship buyers.
Samsung Galaxy S20 Ultra 5G Model SG-988B/DS
Australian Website here
Warranty: 2-years (optional Samsung Care+ 2-year device swap $249)
We issue the caution that this is the Australian model using the Exynos 990/5123 SoC/modem. The eSIM IMEI is registered with the three Australian Telcos. Only buy from Samsung approved retailers – here. Samsung and most Telco's offer trade-in programs or 24/36-month interest-free payments.
First a little proselytizing
New statistics from the US show that fewer than 9% of smartphone users will spend more than US$500 (A$1000). They also show that the replacement cycle in for these phones has blown out to 2.62 years. It is likely to increase to three-plus years in 2020 due entirely to the 5G kerfuffle where Gen 1 5G smartphones needed a different model locked to specific US carriers.
Oh, and the US, like Australia, is an Apple stronghold. It is waiting for the iPhone12 launch in September to decide whether to upgrade.
5G awareness is now 73% (up 44% from 2019), but users are saying that unless the 5G option costs no more, we will see little traction in 2020.
Why buy?
You want
The best Google Android smartphone you can get in 2020
A 108MP, 100x Space Zoom camera that is going to set new standards in smartphone photography.
A 6.9", 120Hz Dynamic AMOLED screen
You are a brand snob
Me – the Galaxy S20/S20+ (non-5G) at $1349/1499 are the sweet spot.
But back to proselytizing – you are going to see some fantastic 5G phones including Samsung's A-series at well under A$1000 soon. The decision will be driven by value over raw horsepower, a 100+ point camera over 130+ point (DxOMark) and a good battery life. The most competitive segment will be $799-999.
Base Differences
Samsung
Galaxy S20
Galaxy S20+
Galaxy S20 Ultra 5G
Price* 4G
5G
1349
1499
1499
1699/1899
N/A
1999/2249
Colours
Cosmic Grey Cloud Blue Cloud Pink
Cosmic Black Cosmic Grey Cloud Blue
Cosmic Black Cosmic Grey
Memory
8/128
12/128 5G
8/128
12/128/512 5G
12/128
16/512
Screen Size
6.2″ 563ppi
6.7″ 525ppi
6.9″ 511ppi
Camera MP
64/12/12
64/12/12/ToF
108 (binned to 12MP) /48/12/3D ToF
Selfie
10MP
10MP
40MP (binned to 10MP)
Space (hybrid digital) Zoom
12x
30x
100x
Battery
4000mAh
4500mAh
5000mAh
Size
Weight
151.7 x 69.1 x 7.9
163
161.9 x 73.7 x 7.8
186
166.9 x 76.0 x 8.8
220
*Pre-orders receive a pair of Galaxy Buds+ valued at $299
First impression – yes, it is a big Samsung
Bigger and squarer edged than the Note10+ but otherwise it is recognisable as a Samsung.
A single centred front O-hole is better than the dual O-hole in the S10. But the massive four-camera cluster on the back is, for want of a better word – ugly. Oh, well no worse than Apple's iPhone 11.
Our review unit is Cosmic Grey (kind of dull), but the other choice is Cosmic Black!
The Screen – EXCEED
6.9", 20:9, 90% STBR
The new displays are all 120Hz refresh capable at 2400×1080 despite a maximum resolution of 3200×1400. They are HDR10+ certified, using Samsung's Dynamic AMOLED 2X panels. They have a single Infinity-O hole for the front selfie camera giving it a 90+% screen-to-body-ratio. Interestingly the screen is a lot flatter than the S10/Note10 with a far smaller edge wrap.
The S20 Ultra 20:9 ratio screen is enormous, but, it is only a fraction taller and a fraction slimmer than the Note10+.
Now a lot has been made of the 120Hz refresh rate, and yes, it is silky smooth. But there are so few times that you will want to use it. Maybe with some games but for the most part leave it on the 60Hz default. And it chews the battery. You won't notice it is on the lower setting.
Tests: There is no other phone that matches this
Brightness: 400nits and 1000+ on Automatic – it is bright and perfect in daylight
Contrast: Infinite
Black: Perfect
Gamma settings: Natural/sRGB, Vivid/100% DCI-P3 and White balance. You can also adjust RGB
Delta: 3.55 (or better)
It also has a 240Hz touch screen polling rate for gamers. It has a pre-fitted plastic screen protector.
I have never seen such an accurate screen (the S10/Note10 were excellent), but this offers pro-level colour and calibration.
Processor – EXCEED
All three models use the Samsung 7nm Exynos 990 (Octa-core 2×2.73GHz Mongoose M5 + 2×2.50GHz Cortex-A76 + 4×2.0GHz Cortex-A55), Mali-G77 MP11 GPU and a separate Exynos 3/4/5G 5123 modem (we will address that later).
Geekbench 5 single/multi scores are 918/2827. By comparison, the S10 was 760/2100, so it's a big jump. It also beats any SD865 device by over 10%
Ram is 12GB (or 16GB) LPDDR5 (the fastest) and storage is 128GB (102GB free) or512GB of UFS 3.0 (also the fastest). It supports the fastest microSD cards to 1TB.
CPU Throttling – EXCEED
We expect some throttling on high-end SoC, but overall, it managed well due to its vacuum chamber heat exchange. Maximum GIPS were 150,764, and at worst it dropped momentarily to 140,813 – about 8%. It does get warm measuring 42° on the back.
GPU – EXCEED
The Mali G77 MP11 (lanes) is the fastest available and will encode/decode 10-bit HEVC (H.265), H.264 and VP9. There is a Game Launcher mode that focuses on games and reduces phone function interference.
It will play any mobile game at maximum frame rates. Best Gaming Pro called it 2020's most capable gaming handset.
5G – confusion reigns supreme
The Samsung Exynos 5123 used in all three models is a Gen 2 modem. It supports almost all networks, from 5G sub-6GHz (non-standalone in Australia) and mmWave (standalone) as well as 2G GSM/CDMA, 3G WCDMA, TD-SCDMA, HSPA and 4G LTE (FDD/TDD). Let's not confuse you with 4 x 4 MIMO and 7CA (carrier aggregation), or re-farming LTE – these things give it more bandwidth.
It also supports E-UTRA-NR Dual Connectivity (EN-DC) which combines re-farmed LTE bands and 5G bands.
In theory, it can achieve data downloads up to 5.1Gbps (5G sub-6Ghz), 3Gbps (4GX) and 7.35Gbps in mmWave. In practice, you will get about 10-20% of that here.
What we are unclear about is if all its features are enabled to allow global 5G roaming on sub-6Ghz and mmWave. Our best guess it is only enabled for Australian 5G-TDD 3500Mhz NSA n78 (there are 11 global 5G standards).
However, Optus lists 5G bands 1, 3, 7, 8, 28, 40, 77, and 78 (nr=new radio). Optus is re-farming LTE Band 40 (2300Mhz) to add more coverage to n78.
Telstra lists and n78 (3500Mhz) and n5 (850Mhz – re-farming an LTE FDD band).
That is not a bad thing because many international operators use n78 except for the USA that uses a mix of mmWave as well – n5, 260, 261, and 71. And of course, the modem supports a fair list of 4G bands and has a universal 3G fallback.
Bottom line: A Gen 2 5G modem is yet to have universal coverage. Next year's Gen 3 will be closer.
LTE – EXCEED
Optus lists 1, 2, 4, 5, 7, 8, 12, 13, 17, 18, 19, 20, 25, 26, 28, 32, 38, 39, 40, 41, and 66. Telstra only lists six LTE bands.
Regardless it should work in most counties.
The best results of tests in a three-bar signal area using a Telstra supplied SIM were ping (17ms) and 102/5.56Mbps. The Note10+ achieved ping (19) 82.3/15.1.
On average, both were about 50/10Mbps.
The reference Galaxy Note10+ achieved -96dB (lower the better) on band 28 and the S20 Ultra -115 on band 3.
Similarly, the Note10+ found the next tower at -108dBm, whereas the S20 Ultra did not.
We can only surmise that the S20 Ultra 5G has antennas optimised for 5G.
eSIM and nano-SIM – EXCEED
At this stage, most users will transfer their existing nano SIM over, but you should use the eSIM as the primary leaving the nano-SIM for travelling. Note that eSIM and 5G access is only currently available directly from Telcos – not MVNOs.
COMMS and Wi-Fi – EXCEED
It has Wi-Fi 6 (AX) capability but requires an AX router to use that. It has HVT80, MIMO and 1024-QAM and is capable of 1.2Gbps DL/UL.
The Note10+ outperformed at -50dBn and 1.2Gbps versus the S20 Ultra at -57dBm and 866Mbps.
The dual-band GPS was fast, reliable and very accurate for turn-by navigation.
NFC handles Samsung and Google Pay in NFC and MST formats.
Battery – EXCEED
The S20 Ultra has a 5000mAh battery. The other models have smaller batteries, and as they use the same platform will deliver a slightly less battery life.
If you use the 120Hz screen refresh, then you can expect a 20-25% reduction in battery life.
It comes with a QC 2.0 charger that outputs 5V/3A and 9V/2.77A (15-25W) as well as from 3.3-5.9V/3A and 3-11V/2.25A (PD 2.0 compatible).
It is also compatible with a Samsung 45W Super-Fast charging 2.0 ($69 option) PD-3.0 that works with the Note10+ as well. It outputs 5V/3A for a standard charge or PDO: 3A(9V, 15V), 2.25A(20V) / PPS : 4.05A(3.3-11.0V) or 2.8A(3.3-16.0V) or 2.1A(3.3-21.0V)
Tests
Heavy load with all devices on, 60Hz screen – 12 hours
As above 120Hz screen – 9 hours
Typical use 60Hz – 42 hours
Typical use 120Hz – 30 hours
Video Loop 1080p 60Hz – 18 hours
Video Loop 1080p 120Hz – 10.5 hours
T-Rex test – maxed out 5 hours
Battery drain test (all on) – 3.33 hours
Charge
Qi 15W charger – three hours
25W charger supplied – 1 hour
45W charger – 35 minutes
It also has a 9W power share – Qi/PMA reverse charge.
It is a little early for the Android and device A1 to kick in, but we expect that under regular use you will get 1.5-2 days.
Audio – EXCEED
It will playback MP3, M4A, 3GA, AAC, OGG, OGA, WAV, WMA, AMR, AWB, FLAC, MID, MIDI, XMF, MXMF, IMY, RTTTL, RTX, OTA, DFF, DSF and APE – practically every music file type.
It supports BT codecs or SBC, AAC, LDAC and Samsung's version of aptX LL (scalable).
Video – EXCEED
It will playback MP4, M4V, 3GP, 3G2, WMV, ASF, AVI, FLV, MKV and WEBM – ditto.
Sound – EXCEED
It has Dolby Atmos (Dolby Digital, Dolby Digital Plus) and a hi-res DAC for ultra-high-quality audio playback.
UHQ 32-bit &DSD64/128 support
PCM: Up to 32-bit, DSD: DSD64/128
Samsung Galaxy series, in general, have AKG to thank for one of the best stereo sound stages and signatures.
Ring tone 81.3dB (loud)
Hands-free voice 77dB
Music: 78.4dB
Using the standard EQ setting It has a good sound stage – stereo left/right separation and hints of bass and treble to round out an almost perfect warm and sweet.
You can select Pop, Classical, Jazz, Rock and Custom for a +/-10dB adjustment.
Dolby Atmos (for headphones) gives you Auto, Movie, Music and Voice and simulates this sound stage over BT or USB-C headphones. You can connect two headsets as well.
Finally, there is an adapt sound setting to boost mid/treble (clear voice) for 30, 30-60, 60+ year old.
Music Share allows another Android 10 device to share a Bluetooth passthrough to a speaker.
Frankl, you can't ask for more – great personal sound, a full range of audio/video codecs and the AKG tuned earbuds/mic is pretty good too. What is missing is a 3.5mm combo jack.
Build – EXCEED
166.9×76.0x8.8mm, 222g
IP68 – (up to 1.5m for 30 mins)
Metal frame, Gorilla Glass 6 front and back.
Ultrasonic fingerprint (99% reliable)
2D face recognition (60% but depends on light).
Pre-fitted screen protector
Clear bumper case.
Android – EXCEED
Google Android 10 and One UI 2.1 and a new dark mode.
Still has an Edge Panel option.
Light One UI 2.1 overlay with some Samsung apps
March 2020 patch (review 2 March)
All Google Apps, Lens, Assistant
The Samsung apps include the Galaxy Store (unique Galaxy Apps), Mail, Contact, Calendar, Dialler, SmartThings, Samsung Health, Pay, AR, Switch, DeX, and Pay.
Samsung Switch is one of the better migration apps from Samsung, Google Android, iOS and Windows Phone/Blackberry – all you need to do is renter logins and passwords.
Accessibility – EXCEED
If you have an impairment, then it has one of the best ranges of accessibility solutions including live transcribe and caption, high contrast themes and hearing aid support.
Cameras – Galaxy S20 Ultra 5G – EXCEED and more than you will ever need
One of the main reasons for paying $1999/2249 is the camera. Well, it is impressive, beats every other Android device by far, and has more features than you could ever want. Let's not forget the 100X Space Zoom.
But who needs 8K video when the screen won't play it? Oh, I know rip out and get Samsung's new 8K TV. And frankly, 8K is not very good – too shakey. 1080p and 4K video is impressive.
Or 100x Space Zoom. Sure, it is good, and you can see an ant's antenna from 2km away, but unless you have a rock-solid tripod, you will never use it. We have not tested the Galaxy S20 and S20+ 30x hybrid zoom, but I expect that its all you will ever need.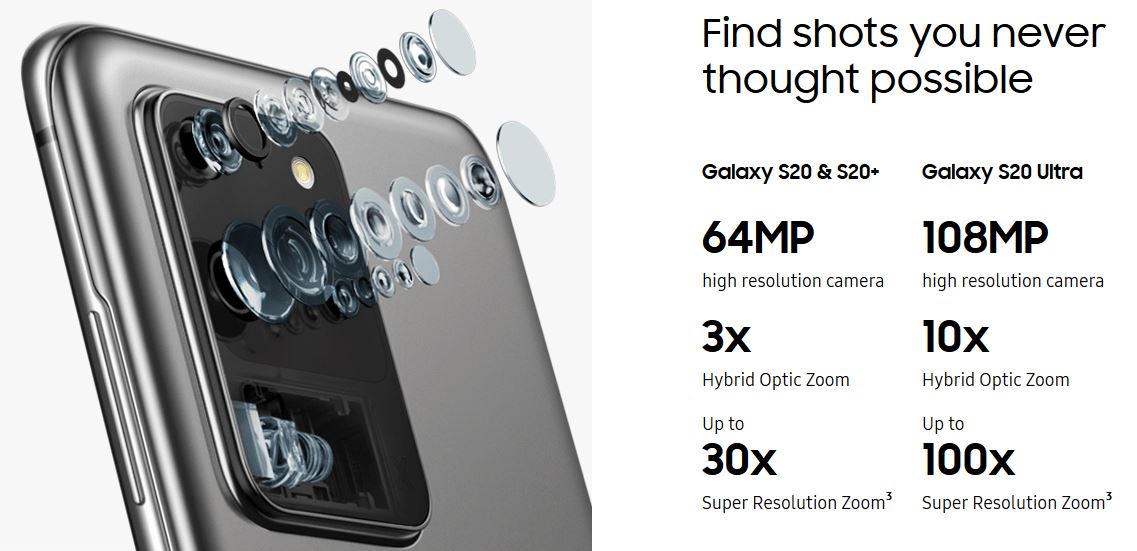 And the 108MP sensor is superb but, in the end, it bins down to 12MP and AI has a lot to do with the finished image.
I was more comfortable using the Note10+ camera than all the bells and whistles of the S20 Ultra. And that is my point. Yes, it's the best, but there are few qualified to drive it!
Note: Samsung is working on firmware updates for issues identified in early reviews. Image quality is perfect, but autofocus speeds suffer from aggressive image processing.
Camera Comparisons
S20
S20+
Galaxy S20 Ultra 5G
Primary
Wide-angle
12 MP (1/1.76″, f/1.8)
Sony IMX555
1.8um
79°
Dual Pixel AF (DPAF)
OIS
Same
108 MP (1/1.33″, f/1.8)
ISOCELL Bright S5K-HM1
12MP 9 to 1 bin – .8um to 2.4um
79°
PDAF
OIS
ISO 50-3200
Ultra-wide angle
12 MP (1/2.55″, f/2.2)
S5K2LA
1.4um
120°
No AF
Same
44MP (1/1.26", f/2.2)
S5KGH1
11MP 4 to 1 bin 1.4um
.7um
120°
No AF
Telephoto
64 MP (1/1,72″, f/2.0)
S5KGW2
.8um
76°
PDAF


same


48 MP (1/2.0″, f/3.5)
Sony IMX586 .8um
12M 4 to 1 bin to 1.6um
24°
PDAF
Periscope
Depth-of-field
No
Sony IMX516 ToF
Sony IMX518 3D ToF
.3MP. f/1.0, 5um
Video
8K@24fps
4K@60fps
1080p@60fps
720p@30fps
720p@960fps
1080p@240fps
33MP from 8K video
VDIS
Same
Same
Max. zoom
3X Hybrid
30x*


Same*
5X Optical
10X Hybrid
Space Zoom
N/A
N/A
100X Periscope
mirror-and-lens – foldable
Combined optical/digital and image cropping)
0.5x, 1x, 2x, 4x, 10x, 30x, and 100x
Image cleaned by AI
Camera – other
Features
Scene Optimizer**
Shot suggestions
Flaw Detection
Single Take*** Photo Video Pro Panorama Food Night
Live focus Live focus Video Pro Video Super Slow-mo Slow-motion Hyperlapse AR Doodle Quick Measure 3D Scanner
Same
Same
Selfie
10MP (f/2.2, 1.22um)
Sony IMX375
80°
Dual Pixel AF
4K@60fps


Same
40MP (F/2.2, .7um)
10MP 4 to 1 bin 1.4um
PDAF
HDR
*Max Zoom is a misnomer. These figures are all Hybrid optical and digital zoom and 'cropping' from the 64MP Telephoto image.
** 30 modes: Face, Baby, Person, Dog, Cat, Food, People, Beaches, Sky, Mountain, Sunset, Sunrise, City, Snow, Waterfall, Watersides, Scenery, Stage, Vehicles, Drinks, Flowers, Trees, Greenery, Animal, Shoes, Backlit, Indoor, Text, Clothes, Night view
*** triggers all cameras simultaneously and produces up to 14 photos from which you can then select the best one.
Why the details?
Because no other device has this setup
Daylight
Office Light
Low Light
GadgetGuy's take – Samsung Galaxy S20 Ultra 5G if you have the money
Look, it is the best 2020 Google Android smartphone by far, and if you have the money, you won't regret it. It is the logical Android alternative to an iPhone 11 Pro.
My big concern is that 5G is still a sham here and really won't improve for a few years, so it should not be the driver. In fact, my Note10+ beat it in all speed tests in typical non-5G use. That is simply because of the multiple-band antenna design.
To be fair to Samsung, it is a 5/5 for hardware but 4/5 for overall use and effectiveness (unless you live on top of a 5G tower).
Positives
Fastest Google Android handset and no throttling issues
100x Zoom, but you will never use above about 30x
Great stereo sound and Dolby Atmos headphones
Great screen but you won't use it in 120Hz mode
Big battery and fast cable/wireless charge
DeX compatible
Negatives
Co$$$$t
Would you be happier with an S10+ or Note10+?