The Samsung Galaxy S21 Ultra 5G is the brand's ultimate glass slab. It is the one you buy if you want the best Android camera, screen, processor, and everything. Unless, of course, you want the Samsung Galaxy Fold X or Flip.
I have been using the Samsung Galaxy S21 Ultra 5G for about eight weeks now. It replaced the Samsung Galaxy S20 Ultra (review here 9.6/10). Frankly, there is not a lot of noticeable difference. I guess that is true of any next refresh model – be it a car or a phone – later tech but not a lot of difference.
The aim of this review is twofold. First, to see how it has improved (two firmware and security updates in that time – impressive) and to deep dive, so you can see what you are getting under the skin. It is quite impressive when you take everything it has and can do into account.
Note that in Australia, we get the version with the Samsung Exynos 2100 SoC. Other versions use the Qualcomm SD888 (it does not support Australian Telco carrier bands).
There is a review of the S21 and S21+ here 9.6/10
And sorry, Samsung. We will draw the inevitable comparisons here with the OPPO Find X3 Pro 9.8/10 – a worthy contender.
Australian review: Samsung Galaxy S21 Ultra 5G Model SM-G998B – SIM and eSIM
Australian website here
Price: 128/256/512GB $1849/1949/2149
Colours: Phantom Black or Phantom Silver (other colours online at Samsung Store)
From: Samsung online, JB Hi-Fi, Officeworks, Harvey Norman, Bing Lee, Telstra, Optus
Elevator pitch: Samsung's best Android smartphone in 2021
Warranty: 2 years from Authorised retailers
Country of Manufacture: Vietnam
Other GadgetGuy Samsung news and reviews here.
Grey market – no Australian warranty
We issue the standard warning that you must buy the genuine model with Australian firmware. Why? Because Australian 5G IMEI numbers are Telco locked and must be activated here first. It can also make a 000-emergency call (not 911) without a SIM. Look for the Australian and NZ regulatory mark under Settings, About Phone, Regulatory. We have named and shamed the major grey marketers here. Get a genuine 'Made for Australia' model.
First impression – a considerable glass slab
First impression is that Samsung is lousy for not including a charger in the box! Bad Samsung, bad Apple too!
It is a big flattish (6.8″) display, it is heavy (227g plus a case), and the enormous rear camera hump makes a very bold statement. But I love large phones, and the screen real estate is perfect.
As the phone is not exactly cheap (Samsung may tear it out of my cold dead hands), the first duty is to protect it – a case and screen protector. Our friends at EFM provided a Screen Armour glass protector and a Cayman clear case.
These increase drop and shock test to 6 metres and, as a bonus, kills 99.99% of bacteria. The screen protector has a 9H rating. Now the Ultra has Gorilla Glass Invictus, but a replacement is about $300, so it is well worth the cost. PS – If you have Apple, they cater for it too.
Screen – superb
Size
6.8″
Type
Single centre O-hole, Dynamic AMOLED 2X
Adaptive 10-120Hz (latest firmware) at 1440p
Resolution
3200×1440
PPI/Ratio
515, 20:9
Depth
Brightness
Adaptive
Black
Contrast
Delta E
Vivid
Natural
HDR
16.7M colours
1500nit claim (tested to 1400)
400nits (tested to 410)
Pure
Infinite
2 (<4 is excellent – tested)
100%+ DCI-P3 (tested)
100%+ sRGB (tested)
HDR10+
Daylight
Angle
AOD
Dark
Blue light
Perfect even in direct sunlight
Excellent off-angle viewings
Yes and customisable
Yes
The ambient light sensor and time of day adapt the intensity and reduce the amount of blue light.
DRM
Widevine L1 HDCP 2.2. It will play Netflix FHD in HDR
Gaming
3.2ms G-t-G
Protection
Corning Gorilla Glass Victus (the toughest available)
Pre-fitted plastic screen protector
Fingerprint
Face ID
Optical under glass – Test: /10
8/10
Stylus
Samsung Note and Galaxy Tab Stylus support (see S Pen later)
Let's first address the 120Hz issue. Apart from gamers, it is of limited use. It is purely the 'next big thing' that marketers are using to make us buy new models. Yes, it is buttery smooth, but for most people, 60Hz is perfect and improves battery life by at least 20%+
Out test software shows adaptive means flipping from 10/48/60/90/120Hz. OPPO Find X3 has a dynamic, intelligent variable refresh rate from 1-120Hz, which means longer battery life.
And finally, resolution. It can display at 3200×1440, but the majority will be happy with 2400×1080 for longer battery life – it applies to OPPO too. So yes, it's a great screen, but it has been slightly outclassed.
Processor – V8 vroom!
SoC
Exynos 2100 eight-core 5nm
1 x 2.91, 3 x 2.81. 4 x 2.21
GPU
Mali G78 Open CL: 5635
Vulcan: 3741
Game use
It is one of the fastest SoCs and should have no issues with high frame rates. But some gamers report that the 120Hz refresh was an issue. I understand that recent firmware updates have fixed this.
RAM
12GB LPDDR5
Storage
128GB UFS 3.1 (approx. 100Gb free)
Test: Androbench Mbps sequential read/write
128GB internal sequential read/write: 1471/1018MBps (mid-range SSD speeds)
Orico Match 1TB USB-C 3.1 Gen 2 10Gbps external SSD 1390/224Mbps
HP x770 512GB USB-A 3.1 Gen 1 5Gbps flash drive 896/218Mbps
OWC Envoy 256GB USB-A 3.1 Gen 1 5Gbps SSD drive 966/151Mbps
micro-SD
No (see USB-C 3.1)
Geek
Bench 5
Single: 1006
Multi: 3115
Throttle
15-minute
Max: 227,660 GIPS, Average: 198,974 – 16% loss over 15 minutes
CPU temp reached 50°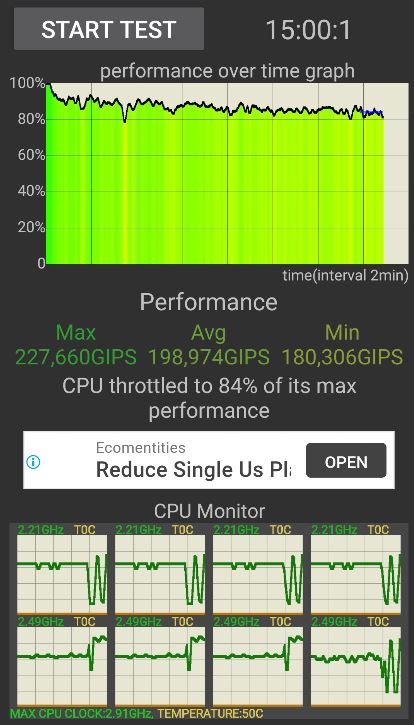 The throttling test places a 100% load on the processor and GPU. While CPU throttling is higher than expected, you must remember that it is coming from a much higher base and is still way faster than any SD865/+ processor. It also relates to the Mali-G78 GPU that can chew up to 8W (burst) and then settles back to 3W.
There is a lot of discussion on whether the Exynos 2100 is as good as the Qualcomm SD888. It is equivalent to the SD888, and in specific tests, it is faster. Processor wise – very similar. Graphics-wise -slightly quicker.
The storage speed is at the lower end of Tier 1 SSD (OPPO Find X 2 1813/735Mbps), but its external speeds are excellent, allowing for 4K or 8K recording.
Comms – All there
Wi-Fi
Wi-Fi 6 AX and 6E VHT160 (BCM4389C1)
Signal Strength 5Ghz – distance from ASUS AX1100 router
2m: -26dBm/1200Mbps
5m: -49dBm/1134
10m: -52dBm/866
15m: -59dBm/433
Bluetooth
BT 5.2
UWB
Ultra-wideband chip to share data, pay wirelessly, unlock electronic locks, and locate other devices.
GPS
Dual-Band and accurate to <2m
NFC
NPX PN547 Host Card Emulation works with contactless readers and NFC tags.
Note – no longer has mag stripe (MST) support
USB-C
USB-C 3.1 Gen 1 (5Gbps) with OTG and Alt DP video out
Sensors
Ultrasonic Fingerprint (QBT2608), Combo LSM6DS0 Accelerometer and Gyro, Barometer (LPS22HHTR), eCompass (AK09918C), Hall, Proximity, Ambient Light, pedometer, game rotation and tilt vector,
Wireless: Smart View (Wi-Di screen mirroring 1080p at 30 fps) – portrait mode
USB Type-C Alt DP up to 4K@60 fps – landscape mode
DeX – Samsung Desktop experience over wireless and cable (res unknown) – landscape mode
There is no widespread router support for Wi-Fi 6E. The maximum speed we could obtain was 1200Mbps. By comparison, the OPPO Find X3 Pro at 2400Mbps. I suspect that future firmware updates will fix that, as it should have 4×4 MU-MIMO.
DeX (Desktop Experience) is terrific if you use it and can replace a PC. With the addition of Microsoft 365 support and One Drive, it can make you far more productive – add a screen, BT keyboard and mouse (or use the phone as a trackpad), and you are away.
LTE and 5G
SIM
Single SIM and eSIM (both active – use one at a time)
Ring tone
Dual
Support
VoLTE – carrier dependent – generally yes
Wi-Fi calling – Yes
DL/UL (Mbps)
17.5/18.8Mbps and 43ms in a three-bar reception area (average)
LTE Band
3, 5, 7, 8, 12, 13, 17, 18, 20, 25, 26, 28, 32, 38, 39, 40, 41, 66 (Samsung does not publish bands – this is from Optus). It should be a world phone.
5G


Sub6Ghz n78 enabled
mmWave not enabled
Test
-100dBm/70fW in a 3-bar reception area (average)
It did not find other towers
This did not get a Telstra Blue Tick for regional use (nor did Apple iPhone 12-series) – the S21/+ and the S20-series did.
While it has reasonable antenna strength, it is for 5G and is a city, suburban and major regional city phone. Interestingly OPPO Find X3 Pro had 158.5fW and found the adjacent tower so has better reception.
Battery – no charger!
Battery mAh
5000mAh, 3.88V/5A/19.4Wh
Charger
Recommended Samsung 25W – not supplied, which provides
PDO: 5V/3A/15W or 9V/2.77A/25W (QC4.0+)
PPS: 3.3-5.9V/3A or 3.3-11V/2.25A (PD3.0)

It uses an NPX PCA9468 USB-C PD3.0 and QD 4.0+fast charge chip with 98% efficiency and backwards compatibility with all USB standards. It is a switched capacitor charger meaning it can take up to 11V/6A and delivers whatever the battery needs.
Qi Wireless: 10W as per specs but also seems to charge up to 15W
Wireless reverse charge: 5W
Test:
0-50% – 30 minutes
0-100% – 72 minutes
Using 5V/3A standard USB charger and cable – 4 hours
Qi 15W charge – 4 hours
Tests


Video Loop test: 1080p/50%/aeroplane mode – 19 hours
Typical use 4G, Wi-Fi Test – 12 hours
MP3 music test: 50% volume played from storage – 24+
100% load Battery drain – 8 hours
GFX Benchmark T-Rex – 120Hz: 306.6min (5.17hrs) 5861 frames
GFX Benchmark Manhattan 3.1: Gets out-of-memory-error
PC Mark 2.0: 9.40hrs
Samsung charge time is nowhere near the OPPO Find X3 Pro (and Neo) that goes 0-100% in 35 minutes.
Now you have to expect that a big phone is thirsty. This is a candidate for multiple Qi charge pads at home and the office. If I have a big day, it can go as low as 20%, but on average, I have about 50% left at night.
It's a one-day phone.
Sound – great at lower volume
Speakers
Stereo – earpiece and down-firing speaker
Dolby Atmos, Dolby Digital, Dolby Digital Plus decoding
AKG tuned
AMP
2 x CS35L41 D-Class amps that output 5.3W each at 1% THD. These have integrated DSP and speaker protection. Interestingly, these are two mono amps to make stereo, so we assume some software balances the top and bottom speakers.
BT codecs
Audio dual-connect with 2 Galaxy Devices
Codecs are SBC (standard), LDAC (Sony), ACC (Apple) and proprietary Samsung scalable codec
Note: No Qualcomm aptX codecs
Playback
Codecs
MP3, M4A, 3GA, AAC, OGG, OGA, WAV, AMR, AWB, FLAC, MID, MIDI, XMF, MXMF, IMY, RTTTL, RTX, OTA, APE, DSF, DFF
UHQ 32-bit & DSD64/128
PCM: Up to 32 bits, DSD: DSD64/128
Dolby Atmos
It decodes 5.1.2 (or higher) to the two speakers. It does not add any height channels
BT or USB-C cabled headphones (it has an inbuilt DAC) show a slight sense of spatial sound.
EQ
EQ pre-sets can adjust most frequency bands by +/-10dB. These include normal, Pop, Classical, Jazz, Rock and Custom.
Sound
Stage
It is a little wider than the device in landscape mode
Mic
Dual top noise-cancelling and for Audio zoom – focuses on the direction of interest during recording.
There is a third mic adjacent to the bottom USB-C Port
Handsfree
It is loud and clear, but the mic (top or bottom) drops off quickly over 1m. Its NC is superb. We noticed that was at the expense of natural voice – callers heard more robot voice.
3.5mm
No
BT Headphones
Our reference Sony WH-1000xM4 in SBC, AAC and LDAC modes provided good clear sound and plenty of volume. We did not test the Samsung scalable codec
Tests dB
Anything over 80dB is excellent
Media – 78
Ring – 80
Alarm – 80
Earpiece – 55
It is disappointing that there is no support for aptX (all versions) and TWS. Very few devices use the Samsung Scalable codec.
Sound quality
You would expect the best, and at 70% volume, it presents a rich, full sound. But we measure at 100% where three things become apparent. First, the recessed mid/upper treble means that it affects 'location' – where the sound comes from in the relatively narrow sound stage.
Next, mid-bass is there, but it suddenly dips at 100hz, almost obliterating high-bass – you need this more than mid-bass to add some gravitas.
Finally, the frequency response is relatively flat from 200Hz to 10khz then builds to upper-mid and lower treble.
So, it is essentially a mid-signature which is great for clear voice but not so great for most music. You can read more about sound signatures here.
The EQ has Pop, Classical, Jazz, Rock and Custom for a +/-10dB adjustment, and you can get a reasonably flat response from 100Hz to 5kHz.
It is a shame as last year's Galaxy S20 Ultra had good stereo left/right separation and hints of bass and treble to round out an almost perfect warm and sweet signature.
Build
Size/Weight
165.1 x 75.6 x 8.9 mm x 227g
It is 11.15mm thick at the camera bump
Colours
Phantom Black
Phantom Silver
Other back colours at Samsung online
Build
Front: Gorilla Glass Victus
Frame: Alloy
Back: Gorilla Glass Victus
IP
IP68
1.5 meters of fresh water for up to 30 minutes.
Not for beach or pool use.
In the box
USB-C to USB-C cable
S Pen
The screen digitiser supports pens, including Note 20 and Note 10. It may also support other Wacom pens. See Samsung notes here.
Bad Samsung – shame on you for charging this much without a charger or AKG buds! Apple can get away with it, but you can't.
I like the look – it is big and bold but not without its foibles. For starts, it rocks, literally, on a benchtop, which is bad for S Pen use (not supplied). Adding a bumper cover fixes that. It is top-heavy, not balanced in your hand – not a big issue.
The S Pen uses inductive coupling, so it has fewer features than BT active pens. Samsung may release an active pen later.
Android 11 with at least 12 and 13 to come
Android
Google Android 11
Security patch date: 1/04/21
UI
One UI 3.1
Google
All standard apps, Google Lens and Assistant
Bloatware
Mostly Samsung and Microsoft productivity and utilities.
The Samsung apps include the Galaxy Store (unique Galaxy Apps), Mail, Contact, Calendar, Dialler, SmartThings, Samsung Health, Pay, AR, Switch, DeX, and Pay. Why it persists with Bixby is beyond me.
Update Policy
Assume at least two, if not three, updates. Security patches should come monthly.
Security
Ultrasonic Fingerprint 10/10
FaceID 7/10
We could write reams about One UI 3.1 but suffice to say it is the grease on Android's wheels.
This product has had eight firmware updates since release – the majority are camera related, which is why we decided to wait to review this.
Missing
microSD
With the base model at 128GB we would have expected this expandability. However, the data transfer rates over USB-C 3.1 make it practical to record to external SSD media. OPPO Find X3 also has USB-C 3.1 for similar speeds.
aptX
Qualcomm aptX includes variable latency modes and True Wireless earphone support. Samsung has its scalable codec that does the same but only with specific Samsung audio products. If you want fidelity, then LDAC is the CODEC to use. OPPO Find X3 has aptX/TWS.
Charger and earbuds
Lousy – very Applesque. OPPO Find X3 Pro supplies 65W SuperVOOC 2.0 and USB-C earphones
10-bit screen
OPPO's Find X3 10-bit, 1 billion colours LTPO AMOLED comes from Samsung. Side-by-side, the OPPO wins hands down for colour.
Battery and charger
Even though it is a big battery, it has to do a lot of work. PC Mark 2.0 battery test at 9:40hrs is way under OPPO Find X3 Pro of 14:48hrs.
Similarly, the battery charge of >1hr is well above the OPPO Find X3 at 35 minutes.
On the positive side, I am sure there is a kitchen sink in there too. None of these are deal-breakers.
Samsung Galaxy S21 Ultra 5G camera – 108MP is huge, as is the periscope 'Space Zoom'
The 108MP is a nonacell that means it bins 9x to 12MP. That binning allows AI computational photography to do its magic, and you cannot take a bad shot. Technically it has a very much higher dynamic range and less induced noise. It also allows what Samsung calls Super-PF Plus autofocus (AI, gyro EIS and OIS).
You can shoot in 108MP, provided you have a tripod and perfect day or office light.
Our camera tests are 'real life' and use the same scenes to give us a baseline. If you are interested, DXOMARK has a full camera review here. It scores 126 – four points under the iPhone 12 Pro Max.
Camera
Primary
Wide Angle
108mp
(bins to 12MP)


Ultra-Wide
12MP
Telephoto
10MP


Periscope
Telephoto
10MP
Selfie
40MP
(bin to 6.5MP or 10MP group)
Sensor
Samsung
S5KHM3
Samsung S5K2LA or Sony IMX563
Likely Samsung S5K3J1
same
Samsung GH1
Focus
PDAF
Laser Focus
Dual Pixel AF
same
same
PDAF
Aperture f-stop
1.8
2.2
2.4
4.9
2.2
Pixel size um
.8 (bin to 2.4)
1.4
1.22
1.22
.7 (bin to 1.4)
FOV° and cropped
83
120
35
10
80
Stabilisation
OIS
Flash
CRI LED
Screen flash
Zoom
Also does Macro
10X optical



3X optical
10X hybrid
100x Digital
Video Max
8K@24fps
OIS
Gyro EIS to
1080p@60fps
Tracking AF up to 1080p@30fps
Super Steady mode
Gyro EIS
Features
Auto HDR
Nona Bayer
Scene Optimiser*
Single Take**
Can shoot in 40MP
* 30 modes: Face, Baby, Person, Dog, Cat, Food, People, Beaches, Sky, Mountain, Sunset, Sunrise, City, Snow, Waterfall, Watersides, Scenery, Stage, Vehicles, Drinks, Flowers, Trees, Greenery, Animal, Shoes, Backlit, Indoor, Text, Clothes, Night view
** triggers all cameras simultaneously and produces up to 14 photos from which you can select the best one.
Daylight, outdoors
Indoors Office Light (400 lumens)
Low light (room with less than <40 lumens)
Selfie
Fast autofocus means crisp selfies. It bins to 6.5MP when it detects one face and 10MP when it detects a group. That means detail is superb, but the depth of field is pretty narrow, and you need everyone in close.
The screen fill flash tends to accentuate blemishes.
Zoom
It technically has 100x space zoom. You really must have a very stable tripod to use anything over 30X.
Video
Video' image' is a function of AI computational photography. It looks great, but it is not 'natural'. You will likely use 1080p@60fps as 4, and 8K will fill your storage too quickly. And the 8K video is more for bragging rights – they suffer from compression artifacts and very soft focus.
GadgetGuy's take
The Samsung Galaxy S21 Ultra 5G is a true flagship. It is an incremental improvement on the S20 Ultra. In some respects, it is a step back, e.g., no microSD. It is my daily Drive and took over seamlessly from the S20 Ultra.
But then OPPO had to ruin Samsung's day with the OPPO Find X3 Pro at $1699. It beats the Samsung Galaxy S21 Ultra 5G (in brackets)
256GB storage (128GB)
Faster USB-C access to external storage
1 billion colour 10-bit LTPO OLED (16.7M Super AMOLED)
Variable refresh 1-120Hz (fixed 48/60/90/120)
1300nits peak (1400)
Qualcomm SD888 (Exynos 2100)
2400Mbps Wi-Fi (1200Mbps)
More 5G bands
More powerful Wi-Fi reception strength
Ditto – 4/5G antenna 158fW (70)
35-minute charge (1hr)
10% throttle (16%)
100X Super Zoom that is not all that useable over 30X (comparable to the OPPO 20X. The OPPO has a 30x magnifier – a gimmick, but it is fun)
OPPO appears to take better photos with 2 x 50MP binned to 1 x 12.5MP (108MP binned to 12MP)
Samsung is still the king but never before has OPPO managed to meet or exceed the S21 Ultra.
Part II – $2K for a phone!
I admit that my predilection for a flagship phone is predicated by Samsung's loan terms (or Apple, Google et al.). It is the standard operating procedure to have senior journalists and influencers use the products throughout the year to see if firmware or operating system updates make a difference. It is also to have the 'best' available camera.
For example, the Google Pixel was not the best performer in the SD765G powered class. The April 2021 update adds both more speed and camera improvements. It again is and will lead to a reassessment of the review.
But the reason for the admission is that Joe and Jane Average don't need a $2K, let alone a $1K smartphone either.
There has been an amazing race to the bottom for 5G phones. Currently, OPPO has the A54 and A75 – both 5G Qualcomm SD phones for $399 and $499 and they are exceptional value with 5000mAh batteries, great camera, NFC and more.
So if you have a lazy couple of grand, by all means, get the Samsung Galaxy S21 Ultra 5G or OPPO Find X3 Pro. And both have reasonably generous trade-in programs, so it's a no-brainer.
Comparison of Samsung S20 Ultra and Samsung Galaxy S21 Ultra 5G
Samsung Galaxy S21 Ultra 5G
The Samsung Galaxy S21 Ultra 5G is a true flagship. It is an incremental improvement on the S20 Ultra.
Positives
Samsungs build quality
Excellent camera
Top class display
Negatives
One day battery
Heavy at 229g plus a case