As widely speculated, three Samsung Galaxy S23 phones headlined the company's Galaxy Unpacked event overnight: the Galaxy S23, Galaxy S23+, and Galaxy 23 Ultra.
Each phone introduces several enhancements over the S22 models from last year, with arguably the most substantial being the S23 Ultra's 200MP camera. Here's everything we know so far, and we'll update our coverage as more details come through.
To save some money, make sure you read our guide to the best Samsung Galaxy S23 pre-order deals. Plus, you can find out what we loved about the highly-anticipated Samsung Galaxy S23 Ultra camera.
Jump to highlight
Samsung Galaxy S23 design: similar but different
A slight design tweak to the Samsung Galaxy S23 Ultra's edge display means there's slightly more flat surface area compared to last year's model. This comes courtesy of a different-shaped curve to the edge display, squeezing in an extra bit of room.
Like the S22 version, the Galaxy S23 Ultra sports a whopping five-sensor rear camera array, while the other models retain a three-sensor design. Samsung removed what it refers to as the Contour Cut housing around the lenses, so the cameras appear to protrude less across the entire S23 range.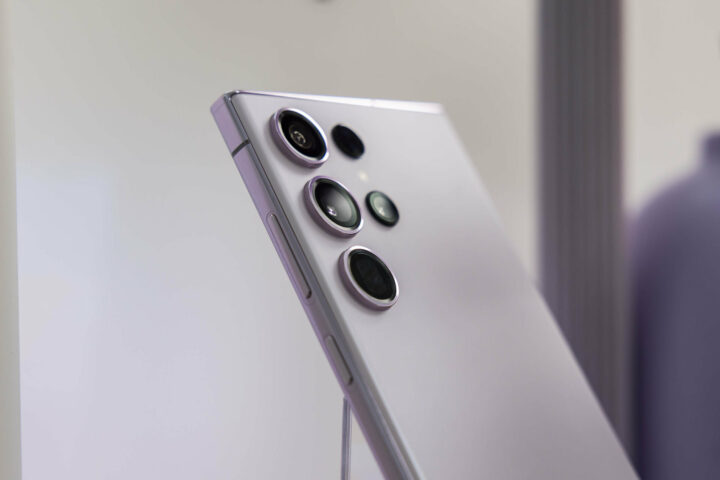 Sustainability was a big focus for Samsung this year, with the S23 devices using more recycled materials than the S22 Ultra. Materials including recycled glass, aluminium, and plastic went towards producing all aspects of the external design ranging from the screen to speaker modules and side buttons. By using recycled fishing nets, Samsung aims to assist in removing over 15 tonnes from the ocean throughout 2023.
Notably, the Galaxy S23 series is the first to use Corning Gorilla Glass Victus 2 screen technology, which is said to be highly durable and averages 22% recycled material in its construction. Importantly, the Galaxy S23 phones come in a range of colours including Phantom Black, Cream, Green, and Lavender. Additional colours are available exclusively through Samsung.com.au, with the Ultra gaining Lime, Graphite, Red, and Sky Blue options, while the S23 and S23+ also get Lime and Graphite.
Camera: 200 million potential reasons to upgrade
Night and low-light photography is one of the main selling points of this year's Galaxy phones, headlined by the S23 Ultra's 200MP sensor, upgraded from the S22 Ultra's 108MP sensor. Promising bright and clear shots, even in the dark, the 200MP uses adaptive pixel technology that combines 16 pixels into a single larger pixel to produce detailed low-light photography.
By including a 200MP sensor in the Galaxy S23 Ultra, it should enable highly detailed photography filled with millions of colours. As an added benefit, such a high megapixel count means you can print larger photos or digitally crop and zoom into images while retaining a high level of quality.
Samsung also claims the flagship sensor has improved autofocus capabilities due to Super Quad Pixel technology, which results in faster and more accurate focusing. This is because it has 200 million pixels of reference to use, and the technology analyses four different pixels at a time for precise subject detection. Video also takes advantage of the larger sensor, opening up the option to film 8K video at 30fps. Plus, you can shoot at a wider angle, 80 degrees up from 57 degrees, and capture 360-degree audio when paired with the Galaxy Buds2 Pro.
Better night snaps, selfies, and RAW editing
Each S23 phone benefits from the selfie camera's Night Portrait mode, capable of analysing objects using AI and adding an enhanced soft bokeh effect to blur the background. Additionally, improvements to video stabilisation factors in available lighting help smooth out shaky footage. Plus, Samsung worked on its noise reduction technology to reduce grainy footage while increasing sharpness. Also new to the S23 series is the Astro Hyperlapse mode for capturing star trails in the night sky. Here, you select the 300x setting in Hyperlapse mode, set your phone up on a tripod, and away you go.
This year's Galaxy range sees a slight bump in quality to the selfie cameras, with all three models sporting a 12MP front-facing sensor, up from the S22 series' 10MP. Additionally, Samsung's Super HDR technology now carries over to the selfie camera, capturing a wider range of colours at 60fps.
Last year, Samsung introduced the Expert RAW app across the Galaxy S22 range, giving photographers access to uncompressed images for complete editing control. However, it was previously limited to 12MP photos. Now, S23 phones can shoot in 50MP using the Expert RAW app to snap more detail with each image.
Performance under the hood
In announcing the Galaxy S23 series, Samsung devoted time to hyping up the phones' gaming capabilities. Wielding the Snapdragon 8 Gen 2 Mobile Platform for Galaxy processing unit, the latest devices see several improvements across the board. According to data from Samsung, its optimised GPU is "approximately 41% faster" than the S22 series, and the S23 Ultra supports real-time ray tracing for more realistic lighting, reflections and shadows.
Both the CPU and NPU also see improvements across the S23 range. Samsung's data claims the CPU has a 30% increase in processing ability, while the NPU "has been optimised by 49%". It's the latter part that makes for interesting reading: many of the Galaxy S23 phones' cited improvements come in the form of greater image processing, so it's reasonable to think that advancements to the neural processor play a substantial role.
Also under the hood, the Samsung Galaxy S23 Ultra houses a decent-sized 5,000mAh battery, which should give you plenty of time for gaming, streaming, and general use. Both the S23+ and S23 have slightly bigger batteries than their predecessors – 200mAh more each, to be precise. The S23+ now has a 4,700mAh battery, while the base S23 model uses a 3,900mAh battery.
On the outside, each phone's display has three different levels of colour tone and contrast settings designed to help you see as ambient light changes. Also, the Enhanced comfort feature mutes the display output a bit to make for easier viewing when needed.
An upgraded software experience: One UI 5.1
Sometimes, it's not the new hardware that makes a device upgrade feel fresh: it's the new software. To coincide with the Galaxy S23 devices, Samsung's custom Android OS, One UI, gets a refresh. With One UI 5.1, you have more customization features including Modes and Routines, letting you program different preset actions to fit your life. For example, you can set sleep, work, and exercise routines, and adjust your phone's settings based on each mode.
Another smart feature included in One UI 5.1 lets you respond to calls with a text using Samsung's voice assistant Bixby. In collaboration with Google, new collaborative features are also available, like being able to simultaneously work on documents in Samsung Notes with others during Google Meet calls, which seems like a response to Apple's recent Freeform feature.
To help protect your data, the Galaxy S23 phones use Samsung Knox technology, enabling end-to-end encryption at a hardware and software level. Another welcome software guarantee comes in the form of five years of security updates, along with four generations of One UI and Android OS upgrades. It's a generous commitment that means you should get good use out of your purchase.
Samsung Galaxy S23 specifications
We'll have more details once local information arrives, but here are the main specifications we currently know for the S23 range.
Samsung Galaxy S23
Samsung Galaxy S23+
Samsung Galaxy S23 Ultra
Display
6.1-inch FHD+
Dynamic AMOLED 2X Display
Super Smooth 120Hz refresh rate (48~120Hz) 240Hz Touch Sampling Rate in Game Mode
6.6-inch FHD+
Dynamic AMOLED 2X Display
Super Smooth 120Hz refresh rate (48~120Hz) 240Hz Touch Sampling Rate in Game Mode
6.8-inch QHD+ Edge
Dynamic AMOLED 2X Display
Super Smooth 120Hz refresh rate (1~120Hz) 240Hz Touch Sampling Rate in Game Mode
Processor
Snapdragon 8 Gen 2 for Galaxy
Snapdragon 8 Gen 2 for Galaxy
Snapdragon 8 Gen 2 for Galaxy
Memory
8GB
8GB
8GB or 12GB
Storage
128GB or 256GB
256GB or 512GB
256GB, 512GB, or 1TB
Battery
3,900 mAh,
25W charging,
Fast Wireless Charging 2.0
4,700 mAh,
45W charging,
Fast Wireless Charging 2.0
5,000 mAh,
45W charging,
Fast Wireless Charging 2.0
Rear camera
50MP wide camera
F1.8, FOV 85 ̊;
12MP ultra-wide camera
F2.2, FOV 120 ̊;
10MP telephoto camera 3x Optical Zoom, F2.4, FOV 36 ̊
50MP wide camera
F1.8, FOV 85 ̊;
12MP ultra-wide camera
F2.2, FOV 120 ̊;
10MP telephoto camera 3x Optical Zoom, F2.4, FOV 36 ̊
200MP wide camera
F1.7, FOV 85 ̊;
12MP ultra-wide camera F2.2, FOV 120 ̊;
10MP telephoto camera 3x Optical Zoom, F2.4, FOV 36 ̊;
10MP telephoto camera 10x Optical Zoom, F4.9, FOV 11 ̊
Selfie camera
12MP
F2.2, FOV 80 ̊
12MP
F2.2, FOV 80 ̊
12MP
F2.2, FOV 80 ̊
Connectivity
5G, LTE, Wi-Fi 6E, Wi-Fi Direct Bluetooth v 5.3
5G, LTE, Wi-Fi 6E, Wi-Fi Direct Bluetooth v 5.3
5G, LTE, Wi-Fi 6E, Wi-Fi Direct Bluetooth v 5.3
Water resistance
IP68
IP68
IP68
Price
From $1,349
From $1,649
From $1,949
Samsung Galaxy S23 series release date and pricing
Pre-orders are live now for the new phones, ready for launch on 17 February. As for price, the Samsung Galaxy S23 starts at $1,349, while the Galaxy S23+ starts at $1,649, and the high-end Galaxy S23 Ultra starts at $1,949. If you go for a maximum spec Ultra with 12GB RAM and 1TB storage, it'll set you back $2,649 when purchased outright. Our guide to the best pre-order deals has plenty of money-saving options, too.
Samsung also announced its Galaxy Book3 laptops at Unpacked, but they are not coming to Australia.
Samsung Galaxy S23 accessories
To coincide with the launch of the new phones, there are plenty of accessories already available to protect and decorate your phone. Samsung has its own first-party products ranging from cases to additional devices like the Galaxy Buds and Galaxy Watch. On the company's website, they have specific S23 and S23+ accessories in addition to larger accessories for the S23 Ultra.
From third-party companies, Belkin has launched its initial range of accessories for the S23 devices. For now, it's mainly screen protectors, but they're fully compatible with Samsung's fingerprint detection technology, providing edge-to-edge coverage. Plus, the screen protectors contain a blue light filter designed to reduce up to 20% of blue light, helping reduce eyestrain.
---
We'll update this article and our ongoing coverage of the Galaxy S23 phones as we get more information and begin testing the devices out. On paper, this year's flagship phones from Samsung are incremental upgrades over last year's S22. If you take your photography seriously, the Ultra looks tempting. Otherwise, we're keen to test the new range and see what it offers for the everyday user.