The buttons haven't changed location, though, so that should be perfect for people who like the location of the volume on the left edge with power on the right, and to Samsung's credit, at least the power is easy to get to, unlike the top power button on the HTC One (both the 2013 and 2014 models use the top for the power button).
Likewise, there's still a physical home button flanked on each side by soft buttons, though menu isn't here anymore, replaced with a multitasking button, a decision which makes sense given most Android phones have dropped the menu button and are using an option built into the apps.
Switch the phone on and you'll be greeted by the next generation of Samsung's TouchWiz overlay, and what a change it is, with a flatter design and less translucency, while the display shows things beautifully, with close to perfect clarity.
We'll talk about the screen first, because it's easily one of the best areas of the Galaxy S5, with the 5.1 inch Full HD display showing gorgeous visuals. There has been a minor drop in pixel clarity, though technically our eyes can't tell the difference, and outside of reading the numbers on the page (432ppi versus last year's 441ppi), yours won't either.
Technically, the pixel clarity argument is a futile contest between hardware manufacturers, and beyond 300ppi, the human eye can't really tell the difference.
In fact, the loss of a few pixels per inch means nothing on the Galaxy S5, with the screen looking perfect from nearly ever angle.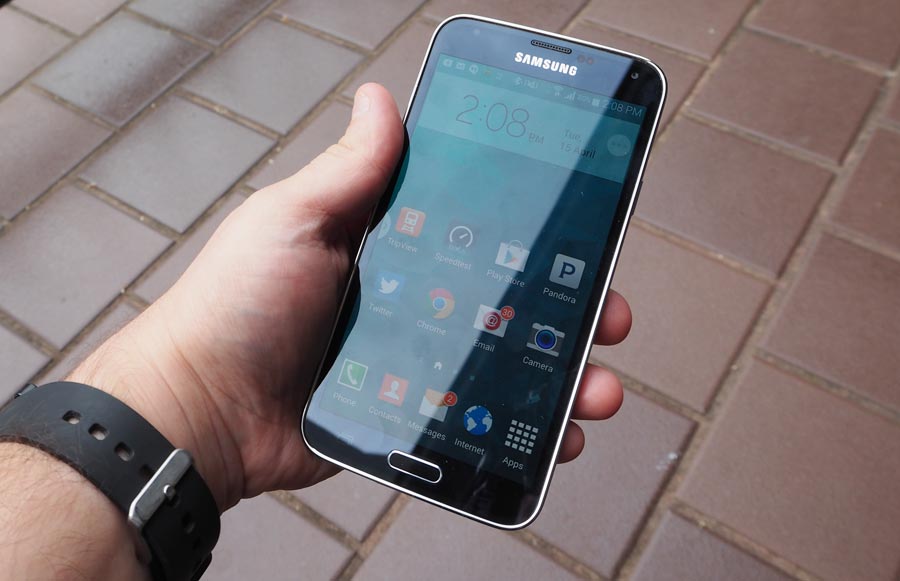 It would be fair and accurate to say Samsung has made one of the best screens we've ever seen in the Galaxy S5, and it even works in direct sunlight, pumping out so much brightness that you'll laugh at all the other phones and their attempts to deal with the outside world.
Back indoors, the screen can be overwhelmingly bright, but the automatic sensor does a great job of working out what you need, and you can even tweak this part to provide up to 5 levels of minor brightness both up and down the scale, depending if you think Samsung is getting it right.
Over to performance, and this is a mixed area.
For the most part, the system handles its own, providing near instantaneous app loads and multitasking, but there are some catches here and there. Even though Samsung is reliant on the same uber-impressive Snapdragon 801 chip as the HTC One M8 has — hell, Samsung actually has a faster model — we did notice the occasional lag that reared its ugly head when the battery dropped to around 30 percent. For some reason, when you're there, you may find that apps stall, lag, and even crash, causing your phone to become unresponsive for a good minute or so.
It's frustrating, and the times we noticed it, the problem seemed to occur when the battery was depleting, which also seems to happen relatively quickly, especially if you've bought one of Samsung's new Gear smartwatches.
Battery life isn't one of those things that will have you screaming "yes, I'm so glad I bought this over an iPhone," because on the Galaxy S5, it's not far off that device.
We've measured around a day-ish max for the iPhone 5S, and Samsung has more or less nailed the same for everyday use. For us, that consisted of making phone calls, surfing the web, reading and writing emails, doing some social networking, taking pictures, and watching the odd video here and there.
That resulted in a day of use in our tests, and that was pretty consistent across the few days of testing that we did, which is a little startling. Use your phone less and a day and a half to two days is possible, though power users will eat through the battery in the space of a day with no problems.
To Samsung's credit, there is a very cool power saving option that can deliver up to 24 hours of not doing anything when you have a very small amount of battery left.
This special mode can be switched on whenever you want, and will switch off mobile data and the pushing of information when the screen goes off, change the apps you can run, switch the colour screen to greyscale, and turn off wireless networking and Bluetooth.
Basically, this means you can still use your phone, but for less, with the net result being more battery life appearing out of nothing. Screenshots can't even be captured here.
But hey, your phone will last longer when the battery really counts, so that's good, and given how quickly life seems to be extinguished from the Galaxy S5, you might find yourself using this more often.
Mobile performance, at least, will have you cheering, and not just because the Category 4 LTE speeds are decent across the board. Our tests yielded results between 25 and 80Mbps down, and that was with Telstra's Category 3 LTE network.
Those of you with access to a Category 4 could see speeds over the 100 mark, and that's pretty bloody good if you ask us.