There are also the little things, and these are really the bits that make the Galaxy S5 special, as otherwise it would just be another phone with another Snapdragon processor.
For instance, there's an emphasis on security in this handset, with Samsung including a fingerprint scanner, similar to what Apple did with the iPhone 5S.
Like that handset, you can use the fingerprint scanner under the home button to unlock the phone, which means there's a touch more security than just your regular password, though if the scanner doesn't read your print properly, you'll have to enter a several character password, and not just a simple PIN.
The technology is also being employed by PayPal on the S5, and really this just serves as another way of bypassing security with an easier and harder to break security solution. Sure, you could type in your PayPal password or PIN code, but why do that when you can just swipe a finger?
Samsung's use of the fingerprint technology can store up to three fingers, and it does a decent job of reading — much better than the biometrics used on the HTC One Max, that's for sure — but it can fail, and we found that it would miss your finger about 50 percent of the time. It's also next to impossible to swipe with the hand your holding the phone in, so don't even try. We can only imagine the length of digits you'd need to make this happen, and it never worked in our tests.
But the fingerprint security is just one side of the security, and in the Australian Galaxy S5 handsets, locals will be able to connect to their banks and use their phone as a PayWave device, so you won't even need a credit card. We didn't get to test this feature, and our bank doesn't yet support this, with only Commonwealth Bank and Westpac signed up for this as far as we had heard, but because of the security technologies Australian banks use, you can only get this with an Australian Galaxy S5 model, so if this is an important feature for you, don't even consider buying a phone from out of this country.
Health is also a big part of the package nowadays, and that's hardly a shock given how many health-related gadgets we're seeing. Samsung was pushing a bit of the health concept in the Galaxy S4 too with "S-Health," and it's back in the S5, still monitoring your steps, but now adding in a heart rate monitor at the back of the phone.
This piece of tech is next to the camera (which we'll get to shortly), and sits inside the slot where the camera flash is, shining a red light against your finger and looking for your pulse, measuring it, and then reporting it back.
And does it work? Well, it seems to, though Samsung does warn that the technology isn't for "clinical or medical use," and won't work if the room is particularly loud, so while it's not exactly a gimmick, we'd also suggest to go see a health professional or use a proper heart rate monitoring device if you need to check your heart regularly.
Finally, some of the favourites are still here, such as being able to use multiple Galaxy products to play music through "Group Play," and even control your TV through the infrared port at the top of handset.
This last one was popular last year, though in this model, we've noticed that not all brands are available, and unlike some of the competing smartphones supporting this technology, Samsung's implementation won't learn from unknown remotes, meaning if your TV brand isn't supported, you can't train the remote app to recognise the functions, and you merely have to wait until Samsung's people add the brand to its database.
There's also a "Samsung Wallet" sitting around now, waiting for you to take advantage of coupons, tickets, and more, though few places in Australia seemed ready for this at the time of testing.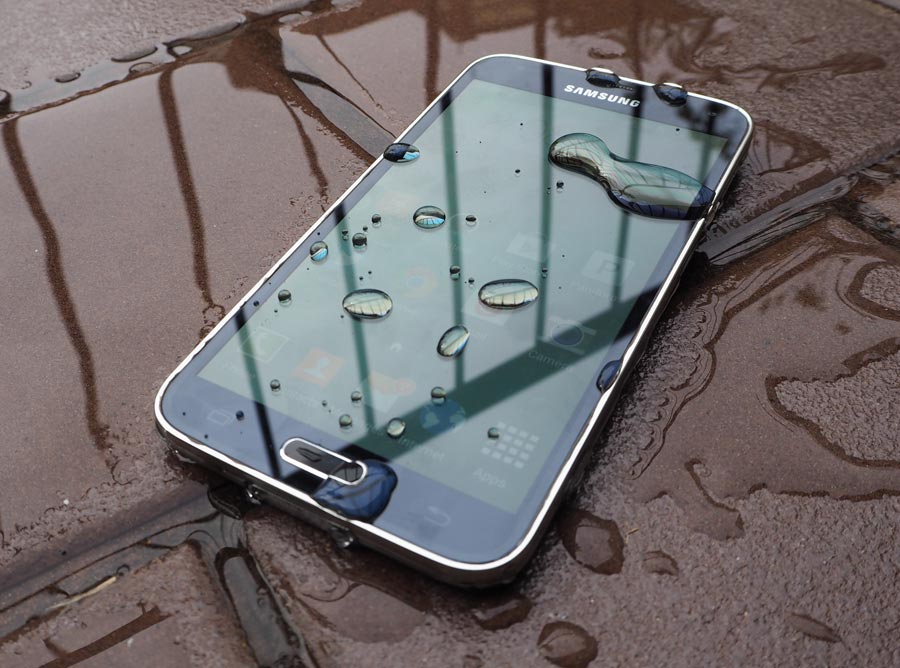 You can even take your phone in the drink, with IP67 certification applied here, making it water and dust-resistant, provided the bottom USB cab is plugged in and the back casing is snapped on tight.
The bottom cap is actually one of the more irritating requirements of the water-resistant design, and it means that every time you want to charge the phone, you need to pull the cap off, which hangs there with a bit of plastic. It's a little annoying, but you'll get used to it, and the one time you decide to accidentally drop the phone in the pool, well, consider it an issue easily forgotten.
One last thing is the "My Magazine" screen, which moves past the Flipboard screen the Galaxy Note 3 had installed, providing a screen of constantly refreshing news to the left of your homescreen.
You can turn this off if you like, and you can even customise what loads, but even though this is linked to Flipboard, it for some reason won't load any of your own Flipboard settings.
This means that Samsung has essentially made it more awkward for customisation than even HTC's Blinkfeed, which too lacks the ability to add your own websites and is totally reliant on a different service. Indeed, with the Galaxy S5's My Magazine, we could select categories to have it pull information from, but not grab the websites we would read regularly, making it less of a thing we were likely to use.