You can even show news feeds and weather on the edge, and even some social networking goodness if you choose, almost as if the edge of the screen were a news ticker at the bottom of a news station.
Unfortunately, they won't appear just by themselves when the phone is on standby, and it's kind of a pain to have to get them to switch on, forcing you to rub your finger left and right on the edge to get the Galaxy S6 Edge to wake up and deliver you the information you're looking for, when you could simply just bring the phone up from standby and see it on a nice big screen instead of a boring edge.
If this information was just in the background, ambient like the clock and not consuming a whole heap of energy, it would be fantastic, but forcing you to touch the phone, rubbing it to get the thing to function in this way, it just feels like a less impressive use for something we've seen on the Galaxy Note Edge.
That thought constantly enters the front of mind with the Galaxy S6 Edge, because again, the screen is really cool because it's really curved, but it just doesn't do as much as you want, and sometimes it even feels like the screen is a little too sensitive, possibly because you're essentially gripping the edges with your finger, and as we've pointed out, the edges are part of the screen.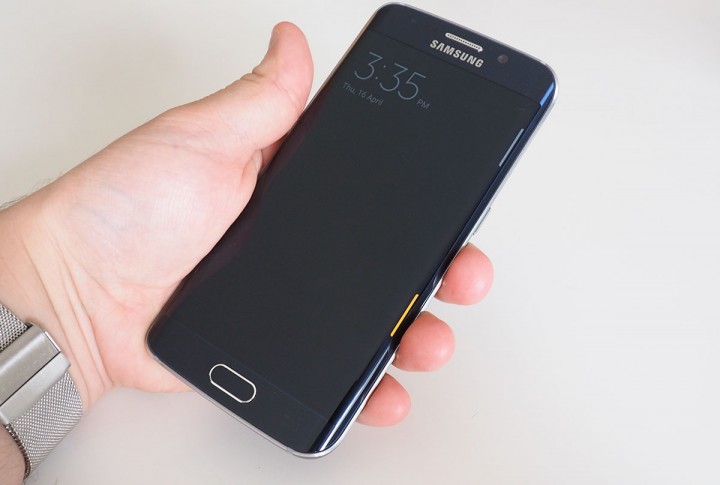 About the best thing the edge screen does happens when the phone is on standby and you pick it up from the desk, with your favourite contacts popping up on the edge in tabs that you can swipe out and see the last message or phone call of, with a button to quickly call them.
This feature is super handy, because if you just missed a few calls or texts from people you value immensely — enough to be considered your top contacts — you can check them all from the one screen without having to wake up the phone and wasting more battery power.
Samsung's implementation of this is excellent, and we love seeing the flow of graphic as it comes in, almost feeling like liquid, as if your finger draws a bubble of information out from the edge, kind of like an interactive lava lamp.
But that's the most enjoyable aspect we've found about the edge screen, and the S6 Edge has the same share of problems from the S6 regular because — survey says! — they're pretty much the exact same phone.
That is, they share the same Exynos octa-core processor, the same storage options, the same memory, the same operating system, the same excellent camera, the same buttons, the same ports, the same high-definition audio support, the same Category 6 4G support, the same reliance on glass and metal, the same… well, you get the picture.
They're not quite the same in the battery department, though, because the design has allowed Samsung to be a little different in this regard.
Granted, Samsung has at least boosted the battery in the Edge by a whole 50mAh, but in the grand scheme of things, it's not enough to be useful, and you'll still only achieve around a day of talking, messaging, emailing, web surfing, listening to music, taking photos, and general use of the phone.
That's not fantastic, but is about standard for every major phone, so just like we observed in the Galaxy S6 review, we're sure this won't be talked up as a huge issue for the phone, since most other phones struggle to get a full day, and this does arrive with a fast charger if you desperately need to get some juice into your phone and there's a wall wart nearby.
There's also no expandable memory, something we're saddened to see missing because it's a feature Samsung has championed over its major rival for so long. Yet here, you'll have to pick the storage amount you want from the very beginning, offering a choice of 32, 64, or 128GB, and with no way of expanding this after the fact.
As you can imagine, these bring with different prices, just like on other phones with various storage sizes, and these can get mighty expensive, with the basic 32GB model fetching $1199, the 64GB grabbing $1299, and the 128GB model commanding $1449.
Yes, you read that correctly: a slightly curved edition of the Galaxy S6 with 128GB storage commands almost $1500, a price that is astounding in the grand scheme of things, and can buy you a laptop.
Technically — and in fairness to Samsung — these pricing models aren't far off what Apple charges for its own phones, with the Galaxy S6 Edge comparable in pricing to the iPhone 6 Plus, which itself sells for identical prices.
That being said, it's still particularly expensive, and you're being asked to shell out a good $150 to $200 for a screen that's curved.
Conclusion
Not everyone wants the same phone, and while we can customise the wallpaper, change the ringtone, add a case, throw some stickers on, and do everything possible to the outside to make it a little bit more you, sometimes, that's just not enough.
Samsung's Galaxy S6 Edge seems skewed to people who find themselves in that category, where they want the same phone as everyone else, and yet they also don't, with something crafted with the same care and ingenuity, but with a little more spectacle.
With a screen that is curved slightly on each side, the S6 Edge is definitely that phone, adding an extra $200 for a product that does that and even throws in a little more functionality, minor as it is.
For some, that minor functionality will be major, and having a phone that glows light red when their significant other calls while blue for their boss will be a big deal, because it's a kind of cool idea that no one else is doing.
Others, however, might just want the curved screen because it's kind of cool, even if it doesn't really do much.
And really, there's something unmistakably sexy about the design, which appears thinner than what it is, and yet looks like it's a piece of the future in your hand, your desk, where ever you are.
Basically, the choice between the two comes down to the screen, and if you can live without the curved screen and still want an S6, you can get pretty much identical hardware and software — without the bits the curved screen brings, few that they are — and save some money in the process, with the Galaxy S6 that option.
But if you want something curved, there's that too, and it's a good product, a great product even, just one that's a little more expensive than it probably should be.
Just don't break it, because the way this thing is made, it probably won't be cheap to fix, and you'd probably be better buying a new phone.
UPDATE (April 17): We're checking on something at the moment, because the Australian version of the S6 Edge (and likely the S6) does not have auto-rotation on the gallery, while that international variant of the S6 does. A question has been put into Samsung to find out why this is still the case and if there will be a patch to fix this, because it's one of those annoying issues Aussies shouldn't have to see, given other people around the world don't have to.
A design that looks totally different, because no one has curved screens like this; Curved screen is very cool; Built with premium materials; Great performance; Like the S6, an absolutely fantastic and bright screen; One of the best cameras in the business; Practically bloat-free version of Android; Includes a fast charger to quickly bring battery back to life;
Battery could be better and isn't removable; No expandable memory; Water-resistance not part of the package; Curved screen doesn't really feel as useful as it did on the Note Edge; Expensive… very expensive;