Samsung's next big thing is bigger, as the S6 Edge arrives with a plus-sized sibling, but is it more than just a big brother?
Features
Has it been that long since we checked out a Samsung flagship?
Back in April, we checked out two, as the smartphone manufacturer didn't just reveal a follow-up to the Galaxy S5, but also a follow-up with a curved screen, a model it called the "Galaxy Edge" that stretched the screen ever so slightly on each side for a more stylised and fashionable look.
We're not sure how well it's done, but Samsung obviously thinks highly of the Edge because now the company has gone and made a bigger one, available in the Galaxy S6 Edge+ (Edge Plus).
In many ways, this model is a spec for spec clone of its brother, albeit in a larger body, so let's look at that.
For starters, you'll find the same Samsung-made eight-core processor consisting of two quad-core sections clocked at 2.1GHz and 1.5GHz separately, 32 or 64GB of storage, and a slight change to the memory, boosted from 3GB RAM to a more impressive 4GB RAM. No microSD slot can be found in this model, meaning your storage is set to either 32 or 64GB with no way of upgrading it.
Google's Android 5.1 "Lollipop" is found on the Galaxy S6 Edge+ out of the box, equipped with Samsung's TouchWiz overlay.
Connections for the phone are about par for the course, except for one thing, which we'll get to shortly. As such, you'll find WiFi spread out over 802.11a/b/g/n and even 802.11ac, Near-Field Communication (NFC), Bluetooth 4 (which has been updated to 4.2 in this phone), and that something new: Category 9 LTE connectivity.
For those not in the know, Category 9 is a higher spec version of 4G, and the Galaxy S6 Edge+ and its introduced-at-the-same-time Galaxy Note 5 brother are the only phones at the time of publication to support this, with Cat9 LTE capable of hitting up to 450Mbps, which technically translates to a maximum download speed of around 55 megabytes per second.
Not every telco will support this off the bat, but over time, we should see more of them waking up to it. Telstra has claimed support for Cat9 4G first, and it shouldn't be long until Optus and Vodafone chime in.
Cameras are the same as the previous Galaxy S6 Edge, however, implementing a 16 megapixel rear camera with an F1.9 lens and flash, while the front-facing camera is set to 5 megapixels with its own F1.9 lens.
Extra sensors are included, too, such as a barometer, a heart-rate monitor on the back next to the camera, and a fingerprint sensor built into the home button on the front.
And then there's the screen, and for that you'll find a slight increase on the regular S6 Edge, with the Edge+ jumping from 5.1 inches up to 5.7 inches, complete with the curved edges on each side.
The resolution stays the same, with Quad HD's 2560×1440 used here on a Super AMOLED display, detailing a good 518 pixels per inch (ppi).
Ports on the phone are identical, though, with the only ports found at the bottom via a 3.5mm headset jack and a microUSB port. The nanoSIM slot can be found at the very top of the handset, ejectable by pin.
Buttons are the same, too, with individual volume buttons on the left edge, a power button on the right, and home and soft buttons found underneath the display, set to multitasking, home with the fingerprint scanner underneath, and then a back button.
The battery in the Galaxy S6 Edge+ is set to 3000mAh and is not removable, though the phone does support a new fast charging wireless charging system if you bring an optional fast wireless charging accessory to the table.
Performance
What a difference a plus makes.
Back when Apple unveiled the iPhone 6, no one was surprised to see that Samsung's biggest competitor had finally caved and joined the category defined by the Korean smartphone giant with its very own phablet.
In that product, Apple had come up with the "Plus", a variant of the iPhone 6 that was a little bigger and a little better, but mostly the same, with identical guts, a better screen, a bigger battery, and a different camera.
It was made for a different type of user, and one that wanted a tablet-sized phone made by Apple, now that the company had no problem acknowledging the success of this category.
Samsung, however, had been working with phablets longer than anyone else. After all, it was Samsung that took a chance on the concept and created it all by its lonesome, pushing out the Galaxy Note back in 2011 (which we reviewed in 2012), and improving on the concept every since.
Four years on, here we are with something that isn't quite a Note, and is rather a big development on a design Samsung has been receiving a lot of praise for, with its curved "Edge" display.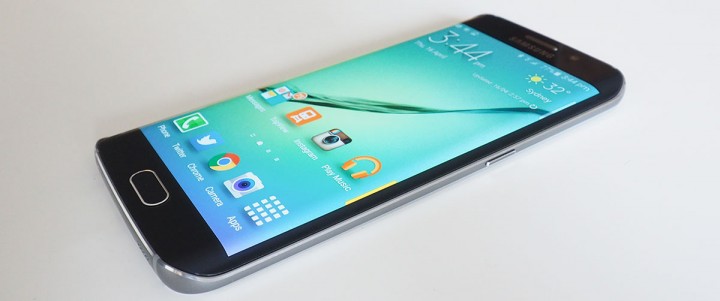 If you don't quite know what we're talking about, look back to April earlier this year when Samsung released the S6 Edge, a variant on its Galaxy S6 smartphone that didn't just offer another touchscreen design with a flat panel of glass, but instead tried something a little different by curving the edges on each side of the phone.
These edges didn't do a whole lot, we need to acknowledge that, serving only as a bedside clock at night, while letting you swipe from either side to pull in your favourite contacts and call them without thinking, but it was the look that attracted people.
After all, here was a phone that didn't have thick edges, with a piece of glass that curved over the front and brought the main line on the edge to something thin. Granted, that was mostly a trick of the eye, and the S6 Edge was about as thick as other phones it competed against, measuring in at 7mm, just 0.1mm thicker than the iPhone 6, even if it didn't look it.
It wasn't a perfect phone, though, and Samsung even managed to get rid of some of the things people loved about previous generations, improving the performance and build but ditching staples like a removable battery and upgradeable storage.
Still, though, there was something about that phone that just made you go "ooo", because a curved screen is very special, even if it doesn't do a whole lot.
For some, though, the size was the drawback, and that's because unlike how Apple released both a big and regular version of the iPhone 6, Samsung only did a curved and flat version of the Galaxy S6.
Not anymore, though, because that has changed.