Samsung's Galaxy S6 Edge+ is exactly what it says it is, as Samsung brings in that "+" (Plus) moniker to describe that it basically is: a larger plus-size version of the Galaxy S6 Edge.
In the hands, we have to say that Samsung has more or less blown up the phone we liked back in April, increasing the design to accommodate an extra 0.6 inches, as the display jumps from 5.1 inches to 5.7 inches, and why not?
The very point of a phablet is to have a big screen, and that's exactly what is offered here.
Some design changes have occurred here, slight as they are, because while the back stays the same flat surface and the front is curved off in the exact same way as on the regular edition, the S6 Edge+ has less pronounced curves on the corners resulting in a squarer device, while the metal edges now sport a line showing what almost looks like a fold on the metal frame.
None of this impacts how you hold the handset, and if you're used to a big phone but wished the edges would just go away, that's precisely what you'll get, with a feeling that comes off less like you're holding a meaty chunker of a phone, and more like the svelte futuristic bit of tech Samsung's marketing budget will likely churn out in the next few months.
Switch the phone on and you'll see one of the best parts of the handset: its screen.
This is one area where Samsung pretty much rules the roost, with some of the sharpest and brightest minds working on some of the equally sharpest and brightest displays.
The screen on the Galaxy S6 Edge+ is already pretty spiffy enough with its curved edges, but factor in a display that looks brilliant in daylight and you'll find it very hard to complain.
Just like on the S6 and S6 Edge before it, the screen on this phone is a Quad HD 2560×1440 display, boasting enough pixels to make any eye happy, proving itself with a solid 515 pixels per inch, over one hundred higher than the 5.5 inch iPhone 6 Plus.
It does need to be pointed out that over 300, most people can't tell the difference, but the more pixels you throw in, the sharper it gets, and if you bring a screen of this size up to your eyes (and by that, we mean super close), you'll find it hard to pixel peep, which is part of the reason we have such a high-grade of display in smartphones these days: it's all about making the imagery and text on the phone clearer, resulting in happier eyes all-round.
And that's exactly what you get on the 5.7 inch display of the Galaxy S6 Edge+: happy eyes, because the screen here is bright, sharp, colourful, clear, and very easy to look at. Good luck going back to a different phone after you've seen what Samsung has made here.
Using the phone, you'll find Android 5.1 "Lollipop" waiting for you when you take the S6 Edge+ out of the box, and really, the experience we're looking at is pretty much bang on with what we saw on the S6 Edge.
Samsung has been refining its Android overlay "TouchWiz" for some time, and in the latest iteration, we're seeing more improvement, though we suspect some of this comes from the decision to bring Android 5 up to 5.1 for this phone. That's what you get out of the box, and you'll also find Android's typical several home-screen approach to mobile operating systems here, with a separated app menu, customisable shortcut dock, editable power control in the dropdown bar, and all the regular fix-ins Android is known for.
The Edge screen also brings a couple of extra features to the table, one of them a little different in this plus-sized variant.
For instance, you have a tab that can sit on either side of the screen, and when you pull this in, you'll find room for up to five of our closest contacts, allowing to place them in a specific order, and with coloured frames.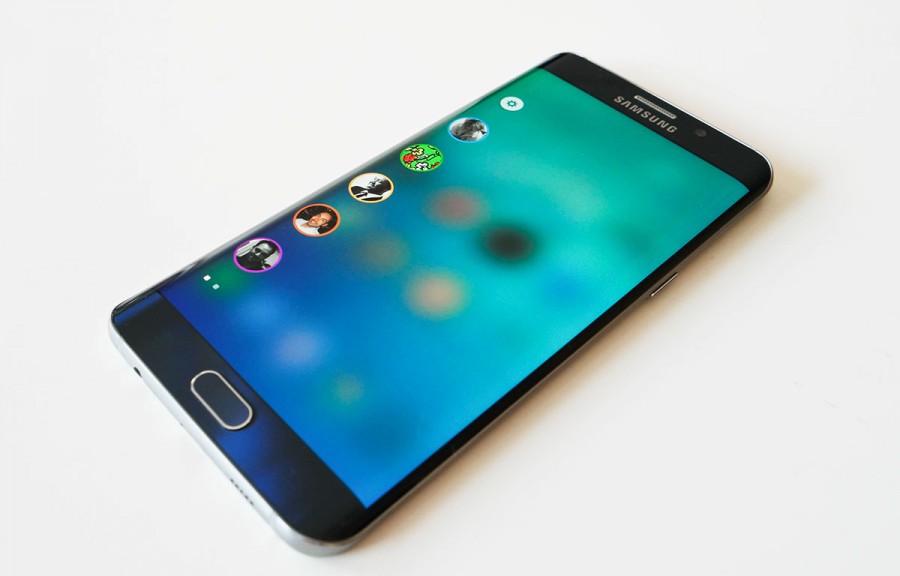 We've mentioned this before in the original Galaxy S6 Edge review, and this is mostly the same in the plus, with this acting as a quick way to see people you want to call and message, as well as any time they've called or left messages for you.
In the Edge+, this even feels a little clearer, with more of the screen taken up their name and picture, with call icons sitting central compared to just to the right of their icon. This feels stronger and more cohesive, so it's an improvement to this feature.
Also an improvement, though one that won't be used by all, is the inclusion of apps that work the same way, and you can thick of this as a little like an extended dock that sits on either the right or left side of the edge screen.
In some ways this feels like a replacement to the Note Edge screen, now that Samsung is no longer doing a Note Edge (not in 2015, anyway), but it ends up being like an extra dock: you have your favourite app shortcuts at the bottom of the device, so here are five more spots accessible at any time, too.
Past this, you should find some pretty solid system performance, with a benchmark that manages to push beyond what we saw on the S6 Edge, but only marginally.
Most of the time, the phone handles itself well, with apps opening quickly, seamless multitasking, and a general feeling that the phone is functioning at a good 99 percent, though you may find the odd hiccup here and there, usually when you bring the S6 Edge+ back from sleep, as this doesn't always work in that split second after pressing that all too familiar home button.
We noticed the S6 Edge+ behaving this way a few times — once in the morning when we got up, with the home button not waking the phone, with another time several hours later — and while it doesn't appear all the time, it is something to keep in the back of your head as it does appear to be semi-normal, just not frequent. We certainly couldn't recreate it by force, and this would just happen, so to speak.
But that was, for the most part, the limit of where the bugs were, with the performance being pretty decent across the board.
Except, of course, in regards to the battery life, which struggles in a way similar to the Galaxy S6 Edge.
Maybe that's because the phone is pretty much a larger carbon copy of the regular S6 Edge, and that phone managed a maximum of a day of life, pulling a few hours out if you decided to switch Bluetooth on and operate wirelessly for extra elements of your phone beyond that of mobile internet and forcing you to run to a charge point later in the day if you wanted to make it through to your home.