It might be hard to believe, but Samsung's flagship "Galaxy S" phones have hit the seventh iteration, and they're packing more than ever.
We're talking a high resolution curved screen, glass and metal body, water resistance, upgradeable memory, and more. Is this Samsung's best phone, or even the best phone out there?
Specs
A new phone means new specs, and the latest iteration of the Galaxy S7 arrives in two versions: the 5.1 inch Galaxy S7 with a conventional screen, and the 5.5 inch Galaxy S7 Edge, which has a curved screen that slopes down to a thin flat metal edge.
For this review, we're talking about the larger of the two, the phablet-sized Galaxy S7 Edge.
Two known variants of the Galaxy S7 Edge exist, with one using Qualcomm's Snapdragon 820 quad-core processor, and the other leverages Samsung's own hardware, the Exynos 8890 octa-core processor.
Most people probably won't know the difference, but Australians will be receiving the Samsung Exynos variant, providing eight-cores of processing power split between a 2.6GHz quad-core section and a second 1.6GHz quad-core group.
This eight-core chip will comes together with 4GB RAM and 32GB storage, the latter of which can be expanded with a microSD slot, as Samsung brings back expandable storage in this model.
Google's Android 6.0 "Marshmallow" runs in conjunction with Samsung's own TouchWiz interface out of the box.
Cameras on this phone are pretty high-end, with a newly developed 12 megapixel rear shooter with dual-pixel auto-focus and a low f/1.7 aperture lens on the back, while the front-facing camera is set to 5 megapixels with the same f/1.7 aperture on the lens.
The rear camera can capture video in 4K Ultra HD if needed, as well as 720p HD and Full HD, while the front-facing camera misses out on UHD video capture support. To the side of the camera is a flash as well as a heart-rate sensor.
Connectivity options are also fairly high-end, with 802.11a/b/g/n WiFi support as well as 802.11ac connectivity and there's Bluetooth 4.2 with A2DP and Low Energy (LE). Support for GPS and A-GPS can be found here, as can Near-Field Communication (NFC), which will also extend to Samsung Pay when it eventually rolls out in this country.
The curved-edge screen on the Galaxy S7 Edge bends downwards on both the left and right sides of the phone. This screen measures 5.5 inches diagonally and provides a Quad HD resolution of 2560 x 1440, with protection for the display provided by Corning's Gorilla Glass 4.
It's not just the front that gets Gorilla Glass 4, either, with the back also covered by Gorilla Glass 4 and the rest of the phone is encased by a metal frame.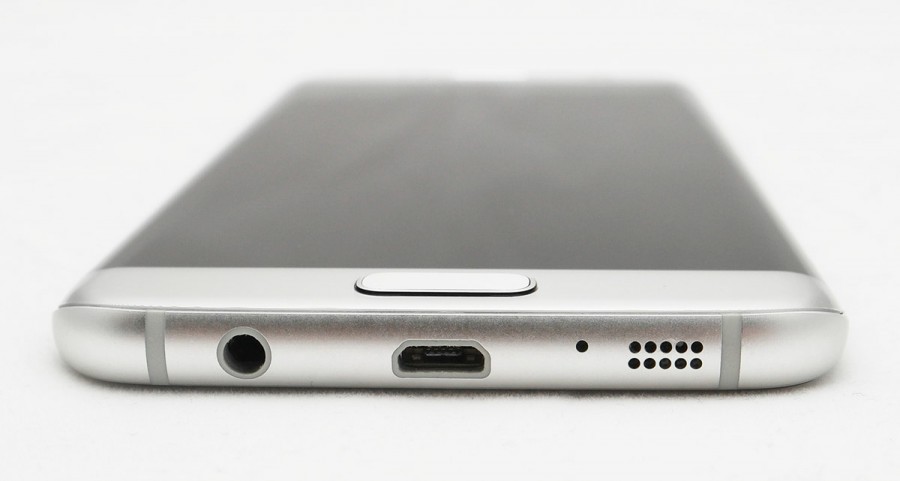 Ports on this metal and glass handsets are provided in the form of a 3.5mm headset jack at the bottom next to a microUSB charge and data transfer port, both of which sit next to a speaker.
A pin-ejectable tray can also be found at the very top of the phone, providing a nanoSIM slot and a microSD slot on a tray.
Buttons are about standard for a Samsung smartphone, with one power button on the right edge, two volume buttons on the left edge, and three buttons at the bottom of the phone below the screen, with Android's multi-task and back soft buttons flanking a physical home button. which doubles as a fingerprint sensor.
Samsung's Galaxy S7 Edge has also been made to be more resistant to the elements than the previous Galaxy S6 Edge models, providing certification for IP68, meaning it is dust tight and resistant to water immersion below one metre for up to 30 minutes.
The battery in the Galaxy S7 Edge is rated at 3600mAh and is not removable.
Design
With a new generation of phone comes a new set of specs, and often a new design, but in the case of the Galaxy S7 Edge, it's less about "new" and more about "refined".
Specifically, the design is a slight evolution on last year's S6 Edge, which itself was an evolution and refinement of the Note Edge from the year before.
These evolved smartphone designs were the first in the world to deliver a curved display, a concept that at one point was intended to deliver notifications, calls, and shortcuts to the side of a display, but now it serves a new purpose: it makes the screen feel 'bezel-less', even when we know it isn't.
That's basically the idea Samsung is going for in the S7 Edge, with a gentle curve on each side of the S7 Edge that, when gripped, feels like you're holding the screen on its edges as opposed to a bezel or border.
It's a pretty convincing effect, and thanks to some changes to the rear glass and metal shaping, the new phones feel thinner, even when we know they're actually not. In fact, they're a little thicker.
The Galaxy S7 Edge with its 5.5 inch Quad HD screen manages to be 0.7mm thicker than last year's 5.1 inch Galaxy S6 Edge and 0.8mm thicker than the 5.7 inch Galaxy S6 Edge+ (plus), also from 2015, and we suspect this is intentional for a few reasons.
One is it gives Samsung a little more room to move in the battery department, and the second is that you're probably not going to notice the shift in thickness anyway.
However, the main reason we suspect Samsung has gone this way stems from the curved glass back. This was one of those surprise new features in the Galaxy Note 5 last year, and it made the phone feel really good in the hands, as if you were no longer gripping a block of glass and metal, but something with softer, almost organic form.
It should be no surprise then to see Samsung has brought the soft curved rear glass from the Note 5 to the S7 Edge, minimising that metal frame and making the phone feel a little softer and friendlier, and certainly easier to hold and pick-up.
Granted, it's still coated in glass, and so it can be a bit slippery and will show quite a lot of fingerprints, but the refinements to last year's design make the S7 Edge feel lovely, and more premium than a lot of phones out there.