Water-resistance is also back, with IP certification delivered via an IP68 rating. That might just look like a bit of jargon to you — and it is — but what it translates to is complete resistance to dust (that's the "6") while water can be handled for up to three metres for as long as 30 minutes or so (that's the "8").
That's technically clearwater, folks, so if you plan on going swimming in a pool or the ocean, make sure to wash that phone under a tap so you get rid of any excess chemicals, as IP ratings don't take these into account.
Still, it's good news for Aussies who love taking their phones into the world and not worrying as much about "will it survive a close encounter with a lot of rain".
While it's great to see those two features return, others have remained, with wireless charging still here, high-resolution audio still supported, and even compatibility with Samsung's Gear VR virtual reality headset. That's the future of entertainment compatible with a phone from today. Neato!
A finger- and thumb-print scanner is also built into the body, sitting underneath that home button, and while it isn't the best on the market — that goes to Apple on the iPhone 6S — it's still not bad, and is a far cry better than the original generation Samsung shipped back on the Galaxy S5 which required a swipe to work.
Samsung has also provided some slightly unexpected inclusions, some of which feel more like experimental bits and bobs, such as Samsung Labs which lets you change the way the home menu works with a design more like that of iOS.
Another unexpected inclusion is that of the gaming additions, specifically that of water-cooling and Samsung's Game Launcher, the former of which tends to keep the phone stable enough for heavy multimedia and gaming while the latter bundles games together in one folder and provides a simple set of controls to let you decide whether you want any alerts during gaming or if Samsung's extra set of controls for "Game Tools" should be running while you play your game.
This is a neat set of controls that let you record video of the game, grab screenshots, or fiddle with whether someone can send you alerts while you're getting knee-deep in strategy, as you might well do.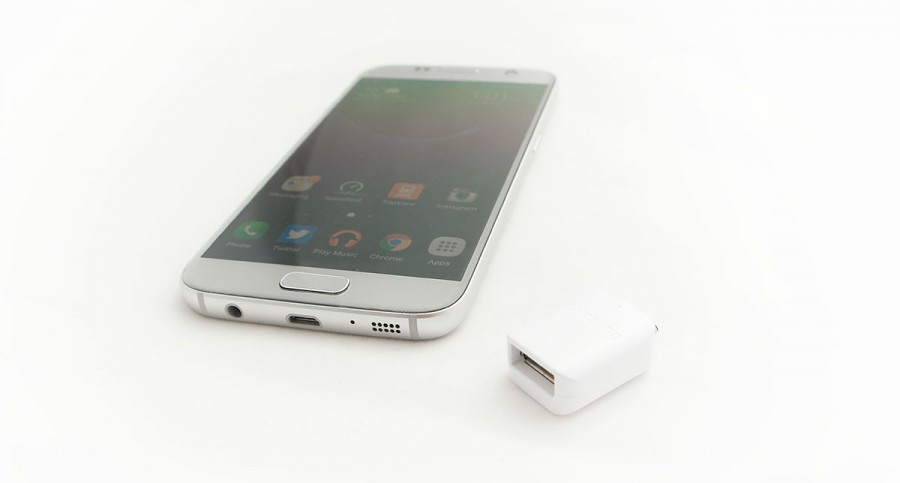 There's even a hardware feature included in the box that's worth talking about, with an accessory that converts the microUSB at the bottom of the phone into a standard full-size USB, handy if you want to attach a solid-state drive or thumb drive to the phone and move files over in either direction.
Granted, this accessory isn't exactly expensive, and you can find them for $20 to $30, but it is rare to find such a thing included in the box of a phone, and so just like we were delighted to see it on the S7 Edge, we're thrilled Samsung has included in the box of the S7, too.
What's needs work
Like the S7 Edge, it's hard to really find an area where Samsung didn't really nail the formula, because with great battery life, fantastic system performance, a superb mobile modem, and one of the best cameras not just of any smartphone but one that competes properly with compacts, Samsung's Galaxy S7 is an all-round brilliant phone to have in your life.
So what's wrong, and what needs work?
Well nothing is wrong per se, but the fingerprint sensor does need to be faster, something we suspect will come over time with some changes to the software.
More than that, though, the soft buttons tend to flake out a little, timing out when you really need to press theme, or being too sensitive.
Like the extra wide screen on the Galaxy S7 Edge, we expect this is one of those things that — like the fingerprint reader — will be fixed over time as Samsung's developers finesse and massage the code, making the whole package work just a little better.
The issues with the soft buttons under the screen are very, very minor, that said, and don't occur all that often, and so our only other complaint can come from the design, because thanks to the glass on the front and back, Samsung's Galaxy S7 is — like the S7 Edge — a fingerprint magnet that can be very slippery.
That is unfortunately what you get when you go for glass as the primary material, though we'll take it over Samsung's usual choice of plastic, as glass feels much stronger and premium than more polycarbonate.
And hey, at least you can wash this phone off when it gets dirty, something you can't say for many other devices out there.
Conclusion
Samsung's Galaxy range has been running for seven years, and that is seven years that Samsung has been well and truly trying to take on Apple's iPhone.
We've certainly seen some great phones over the years, but this year's range well and truly takes the cake, and not only do we have a device that seriously gives Apple's phones a good run for their money, but packs so many features in, you'd be hard pressed not to consider a Samsung Galaxy S7 or S7 Edge as your next phone, especially if you were upgrading this year.
As reviewers, we pride ourselves on finding something wrong with devices. When you find something that is a fault or a problem, generally it can dent the entire package.
But on Samsung's Galaxy S7, neither the slightly slippery design nor the fact that the soft buttons down below occasionally don't fire when they should isn't enough to dissuade us to not say this is a great phone.
Rather, we're thrilled that Samsung has thought so much of the entire package, delivering a phone that checks so many boxes and works as well as it does.
Of the two devices Samsung has released, we're of the point of view that the 5.5 inch Galaxy S7 Edge is a more elegant phone and since it has a bigger battery could be more useful long term, but Samsung's Galaxy S7 is a gem of a phone and ideal for anyone disillusioned with regular sized handsets not reaching their full potential. Highly recommended.
Comfortable design; Glass body makes the phone feel soft and elegant; Water resistance returns to the Samsung Galaxy range!; Slick performance with little-to-no lag; A screen you can read in direct sunlight; Expandable storage means more space for files and apps; Water-cooling and game control bar is useful for gamers; Works with wireless charging; Compatible with Samsung's Gear VR headset; Includes a microUSB-to-USB converter in the box;
Can be slippery; Fingerprint magnet, just like its sibling; Soft buttons below the screen don't always work properly; Always-on screen can't be customised remarkably;