Likewise, battery performance was pretty good on our 9.7 inch review unit, with the "up to 12 hours" life we were told of translating roughly to two days of usage with a good three to four hours a day of actual real-world use.
You could easily kill the life of the Tab S2 in a day if you wanted to, but you should see roughly two without any problems if you're not totally dependent on this device and only this device.
Mobile performance on the LTE model also appears to be pretty decent, revealing speeds at GadgetGuy HQ in Woolloomooloo (Sydney) of just under 50Mbps. We suspect there's either a Cat4 or Cat6 modem in this unit, and regardless of which it is, speeds should be more than adequate for staying connected.
Outside of the regular test needs, being a Samsung tablet, you can expect some points of difference against the other brands, with features here and there that some may not have, like the microSD slot, a return to the expandable memory that has since disappeared from the Samsung phones (much to our annoyance).
Upgradeable storage is one of those things people turned to Android for, and while Samsung has practically killed it off in its otherwise excellent phones, you still get some storage love in the Tab S2 tablet.
Another random feature is that the Tab S2 can technically work as a phone.
Yes, you read that right, and if you check the screenshot above, you'll find a phone interface waiting for you in both the LTE models of the 8 inch and 9.7 inch Tab S2 handsets.
Granted, the speaker and microphone appears to be on the bottom of the tablet, but you can still awkwardly hold the Tab S2 to the side of your head and make and take calls if you so choose. Paired with a handsfree headset — Bluetooth or wired — this tablet is a much less awkward but still ridiculously large 9.7 inch smartphone-tablet-thing that can make phone calls, provided you didn't opt for the WiFi-only one, as you'll need the LTE variant for that.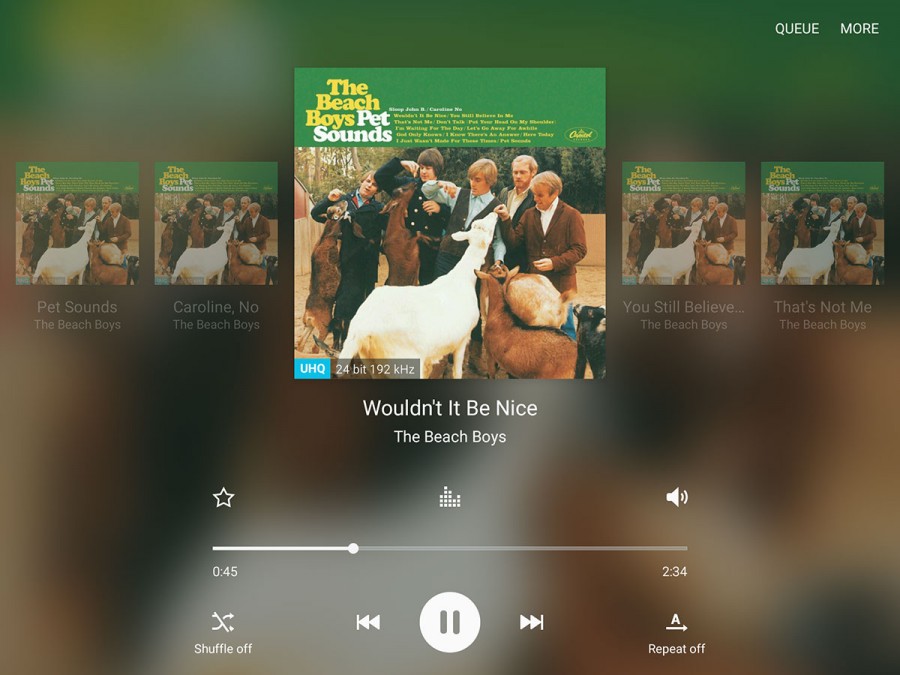 Some of Samsung's staple bits and bobs are also here, such as the 24-bit audio support, a fingerprint sensor, Knox security with the Samsung Smart Manager looking over storage and battery life, and there's also the phone connecting app "SideSync".
Now if you already own a Samsung flagship phone from the past year or two, this one feature could make the Tab S2 the ideal tablet, if you are in the market for one, as SideSync makes it possible to connect your phone wirelessly to the Tab S2 tablet, with the device showing up in a small window and letting you control it while the phone is somewhere else nearby, say your pocket or hand luggage.
But even with these features, you can't help but look at the Tab S2 and feel that Samsung has lost much of its individuality, joining the throng and making what isn't far from a literal "me too" product just when the company has been dabbling with ideas that separate it from the pack.
For instance, there's that look: there's just something about this tablet that reminds us of something else.
From the sudden change to the 4:3 aspect ratio — where did that come from, Samsung; you were going just fine with 16:10 for the past few years — to the soft rounded edges, to even the optional magnetic case that buttons itself in and then uses magnets to lock the screen, and then provides a folded fabric back to get the tablet to stand up all on its own.
There's also an omission of elements that made Samsung tablets unique in the past, with the company removing them for a reason, though it hasn't said why.
As an example, there's no camera flash on the back.
To us, this isn't a huge loss, and people probably shouldn't be taking photos with a tablet, as it can look a little silly, and your phone will probably do just as good a job. That being said, however, the previous Galaxy Tab S did have a flash, so why drop it in this incarnation?
At the launch, a representative for the company told GadgetGuy that the flash wasn't there because the lens was one of the new lower-light friendly lenses, sporting an aperture of f/1.9 just like that found on the Galaxy Note 5 and Galaxy S6 phones (all of them: flat, Edge, Edge+).
It's all well and good to say "the lens is better so we don't need a flash", but why have both on the phones and discard one on the tablet when it was there in the past?
We hope it's not because the Apple iPad doesn't have a flash, because that whole "if you can't beat 'em, join 'em" attitude shouldn't really apply to a company making products designed to be different, which you have to hope Samsung figures itself as.