The Samsung Galaxy Tab S6 Lite is a 10.4", 2000×1200, TFT/LCD, 4/64GB/micro-SD, S Pen, Android 10 tablet. Its what Joe and Jane Average need and can afford.
The Samsung Galaxy Tab S6 Lite is the economy version (from $549) of the excellent Galaxy Tab S6 (from $1299). Yet, there is little in common between the two – except for the 'Galaxy Tab S6' nomenclature. We won't say what we think of #metoo series naming as its common practice across all brands, but these two are a little like chalk and cheese.
So where do we start and what is this good for? First, the Samsung Galaxy Tab S6 Lite is that indispensable couch/bedside tablet that everyone needs to look things up and find out if a movie is a rotten tomato or not. Second, it is pretty good as an audio and video content consumption device – beats the hell out of a smartphone. And third, add a Slim Keyboard cover, and it is not too bad as a productivity device although Android has a way to go as a desktop OS like Windows. And it comes with an S Pen for drawing, doodles or annotation.
The trick is to remember that it is what it is. It doesn't pretend to be an iPad/Pro or a full-fat Surface-like Windows device. It is a well-made, content consumption and occasional productivity Android device, and that is all many of us need.
Australian Review: Samsung Galaxy Tab S6 Lite Wi-Fi SM-P610 LTE SM-615 series
Website here
Models/Price: Wi-Fi 64/128GB $549/649 or LTE $699/799
Colour: Oxford Grey
Includes: Tablet, Charger 5V/1.55A/7.75W, USB-A to USB-C cable and S Pen
Options: Targus BT Slim Keyboard cover ($159 no trackpad) or Book Cover ($89)
Warranty: 24-months ACL excluding battery and accessories
Country of manufacture: Vietnam
Samsung is a South Korean multinational conglomerate headquartered in Samsung Town, Seoul. It is the world's largest smartphone maker.
First Impression – EXCEED
I have been using Android tablets – mainly as a couch reference device – since the gorgeous copper/gold-toned 10.5" Galaxy Tab S circa 2014. That is still going strong although the battery is probably on its last legs.
This is quite corporate in Oxford Grey with relatively small 8mm bezels making this 10.4" a little smaller and lighter than earlier models. It is 244.5 x 154.3 x 7.0 x 465g.
It is pretty easy to see the compromises over the S6 to get it to the price. The TFT/LCD screen is bright enough, but it lacks the delicious, saturated colours of its more expensive AMOLED big brother. It uses Samsung Exynos 9611 (also in the A51 and XCover Pro) instead of the powerhouse Qualcomm SD855. Still, it has more than enough power.
Display – PASS++ (compared to AMOLED)
The 10.4", 2000×1200, 244ppi, 5:3 (15:9) aspect, 81.6% STBR screen is not too reflective. Brightness typical/max: 470/510 and relatively even
Contrast: 1800:1
Gamut: 98% sRGB at DeltaE 4.4
Colour appears cool as its 7700K
Gamers: 45ms G-T-G
Outdoors readability: Good but avoid direct sunlight and reflections
Glass Protection: Not specified
Plays Netflix and YouTube HD content (no HDR so converts to SDR)
Summary: If AMOLED did not spoil you, then you would be more than happy.
Processor – PASS++
Samsung Exynos 9611 10nm
Eight core – 4×2.3 GHz A73 and 4×1.7 GHz A53
Geekbench 5 single/multi/compute 347/1264/1578 (Same as the Galaxy A51 smartphone and similar in power to a Galaxy S8 smartphone or Qualcomm SD660/670)
CPU Throttle (on battery)
It is a fan-less device that reaches about 33° externally and 45° internally. A 15-minute 100% load test – Max 124,638GIPS, Average 116,411, Low 105,942 – 91% of max.
Summary: Very acceptable
ARM Mali-G72 MP3
Games tend to suffer variable frame rates, but it is typically +/- 30fps. You need to ensure that all unnecessary apps are closed. Games like PUBG, Call of Duty, and Asphalt 9 run at their default graphics settings.
RAM: 4GB LPDDR4X
Storage: 64GB UFS 2.1 (49GB free)
MicroSD to 1TB
Summary: A good engine for a tablet
Comms – EXCEED
Wi-Fi 4 AC, dual-band, VHT80, MIIMO. It achieves -41dBm signal strength (excellent) and a maximum of 866Mbps at up to five metres from our reference NETGEAR AX12 AX6000 router.
Wi-Di and Miracast
BT: 5.0 LE with SBC and AAC codec
NFC: No
DeX: No – this is not a big issue except for those that want an Android Desktop
LTE – not tested. 600/150Mbps theoretical rate – assume no more than 100/40Mbps
Note that GPS comes with LTE only
USB-C V2.0 (no MHL or Alt DP)
Sensors: 3-axis Accelerometer, Gyroscope, ambient light and rotation vector/gravity/linear acceleration to provide step counter, tilt, pick up etc. A lot of this is to make the S Pen more effective.
Sound – EXCEED
Side-firing portrait stereo speakers with Dolby Atmos tuned by AKG
3.5mm combo
Adapt sound: Select boost for <30-years old, 30-60, 60+
Equaliser: Normal, Pop, Classic, Jazz, Rock or Custom, +/10dB from 20Hz-20kHz.
Tests: EXCEED
Maximum volume 77dB
Soundstage: With Dolby off, it has quite a wide stage with music appearing to come from up to 60cm from each side.
Dolby Atmos requires both Dolby Atmos metadata content and headphones
BT and cabled headphones (Sony WH-1000xM3) had similar sound signatures on SBC and AAC
Sound Signature – EXCEED
Note: Frequency response is from 20Hz to 20kHz – flat means excellent
Deep Bass: 20-40Hz – hints building
Middle Bass: 40-100Hz  – stronger and building
High Bass: 100 to 200Hz – flat
Low-mid: 200-400Hz – flat
Mid: 400-1000Hz – flat
High-mid: 1-2kHz – flat
Low-treble: 2-4kHz – flat
Treble:4-6kHz – flat
High Treble: 6-1kHz – slight dip to reduce harshness
Dog whistle: 10-20kHz – flat to 16kHz and hints to 20kHz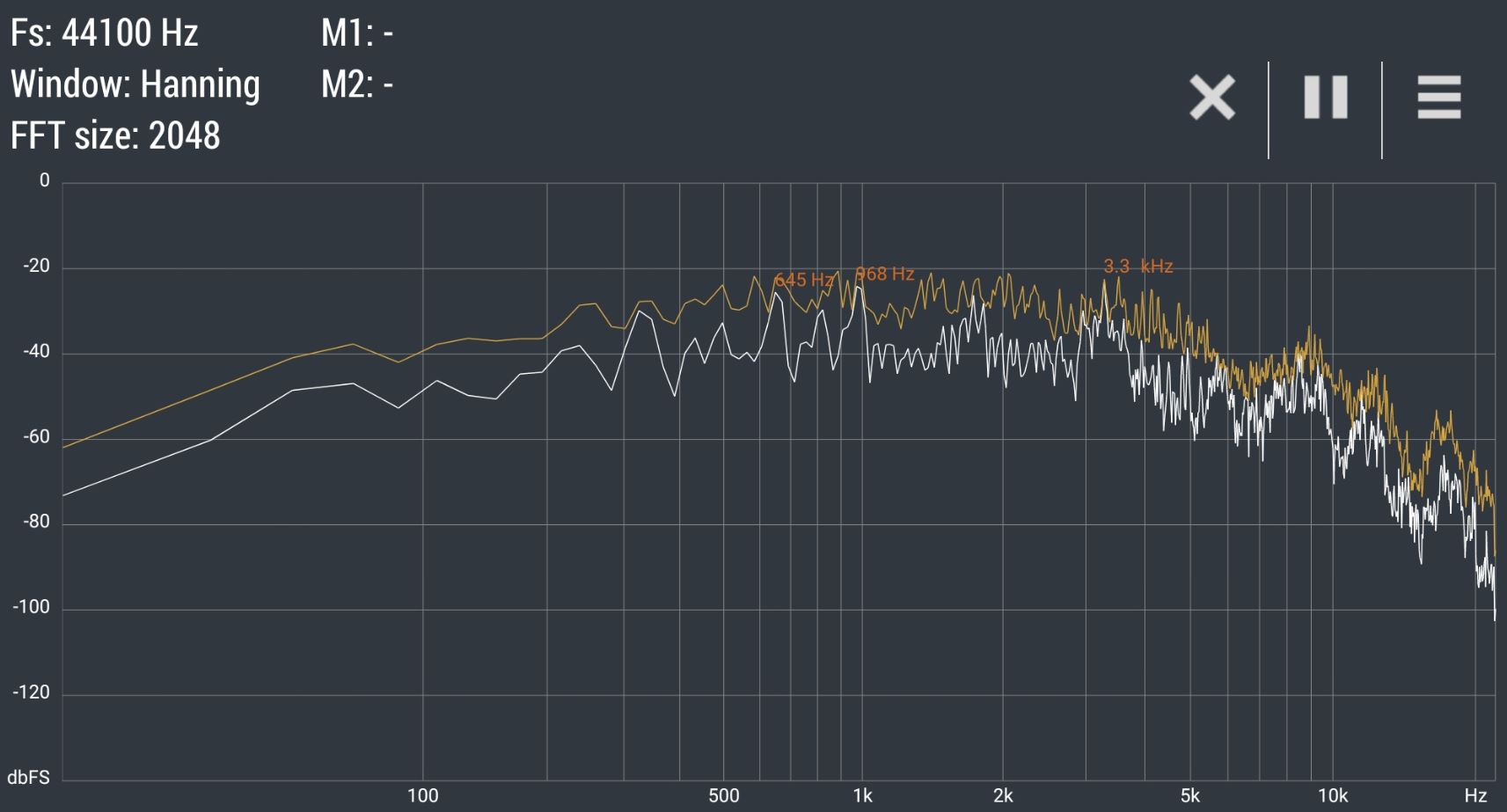 This is a native warm and sweet sound signature (best for music and movies), but the EQ allows it to be almost anything bass to balanced. You can't ask for much better from a tablet.
Battery: EXCEED but fail on supplied charger
7040mAh – Samsung claim is 12/13 hours Wi-Fi/Video Playback
5V/1.55A/7.7W is not fast charge – over 5 hours
We tested with a variety of USB-C PD chargers, and it does fast charge in under two hours
Idle: .4mA – should last a month at idle
Tests
Video: 1080pl 50% brightness; aeroplane mode – 16 hours
Typical use with Wi-Fi: 14 hours
Battery Drain Test (web surfing and 150 nits): 13 hours
100% Load: 5 hours
T-Rex: 8.28 hours and 1472 frames
Build – EXCEED
244.5 x 154.3 x 7.0 x 465g (plus charger)
Appears to be an alloy frame and back (it could be plastic, but it simply does not feel like it)
S Pen – EXCEED
The S Pen is what it is – and it is an active pen with 4096 pressure levels. The Wacom Digitiser detects the pen and generates an RF power field when it is within 1cm.
And it is perfect as it is although palm rejection is sometimes hit and miss. That is mainly if you lift the stylus more than 1cm from the screen.
The single button brings up PenUp and Notes. It also has Screen Write and will search on your scribble.
It magnetically clips to either long side or docks in the Book Cover.
Android – EXCEED
Google Android 10
Security patch 1 June 2020
Google Assistant and a full suite of Google apps
One UI 2.1 – light and smooth
Bixby and usual Samsung apps, Microsoft, Netflix and Spotify
Face Unlock is unreliable – 30-40% of the time it did not work. No fingerprint scanner]
Note that some apps only work in landscape mode.
Camera – PASS+
Rear: 8MP, f/1.9, 1.12um, 64.3° FOV, Contrast AF, 1080p@30fps. S5K4HA
It is a good all-around performer, but its 1.12um pixels means lower light performance is just tolerable. Auto HDR; QR; Digital Zoom, and Scan shot for text and whiteboard. No flash, EIS or OIS
Front: 5MP, f/2.0, 1.12um 56.9° FOV, Contrast AF 1080p@30fps S5K5e9
Fine for video conferences and selfies but again the 1.12um pixels are not the best in low light/
Lots of Samsung smarts as well as beauty filters and stickers
GadgetGuy's take – Samsung Galaxy Tab S6 Lite does the job beautifully
I get really tired of other reviewers comparing everything to Apple. Because it is not iOS. It is an Android tablet and proud of it – it is what it is.
In this case, a no-frills, perfectly serviceable 10.4" Android tablet at a very affordable price.
It is also not a Galaxy Tab S6 'light' version because it is half the price and about half the power. But as a tablet, it is a perfect content consumption device and great for video conferencing or reading the digital newspaper. I love its Google Duo groups feature, but you do need the Book Cover.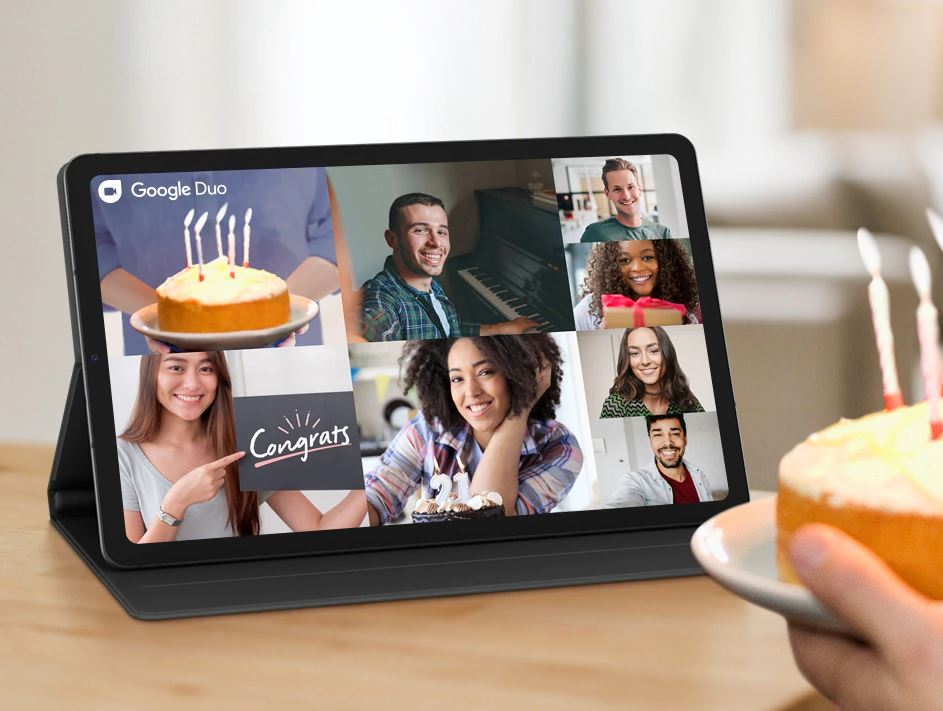 It gives you the screen real estate you need when you are researching something. The S Pen is good as a doodler/cursor/stylus/to chew on… It is a perfect non-Amazon Kindle reader as well.
But I am a little concerned that Google seems to be pushing Chromebooks on us, and I suspect that the future of Android tablets will go that way.
Anyway, you have won me!
Great price includes S Pen (take note Apple and Microsoft)
Good sound for video content
Great battery life
Bright, high contrast TFT screen
Camera fine for daylight, classroom or office use
Buy a fast charger if this is important to you
Missing NFC, Fingerprint scanner
Not for serious gamers
No DeX or MHL