As we had not formally reviewed the Samsung Galaxy Tab S6 (2019) and had reviewed the Galaxy Tab S6 Lite (2020) a reader asked us to do a shoot-out. Samsung kindly obliged with both products.
As it is likely the Samsung Galaxy Tab S7 will be announced on 5 August it is time to look at all three, especially as there may be run-out pricing on the Galaxy Tab S6 soon.
Let's get the 'leaks' for the Tab S7 out of the way. These are the key differences.
Likely two sizes – Tab S7 (11″ IPS, 2560×1600) and Tab S7 Plus (12.4″ OLED 2800×1752) possibly supporting 120Hz refresh (no Lite version mentioned)
Qualcomm SD865+ processor, 6/128GB/microSD to 1TB
Dual rear camera 13MP primary and 5MP Ultra-wide and 8MP selfie
Battery: 7040/10,090mAh and 45W fast charge optional charger
Wireless DeX, Wi-Fi AX, BT 5.1
5G sub-6Ghz option
Android 11 (may ship with Android 10) and quarterly security updates
These specs dictate prices from about $1500 compared to the Tab S6 from $1099/1499 and the S6 Lite from $549/799. See the table at the end for a detailed comparison of both. In other words, the Tab S7 will be an update of the Tab S6.
A reader wanted to know about the differences between the Galaxy Tab S6 and S6 Lite.
How the extra RAM helps? I am surprised that the Lite only has 4GB. Does it affect performance?
How the processors differ in practical performance, for average versus heavy usage levels?
Here are our findings.
Processor and RAM
Benchmark
Tab S6
Tab S6 Lite
SoC
Qualcomm SD855 7nm
Exynos 9611 10nm
RAM GB
6/128 and 8/256
4/64 and 4/128
Geekbench 5 Single Core
752
347
Multi-Core
2440
1259
Compute OpenCL Score
2496
1587
CPU Throttle over 15 minutes
Max: 193,449GIPS
Av: 182,615GIPS
-8%
83° SoC
124,638
116,411
-9%
50° SoC
T-Rex
470 minutes
3360 frames
497 minutes
1472 frames
The Tab S6 is closer to a 2020 Galaxy S20 (SD-855 version) for performance. It is at least 50% more powerful as evidenced by GIPS and T-Rex frames.
The Tab S6 Lite is closer to a 2018 Galaxy S8 and is not for gamers.
As for RAM, it depends on what you are doing. If you plan to have lots of tabs open in a browser, multi-task or do productivity (beyond Microsoft 365), then the Tab S6 is better.
As both have micro-SD, storage expansion is easy and cheap.
The best comparison here is a 4-cylinder and a 6-cylinder car. You would not tow a caravan with a 4-cylinder, but it does pretty well everything you need around town and on the highway. If you treat the Tab S6 Lite as a content consumption, email and general browsing device it is fine.
How do the Tab S6 four speakers compare with two on the S6 Lite?
Both units are 2.0 stereo and decode Dolby Atmos.
The Tab S6 has two extra speakers that allow for better landscape and portrait mode sound. The extra speakers add a little more bass and spatial emphasis.
| | | |
| --- | --- | --- |
| Item | Tab S6 | Tab S6 Lite |
| Speakers | 2.0 – two each on short edge | 2.0 – one each on short edge |
| 3.5mm | No | Yes |
| Dolby Atmos decode | Yes – there is a small 3D sound stage with four speakers. | Yes, but it is only remotely effective with headphones |
| Volume Max | 80+dB | 75+dB |
| BT codecs | SBC, AAC, aptX/HD, LDAC | SBC and AAC |
| Deep Bass: 20-40Hz | Building quickly | Building slowly |
| Middle Bass: 40-100Hz | From 43Hz and solidly building | From 86kHz then flattens |
| High Bass: 100 to 200Hz | Almost flat | flat |
| Low-mid: 200-400Hz | flat | flat |
| Mid: 400-1000Hz | flat | flat |
| High-mid: 1-2kHz | flat | flat |
| Low-treble: 2-4kHz | flat | flat |
| Treble:4-6kHz | flat | flat |
| High Treble: 6-10kHz | Slight decline to avoid harshness | Slight decline |
| Dog whistle: 10-20Hz | Dip but flat to 21Hz | Decline and not controlled |
| Sound stage – spatial wideness | Wide – comes from 'outside' the tablet | Narrower – comes from the speakers on the edge |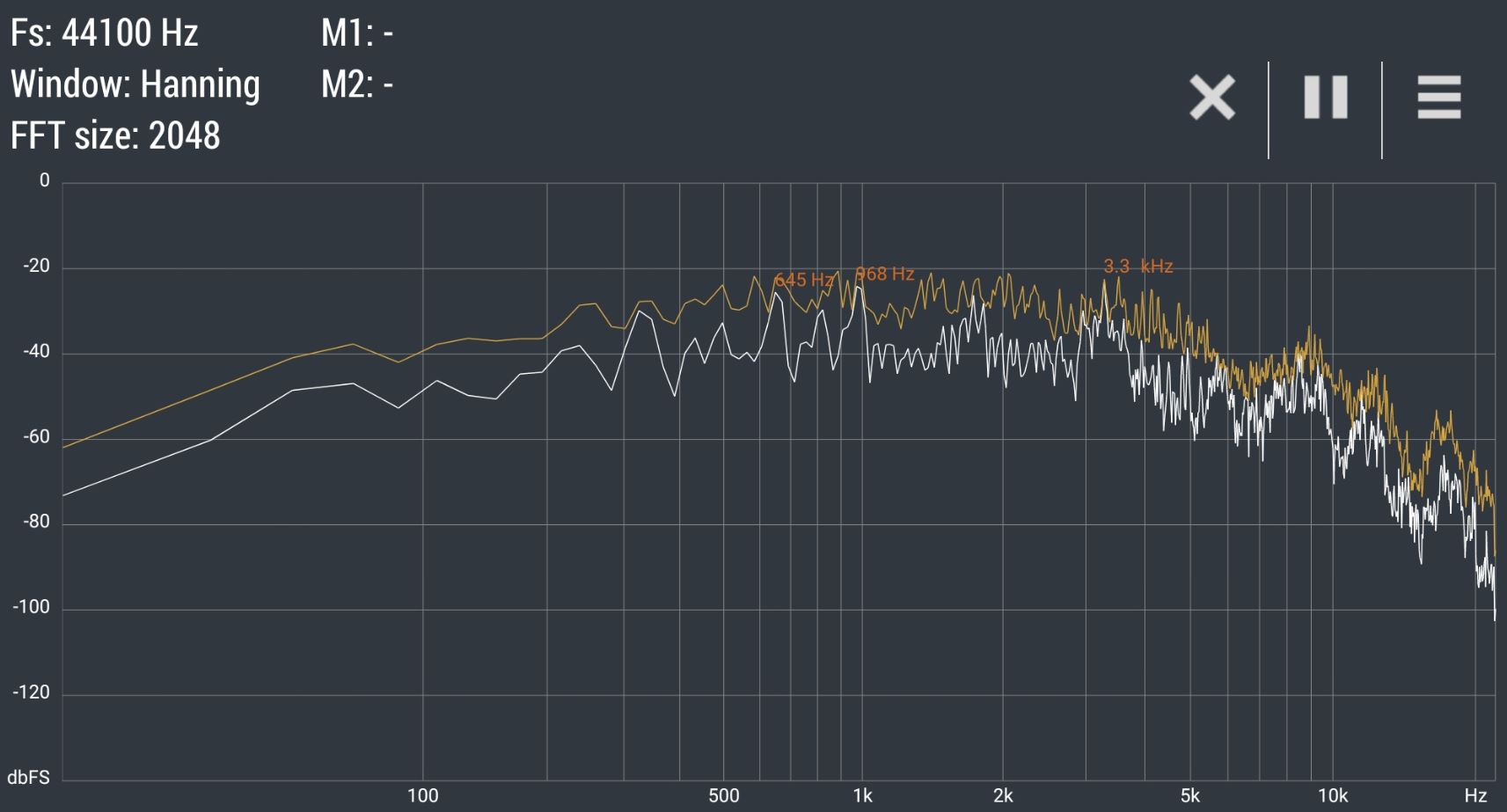 Both have an excellent warm and sweet sound signature. The Tab S6 is a little louder, has stronger bass and much more controlled upper treble making it more of a pleasure to listen to. The Tab S6 Lite sounds pretty good but side-by-side the Tab S6 wins.
Perhaps a little more important is that the Tab S6 has a Qualcomm processor and as such its BT supports a wider range of codecs.
OLED versus TFT LED
Its hard to show in screenshots but the difference between OLED and TFT LED is like chalk and cheese
| | | |
| --- | --- | --- |
| Benchmark | Tab S6 | Tab S6 Lite |
| GPU | Adreno 640 | Mali-G72 MP3 |
| Res | 2560×1600 AMOLED | 2000×1200 TFT IPS |
| Aspect | 16:10 | 5:3 (15:9) |
| HDR | HDR10/+/HLG | No – SDR 16 million colours |
| Nits typ/max | 450/500 | 450/500 |
| sRGB | 100% | 95% |
| Delta E (lower is better) | 2.7 | 4.4 |
| Contrast | Infinite | 1800:1 |
| G-T-G | 6ms | 45ms |
| Daylight readable | Excellent | Avoid direct sunlight |
| Gaming | From 30-60fps and plays any modern mobile game | Up to 1080p@30fps if you kill off all background tasks |
| WideVine (Netflix) | L1 FHD HDR | L1 HD SDR |
Subjectively the OLED has truer colour, greater contrast (the difference between pure black – off and pure white – on), and sharper text. For content viewing, it is unmatched.
The S6 Lite has more saturated colour, greyer cool whites, and lower contrast. But they are both excellent screens and again, if not side-by-side, you would think the S6 Lite was pretty good.
But you need to remember that the Tab S6 is twice the price! I don't have any real issues with the S6 Lite screen for general use or streaming.
Other differences
The Tab S6 has an active S Pen with 4096 pressure levels as well as tilt to vary line thickness. The S6 lite has a passive pen which is fine for writing and doodling but is far less of an artistic tool.
The Tab S6 and S6 Lite both have a 7040mAh battery. The Tab S6 has a greater energy saving 7nm processor and AMOLED screen but as it has to provide nearly 50% more horsepower battery life is fairly equal.
GadgetGuy's take – Galaxy Tab S6 or Galaxy Tab S6 Lite – a two-horse race but at different racecourses.
First, I get annoyed with manufacturers that use #metoo naming for what are 100% different devices. You get Lite, Standard, Plus, Ultra and every other marketing term under the sun!
The only familial relationship these share is the Samsung build quality and Android/One UI.2.1.
So, a shoot-out is grossly unfair because it comes down to how much you want to pay and what you reasonably expect it to do.
Our review for the S6 Lite scored it 4.7/5 for a $549+ tablet.
In rating the Tab S6 we use a very different set of paradigms as it is about twice as expensive. We expect
Twice the performance – check
AMOLED screen – check
Fast charge and good battery life – check
The best sound – check
A better S Pen – check
Faster Wi-Fi and USB-C 3.1 Gen 1 – check
I could go on, but it PASSES 100% of the paradigms for a tablet of this price.
Now here is the conundrum. The S6 Lite EXCEEDED many of the paradigms for half the price.
So, to answer our reader's second email
I'm considering getting one of the following:
Samsung Galaxy Tab S6 Lite 4G/Wi-Fi 128GB ($799.00 from Officeworks)
Samsung Galaxy Tab S6 4G /Wi-Fi 128GB ($1288.00 from Officeworks)
I'd like to get the Tab S6 but is it worth paying the extra $499? Also, the price varies only a dollar or two between stores, is there a better "street price" at all?
First, I question if you need LTE. To use it means an extra data plan at extra cost. You can always tether the Wi-Fi version to your smartphone, which will probably be faster anyway.
Second, do you need a four-cylinder or six? Android is great as a consumption device (4-cylinder), but unless you can use DeX (6-cylinder) and other productivity apps then you are wasting money.
Finally, money is too hard to come by, so what could you do with that $499+ that you save?
Note: Check out model numbers below to ensure you get what you want.
As for street pricing. You must buy from an authorised reseller to get Australian warranty and over-the-air updates.
That does not include international scamsters and grey/parallel imports like Kogan/Dick Smith, Toby Deals etc.
But if you can wait until after Samsung Unpacked on 5 August you may see the S7 and some run-out pricing.
OK, you want a real answer!
If money is an issue you will be exceptionally happy with the Tab S6 Lite – let's call it a Toyota Camry!
If you want the best then the Tab S6 offers more power and better specs. Let's call it a Lexus.
Watch both the videos at the end!
Comparison of Samsung Galaxy Tab S6 and S6 Lite
Although at a hardware level these are chalk and cheese but run the same software.
Item
Galaxy Tab S6
(late 2019)
Tab S6 Lite
(May 2020)
DISPLAY
10.5"
2560 x 1600
288ppi
Super AMOLED
16:10
81.8% S-T-B-R
10.4" 2000×1200, 224ppi
TFT IPS
5:3 ratio
81.6% S-T-B-R
CHIPSET
Qualcomm SD855
7nm
1×2.84GHz+3×2.42GHz+4×1.80GHz
Adreno 6740GPU
Exynos 9611 10nm
4×1.7+4×2.3GHz
Mali-G7 MP3
GAME LAUNCHER
AI-based Neuro Game Booster – optimises gaming experience by optimising performance level and power consumption.
No
MEMORY / STORAGE
6/128 or 8/256GB
MicroSD up to 1TB
LPDDR4x and UFS 3.0 storage
4/128 or 4/256
MicroSD to 1TB
LPDDR4x and UFS 2.1 storage
Continued
CAMERA
Rear 1: 13MP, f/2.0, 1.0um
67.7° FOV
Sensor: S5K3M5
PDAF
1080p@30fps
Rear 2: 5MP f/2.2 extra wide-angle 123° FOV
Sensor 5K3M5
Front: 8MP, f/2.0. 1.12um
Sensor S5K4HA
Contrast AF
with face recognition 1080p@30fps
Video editor – Adobe Premiere Rush partnership
Rear: 8MP, f/1.9, 1.12µm
64.3° FOV
Sensor: SK54HA
Contrast AF
1080p@30fps



Front: 5MP, 1.12um
Sensor S5K5E9
Contrast Autofocus
1080p@30fps




PORT
USB-C 3.1 Gen 1 5Gbps and ALT DP
POGO pins for a keyboard
USB-C 2.0

SENSORS
Accelerometer, Fingerprint Sensor (under glass), Gyro Sensor, Geomagnetic Sensor, Hall Sensor, RGB Light Sensor
Accelerometer, Gyro Sensor, Hall Sensor, RGB Light Sensor

Comms
Wi-Fi 5 AC, dual-band
2×2 MU-MIMO
VHT80, Wi-Fi Direct
Test: -25dBm/866Mhz (lower is better)
No NFC.
Wi-Fi 5 AC dual-band, 2×2 MIMO
VHT80, Wi-Fi Direct
Test: -36dBm/866

No NFC
BT
BT 5.0 LE
A2DP, AVRCP, DI, HID, HOGP, HSP, OPP, PAN

BT 5.0 LE
A2DP, AVRCP, DI, HFP, HID, HOGP, HSP, MAP, OPP, PAN, PBAP
Continued
LTE (if applicable)
LTE model Cat.20 8CA 2Gbps (DL) / Cat.20 3CA 316Mbps (UL)
Bands 1, 2, 3, 4, 5, 7, 8, 12, 13, 17, 29, 25, 26, 28, 32, 38, 40, 41, 66
LTE Cat 11


Bands 1, 2, 3, 4, 5, 7, 8,12, 17, 20, 28, 38, 40, 66

GPS
GPS, Glonass, Beidou, Galileo
Yes

DIMENSION
WEIGHT
244.5 x 159.5 x 5.7mm
420g
Aluminium/glass build
244.5 x 154.3 x 7.0mm 467g
Aluminium/glass build
BATTERY
7,040mAh
USB-C 5V/2A and 9V/1.67A 15W fast charge
Claimed up to 15-hours video and 105 hours audio

7040mAh
USB-C 5V/3A
15W
Claimed life 13 hours video and 149 hours audio
Continued
OS
Android 10
All Google services Google Lens, Google Assistant
Samsung One Ui 2.1 inc Dark Mode, accessibility enhancements, Knox and Bixby
Android 10
All Google services. Google Lens, Google Assistant
Samsung One Ui 2.1
inc Dark Mode, accessibility enhancements, Knox and Bixby

S PEN
S Pen (included) 4096 pressure levels, magnetic inductive charging from 'pen caddy' area.
10 minutes charge for 10 hours use
Can be used as 'air mouse', remote control and pen with transparent note-taking
Handwritten note-to-text conversion
Exporting notes to apps such as Microsoft Word
Standard passive S-Pen included for writing, PDF editing and annotation plus transparent mode for notes over images.









DEX
Android desktop built-in with both 4K USB-C/HDMI and Miracast screen support
No
OPTIONS
Book cover
Keyboard POGO connection with full qwerty keyboard, Function key and trackpad
Book cover case
Targus Slim BT Keyboard Cover



VIDEO
Recording: 3840×2160@30fps
Playback: 7680×4320@30fps
Recording
1920x1080p@30fps
Playback:
3840×2160@120fps
AUDIO
No 3.5mm port
AKG four speakers (2 each short side) 2.0
Can downmix Dolby Atmos
Auto-rotate sound if used portrait or landscape.
3.5mm audio port
AKG dual speakers (each short side) 2.0
Can downmix Dolby Atmos



Website
Samsung Australia
Same
Wi-Fi
Price


French Blue
SM-T860NZBAXSA 6/128GB $1099
SM-T860NZBLXSA 8/256GB $1299
Iron Grey
SM-T860NZAAXSA 128GB $1099
Oxford Grey
SM-P610NZAAXSA 4/64GB $549
SM-P610NZAEXSA 4/128GB $649




LTE/Wi-Fi
Price
French Blue
SM-T865NZBAXSA 6/128GB $1299
SM-T865NZBLXSA 8/256GB $1499
Iron Grey
SM-T865NZAAXSA 6/128GB $1299
Oxford Grey
SM-P615NZAAXSA 4/64GB $699
SM-P615NZAEXSA 4/128GB $799




About 50% more powerful than the Tab S6 Lite so excellent for gamers
AMOLED gives a better image than TFT LCD - although the latter is pretty good
The best Android 10.4" tablet you can buy - the S6 Lite is the second best