The Samsung Galaxy Z Flip is the epitome of smartphone design. It uses the old flip clamshell design with a new twist – a gorgeous 6.7″ 21.9:9 (long and thin display) and internals worthy of a Galaxy flagship moniker.
While we could compare the Samsung Galaxy Z Flip with the Motorola Razr, we can't as Motorola Australia decided not to make review units available.
While we will not bag the Razr – it is distinct and stylish – we think the Samsung Galaxy Z Flip nailed the flip phone format with premium electronics, performance, and finish. Oh, and at $2199 it is priced better than the Razr too. But we will never know if Razr has some good points now – will we Motorola?
Samsung Galaxy Z Flip Model SM-F700F/DS (dual sim)
Full model number SM-F700F ZKDXSA
Australian Website here
239-page manual here
Price: $2199 in Mirror Purple or Mirror Black with 8/128GB storage
Warranty – 2-years
Country of origin/manufacture: South Korea
Warning – only buy the Australian version SM-F700F/DS
Other so-called International versions are being 'flogged' online including SM-F700 (TobyDeals, TechoBuy, TechCart, JC Browns and BecexTech), SMF700U, SM-F700U1, SM-F00N (Kogan and BecexTech), SM-F7000FZ (Kogan alias Dick Smith are a prime grey market flogger) and SM-F7000 (plus DS – variants).
You cannot use the eSIM in so-called international models in Australia; they don't have Australian chargers, wont make an 000 call without a sim and no Australian warranty.
As is usual we use the terms FAIL, PASS and EXCEED against the specific paradigms for measuring a flip, flagship-class phone.
First impression – EXCEED
I can't help but love the concept. As readers often say, "What is it with these bloody big phones?" Well this is big when open and a lot smaller than a deck of cards when folded.
First thing you will notice is the care instructions. Paraphrased
Don't use sharp objects
Don't press too hard with your finger or fingernail
Screen protectors are a no-no
Strong magnets may damage credit cards or medical devices
Don't get it wet
And don't feed it after midnight!
When open, the phone is longer and narrower than you expect courtesy of the 21.9:9 screen. You barely see the centre crease, particularly if you use the dark theme. In fact, you barely feel the centre crease when swiping over it – sure it is there, but it is not jarring in any way.
When it is closed, it looks more like a rectangular women's make up compact.
Sure, there are some negatives
the camera is not a world-beater (but it is pretty good and a flip class-leader)
a smallish battery (with USB-C/Qi charge who cares?)
there is no microSD expansion (it has OTG)
no IP rating (no toilet dunks)
owners will wonder if the folding screen will last the distance (these have been torture tested 200,000 times and should do)
Bottom line: If you want a flip phone and have $2199 then this is it!
Screen – EXCEED
It is 6.7″ Dynamic, HDR10+, AMOLED. It uses a new foldable 30um Ultra-Thin Glass (UTG) under a polymer-based protective layer.
2636×1080, 425ppi, and apart from a centre O-hole and the protective bezels all around, it is all screen!
Before you wonder about the screen's durability, don't forget Samsung's excellent 2-year warranty against factory defects – that includes cracking or substantive pixel loss. If you otherwise break it the there is a fixed price screen replacement service.
The screen reaches about 700nits maximum auto-brightness and, as only self-emissive OLED can, it has an infinite contrast (because blacks are pure black). To put this in perspective the Galaxy Note10+ achieves about 800nits max auto.
Colours are typical OLED – bright and saturated in Vivid mode (closer to DCI-P3 movies as we all like) and closer to natural in Natural mode (closer to 100% sRGB). You can also adjust colour temperature and RGB in Vivid mode. We played some Netflix HDR10 content, and it did well bringing out details in dark and light areas that you can't see on an IPS LCD screen.
Sunlight readability is quite good. The screen seems to have a polarising filter that can render vision useless with some sunglasses.
The hidden hinge allows for open (180°), Flex Mode (90°) and down to 40°. It is not exactly one-handed flipping. Strongish magnets hold it together so its more of a two-handed approach. But snapping it shut is more of a cathartic experience – the equivalent of hanging up!
The Flex 'L' mode is best for video calls.
Second touch display (outside) – PASS (useful)
A 1.1" 112×300, 303ppi AMOLED for AOD use. It can show date, time and battery status as well as a viewfinder for the rear camera (hopeless), display notifications or control the music player.

Processor, RAM, Storage and GPU – EXCEED
It has a 7nm Qualcomm SD855+ (SM8150 Plus) – eight-cores, 4x1758MHz, 3 x 2419MHz and 1x2956MHz.
This is quite a powerhouse SoC, only exceeded by the Galaxy S20 with either an SD865 or Exynos 990. It has an integrated X24 4G LTE modem, so it makes sense to use a single-chip solution.
Being 7nm (currently the thinnest SoC) it runs cooler and is more battery efficient.
Geekbench 5 Single/Multicore is 754/2566 and puts it just above the 2019 Galaxy S10+/Note10+ in single/multi-core but below well below in screen compute – it is not for gamers.
You will find it in the ASUS ROG Phone II (gamers), and many premium phones from OPPO, realme, vivo, and Xiaomi
CPU Throttle – EXCEED
It is capable of 181,471GIPS. Over a 15-minute, 100% load test it was very stable, averaging 175,000GIPS – excellent thermal management.
RAM/Storage – PASS – no microSD expansion
It has 8GB LPDDRX4 dual channel (fastest) and 256GB (220GB Free) UFS 3.0 (fastest) storage. There is no micro-SD expansion but OTG to 2TB. USB-C is 2.0, meaning its 480Mbps half-duplex. We got about 175Mbps read speeds.
GPU – EXCEED except for games use
The Adreno 640 will scale up to 585MHz (it is capable of faster burst speeds) and handles
Codecs: H.265 (HEVC), H.264 (AVC), HDR10, HDR10+, HLG, VP8, VP9
HDR Playback Codec support for HDR10+, HDR10, HLG and Dolby Vision
Volumetric VR video playback
360° VR video playback
Upscaling lower-res content
But more importantly, it allows the camera to capture Rec 2020 colour gamut and 10-bit colour depth – as you would expect from a flagship.
While it is a high-end GPU Samsung have scaled its maximum speed back as the screen is more for content viewing than rigorous gaming. It will produce good frame rates, but the touch input lag is too high.
Comms – EXCEED
Wi-Fi 5 AC. VHT80, 2×2 MU-MIMO
In signal strength tests it achieves -47dBm and a maximum speed of 866Mbps at 3 metres from the NETGEAR AX12 reference router. The Note10+ gets -52dBM (lower is better) but connects at 1.2Gbps (4×4 MU-MIMO). We are not surprised as there is a lot less space to fit a dedicated Wi-Fi antenna and it shares this with the 4G signal.
BT 5.0 with dual device share. It gives a good, strong signal to about 20 metres.
NFC for Google/Samsung Pay and MST for mag card stripe readers.
GPS – Dual-frequency means fast and accurate – eerily so as normal GPS is within 10 metres – this was almost on top of us.
USB-C 2.0 – supports QC 2.0 and OTG but no Alt DP. See our comment on lack of DeX later.
Sensors – all: Capacitive Fingerprint sensor (side), Accelerometer, Barometer, Gyro sensor, Geomagnetic sensor (e-Compass), Hall sensor (digital, analogue), Proximity sensor, RGB Light sensor
Modem – EXCEED
X24 LTE Cat 16/13 Up to 1Gbps DL and 150Mbps UL. We could not fully test this as we test on the Boost/Telstra network capped at 100Mbps. We did get a 20/5MBps DL/UL in a 3-bar area (about as expected).
LTE Bands: 1, 2, 3, 4, 5, 7, 8, 12, 13, 14, 18, 19, 20, 25, 26, 28, 29, 38, 39, 40, 41, 66, 71 and works on all Australian networks. It has the vital band 28 for Telstra in-building, small cell and rural use.
Signal Strength: Achieves -91dBm signal strength compared to the Note10+ at -97dBm (lower is better) and finds the next nearest tower at -112dBm, so it has better reception than the Note10+.
It has one eSIM and one Nano-SIM (so don't go looking for dual sim slots). It supports VoLTE and VoWi-Fi as well as distinct ring tones for each.
eSIM means its IMEI is linked to Australian Telcos and must be activated first here before overseas use. That is why buying a so-called international model is such a bad idea as the eSIM is usually registered in Hong Kong. Despair not – the nano-SIM works anywhere.
Sound/video – EXCEED
Mono earpiece speaker, down-firing speaker, and single bottom mic.
Ring tone: 81.6dB (good)
Music: 80.4dB (good and depending on content can reach higher)
Handsfree: 72dB so keep it close with the bottom edge facing you
The Equaliser has pre-set for normal, Pop, Classical, Jazz, Rock and Custom and gives a +/-10dB alteration.
We don't typically measure the sound signature of mono devices as they are universally awful. But we did, and as expected, it delivers too higher levels of distortion and harshness from the tiny speaker.
Deep Bass: 20-40Hz – none
Middle Bass: 40-100Hz – none
High Bass: 100 to 200Hz – none
Low-mid: 200-400Hz – starting
Mid: 400-1000Hz – flat
High-mid: 1-2kHz – flat
Low-treble: 2-4kHz – a slight decline
Treble:4-6kHz – falling
High Treble: 6-1kHz – falling
Dog whistle: 10-20 – falling off the cliff at 16kHz
This is a mid-signature that we expect from devices with a focus on clear voice over music.
But things improve enormously using our reference Sony WH-1000xM3 headphones.
Here you have Dolby Atmos technology (Dolby Digital, Dolby Digital Plus) from a high-res 32-bit/384kHz DAC.
The AKG cabled buds were a cut above average with braided nylon covered cable and a choice of silicone ear tips.
It is also capable of dual BT device playback (depends on the device – see here)
Audio codecs: MP3, M4A, 3GA, AAC, OGG, OGA, WAV, WMA, AMR, AWB, FLAC, MID, MIDI, XMF, MXMF, IMY, RTTTL, RTX, OTA, APE, DSF, DFF
Video codecs: MP4, M4V, 3GP, 3G2, WMV, ASF, AVI, FLV, MKV, WEBM
TV Smart view mirroring to 1080p@30fps
Missing in action: It does not support Samsung DeX now. Rumour has it that a firmware update is coming (but we doubt that due to the USB-C 2.0 connector) so if you are a DeX user, then it is back to the Galaxy S10/20 or Note 10 series.
Battery – EXCEED for the size
The 3300mAh battery is in two parts – a 930mAh on the top half and a 2370mAh on the bottom.
Oy has a QC 2.0 compatible 5V/2A and 9V/1.67A (15W) charger which charges relatively slowly compared to the Note10+ and S10/20-series. We suspect it is limited to help manage battery temperatures.
Wireless charging (9W) only works on the bottom half when folded up. Wireless power share is both Qi 5V/1A (5W) and WPC to support Samsung Galaxy Watches as well.
Battery Tests
Video loop, 1080p, 50% brightness, aeroplane mode – 15 hours
Discharge rate at idle – <10mA should give 13-15 days standby
Heavy use – 11 hours
Typical use at 18 hours – about 20-30% left
T-Rex test: 442 minutes (7.4 hours) screen runtime
Audio playback MP3 and BT 38 hours
Battery discharge 100% load – 3 hours
Qi Charge time (9W) – 5 hours
USB-C Charge (15W) – 2 hours
Maximum battery temperature when charging 32°
You can use any USB-C PD charger, but it only draws 15W.
Our experience is that you can get well over a day from it with typical use and using more aggressive battery management settings.
Build – EXCEED for a foldable flip
Unfolded: 167.3 x 73.6 x 7.2 mm
Folded: 87.4 x 73.6 x 17.3 mm
183g
Aluminium frame and Gorilla Glass 6 back
A side Fingerprint sensor is accurate and fast. 2D face recognition is adequate.
In the box: Galaxy Z Flip, USB-A to USB-C Data Cable, 15W Travel Adapter, Ejection Pin, USB Connector (OTG), Quick Start Guide, Clear Cover, Earphones (USB Type-C) with sound by AKG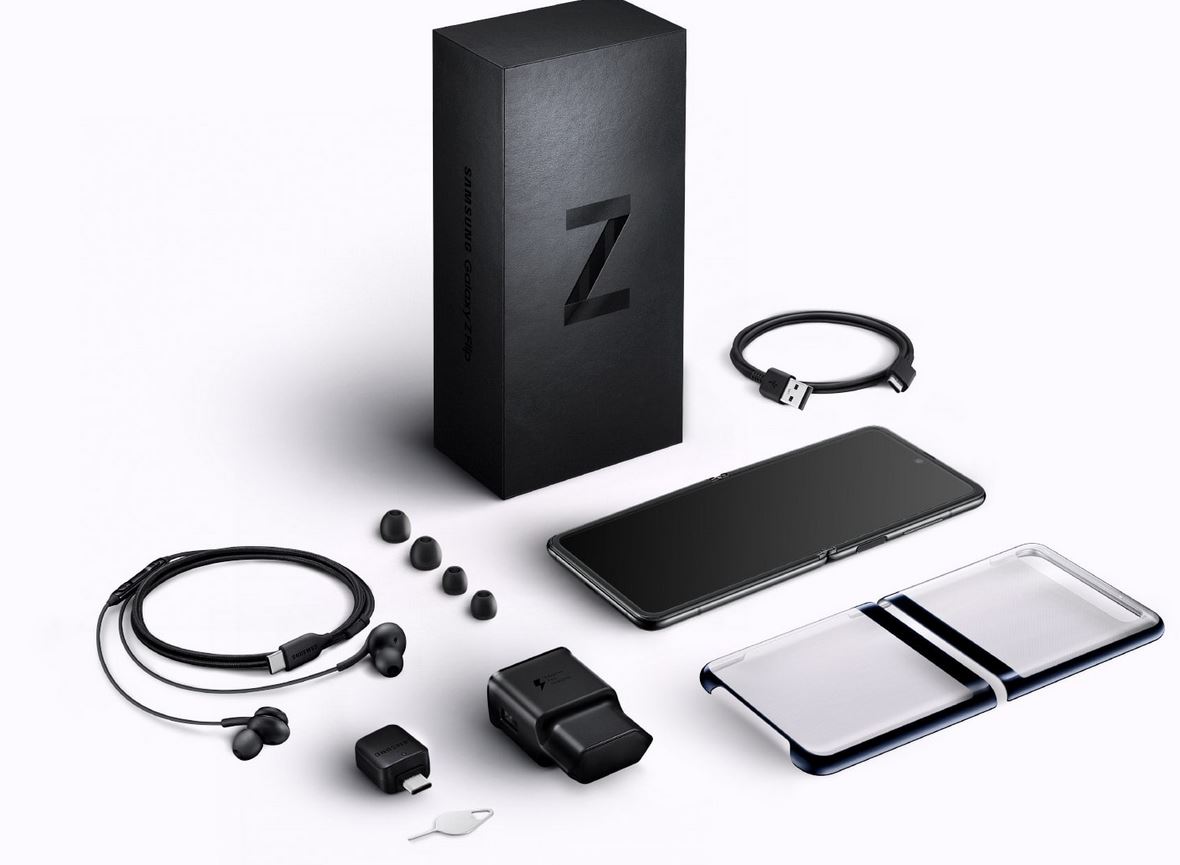 We suspect that the only vulnerable part is the screen so take care.
Android – EXCEED
Android 10 (should get Android 11)
Security Patch 1 February 2020
Samsung One UI 2.1
An interesting Flip mode (for a few select apps) splits screen.
Samsung One UI is very clean and light, so you won't have any issues. Samsung is pretty good at issuing patches and OS updates.
But you will notice a suite of Samsung Galaxy apps duplicating Google apps – you are free to use either. I use many of the Samsung apps like Mail, Contacts, Calendar, Health and Samsung Pay – they are great apps.
I won't go into Bixby – it is Samsung's AI, but you can use it for device-dependent things or general questions. It also has Bixby Vision and Translate. Yes its Google Assistant compatible – everyone uses that here.
Samsung Galaxy Z Flip Camera – EXCEED
The camera is no slouch – it scores 105 (109/96 still/video) on the DXOMARK camera test – we say anything over 100 is more than you need. Our experience is that unless you are a camera buff this will satisfy you.
Dual Rear Camera
12 MP, f/1.8, 27mm, 67.2° FOV (wide), 1/2.55″, 1.4µm, Dual Pixel PDAF, OIS and VDIS (Video Digital Image Stabilization)
Sensor S5K2L4SX (same as Galaxy S10 series)
8X digital zoom
HDR10+ record
Tracking AF
AI: Scene Optimiser supports 30 modes: Face, Baby, Person, Dog, Cat, Food, People, Beaches, Sky, Mountain, Sunset, Sunrise, City, Snow, Waterfall, Watersides, Scenery, Stage, Vehicles, Drinks, Flowers, Trees, Greenery, Animal, Shoes, Backlit, Indoor, Text, Clothes, Night view
Shot suggestions
Flaw Detection
AR Doodle and Emoji
HDR auto and flash auto
4K@60fps (OIS/EIS at 4K@30fps)
Flash
Can be used closed as a Selfie
Rear Camera 2
12 MP, f/2.2, 12mm 104.3° FOV (ultrawide), 1.12µm
Sensor S5K3P9 – same as the third rear on the S10 series
Samsung's definition of ultrawide 'Field of View' leaves a little to be desired, but given the size of the phones, it is OK.
Outdoors
Indoors office light (400 lumens)
Low light (<80 lumens)
Selfie (via O-Hole)
10 MP, f/2.4, 26mm 59.1/69.2° FOV (wide), 1.22µm, dual pixel phase auto-focus
Sensor: Sony IMX374 – this is in the Galaxy S10 and S20 series minus the depth sensor
Defaults to crop mode 6.5MP
Now while it is a 10MP sensor it delivers a final shot of 6.5MP. This is to create a wider FOV and automatically selects that if there are two people in the shot – but it is tight.
It delivers great selfies in direct and office light. It calculates bokeh and does a reasonable job. We only wish it had AMOLED fill-flash as the f/2.4 aperture quickly reaches its limits in low light.
GadgetGuy's take – Samsung Galaxy Z Flip is the class leader. It is far from a flop.
If you compare specifications for price – bang for buck, you will buy a Samsung Galaxy S20-series or a Galaxy Note 10-series any time.
But if you look at style, size and pure bragging value then its way ahead. Over a week of use I came to feel it was more the norm than hefting the Note10+. Although I felt the two-handed opening was a little tedious. I wanted a flip-out like Captain Kirk's communicator! Note: If you get your thumb between the screens you can initiate a flip wrist action that can send the phone flying.
As a COVID-convict I have daily contact with my wife and visit the local general store. Wife loves it for pocketability (She has an S10+) and says it has a definite feminine appeal. General store owner Sam is a bit of a tech-head and likes the style, but it did not excite him anywhere as much as I had hoped. His main comment was that it looked a little fragile.
Now I have swapped back to the Note10+ I realise I was seduced by the flip/fold!
In the end my only real gripes were the lack of DeX because I use it and any IP rating.
But would I buy it?
Me, no as I don't mind a big flat screen. And I am a leftie and the power/fingerprint button is on the right (Note10+ power is on the left).
Is it better than the Motorola Razr (GadgetGuy announcement here)? Don't know – have not reviewed it, but on paper, The Samsung Galaxy Z Flip is streets ahead in features and price.
We must rate it as a flip phone. As our only real comparison is the Razr (we suspect a Razr 2 is coming sooner rather than later), we don't have any established 'flip' baselines. Android Authority has a face-off review here.
For example, if Flip phones remain around $2K, it rates highly. If a Chinese-made flip (sorry Lenovo Motorola) comes out significantly less, then the value rating slips.
But for the most part, this is a flagship device, so you know where we are coming from.
Teardown: here
Small and sweet with a big heart
Creditable camera
Fast, throttle free SoC
Flaghsip quality all around
No microSD, DeX or IP rating
Slightly narrower screen led to more onscreen keyboard errors
Be careful with the screen
Slips off a Qi charge pad unless you use the cover