Where do you start with the Samsung Galaxy Z Fold2 5G? Is it a smartphone with a big foldable tablet screen, a second external screen, a powerhouse processor and a great camera? Or does it open a new category that defies conceptions about what a smartphone is and can be?
Yes, I am quite enthusiastic about this format. The more I use the Samsung Galaxy Z Fold2 5G, the more potential I see in it.
Why? Because the standard glass slab – the most economical way to deliver a smartphone – is so limited in comparison. The biggest impediment to productivity on a glass slab is lack of screen real estate.
It is a two-in-one – folded it is a 13.8-16.8mm thick phone with a 6.2″ screen and open it is a 6.9mm thin 7.6″ tablet. Oh, and it is not as weighty as I expected at 282g – about 60g (that's 2 ounces) heavier than the best Android Glass Slab – the Samsung Galaxy S20 Ultra 5G (review here 4.7/5).
While everyone would love a foldable, the device is for the select few that can afford $2,999. Yes, you can lease it, or trade-in an older Galaxy phone but the bottom line is that it is Samsung's effort to inspire and show technological leadership.
Enough of the Samsung Galaxy Z Fold2 5G adoration.
The full technical review is below but here is the spoiler now.
As an Android phone, it does nearly everything the benchmark Galaxy S20 Ultra 5G or Note 20 5G (no stylus) do except micro-SD memory expansion.
As a tablet, it has successfully addressed the minor issues of the Fold Z (Version 1). It now has a full external screen, a better fold mechanism, it is over-engineered and specified (12/256GB).
It has an interesting 12+12+12MP rear camera. But it is not near the capability of the Note20 Ultra or the S20 Ultra camera.
Samsung's tweaks to Android make tablet and fold a little less clunky.
It gets out recommendation.
Samsung Galaxy Z Fold2 5G Model SM-F916B (ZNAXSA)
Australian website here
Manual here (it is a PDF so check downloads folder)
Price: $2999
Colours: Mystic Bronze and Mystic Black
From: Samsung online and Samsung Pitt Street Mall store Sydney, JB Hi-Fi, Bing Lee, Harvey Norman (and other Doymane stores), Catch.com.au (Wesfarmers owned)
Elevator pitch: phone, phablet, tablet.
Warranty: 2-years
Country of Manufacture: Not China. Likely South Korea or Vietnam
Samsung is a South-Korean global supplier of smartphones, tablets, TVs, home appliances and more.
Other Samsung news and reviews here
Grey market – no Australian warranty
We have named and shamed the major grey marketers here. If you are going to spend this much money, get a genuine 'Made for Australia' model. Besides the Australian eSIM's IMEI will only first activate on an Australian network. Note that the W21 dual sim 512GB model and SM-F916N are not for Australia.
First impression – pretty slick
The review unit is Mystic Bronze. For some reason, my wife loves it, but it does not resonate with me. But then it is more attractive than boring Mystic Black. Looks-wise it is similar to a thick Note 20 Ultra.
The first thing you see is a large spine accounting for 16.8mm folded thickness. The front screen is tall and narrow. It has a 25:9 ratio, so it is not for 16:9 movies and video content. One-handed use on this screen is impossible, but there is something quite reassuring, solid, holding the phone by the spine in your left hand.
The rear camera block is quite elevated with three 12MP optically image stabilised (OIS) lenses are in perfect traffic light symmetry and a single LED flash.
Like my Galaxy, S20 Ultra 5G camera block, this review model edges are starting to show some 'rubbing' wear. The block edges are there to protect the lenses. I suspect that a cover which I estimate will add another 60g would be a great idea.
Open up the Fold, and it is all-screen although technically its 88.6%C screen-to-body ratio as there is a solid but thin plastic frame around the edges.
Screens – there are two
Size
Fold: 7.6″
External: 6.2
Type
Fold: Dynamic AMOLED 2X, 120Hz (Adaptive mode – otherwise 60Hz) with right top O-hole
External: Super AMOLED 60Hz with centre O-hole
Resolution
Fold: 2208 x 1768
External: 2260 x 816
PPI/Ratio
Fold: 373ppi and 11.2:9 ratio (3.73:3 = close to the old 4:3 TV screen)
External: 25:9
Colour depth
Brightness
Contrast
Delta E
RGB adjust
White
RGB
HDR10+
External
Both: 16M
Fold: About 450 nits typical fairly evenly distributed
It will reach 700+ max auto nits (small screen segment)
Both: ∞:1 – Black: 0 cd/m2
Fold: 2.25 (<4 is excellent)
Fold: Vivid (135% sRGB), Natural (100% DCI-P3)
Fold: Cool to Warm 6100-8200°K
Fully adjustable
Fold: Yes. External: No
The external display defaults are accurate and colourful
Daylight
AOD
Dark mode
Blue light
Edge
Both: Excellent
Both
Yes
Yes
Fold: Yes
DRM INFO
Fold: HDR10, HDR10+, HLG
Widevine L1
HDCP 2.3
Note that there is no digital output of DRM content to an external screen so it should stream HDR content from any source
Gaming
Fold: 10ms G-T-G
Samsung Game Booster toggle to force 48fps refresh rate for some games>
You can buy a separate clip-on controller
Protection
Fold: It is a foldable ultra-thin glass screen that requires care
External: Corning Gorilla Glass Victus 7 (2m drop-resistant)
Both have a pre-applied plastic film that will lift over time.
Face ID
8/10 positives
Let's start with the Fold
It is colour accurate, has adaptive 120Hz (usually 60Hz) refresh, and the almost 4:3 aspect seems to be compatible enough although we noticed side cropping on a full-screen landscape video.
Independent tests show (see video at the end) it is not as scratch resistant as Gorilla Glass (any version) and Samsung warns to take care as fingernails could scratch it. As it has a plastic screen protector – touch is slightly draggy – not as smooth as glass.
The warning is common sense, and anyone that mistreats a $3,000 object is at fault.
The key here is the extra real estate allows for better multitasking. There is quite good palm rejection. The only downside is the split keyboard on most apps. It takes quite a while to master as half the letters are on each side. I am sure there are apps to address that.
The middle Fold is barely noticeable in use – you can feel a small indent channel down the portrait screen.
Magnets hold the Fold together. The screen can be full, as two half-height or even as an L-shape (Flex Mode) for selfie video.
The external screen is the one you use most of the time for phone functions. It is very 'skinny' at 25:9 including an almost unusable onscreen keyboard.
While we will refer to IP rating (water and dust resistance) later, this has no formal rating. I am sure it is splash resistant, but pocket dust will inevitably make its way into the fold hinge.
Processor – the best in 2020
SoC
Qualcomm SD865+ 7nm
1×3.09GHz, 3×2.4Ghz, 4×1.8Ghz
GPU
Adreno 650 Compute Open CL: 3574
Game use
Will handle almost any game at 60fps. There are no issues with the screen format. But while its capable of games and it has a 120Hz adaptive screen, we can't recommend that due to the possibility of damage during vigorous gameplay.
RAM
12GB LPDDR5 but about 6GB free
Storage
245GB UFS 3.1 (approx. 216 avaialable)
Androbench Mbps sequential read/write
Internal test:
1627.65/738.89 (Entry-level Desktop SSD speed)
External:
The interface is USB-C 3.2 Gen 1 (5Gbps or 625MBps half-duplex). Drives must be formatted exFAT

Orico iMatch 1TB SSD USB-C 3.1 Gen2 (10Gbps) 218.37/210.6 (about maximum data transfer rate)
WD My Passport SSD 2020 USB-C 3.1 Gen2 (10Gbps) 207.98/216.15 – ditto
OWC Envoy USB-C 3.1 Gen 1 256GB SSD Flash Drive 213.42/209.99 – ditto Lexar UBC-C 3.0 64GB Flash Drive 79.9/54.99
4K@60fps, AAC stereo recording produces a 70Mbps (8.75MBps), so you will have no issue recording straight to an external SSD or even a USB-C 3.0 flash.
micro-SD
No. USB-C OTG allows for exFAT disks to 2TB
Ultra-wide-band
CS40L2X chip. It is like ANT+ that allows you to find other nearby compatible smartphones and devices. It is smart enough to securely control compatible car and door locks as it has precise location, spatial and angle of arrival capability. Similar in function to Apple's new Ultra-Wide-Band H1 chip Samsung has a techy explanation here.
Geek
Bench 5
Single: 978
Multi: 3177
There is no faster SoC available in 2020
Throttle
15-minute
Max: 232,685 GIPS, Average: 211,277, Minimum: 195,920
14% loss over 15 minutes
The external temperature reached 42° on the Fold and 37° external
This has the current fastest SoC and all the go-fast bits.
The throttling and slightly higher external heat are due solely to thermal design. It is not bad, but it is not for continuous 100% load either. In any case battery life would be measured in a scant few hours.
In some ways its overkill for this device. It helps me to see why some brands are using the SD765 as their 2020 flagship processor.
Comms – OK
Wi-Fi
Wi-Fi 6 AX, HE80, MIMO (Used Qualcomm QCA6390)
Signal Strength 5Ghz – distance from ASUS AX1100 router
– 2m: -36 dBm/1.2Gbps (excellent)
– 5m: – 63dBm/663Mbps
– 10m: -71/266Mbps
Bluetooth
BT 5.1
A2DP, AVRCP, HSP, HFP
Supports both stereo audio and mono handsfree
GPS
Dual with <4m accuracy perfect for turn-by-turn navigation at speed
NFC
PN547 works with any contactless reader and NFC tag as well as Mag Stripe and Samsung or Google Pay
USB-C
3.2 Gen 1 5Gbps half-duplex (expect maximum 200MBps data transfer)
DeX
Desktop experience support also includes data transfer to PCs
If you have a DeX station, you can attach USB devices like a mouse/keyboard or use BT devices instead. It can also act as a touchpad. You can use
USB-C to HDMI adapter for a monitor (1080p@60Hz)
USB-C 3.1 Alt DP to a computer or TV (up to 4K@60fps)
Over Wi-Fi (not all devices will work)
Windows Link
You can connect your device to a Windows PC to instantly access your device's data, such as photos or messages, on the computer. When calls or messages come in, you can receive them on the computer.
Smart View
A form of 1080p@30fps using Miracast
Sensors
Accelerometer and Gyro combo LSM6DSO
Barometer
Fingerprint Sensor on the power button
Geomagnetic Sensor, Hall Sensor, Light Sensor, Proximity Sensor
My main gripe is the combo LSM6DSO Accelerometer and Gyro. I know this is widely used, but it makes screen rotation and accidental rotation on any device using it a damned pain. If you put it on a desktop, the portrait screen nearly always swaps to landscape or vice versa. The cure – turn off auto rotation.
Otherwise, it has excellent Wi-Fi data transfer speeds.
LTE and 5G – its a city phone
SIM
Singe nano-sim and eSIM
eSIM must be activated in Australia first before international use
SIM can be for calls, data or texts
Ring tone
Dual ringtones
Support
VoLTE – carrier dependent – generally yes
Wi-Fi calling – Yes
DL
UL
Ping
39.5 Mbps
6.9 Mbps
30 ms
LTE Band
1, 2, 3, 4, 5, 7, 8, 12 ,13, 17, 18, 19, 20, 25, 26, 28, 38, 39, 40, 41, 66
5G
N1, 3, 5, 7, 8, 28, 40, 41, 77, 78
We could not test 5G reliably and we are not sure all bands are enabled
Test
-104 dBm/63fW on band 28 4G LTE in a 3-bar reception area (average)
Found next tower at -106dBm/31fW.
Occasionally found the third tower at -117dBm/7fW
LTE Signal strength was all over the place – from 102-119dBm. We doubt that it is due to antenna design – all tests are laying flat on a glass table. I suspect that it is more Telstra's fault than the Fold2.
We can confidently say it is more a city/suburbs phone than for regional and rural use.
5G is sub-6Ghz only, and while it covers most global bands, the lack of mmWave support limits its use in the US and China.
Battery – one day at best
We normally test at 120Hz (forced) and 60Hz (default). This device only offers Adaptive rates, so it is hard to tell what speeds it is testing at. We estimate that the main battery impact is on video loop where it gets 16 hours at 60Hz and reduces to about 13 hours at 120Hz.
And then there is the issue of mixed-use. What percentage of the time can you just use the external 60Hz screen?
Battery mAh
4500mAh rated typical dual-cell battery
2345 and 2155mAh over both halves of the device.
Reported 4365mAh which is not unusual.
Charger
PDO: 5V/3A/15W, 9V/2.77/25W
PPS: 3.3-5.9V/3.A OR 3.3-11V/2.25A
Qi/PMA wireless: 5V/3A/15W at approx. 73% efficiency (11W deliver)
Wireless reverse charge: 5V/.9A/4.5W at approx. 65% efficiency.
Care: The charge coil is not in the centre of the back. It is in the bottom third. Alignment on a charger affects efficiency.

Test with supplied charger set to fast charge
30% at 30 minutes
60% at 60 minutes
100% at 120 minutes
You can use any USB-C PD compliant charger
Tests
Video Loop test:
60Hz 1080p/50%/aeroplane mode – 16 hrs (claim 18)
120Hz as above – 13 hrs
60Hz External – 25 hrs
Typical use 4G, Wi-Fi Test
Fold adaptive – 9-10 hrs
External – 15 hours
MP3 music test: 50% volume played from storage – 24+ hrs (claim 83)
100% load Battery drain – 3 hrs
T-Rex (unsure of refresh rate) – 238.8 minutes (3.98 hours) 6643 frames
Drain screen off: .3W (about 15 days)
Drain screen on: 2.8 W or 24 hours
Maximum drain; 10.5W
Because of the three screens and mixed-use, we estimate that it has a maximum of one day if you favour tablet mode and close to two days for external mode.
But it has a fairly high screen-off current draw that means it will only last about two weeks on standby.
We tested Qi charge with a Belkin 15W charger. It should reach 5V/3A (less Qi efficiency factors), but the best we could get was about 10V/1A/10W.
When you look at the fast charge of the S20 Ultra 5G (65% in 30 minutes and 100% in 60 minutes), and the OPPO Find X2 Pro (95% in 30 minutes and 100% in 36 minutes) you wonder why Samsung took the safe route. Well, at least it beats the iPhone 11 Pro Max for speed (that takes over 2 hours for a full charge).
Sound – it is very good
Speakers
Stereo matching speakers top and bottom
Landscape orientation means the speakers point up and down in portrait mode.
AMP
As in Note 20, It uses two Cirrus Logic CS35L41 top-of-the-line D-Class amps that output 5.3W each at 1% THD. These have integrated DSP and speaker protection. Interestingly these are two mono amps to make stereo, so we assume there is some software balancing to match the top and bottom speakers.
Hi-Res
It will sample at 16, 24 and 32-bits at 44.1, 48, 88.2 and 96kHz (use developer options to select)
BT codecs
Codecs are SBC (standard), LDAC (Sony), aptX/HD (Qualcomm), ACC (Apple) and Samsung Scalable (requires Samsung device like Buds Live). You can select different or all codecs in Developer Mode)
Audio Playback


MP3, M4A, 3GA, AAC, OGG, OGA, WAV, WMA, AMR, AWB, FLAC, MID, MIDI, XMF, MXMF, IMY, RTTTL, RTX, OTA, DFF, DSF, APE
Dolby Atmos
Dolby Atmos for normal use and games. It decodes 5.1.2 (or higher) to the two speakers. It does not add any height channels. Dolby Atmos content via BT or USB-C cabled headphones (it has an inbuilt DAC) has a slight sense of spatial sound.
Presets
EQ pre-sets can adjust most frequency bands by +/-10dB. These include normal, Pop, Classical, Jazz, Rock and Custom.
Sound Stage
In landscape mode, it is a little wider than the device.
Video
MP4, M4V, 3GP, 3G2, WMV, ASF, AVI, FLV, MKV, WEBM
Will downscale 8K@60fps
By default, it captures videos in AVC format with a two-channel, AAC, 48 kHz audio stream producing a 70Mbps stream.
Mic
2 with Acoustic Overload Point to minimise noise
Handsfree
Loud and clear – better than most
3.5mm
No
USB-C AKG earbuds provided and have reasonable quality and frequency response.
Tests dB

Media – 76
Ring – 76
Alarm – 76
Earpiece – N/A
Handsfree – loud and clear
While we would have liked to see 80dB or more but this is good clean, distortion-free sound.
BT headphones
Our reference Sony WH-1000xM4 in SBC, AAC and LDAC modes provided good clear sound and plenty of volume. These headphones don't support aptX/LL, but in tests with the Sennheiser PXC-550 II, it was superb.
Sound quality – perfect for a tablet
| | |
| --- | --- |
| Deep Bass: 20-40Hz | No |
| Middle Bass: 40-100Hz | Building from 80Hz |
| High Bass: 100 to 200Hz | Still building |
| Low-mid: 200-400Hz | flat |
| Mid: 400-1000Hz | flat |
| High-mid: 1-2kHz | flat |
| Low-treble: 2-4kHz | flat |
| Treble:4-6kHz | flat |
| High Treble: 6-10kHz | Dip to avoid harshness |
| Dog whistle: 10-20kHz | Flat to 15kHZ and a gradual drop to 20kHz |

This is almost warm and sweet – perfect for music and movies. The pre-sets allow you to move it slightly towards bright vocal (good for clear speech and podcasts) or balanced. There are also 'age' pre-sets to boost frequencies that you may no longer hear.
Both speakers are well-matched with a very slight bias towards the bottom speaker (right in landscape)
Build – engineering marvel
Size/Weight
Folded: 159.2 x 68.0 x 13.8-16.8
Open: 159.2 x 128.2 x 6.9
282g plus charger/cable and case if used
Colours
Mystic Bronze and Mystic Black
Build
Fold Glass: Ultra-thin Glass
External: Corning Gorilla Glass Victus
Frame: Alloy
Back: Gorilla Glass 6 for Qi wireless charge
IP
No dust or water ingress protection
Magnets
The screen is secured closed by magnets in the frame. These may cause issues with mag-stripe cards.
In the box
25 W charger
USB-C to USB-C cable
USB-C AKG earbuds
It is a solid device – never once did I feel it was fragile. But its deceptively easy to drop in one-handed use or when opening. Take care.
I really think an external grippy case would be a good idea, but that is going to add another 60g or so to an already heavy device.
After two weeks of use, the pocket dust started to become evident around the screen edge. I have not used it enough to know if this is going to be an issue. I usually place the phone in my front side left pocket with a couple of folded tissues. Keys or any other objects in that pocket are a no-no.
And this review model does have some very minor screen scratches noticeable only with a magnifying glass.
Unofficial estimates are that the bill of materials is close to US$700 compared to the Galaxy S20 Ultra 5G at $549 an iPhone 12 Pro Max at US$490.
Android 10 with 11 and 12 to come
Android
Google Android 10
Security patch date: 1/12/20
Update: Android 11/12 and 13 likely and three years security patches
UI
One UI 2.5
Google
All standard apps, Google Lens and Assistant.
Security
Samsung Knox allows secure folders and more to secure the device.
Integrated secure element (iSE) layer stores and manages users' data separately from the operating system. Includes a physically unclonable function (PUF) – a digital fingerprint, that generates an unclonable key for data encryption. This is similar to Pixel Titan M and Apple T2 chip.
Side Key
Long press on power key dedicated to Bixby
Bloatware
Mostly Samsung productivity and utilities.
Facebook can be easily uninstalled.
Update Policy
Assume three OS update. Security patches should come
Security
Fingerprint on the power button. It is fast and accurate.
FaceID – accuracy depends on light levels.
Accessibility
Voice Assistant
High contrast theme, font, keyboard
Colour inversion
Magnifier window
WidgetSound detectors
Hearing aid support
Left/right sound balance
Mono audio
Mute all sounds
Live Transcribe/Caption on Android
Amplify ambient sound
Universal switch
Assistant menu
Interaction control
Touch settings (Tap duration, Ignore repeated touches, Touch and hold delay)
Mouse and Physical keyboard (Click after pointer stops, Sticky keys
Slow keys
Bounce keys
Direct access
Flash notification
For the most part, One UI has made it quite seamless to use three screens (although only the front or Fold are active at one time. What you see on the front can flow to the opened Fold.
It has everything you could want.
Missing – no deal breakers
Micro-SD
While USB-C 3.2 Gen 2 gives good OTG speeds its not as convenient as a micro-SD for large files
IP rating
Possibly a deal-breaker – Buy Note20 or S20 for that
Headphone
Jack
No issue – USB-C
mmWave
Not a huge issue here. Australia won't have mmWave for consumer use for some years.
Camera – generally a good all rounder
Samsung markets the rear camera as three 12MP cameras. But as you can see in the table below, there are three different sensors plus two identical 10MP selfie cameras. Why the magic mix? Each does different things, and overall it works.
One interesting thing – its overall shape and size precludes the use of a selfie-stick or tripod adapter. But you can use Flex mode to expose the three rear cameras or use the internal selfie.
Flex mode allows a preview of the shot and access to the gallery.
But as DXOMARK has done a full camera review, we will defer to their expertise. They score it at 109, and it is easy to see why it is a way off the Galaxy S20 Ultra 5G (126), Note20 Ultra (120) and even the S10+ (113).
Why? The three different 12MP sensors are great for point and shoot daylight photography. Where they let the team down –
Bokeh (no dedicated depth sensor)
Night mode (noise and artifacts)
May get confused over which sensor/lens will take the best shot
No wide-angle lens (ultra-wide or telephoto)
And the OIS telephoto delivers good 2X optical but not great 10s hybrid digital zoom
Interestingly these are largely AI software issues, and we may see the camera creep up a few points soon.
Still, as I like to point out anything over 100 points is pretty good, and its score puts it well ahead of the iPhone XS Max (106) and Pixel 4a (111).
Samsung Galaxy Z Fold2 5G camera specs
Camera
Primary
12.2 MP
Ultra-wide
13MP
Telephoto
13MP


Selfie
10MP (2 – identical on external and inside O-hole)
Sensor
Sony IMX555
Delivers 12MP


Samsung SK3L6
Delivers 12MP
Samsung SK3M5
Sony IMX374
delivers 7.1MP cropped
Lens
Not specified
Focus
Dual Pixel
PDAF
PDAF
PDAF
Smart WDR
Dual Pixel
PDAF
Aperture f-stop
2.2 (test software reports 1.8)
2.2
2.4
Same
Pixel size um
1.8um
1.12
1.0
1.22
FOV° and cropped
83° (71.9)
26mm
123° (104.3)
12mm
76°
52mm
80° (61.5)
Stabilisation
OIS Plus Qualcomm EIS video stabilisation
No
OIS
No
Flash
Single LED
Screen fill flash
Zoom
Optical 2X
Hybrid Digital 10X
Video Max
4K@60fps
HDR10+ video
4K@30fps
Features
HDR
HDR
Daylight, outdoors
Indoors Office Light (400 lumen)
Low light (room <100 lumen)
Selfie
Dual preview is possible in Flex Mode. Screen fill light is available with the tablet selfie. Colours are fine.
Bokeh
Bokeh is a weakness a you first select Live Focus, take the shot and then post process it to your needs.
Macro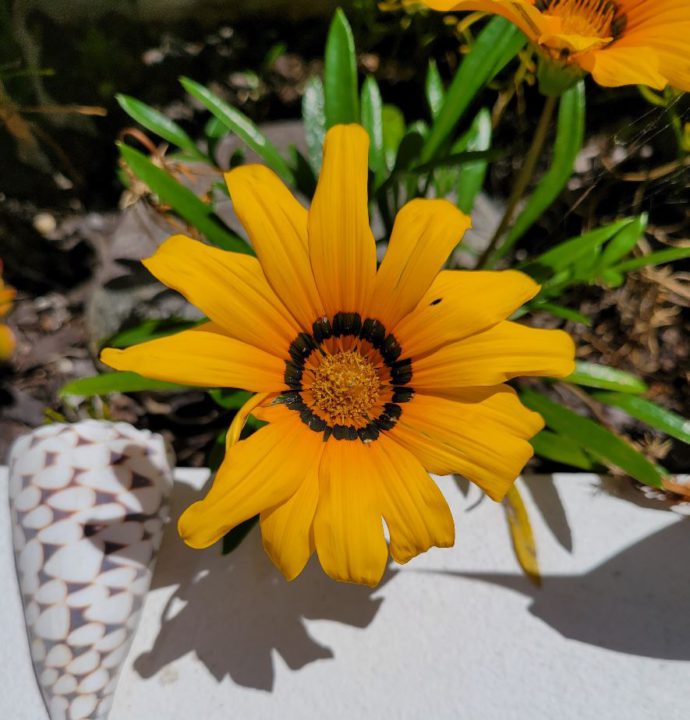 Video
Video quality to 4K@60fps is excellent given both OIS and EIS stabilisation. It suffers in low light.
GadgetGuy's take – Samsung Galaxy Z Fold2 5G
It is the second version of what promises to be a long line of Galaxy Z Folds. It is very good.
Despite a few foibles, it is hard to fault and Samsung do address any issues promptly. Software updates and security patches are excellent.
Those foibles are a folding screen that needs care, no IP rating and no micro-SD storage. Yet they are no deal-breakers.
I ended up using the external screen most of the time and the fold in Flex mode for Duo and more screen real estate.
Do you need a Galaxy Z Fold2? Well, it is nice but not a must-have. Just like the Note 20, S-Pen is nice but not a deal-breaker. The S20 Ultra and its periscope zoom have a superior camera offering.
Here is a JerryRig teardown
Rating
There is a conundrum. Do you rate it as a tablet with phone benefits or a phone with tablet benefits? Neither it is a hybrid and a new category.
I would love to give it 5/5 but I can't. Why? Because the Galaxy Note 20 Ultra gets 5/5 and the Galaxy S20 Ultra 5G gets 4.7/5. These are for entirely different audiences.
But its certainly up there, even if we can't afford it.
Build: It is a Samsung Galaxy
Battery: One day or longer depending on screen use
Camera: Not the best but not far from it
Very fast internal storage and USB-C 3.2 Gen 1 OTG
Long Android updates
Can get a little toasty under load
Super Fast Charging Adapter is not!
Fingerprint magnet fold screen
No IP rating
Take extreme care with the screen