The Samsung Gear S3 is the most comprehensive, non-Apple, smartwatch with fitness benefits so far – and that is saying something for a smartwatch released back in November 2016!
GadgetGuy revisited the Gear S3 because we needed a current review of a device that has "everything but the kitchen sink." In designing this, I am sure that if Samsung could have, it would have included that, and an emergency shot of coffee as well. This smartwatch has it all.
It has:
Bluetooth 4.2 (A2DP ) to connect to your smartphone and headphones/buds
Wi-Fi N 2.4Ghz to work stand-alone from your phone (if on the same network)
A speaker and microphone to make and take calls and use S Voice assistant
4GB memory (1.64GB usable) to store, play or stream music
GPS, Accelerometer, Continuous Heart Rate monitor, gyroscope, barometer and ambient light sensor
MIL-STD-810G (Frontier model), IP68 water resistant to a maximum depth of 1.5m for up to 30 minutes (not a divers watch), and protected from dust, dirt, sand and snow.
Samsung Pay with MST (swipe) and NFC (Pay Pass)
380mAh battery, fast wireless cradle charger – two to three days use but can be sapped by constant GPS use
A magnificent, always-on, 33mm, 360 x 360 colour, Gorilla Glass SR+s, AMOLED screen
Tizen OS 2.3.22 and Exynos 7270 dual-core 1GHz processor
Uses standard 22mm wristbands
10,000+ apps in the store
And that rotating bezel beats using a crown hands down.
I have been using the Gear S3, Frontier version for over a year now as my daily watch. I also have on review a new Samsung Gear Fit Pro 2 and it does most of what the S3 does (no speakerphone capability). While both are aimed at different markets they are excellent examples of what a smartwatch can be.
(Classic model on eft is SM-R770, and in the US an LTE eSIM version is SM-R7565F)
In December 2015 I reviewed its predecessor – the Gear S2, and I called it a "sensible smartwatch." It was more of an extension of a smartphone whereas the S3 is more a standalone device.
It comes in a nice, elegant round, black, cylinder that contains:
The watch (available in Frontier and Classic style – identical functions)
A magnetic wireless charger (small L-shaped cradle that sits nicely on a bedside table)
A USB-A to micro-USB cable (use your own charger)
Spare small-sized silicon, spring pin style, 22mm strap (only the side with holes – not the buckle side)
A brief manual.
Full manual here.
First impression of the Frontier is a large, round, black watch and silicon band. The Classic version is a little more elegant but as both are 46 x 49 x 12.9 mm (thick) and 62g they are big watches. The large strap fits wrists up to 130mm and the small 110mm.
The set-up is very easy – download Samsung Gear Manager for Android (almost any recent Android phone), pair up, download Samsung Health app and sign up.
There is an iOS version of Gear Manager and Samsung Health, but this review does not cover that.
You can then download thousands of analogue or digital, themed watch faces and apps – many are free. The watch faces look very much like a real watch.
 Usability
I was sceptical at first that a 33mm round watch face had much usability, especially for email. The display is crisp and colourful and surprisingly useful. The ability to choose a larger display font makes it easy if you are long-sighted.
The rotating bezel is the most intuitive interface I have used – and I have used many. Simply rotate the bezel clockwise or anti-clockwise to see different screens or press the settings button and rotate through the installed apps. Tap on an app to active it. You can install extra apps as well.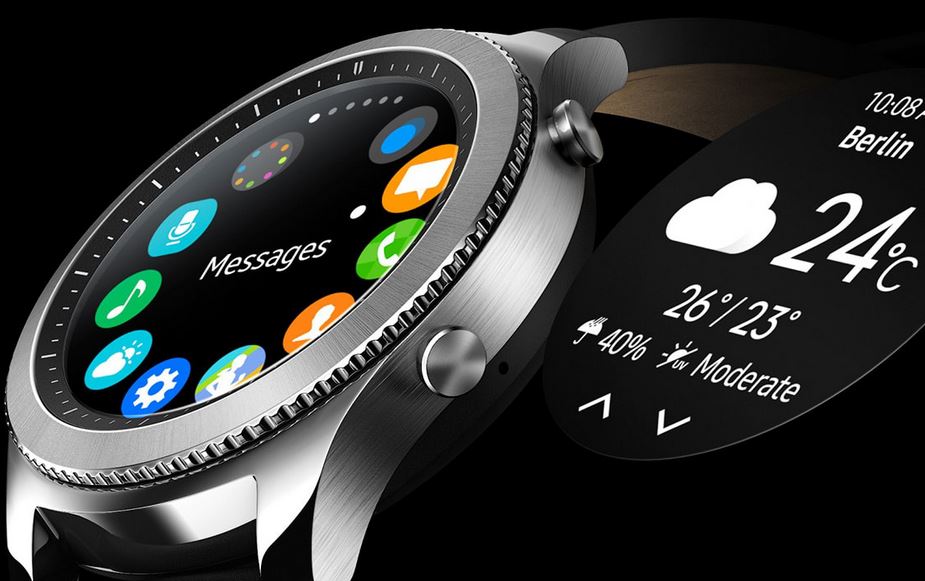 The handsfree phone function is clear. Accept an incoming call via the screen (it has caller ID), and you can have a normal conversation if the watch remains up to arm's length from your face. Callers commented the microphone is very clear. I found myself wearing the watch around the home or the office and leaving the smartphone on the wireless charger.
S Voice is still hit and miss – as is every other voice assistant – but with practice, I managed to call a contact, send a text, and set the alarm. I suspect over time S Voice will morph to Bixby.
The SOS function is handy too – nominate your contact, and if you press the home key three times it will contact them. Find my Gear also works well.
The Samsung Health App
The other part of the equation is the Samsung Health app that has improved enormously over the last few years. It is up to version 5.14.1.003 and – it a good app with features being regularly added.
Sleep tracking is automatic and reasonably accurate in showing start and stop times and graphically shows light, deep (motionless) and restless times, gives you an efficiency rating and allows you to comment on the sleep quality.
Walking is automatically tracked and gives steps, estimated distance, pace, and timelines. It is reasonably accurate compared to the GPS – you can adjust step length to get it much closer. It will nag you if you are too sedentary for too long.
| | | |
| --- | --- | --- |
| Activity Type | Auto detection | Repeat count |
| Running | O | |
| Walking | O | |
| Cycling | O | |
| Elliptical | 0 | |
| Rowing Machine | 0 | |
| Lunges | | O |
| Crunches | | O |
|  Squats | | O |
Heart rate is a continuous monitor type with range over time intervals. My only gripe is that it does not overlay heart rate on other activities like walking or sleep – take note programmers because it would be easy to do.
GPS functions are attached to specific, usually paid apps – running, cycling, hiking, skiing, backpacking, canoeing, circuit training, and many more. It can also use weather and barometer information to alert you to major changes.
There are more than 120 sports that you can track, and many are auto-detected. You can set up exercise guides and programs as well – marathon training etc.
The social aspect allows you to nominate friends and create challenges as well as gain valuable comparative information about where you relate to others at your life stage.
There is also a range of about 70 partner apps that will share Samsung Health and Gear data – these cover fitness, nutrition, rest, health care and more.
My only gripe – take note programmers – is that it does not have a standard Web interface so I can check in from a computer browser – it is all on the phone.
Other apps and watch faces
Gear now has over 10,000 apps and custom watch dials. I installed a stopwatch, timer, and Samsung Pay. Things like Uber, Here WeGo, Under Armour, MapMyRun, GolfNavi, and more are either there or coming. It will even play games and link to Nest and control Philips Hue lights.
Spotify has announced you can now save offline playlists to the device.
It supports connected services, data sharing, and exports data in .GPX format.
Wearable (US site – not all are available here) has a great overview of the best Samsung S3 apps here.
Samsung Pay
It supports both NFC and MST contactless payments with and without your phone. I set it up with a FlyBuys loyalty card and Medibank, and it worked well.
Further details here and it currently supports about 45 Australian financial institutions. If you bank is not listed, it is almost worth getting a credit card from one that is for low-value purchases like coffee etc.
Music
Pairing a set of Bluetooth headphones was easy – be they Samsung's ICON-X 2018 right up to Sennheiser, Bose and more headphones and speakers as well.
Usable memory is 1.64GB. I uploaded over 300 songs and had space left. It will display metadata (performer, photo, title, etc.) if known.
GadgetGuy's take
The Gear S3 is a smartwatch that crosses the boundaries with a fitness tracker and does both very well. If you buy one wearable, this is it as it has more features than most and it looks like a watch!
Some reviewers have criticised the lack of apps on its Tizen OS – a fair point if comparing to Android Wear devices. But I find the 10,000 plus apps more than a match for my needs.
I find it a tad large and a little thick — 49mm diameter x 12.5mm — but it fits well on a male wrist. I suspect that women will find it too large and may prefer the Gear Fit Pro 2 – but that is a matter of personal taste.
Of the 50 or so people, I have shown it to, about 70% expressed interest in purchasing one, and about 75% loved the Frontier style over the Classic.
Killer features – the rotating bezel is easy to use, Wi-Fi is a bonus for untethered use, and the app ecosystem is comprehensive enough.
At $598.95 it is arguably the best non-Apple smartwatch to date, and this is as good as it gets until the next S4 arrives (note there is no inference that it is coming anytime soon)
Pros
Always on screen (if you want it) makes it look like a real watch
Amazingly clear, colourful and daylight readable AMOLED screen
The rotating bezel is the easiest interface to use
Long lasting battery with quick charge
Compatible with the latest Samsung phones as well as iOS and Android – no OS lock-in
Very well made – IP68 and MIL-STD-810G
Uses standard 22mm straps
No lock-in to a particular phone or brand
Buy it for the Dick Tracy phone-watch alone
Cons
I find it a tad large, but most don't
Always-on and GPS can drain the battery – charge it daily
Water resistant but not swim proof
$599 is a big ask, but you will find it online for under $400, and that is a bargain
Ratings
Overall:  4.6 out of five
Features: 5 out of 5 – has everything you need and then some
Value for Money: 4 out of 5 – bag a bargain and knock this up a notch
Performance: 5 out of 5 – No lag, onboard memory
Ease of Use: 5 out of 5 – Rotating bezel is a great interface
Design: 4 out of 5 – a little big on the wrist – make sure you try one on first
Price
$598.99
Still the number one (non-Apple) smartwatch that also works on iPhone