The battery is another issue altogether, and while we're told to expect as much as 3 hours of life, a little over 2 is probably closer to what you'll get, and that's with a full battery.
Just like how Google's Cardboard dents the battery life of phones, Gear VR does the same, and while you might be able to make it all the way through watching Godzilla, Lord of the Rings will probably kill the battery of your phone, especially if you've already used the phone and are below 90 percent.
And that's one of those things you need to remember: there is no battery in the Gear VR, even though there probably should be. We can only imagine how this would add to the weight, which is already heavy enough, but you're relying solely on the battery in your phone.
That means if you have 100 percent, you might have three hours, maybe, depending on what you're watching. If you have under that, the time you can use the Gear VR goes down.
Unfortunately, there is no microUSB charge port on the Gear VR (at least not the current one, though it could come later), and if you want to charge the phone to play more content, you'll need to take it out and charge it up outside of the Gear.
At least Samsung includes a fast charger with the Note 4, so you'll probably want to use that here.
Gear VR's final issue is content, and just like how 3D Blu-ray took time to grow, and 4K Ultra HD is taking it's sweet time to grow beyond the few demo videos and homemade content, virtual reality content is equally stuck in the same "coming soon" section of the tech world.
At the moment, you can find a few "experiences" videos available on the Samsung Oculus store, with one from Coldplay, a Paul McCartney song, a small Cirque du Soleil experience, but it's still pretty bare. You'll also find a few small games here and there, with the ones we've mentioned joined by a space shooter that relies on your head as an aiming mechanism (Gunner) and a puzzle game disguised as a hacking simulation (Darknet), both of which are surprisingly fun and very immersive.
Samsung's bizarrely named "Milk VR" service is not available in Australia yet, and while we've tested it, there isn't much in the way of high quality 360 degree videos here either, especially not for the 1440p screen used by the Gear VR.
When this does eventually launch locally, Australians will find a few things waiting for them, but right now, the pickings are pretty slim for something as epic as what the Gear VR can bring.
That said, there's good news on the horizon, as more companies upload 360 degree videos, including some found in skydiving, car racing, and even basketball from the NBA.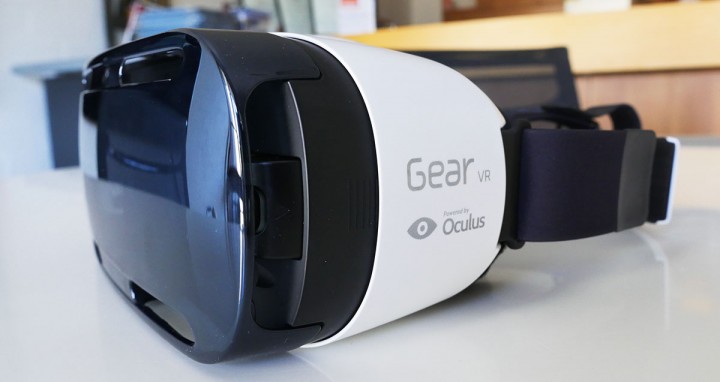 You can, of course, bring your own movies into the Oculus Cinema as we did, and you can even find a few other compatible titles for Oculus 360 videos on the web. We found one shot on a beach in South Australia, but these are huge file, and they raise another point: storage.
While your Note 4 might have gigs of storage, the Gear VR relies on the microSD the unit comes with. Unfortunately, you only get a 16GB microSD card, and a good 13GB is taken up with the demos, leaving you with little space to load with files of your own. Given that 15 minutes of ultra high-res 360 video translates to about a gigabyte per seven or minutes, you'll find this space eaten into very, very quickly.
From our own filming and testing (because this writer has been working on his own 360 degree video capture system for GadgetGuy), 2.7K videos are wide enough to be high resolution, but 4K UHD works the best, and that means if you want to watch movies that are clear or check out experiences that look and feel lifelike, you will be destroying the space on the included SD card in no time.
Next time, Samsung needs a bigger microSD card in the box, though we found that you could just as easily buy a 64GB microSD ourselves (or higher), move the demo content over without any problems, providing you with enough space for your own movies.
Conclusion
Without a doubt, Samsung's Gear VR is one of the more intriguing gadgets we've seen, not just this year, but ever, and it brings a smile to the face of everyone who tries it.
It's not the first time we've seen virtual reality, mind you, and it won't be the last, but there are some pretty awesome sauce things that can be done here, and the Gear VR has the potential to change in-flight boredom, time wasting on a bus or train, and general movie watching at home because of what it brings to the table.
It won't be for everyone, that said, and a high cost of ownership is present if you don't already own a Samsung Galaxy Note 4, which is a very large phone that fetches near a thousand dollars. If you have one of those, the Gear VR's $249 tag isn't much to see something that is ahead of the game, but if not, it's hard to get someone to pony up over a thousand dollars for this.
Over time, we expect Oculus will bring virtual reality to more people, and when it does, it will likely come with a lower price, working with more than just one phone, with computers set to benefit tremendously.
Right now, though, the Gear VR is one awesome piece of kit, and made for the early adopter that likes to be on the cusp of everything new and exciting.
Breathtaking to use, and puts a smile on pretty much every face; ProvidesCamera passthrough means you can actually see through the Gear VR if you need to;
Can get very uncomfortable, thanks to the amount of pressure exerted on the bridge of the nose; Earphones aren't built in, so keep a pair of headphones nearby plugged in and ready to go when you want to use; Dioptre adjustment doesn't do a whole lot; No microUSB charge port; Galaxy Note 4 can overheat easily; Included microSD card should probably be bigger for more files later on down the track; Battery life could be better;