Everyone has a wearable, and some companies have two or three. Samsung isn't new to this area, but updates to wearables are a little long in the tooth, until this week, that is.
It's certainly been a while since Samsung had anything to say about the fitness world, unless you consider the Gear S2 smartwatch a fitness gadget, and we don't. Sure, it has the technology, but running with a watch isn't everyone's cup of tea, or swig of sports drink.
Fortunately, Samsung is changing that with the announcement of two products that will offer a slightly different fitness experience from each other.
First there's a refresh of the Gear Fit, with the curved AMOLED screen getting an update to offer a slightly taller display, now sitting at 1.5 inches diagonally (taller than the diagonal dimension of 1.84 inches last time) with a bigger resolution, now at 216×432 versus the 128×432 of the original.
This means your wrist will take a larger screen, and potentially more information, with the Gear Fit 2 featuring an embedded heart-rate monitor, GPS, and automatic activity tracking to let you jump between running and walking or cycling and other training without needing to really dig into menus to switch things on.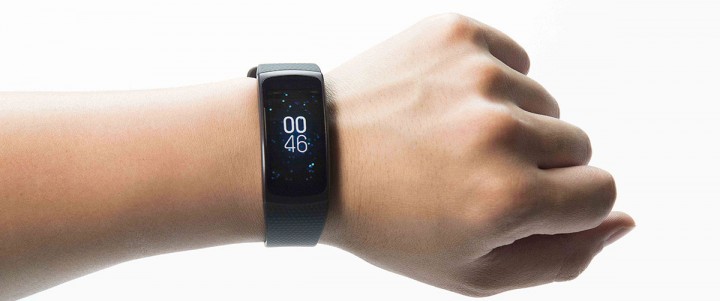 "Designed to support an active lifestyle, the Gear Fit 2 features improved fitness and activity tracking, GPS, water resistance and sleep monitoring, making it a perfect companion device for achieving fitness goals," said Prasad Gokhale, Vice President of the Mobile Division at Samsung Electronics Australia.
"With the Gear Fit 2, we are proud to be releasing a device that directly supports Australian lifestyles, through helping make fitness and well-being goals easier to achieve."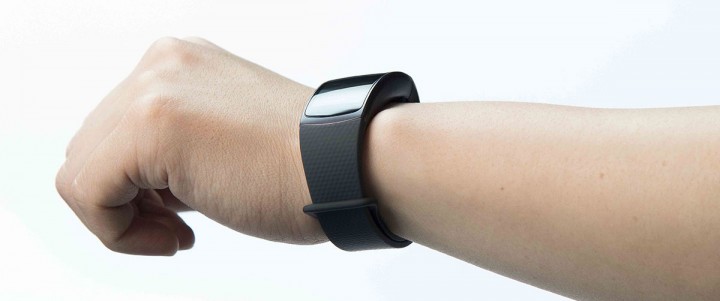 There's storage found in the unit, too, with 4GB inside and 512MB memory, and Samsung suggests you'll even be able to use the 4GB storage for music, letting you take only the Gear Fit 2 band with you and a pair of wireless earphones, because Bluetooth exists on this wrist band, too.
Water resistance exists on the Samsung Gear Fit 2, so don't worry about sweat or rain — you can keep running — while the battery is slightly smaller in this model, with 200mAh marginally lighter than the 210mAh from the last generation.
Given there's new innards inside, we hope that doesn't mean the battery life loses out, and anticipate this to be a two or three day device.
That could be ideal for people who depend on a fitness tracker to tell them what the day is going to be like, with the Gear Fit 2 acting like a smart band for more than just fitness alone, but if you don't depend on smart wearables and would prefer a more casual fitness gadget, Samsung has that covered, too.
This one is a little different, with the Gear IconX arriving not in a fitness band or watch, but rather earbuds. Wireless earbuds.
Each earbud weighs 6.3 grams and includes the driver needed to make an earbud work, as well as two microphones, Bluetooth 4.1, an accelerometer, a heart-rate monitor, and a touchpad, if you can believe it.
The earbuds are completely wireless — like cordless earphones — but unlike other headphones, they are completely separate, with no wires or cords between the earbuds at all. It's merely one for each ear, with the left one in your left ear and the right one in your right ear, with the two talking to each other to keep music in sync.
In fact, there's 4GB of storage between the Gear IconX earbuds, making it possible for you to take that music with you without wires at all.
Water resistance is kind of there on the Samsung Gear IconX with some splash resistant coating (P2i), but that's it, so don't go swimming. Rather, this is for running and sweat, and a drop of rain, but not a head dipped in water.
Overall, though, the Gear IconX intrigues us, not just because we're a little headphone mad here (it's true), but because Australia has missed out on totally wireless earbuds in the past, and including a heart-rate monitor could make it a very compelling option for people keen to dabble in wearables but really want a decent pair of earphones first and foremost.
As for availability on both the Gear Fit 2 and IconX, Samsung's local arm isn't saying much yet, but has at least confirmed we should see it this year.
"Samsung Gear Fit 2 and IconX will be launching in Australia very soon," said a representative for the company. "Pricing and availability will be shared closer to the local launch dates."
We'll let you know if anything changes.