Mirror-less cameras tend to be small and portable, but not everyone is after that. Some people want big, bulky, and capable of taking a beating, and that looks like what Samsung is gearing up for with a new camera announced at Photokina.
Looking set to take on the big boys of Panasonic and Sony, Samsung has a large camera on the way to the world, and yes, Australia is included in this bunch.
This camera is the NX1, a mirror-less body Samsung wants to pose as an option to DSLR owners looking for more than what their current bodies can deliver, with 15 frame per second action with continuous auto-focus, an auto-focus speed of 0.055 seconds, and a whopping 205 phase detection auto-focus points.
A 28 megapixel APS-C sensor will deal with the images, supporting a native range of ISO100 to 25600, with 51200 also possible if you need to get as much light as possible into the camera, while the 3 inch Super AMOLED display on the back will let you see all, unless you prefer an electronic viewfinder, as there's one of those too.
The body also looks reasonably well built, with magnesium alloy used instead of the usual plastic, helping to make the NX1 feel robust, while keeping what Samsung says is an ergonomic design.
Rubber seals are also here, bolstering that strength and sturdiness, which should stop the elements from getting in and destroying the camera.
Besides image buffs, Samsung is looking to grab the attention of video buffs and filmmakers, with Ultra HD 4K video capture built into the camera, shooting it on the H.265 codec that cuts the video sizes in half (roughly) so that the SD card used in the NX1 can actually store the large files shot at 4K.
"The NX1 represents the pinnacle of Samsung's advanced photographic expertise and heralds a new era of intuitive, professional quality photography for everyone," said Samsung's Myoung Sup Han.
"With the launch of the NX1, Samsung is re-defining what is possible with an interchangeable lens camera, allowing photographers everywhere to achieve previously unimaginable levels of quality and expertise in each and every image they capture."
Also announced alongside the NX1 is a new lens, with a professional grade telephoto lens finally making its way out for the Samsung NX system.
That range is 50-150mm, but that translates to 77-231mm, giving the NX cameras a 70-200 equivalent, a lens range professional photographers rely so heavily on.
Just like the regular 70-200 lenses we're used to seeing, Samsung's 50-150mm lens will feature optical image stabilisation, as well as a fast aperture of f/2.8 through the barrel.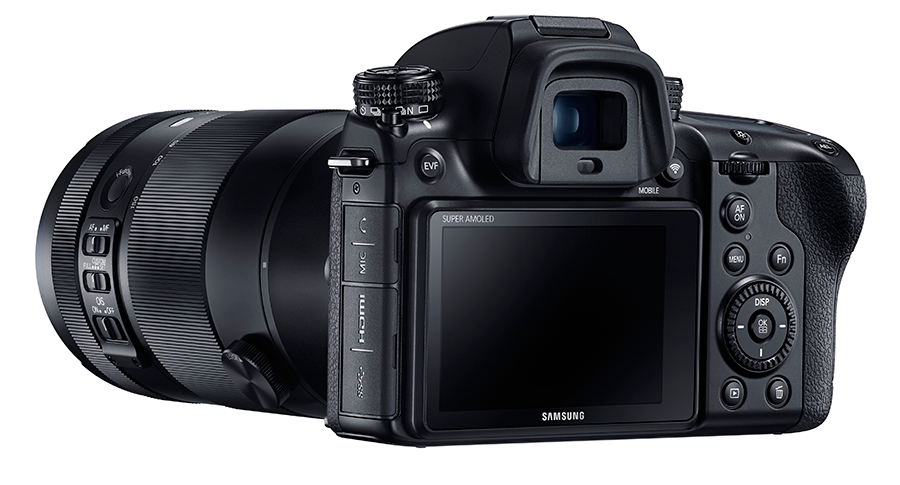 Samsung's NX1 is a Photokina announcement, so as such, we don't have any release dates or pricing at this time, but Samsung did chime in this week to say that it could "confirm that the Samsung NX1 camera and 50-150mm 2.8 S ED OIS lens will be launching in Australia" and that it would "confirm local pricing and availability for each product closer to the on-sale date."