Big news from this week's European consumer tech show, IFA: Samsung debuts new cameras, mobile phones, laptop computers, and even a tablet that thinks it's a phone.
First up is the camera section, with several new models upping the megapixel count, increasing speed, and even introducing a new feature or two.
The NX200 improves upon the last year's NX100 by pushing the 14.6 megapixel sensor to 20.3 megapixels, 1080p Full HD video recording, better low light sensitivity (ISO 100-12800), achieving high speed autofocus, and shooting at 7 frames per second continuously.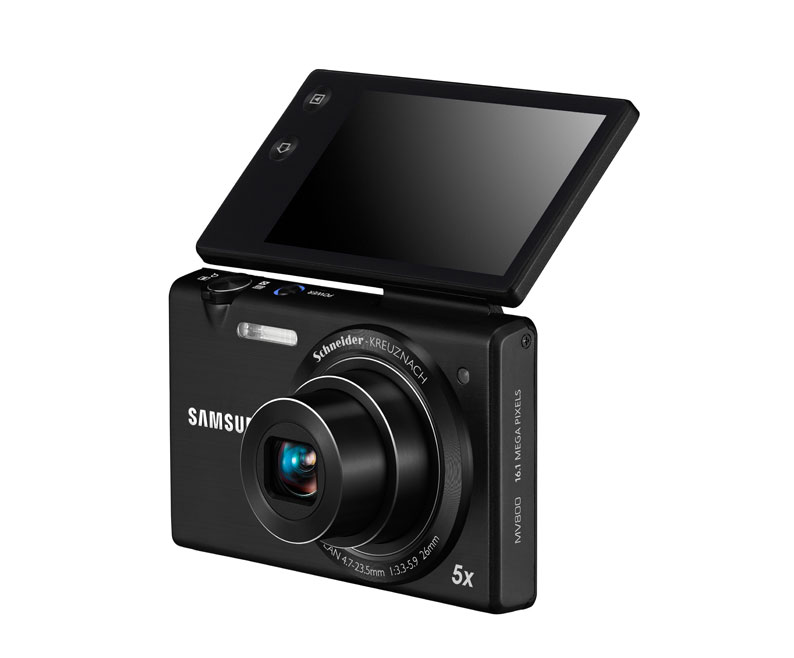 While the NX200 looks to replace a model, Samsung's MV800 introduces itself as a new concept. Equipped with a 3 inch tilting touchscreen display, the16.1 megapixel MV800 (above) can be used to take self-portrait photos by flipping the screen up, facing the same way as the lens.
When in this mode, a shutter button sits on the back allowing you to fire without having to adjust your hand-hold too much.
Several other cameras were included this week in the announcement at IFA, including a slim 14 megapixel compact (ST96), affordable 720p camcorder (SMX-F70), and a compact featuring 18x optical zoom roughly equivalent to 24-432mm (WB750).
Meanwhile, the computer and mobile section had loads of new products, with a couple of tablets, smartphones, and laptop computers.
Tablets are pretty big so we'll cover this first: Samsung is looking at producing both Windows and Android tablets for the next year.
Over on the Windows side, we're talking about the Samsung Slate PC Series 7, a tablet that's 12.9mm thick and weighs 860 grams. Instead of the 10.1 inch screens we're used to seeing on tablets, Samsung is instead going for an 11.6 inch touchscreen display with a digitiser pen used alongside regular finger-based touch. Under the hood, there's a Intel Core i5 processor, up to 4GB of RAM, at least 32GB of solid state storage, Bluetooth 3.0, HDMI, 3G access, and a battery rated up to 7 hours of use.
Android users will be getting to know the Galaxy Tab 7.7, an update to the first Galaxy Tab that graced us last year. The new model is the world's first tablet to take advantage of a Super AMOLED Plus screen, offering a wide range of colours and solid image quality. You'll also find a fast 21Mbps modem 3G here, as well as Honeycomb 3.2, a minimum of 16GB storage, 8GB RAM, GPS, Bluetooth 3, WiFi, and a weight of just 335 grams.
And if you're not sure if you want a phone or a tablet, Samsung even has something for you. The new Galaxy Note is a large 5.3 inch smartphone with support for a pen digitiser.
Able to be used for drawing and note-taking, as well as prodded by your fingers like a regular touchscreen phone, the Galaxy Note is one of the more intriguing devices being presented.
There's also a new robotic vacuum cleaner, washing machine, very large fridge, aluminium notebook computer, and a few new phones with Android and Samsung's own Bada OS supported. We've included some of the photos in the gallery above as there's just too much to report on in one sitting.