Those of you who still use printers for small business and larger are probably used to that one line of monochrome text popping up on the screen, alerting you of a printer jam, but Samsung is going to provide more information this year with an Android tablet.

Large-ish printers for the home, small business, and companies with larger demands may just get a whole lot easier to understand this year if Samsung gets its way.
This year, the company responsible for some of the world's most used smartphones and tablets is taking some of the technology from the latter category of devices and applying it to a printer, replacing the small LCD screens you're generally forced to read errors and status reports from and making everything bigger, and with an Android twist.
Eight multifunction printers from Samsung will replace the basic screen with a not-so-basic 10.1 inch touchscreen, which appears to be a Samsung tablet stripped down and glued to the body of the printer.
And we've checked with Samsung: it's stuck there, with no way of easily removing it.
The tablet will work with the printers to let users print from websites on the printer itself, and look up content on the network and print that too, with the ability to edit and annotate documents on the tablet before it gets sent to paper form.
Interestingly, there's no TouchWiz on this product, with Samsung appearing to skip over its Android overlay commonly used on its devices and just go with something a little more stock for this gadget, likely because this is a tablet made for a specific purpose: controlling a printer, and a big one at that.
That said, the tablet will support several home screens, just like a regular tablet, with custom widgets for faxing and printing choices, making it easy to get around the printer's necessary functions. We're not sure if access to Google Play is supported, that said, but we'd be surprised if it was left in.

"Samsung is committed to developing simple and efficient methods to help maximise productivity and efficiency for Australian companies," said Samsung's Todd Lynton, Director of Enterprise and Small Medium Business for the company's Australian division.
"Our new printer line combines advanced printing technology innovation and performance with the user friendly Android operating system to provide businesses and IT administrators with Samsung's smart office experience."
The eight multifunction devices on the way with the 10.1 inch tablets will be split between four ranges, offering both A3 and A4 print options, as well as colour and monochrome, with options in the M4580, M5370, K4350, and X4300 line of machines.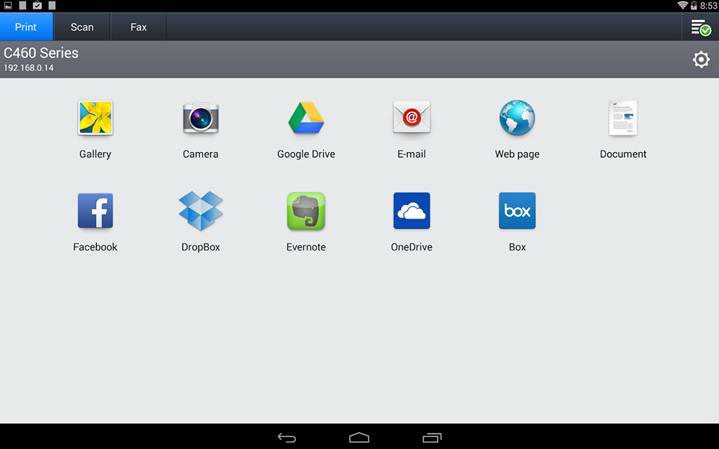 It's not the first time we've seen an Android tablet appear on a printer, with HP offering one several years ago, and it likely won't be the last, because while printers are declining in number, many of us still need to print, and this could make it easier to work out why your printer has jammed when it happened, perhaps with more detail.