More life
Samsung has focused on better power management for the S6, which should result in reduced charge times and longer battery life. There's a fast charge mode that, for just 10 minutes of plug-in charging time, should give you at least 2 hours of HD video watching, or about 4 hours of general use, and the entire battery can be charged from flat to full in 80 minutes.
Also new is a wireless charging station, so you can just drop your phone on it at the end of the day to get a recharge, without fumbling around with cables. Normally, a special case is required for phones with wireless charging capabilities, however the S6 is the first phone in the world to build this inside without adding to the phone's bulk or thickness.
Also good is that S6 will work with any wireless charge pad that supports WPC and PMA standards, so you're not locked into the Samsung version.
Digital payments
The S6 supports a number of different contactless payment technologies for 'Samsung Pay,' Samsung's version of 'Apple Pay', allowing you to substitute your phone for your credit card.
This includes NFC, barcode and Magnetic Secure Transactions (MST), which covers all the bases to ensure that most kiosks will be compatible. On the Security side, tokenisation and fingerprint scanning are included. Thankfully, the fingerprint scanner now only requires that you press your finger on the 'home' button, rather than swiping it like on the S5, which often led to false readings and was difficult to do with one hand.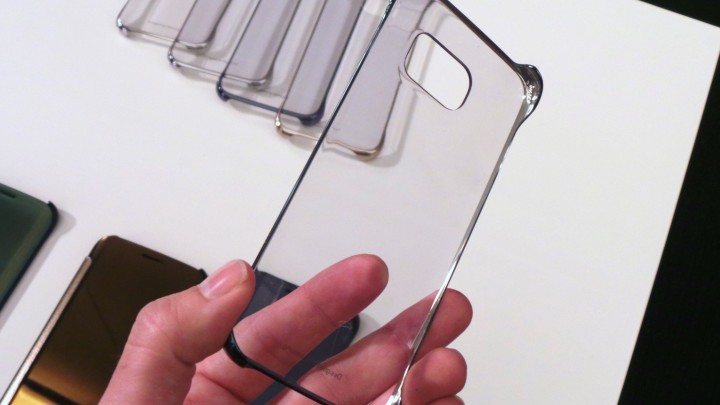 Whether Samsung Pay is due to appear in the USA and South Korea in the third quarter of 2015, however whether it will appear in Australia is questionable, however the hardware will undoubtedly work with contactless transfer features built into compatible Australian banking apps.
Other security enhancements see a new version of Samsung KNOX for the enterprise, as well as an enhanced 'Find My Mobile' feature that lets make it easier to track by switching on Ultra Low Power Saving mode remotely.
De-cluttered
The S6 runs Android 5.0 (Lollipop) as well as Samsung's TouchWiz interface, however, this is a new version that has been designed to be easier to read and with less clutter. Also, much of the 'bloatware' created by preinstalling too many seldomly-used Samsung apps has been cut down dramatically, so the S6 comes with just a core set of apps, allowing its owner the option of adding more later.
There are a few different cases to choose from included a wallet case, S-View cover and a new 'clear cover' that uses a translucent material that lets you see the screen underneath.