It stands to reason that the next generation of computers will be better than anything else before, and Samsung wants to be there before anyone else, blowing eyelids off with a fast new drive that runs faster than the blink of an eye.
This week, Samsung has taken the time to show off a new technology that will not only deliver faster data speeds, but also bring more storage to laptops.
The technology allowing Samsung to do just this is called "3D V-NAND", and while that's another tech term you don't need to think about, it will afford device makers like Samsung the ability to provide your computer with faster speeds due to this being built into the storage where — as you can probably guess — all of your information is stored.
"Consumers and businesses alike can experience enterprise-quality performance and benefits such as speed, endurance and energy efficiency to support the most demanding applications," said Un-Soo Kim, Senior Vice President of Branded Memory at Samsung Electronics.
"Enterprise-quality performance", what does this mean?
In enterprise environments, large businesses depend on lightning-like speeds between drives to make web sites and storage mechanisms go like the clappers, with these enterprise-grade systems usually employing extra memory, hyper fast processors, and several drives working together to make sure the computers are always working and always reliable.
At home, your computer is no less important, but its speed doesn't necessarily have to produce the same sort of blistering speeds as a server or a workstation, and so while that new computer you buy today might be fast, it's not necessarily as fast as what is offered in the world of business-grade gear.
Samsung's effort in this area potentially changes that on a hard drive level, with a speed bump that is more than the fraction of a speed you might expect out of drives.
This time last year, the company launched its first solid-state drive with a 3D architecture, which at the time paved the way for high-speed transfer rates, providing what was in essence a benchmark place for people to turn to if they needed their computer to work efficiently.
This year, however, Samsung has managed to produce almost five times the read speed and almost three times the write speed, with a drive that is light years faster than what the company released last year.
It's not quite a drive compared to what we've seen previously from Samsung, because with before, you could just grab one of the solid-state drives and slot it into the SATA connections on a laptop or desktop like another hard drive.
With Samsung's 950 Pro, we're not talking about a drive in the conventional sense, but rather a stick, and that's because of speed.
Hard drive mechanisms are surely fast enough some things, and plenty of what you're probably working on, but board connections should provide faster speeds, and with the 950 Pro, Samsung has gone with a newer mechanism, relying on similar ports to what the motherboard inside computers rely on, with PCI Express 3.0 operating with a new interface called "Non-Volatile Memory Express" or "NVMe" for short.
That might sound like a bit of jargon, and it is, but the easy way of explaining this is storage attached to your computer in a similar capacity to another critical component, with these connections providing faster speeds than is currently found in other computers.
In fact, as fast as the 2015 Apple MacBook Pro is — a computer we almost gave five stars to — Samsung's newest drive is actually faster. Tested at the launch today during the announcement (we still paid attention), the 2015 MacBook Pro manages maximum read speeds of around 1361MB per second and write speeds of 1152MB per second. This is in comparison to what is being offered by Samsung's 950 Pro, which reaches read speeds of up to 2500 MB/s and write speeds of up to 1500MB/s.
We think the flash memory built into the MacBook is fast, but some how, this is even faster, and that definitely should grab attention.
"What this really signifies is a clear break from the past," said Samsung's Doh Young Jeong, pictured above.
"Only recently have the pieces started to come together," he said. "With the launch of [Intel's] Skylake, the latest motherboards this year will provide file support, while Windows 10 will round that ecosystem providing the driver support it needs."
"We felt very strongly that now is the right time," said Jeong.
It also picks up attention for a different reason, and that's future uses.
Take portable hard drives, for instance, an area that is rapidly changing due solid state drives.
If you haven't seen them, both Samsung and SanDisk are pushing this category, bringing the hyper fast flash memory area to the world of external hard drives, allowing you to bring with 256GB, 512GB or even a full terabyte of storage with you in a weight that is barely noticeable in the hand, let alone the backpack where you store the thing.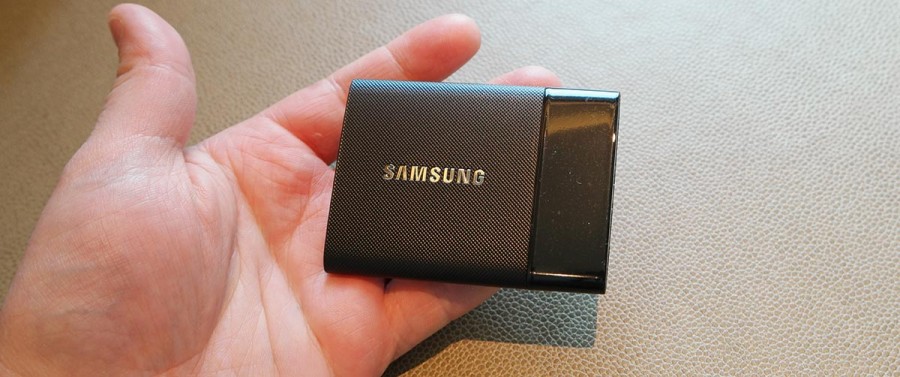 Back when we reviewed the T1 earlier in the year we thought it was the bees knees. Here we had a drive that was lighter, faster, and consumed less battery when plugged into a computer than a conventional hard drive.
The cost was a bit of a problem, granted, with a fairly hefty tag on top of what regular hard drives were offering, but we were essentially talking best in class performance.
What's so interesting about the changes being introduced with the 950 Pro is it signals faster speeds are on the way for external drives like the T1.
For instance, while Samsung has yet to confirm anything with us publicly (but we'll keep asking), when this sort of technology hits the portable world, it will push the current 450MB/s max speed of the T1 to such a level that writing images, video, and anything else that has the tendency to be large won't be a burden any longer, but rather just something that happens in the blink of an eye.
Just to cement this, USB 3.1 can support roughly 1.2GB per second (10,000 megabits per second), while Thunderbolt supports a maximum of 5GB per second (40,000 megabits per second). Samsung's new drive supports up to 2.5GB per second read and up to 1.5GB per second write.
With these facts in play, it practically cements that we'll be seeing either a USB 3.1 or Thunderbolt variant of the technology in the near future. And when it does, yikes.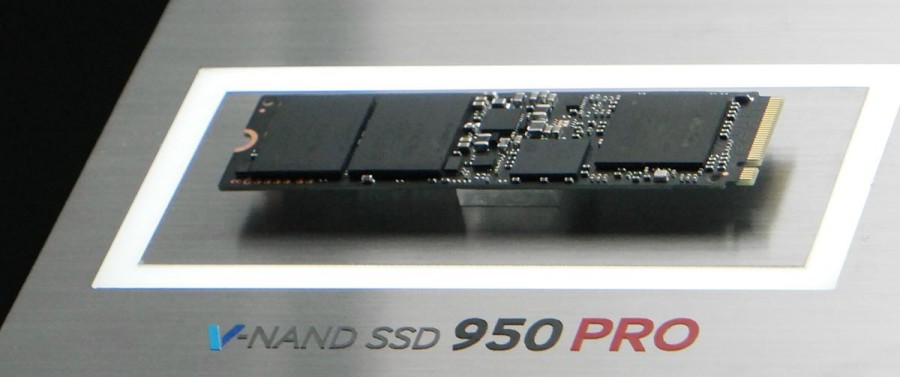 Now for the bad news: availability.
At the launch this week, Samsung hinted that these would be coming to stores from October onwards, but representatives for Samsung in Australia wouldn't nail down concrete pricing or availability for our part of the world.
This week Todd Lynton, Samsung Australia's Director for Enterprise and Small Medium Business told GadgetGuy that:
"Both of these products represent amazing innovations that drove significant excitement in the market and have allowed Samsung to grow in Australia.
"We're excited to extend our development in the category with the introduction of the 950 Pro which integrates Samsung's latest memory technologies. I look forward to providing more information around pricing and availability closer to the local launch."
In the US, Samsung is eyeing $199.99 for the 256GB version and $349.99 for the 512GB model, which translates to a little under $300 for the 256GB model and a little under $500 for the 512GB version. If these prices hold, they are a fair sight better than what Samsung offered with the 850 Pro last year, which came in at $379 and $749 locally for the same capacities.
Here's hoping our prices aren't too far from that, and that the dollar holds, because if Aussies can manage a 512GB drive of the fastest tech they've ever seen for less than a dollar per gigabyte, we suspect quite a few people will be upgrading. Us included.
Leigh D. Stark travelled to South Korea as a guest of Samsung Australia.