As per usual with most super-thin machines, there isn't a discrete graphics chip in operation here, so gaming won't be its forte, but we still had no problems running the odd casual title when we were in our off time.
Battery life is also quite decent, netting roughly 7 to 8 hours in our experience, although we're fairly light users. With a Core i7 on-board, you could make some serious dents with processing, and see that battery life drop a few more hours.
Still, if you're mostly doing web surfing, word processing, and business-y activities on the go with you, this is an Ultrabook-styled machine that performs.
For the most part, the 15 inch Series 9 is a winner, and Samsung has done nearly everything right. It feels right, the keyboard has a solid click to it, and there's no denying that this laptop handles well.
But then there's the screen, and that's one area where Samsung has dropped the ball.
Whereas 2012's Series 9 featured a lovely 13 inch display that was viewable from practically any and every angle, the 2013 model is really only good dead on, and reminds us of the sort of low-grade tech we see on cheaper laptops.
We can't help but think this is a Twisted Nematic (TN) panel, and lacks the quality seen in the previous model, which used something close to the In-Plane Switching (IPS) displays of tablets and high-grade notebooks.
In short, you need to be sitting dead on to see the screen properly, and even the slightest deviation to one side or degrees causes an image wash out.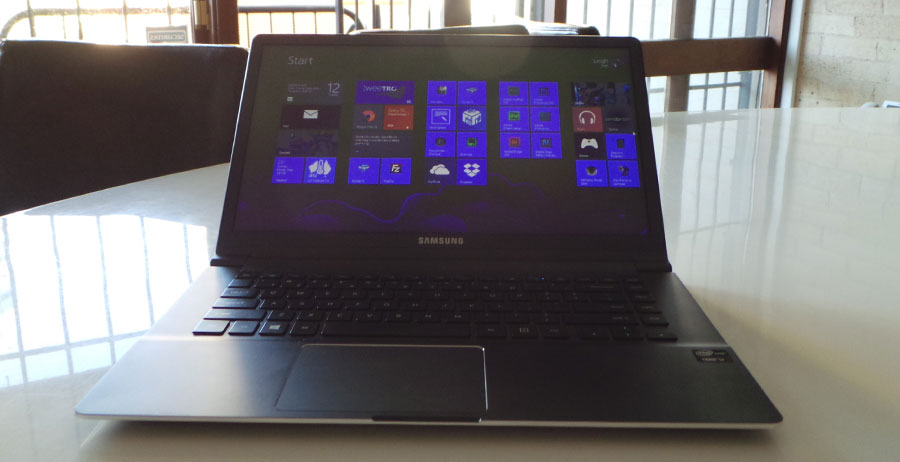 This certainly isn't the same type of display we saw on Samsung's premium laptop last year.
It is the same resolution, though, and that's not a good thing either.
In the past year, we've seen 13 inch laptops sport the Full HD resolution of 1920×1080, and while we could excuse the last Series 9 for having 900p (1600×900) in a 13 inch, we're not sure we agree with the same resolution on a 15 inch laptop for this year, which also results in a lower pixel per inch ratio.
About the only thing this screen has going for is that it features a matte finish, which makes it insanely easy to use in most environments thanks for the lack of reflections it picks up.
Conclusion
Thin and light computers generally can't be found beyond 14 inches, and with the Series 9 15 inch, Samsung has taken it up a notch, throwing together a fast mobile machine that definitely won't weigh down your shoulders, hands, or back.
For a first effort in a 15 inch Ultrabook-styled machine, Samsung almost nails it out of the gate, with fast components and solid build quality, if it only wasn't for that display which stops it from being amazing.
Still, it's an excellent machine, and if you can excuse a display that's a little under where it should be, the Samsung Series 9 15 inch is worth checking out.
Excellent design; Solid build; Great specs; Trackpad rates among the best for PCs; Battery life hits around eight hours; Smaller than your typical 15 inch laptop; Anti-reflective screen is easier to look at than the glossy ones laptops commonly have;
Low grade screen technology doesn't belong on a high-end Ultrabook; Screen resolution could be better too;