Samsung's Lifestyle TV range consists of innovative features and designs to suit a range of needs and tastes. This includes The Serif, The Frame and The Sero models.
While there are no new models this year, there are some noticeable updates to the range staring with an anti-reflective coating, appearing on all models. Called 'Anti-Glare Matte Display', this is a low reflection coating that also reduces the appearance of fingerprints. With less shine, the matte surface enhances the look of a screen when off and is design to make artwork look more like the real thing.
Other updates to the Samsung Lifestyle TV range include:
The Frame
In addition to the Anti Glare Matte Display, the Frame sees new artwork added to its collection, sourced from the Louvre collection. This means there are about 1600 pieces to display on the Frame's screen. To manage this, the artwork menu has been enhanced along with the introduction of 'collections' that group styles together. The Frame is now also available in 43-inch to 85-inch sizes.
The Serif
To match the new anti-glare coating, The Serif gets a new matte body finish. There's also a 65-inch size, with models starting at 43 inches.
The Sero
Considering that the Sero can rotate between portrait and landscape modes, Samsung says that new anti-glare matte finish is designed to work regardless of orientation. Also new is a vertical Multi View mode, which transforms the screen in vertical mode into two horizontal screens, one stacked on top of the other.
This mode enables you to multitask with, for example, a YouTube video on top, with a game playing on the bottom half of the screen. Otherwise, you could watch a movie on one half and look something up online with the other.
The Sero is now available in blue and white colour ways.
Auto rotating wall mount
A standout feature this year is the Auto Rotating Wall Mount. This rotates a TV from landscape to portrait position using a motorised wall-mounted base. It can be initiated by holding down a button on the TV's remote control.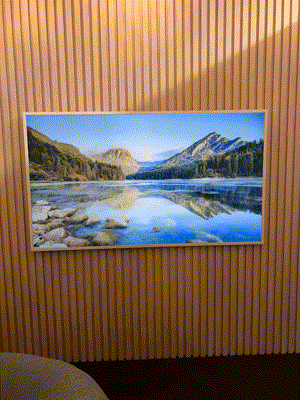 To support this, all 2022 TVs's Smart Hub menu will automatically adapt to being viewed in a portrait orientation. TVs will also get the Multi View mode, which also supports mirroring and casting in a vertical view. Lastly, Ambient Mode, or the ability to show high-quality artwork on screen when not being used as a TV, will work in a vertical orientation.
Rotating takes about 10 seconds to complete, and the base essentially allows any TV to be used like the Sero TV, which has this feature built-in.
There is also a stand-mounted option in case you want a rotating TV that is not wall mounted.
Samsung 2022 Lifestyle TV prices
The Frame
QA85LS03BAWXXY
85"
$4,999
QA75LS03BAWXXY
75"
$3,299
QA65LS03BAWXXY
65"
$2,499
QA55LS03BAWXXY
55"
$1,999
QA50LS03BAWXXY
50"
$1,699
QA43LS03BAWXXY
43"
$1,399
QA32LS03BBWXXY
32"
$799
The Serif
QA65LS01BAWXXY
65"
$2,199
QA55LS01BAWXXY
55"
$1,699
QA43LS01BAWXXY
43"
$1,199
QA65LS01BBWXXY
65"
$2,199
QA55LS01BBWXXY
55"
$1,699
QA43LS01BBWXXY
43"
$1,199
The Sero
QA43LS05BAWXXY
43"
$1,499
QA43LS05BBWXXY
43"
$1,499
Samsung 2022 accessory prices
Category
Description
RPP
Wall Mounts
Wall Mounted Auto Rotating Accessory suitable for 43″-50″ & 55" -65" Neo QLED and The Frame TV
$499
Stand Mounted Auto Rotating Accessory suitable for 43″-50″ & 55" – 65" Neo QLED and The Frame TV
$599
2021 Slim Fit Wall-mount (compatible with all 2021 models from AU8000 and higher)
$129
43″-55″ Full Motion Slim Wall-mount
$199
58″-75″ Full Motion Slim Wall-mount
$249
82″-98″ Full Motion Slim Wall-mount
$299
The Terrace Wall-mount (65-75″) – compatible with 65LST7T, 75LST7T
$199
The Terrace Wall-mount (55″) – compatible with 55LST7T
$99
Bezels
2021 Customisable Modern Frame For 85″ Frame TV, White, Beige, Teak, Brown
$249
2021 Customisable Modern Frame For 75″, 65", Frame TV, White, Neige, Teak, Brown
$149
2021 Customisable Bevelled Frame For 55″, 50" Frame TV, White, Beige, Teak, Red Brick, Brown
$129
2021 Customisable Modern Frame For 43″ Frame TV, White, Beige, Brown, Teak,
$99
2020 Bezel For 32″ Frame TV, Walnut, Beige Wood, White
$129
Other
Easel studio stand for 2020 / 2021 TV models (50-65″ UHD/QLED, 43-65″ Frame except QA43LS03AAWXXY)
$299