The Samsung Space monitor is for one primary purpose – to clear up space on a cluttered desk or work area.
The Samsung Space monitor comes in 27 and 32-inch sizes. While they share the same 90° folding dual hinge concept (Samsung calls it Zero Level HAS – height adjustable stand) the panel tech specs are very different.
Why the Samsung Space monitor?
A clean desk is the sign of a sick mind. Well, Albert Einstein coined the original saying, "If a cluttered desk is a sign of a cluttered mind, of what, then, is an empty desk a sign?" Thomas Edison, who had a famously messy desk, agreed.
The sole purpose of the Samsung Space is to fold up flat against a wall or somewhere in between down to desk level. Oh, and the image quality is quite good as well.
There are two caveats that you need to know. As long as you are aware, then we have done our job.
When it folds down to desk level, it takes up 350-400mm depth of the space. This can place you too close to the screen (ideally 600mm or an arm's length way) and does not leave a lot of room for a keyboard or workspace on a narrow desk.
The arm C-clamp has two depths -the first up to 40mm and the second to 90mm. While it is quite stable, it adds 6-7kg so make sure your desk can use it – not recommended for glass top desks unless you can clamp it over the thicker frame.
So, our advice is an 800-900mm deep desk and its perfect.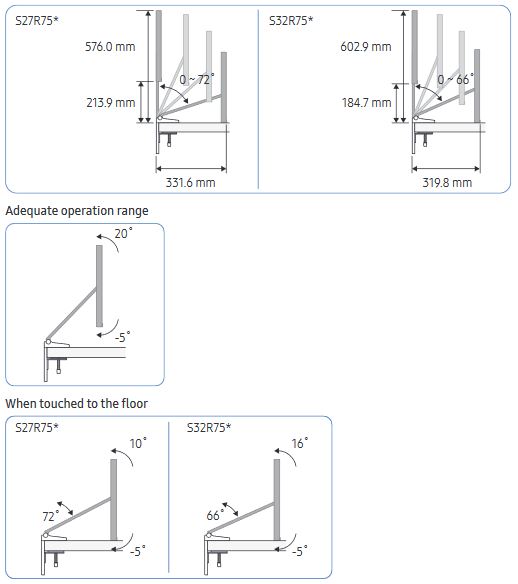 Note that you can buy clamp-based monitor stands for around $100, but these do not have the innovative dual hinge that allows it to fold down. An articulated (folding) stand is over $300, and these tend to need a lot more space behind the desk. The Samsung Space Monitor stand is unique.
Review: Samsung Space Monitor 32-inch LS32R750UEEXXY
I would have loved to see the 27-and-32-inch side by side to see if the QHD and UHD made much of a difference. It is safe to assume that the purchase decision is more about what fits size wise than resolution.
Tests 32-inch
Given that you buy this for space saving we have limited our tests to basic ones
SRD brightness (does not support HDR -claim 300) – result 310 – pass
Contrast (claim 2500:1) – result 2700:1 – pass
Colour accuracy Delta-E – 2.5 (0 is perfect) – pass. With considerable tweaking, you can get it to 1.0 (lower colour temperature to 6500K
Colour gamut: (claim 100% sRGB) – 96% sRGB and 81% Adobe RGB – can get to 100% with some tweaking – pass
Reflectivity – perfect haze which probably accounts for lower brightness
Viewing angle (claimed 178° vertical and horizontal) – a noticeable shift in colour off-axis around 60° (normal for VA panels) – normal
In all the 32-inch VA panel performs very well as a productivity monitor in an office lighting environment. Don't be concerned about the lack of HDR – that really is a TV term and requires dedicated content.
Base Samsung Space specifications
Model Code
LS27R750QEEXXY
LS32R750UEEXXY
RRP
$799.00 (street price about $720)
$999.00 (street price about $899)
Design Colour
Black with ultra-thin top and side bezels
same
Screen Size (inch / cm)
27" / 68.5cm flat
31.5" / 80.1cm flat
Resolution
2,560 x 1,440 (16:9) VA QHD
3,840 x 2,160 (16:9) VA UHD
Colour gamut
72% NTSC/100% sRGB
same
Contrast Ratio
3,000:1
2,500:1
Response Time
4(GTG)
4(GTG)
Brightness (typ)
200/250 nits (min/typical)
250/300 nits (min/typical)
Refresh rate
144Hz
60Hz
Viewing Angles
178°(H)/178°(V)
178°(H)/178°(V)
Input signal
1 HDMI 2.0; 1 Mini-DP 1.2
Same
Features
PBP/PIP
Game Mode
Flicker Free at maximum brightness
Same
HAS
(Height Adjustable Stand)
0-213.9mm
-5/+20° tilt
Cable management
C-Clamp needs 95mm of space to connect
0-184.7mm
Same
Same
Same
Power
Max 48W
External adapter
Max 54W
Same
Dimensions upright
614.8 x 730.3 x 115.5 mm x 5.8kg
Add 400mm when folded down
714.5 x 757.2 x 115.5 mm x 7kg
Same
Missing
USB-C/Thunderbolt
Speakers and headphone jack
HDR
Free or Adaptive sync
Same
URL
here
here
Menu
It uses the typical Samsung four-axis joystick to access the menu. The user manual is here.
Suffice to say there are image adjustments for colour temperature, tint, RGB, tone and gamma as well as the usual brightness, contrast etc. It lacks a calibration mode – all you can do is play with image adjustments.
We found the default settings were fine. There is also a self-diagnosis mode. We could see no evidence of pixel row or column bleed or error – it's a good panel.
The test unit was a desktop AMD A7 processor and the inbuilt GPU defaults to 4K@29Hz. We also tested on a Kensington SD5200DT Thunderbolt 3 Dock, but it still defaulted to 29Hz. The panel is 60Hz capable with the right video card and HDMI 2.0 (not 1.4) cable.
GadgetGuy's take – Samsung Space monitor for when you are outa space
Samsung achieves its primary aim in spades – foldable flat to a wall to create a clear workspace. In fact, it also allows for more height adjustment that any other monitor so it could be very useful to clear coffee cups etc.
The 32-inch panel has excellent colours but lacks a little in brightness. That is not an issue in 400-500 lumen office lighting but could be in bright rooms.
And herein lies the rub. If you don't need to reclaim desk space, there are some excellent VA panel QHD and UHD monitors from Samsung, Dell, Philips, BenQ and more out there for less money.
The 27-inch model has a 144Hz panel but does not support variable refresh like NVIDIA or Radeon sync.
Innovative dual hinge with cable management - you buy it for the fold-up stand
Accurate sRGB gamut
Fine for office productivity and lower frame rate games
Could be brighter – fine in office use
Limited input ports (HDMI or mini-DP only)
Would have been nice to have speakers