It's about this time that new TVs arrive, and lo and behold, here we are, with Samsung first off the rank to show us big new screen in both the regular flat and curved varieties.
The first TVs from Samsung for 2014 range are here, and while OLED was the "must have" item late last year, this time it's all about the Ultra High Definition TVs, with new technology aimed at delivering a better experience with more immersion thanks to those curved screens that started on the OLED panels.
Now, the curvature has been applied to LEDs, and Samsung will be bringing curves to products in both the 8 and 9 series of televisions, with Series 9 grabbing curved Ultra HD TVs, while Series 8 will force you to pick whether you want 4K's Ultra High Definition quality on a flat screen or Full HD on a curved screen.
"This year, the expansion of the Samsung UHD LED TV range and introduction of our curved TV technology represents our firm commitment to driving fundamental advancements in offering Australians and the most innovative products possible," said Philip Newton, Samsung Australia's Corporate Vice President.
"We're incredibly excited to deliver Samsung's first curved UHD LED TVs to market in Australia, TVs that will deliver the most advanced and immersive viewing experience Samsung has to offer," said Newton. "We are confident that these TVs will change the way our customers experience visual content in the home."
As usual with Samsung's ranging, the higher number will denote the better series of TVs, and the flagship here belongs to those in Series 9.
In that range, Samsung is providing curved screens with Ultra HD quality, with the ability to play back Full HD content as well.
You'll find a new proprietary colour reproduction technology in this range, which Samsung calls PurColor, and aims to show more detail on the screens. This works in combination with an "Auto Depth Enhancer" to change regions of a curved TV to make depth more pronounced.
Pricing for these models start at $4999 for the 55 inch Series 9 (HU9000), with the 65 inch fetching $6999, and the 78 inch — yes, a massive 78 inch curved UHD LED — grabbing a $16999 price tag.
Series 8 TVs will also have curved screens, but you won't get Ultra HD with them, with Full HD's 1080p running on these, unless you want the screen to be flat. If you're cool with a flat screen, Series 8 Samsung TVs will receive the 4K UHD resolution.
The pricing on these is interesting too, with the Series 8 flat UHD LED TVs (HU8500) grabbing a price of $2999 for the 48 inch, $3999 for the 55 inch, and $5699 for the 65 inch.
But if curved is more what you're after and you don't care about going beyond Full HD, you'll find two here with similar pricing, grabbing the 55 inch Series 8 Curved LED TV (H8000) for $3799 and the 65 inch for $5699.
Across all of these — both Series 8 and 9 — is an updated Smart TV experience with the 2014 Smart Hub, providing five panels for you to run through the entertainment on your television. A web browser can now be pulled up on the right while you watch regular free-to-air, or you can run a different application in that spot such as YouTube.
And hey, there's even a games panel in the Samsung Smart TV Hub, with titles coming from video game partners such as EA making it possible to play games without buying a console. We're not sure how high a quality the experience will be, but if you don't own a video game system, you'll at least have an option available.
Hand and finger based gesture control has also been improved, so you can use your digits and wave them around to control the TV.
Conversely, just reach for your remote. That's what we'd probably do.
Joining Samsung's new TVs are a dose of sound, and it's in this department things get interesting.
Oh sure, there's a soundbar (HW-H751, $899) – which looks identical to last year's model and even carries a similar name — and a home theatre system providing 7.1 surround with a Blu-ray player, a valve amp, and tall loudspeakers (HT-H7750, $1099), and both look great, but it's really Samsung's multi-room speakers that have our ears, and anything else commonly associated with our attention.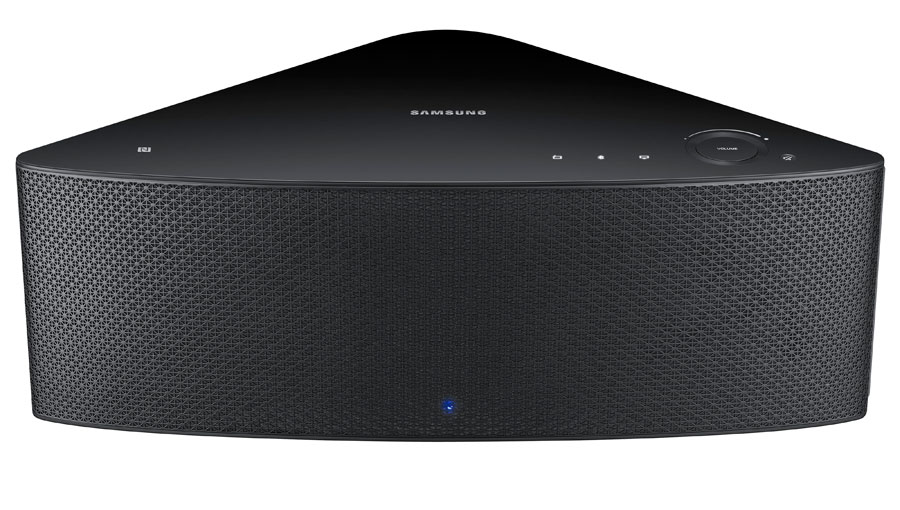 There will be two of these, and they aim to compete with the offerings out from Sonos, with Samsung's M5 and M7 Wireless Audio Multiroom speakers able to stream music across your home depending on how many you have, or even paired together to create a wide stereo sound across a room, with left channel on one side and right channel on the other.
Even better, five speakers can be linked together to create a five channel system, potentially providing more sound for your TV, and then letting you stream music when the TV isn't on.
Samsung's Multiroom speakers start at $399 for the M5, while the bigger M7 will come in $100 more at $499.
And all of these products should be arriving this month, with the exception of that massive beast of a curved 4K screen, the Series 9 78 inch, which will hit stores in June.