Samsung's tablet range for 2014 is growing, both in terms of model choices as well as tablet sizes. At the Consumer Electronics Show in Las Vegas, Samsung unveiled its new Galaxy NotePRO and Galaxy TabPRO ranges, which are designed to be more than just media 'consumption' devices, with and come equipped with of productivity-enhancing features.
At the top of the feature list is the new 12.2 inch screen size option, which is a world first. The Galaxy NotePRO is available with a generous 12.2 inch screen, and there's also a 12.2 inch Galaxy TabPRO, along with 10.1 and 8.4 inch versions.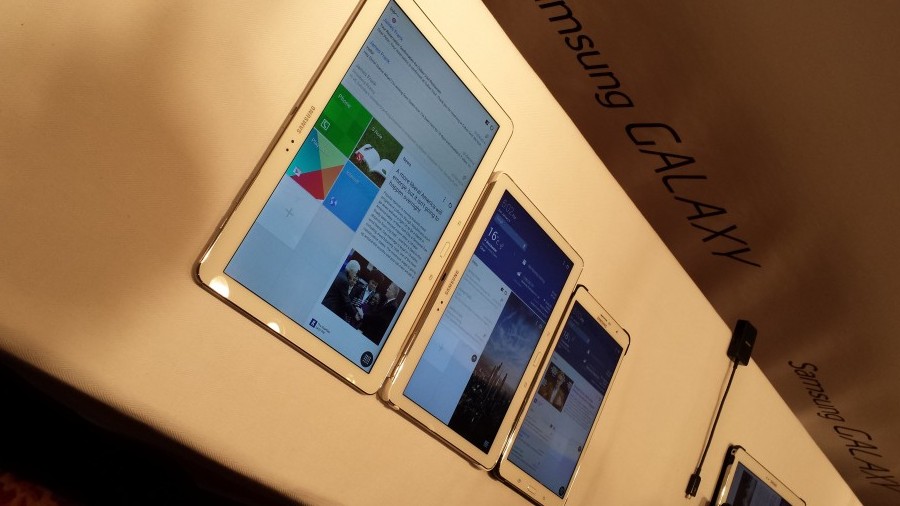 Users can choose between the 12.2-inch Galaxy NotePRO that comes with an included S Pen, and the 12.2-inch Galaxy TabPRO, Galaxy TabPRO 10.1-inch and 8.4-inch without the S Pen.
The 12.2 inch size is quite interesting, as there have been rumours about Apple releasing a 12 inch iPad this year, adding further credibility to this new form factor.
In use, 12.2 inches does provide plenty of screen space to work with, and is excellent for running multiple applications, content creation tools, and full screen HD video looks incredibly good.
All three screen sizes feature a huge 2560 x 1600 (WQXGA) resolution, amounting to 4 million pixels, and produce incredibly clarity, detail and razor sharp text.
There's also an overhauled interface, called Magazine UX, which is a combination of Windows 8's square 'tile' design and Samsung's own TouchWiz interface, making it easy to access apps used most often. Designed for larger screen sizes, Magazine UX features up to 5 customisable 'Home Pages', which can be categorised for Social Media & Content, business and personal apps and news, or your own customised collections. You can also change the size and position of your apps and news feeds.
There are other productivity enhancing tools included in the interface such as Multi Window, which allows up to 4 apps to share the same screen.