If five new Galaxy smartphones wasn't already enough, Samsung also took the wraps off three new Galaxy wearables at its UnPacked 2019 event in San Francisco. Focused on activity, wellbeing and connected living, a new smart watch will join the existing Galaxy Watch lineup, along with an activity tracker and revamped set of wireless earbuds. Here's what will be on sale in Australia very soon.
Galaxy Watch Active
Joining the successful Galaxy Watch range is the new Galaxy Watch Active. This model is both sporty and good looking, and a key difference is that there's no longer a rotating bezel for navigating menus. This means a sleeker and more minimalist design, thanks to a luxurious aluminium composite casing, lightweight bands and a simple touch-screen interface.

There's sleep tracking, which includes analysis of your different sleeping stages. Stress levels can also be monitored and reduced with the help of guided breathing exercises.
Setting it apart from the Apple Watch is the ability to track your blood pressure. Using Samsung's My BP Lab app, which is jointly developed with the University of California, San Francisco (UCSF), the app can keep tabs on your blood pressure levels throughout the day, and help identify early signs of ill health. This is made possible with the help of a very exacting optical sensor that can detect tiny variations in your blood volume and arterial thickness.
The Galaxy Watch Active is aimed at helping you manage and set fitness goals, with automatic exercise detection for running, cycling, rowing, and elliptical training. There are also 39 other fitness activities loaded that you can select manually to match your workout.
The Galaxy Active is waterproof to 5 atmospheres, and IP68 water and dust resistant. The battery should handle 2.5 to 3 days between charges.
Galaxy Watch Active works with both Android and iOS phones and supports popular third-party apps including Under Armour, Spotify and Strava.
You can use Samsung's Bixby personal assistant to control the Galaxy Watch Active with your voice and ask it to do things such as making calls or sending messages without picking up your phone.
Galaxy Fit and Galaxy Fit e
Samsung's two new activity trackers are set to replace the existing Gear Fit activity band. Slim, lightweight and with week-long battery life, these simple and easy to use bands are for people with active lifestyles.
While their features are not as extensive as a Galaxy Watch, they have a simple to use interface, with a colour display and inductive charging on the Galaxy Fit, and a basic tonal display and plug in charring (Pogo) on the Galaxy Fit e.
Both models will automatic identify and track when you walk, run, cycle, row, hop on the elliptical trainer or start a general dynamic workout. Then there's manual selections for more than 90 different activities via the Samsung Health app on your smartphone.
You'll find enhanced sleep analysis too, and smart stress management for monitor your personal wellbeing at any time of the day.
To stay in touch, the Galaxy Fit and Fit e will display alerts and messages – and you can access alarm, calendar or weather information synced from your smartphone.
When you travel to a new time zone, the Galaxy Fit will automatically display a dual-clock watch face to make it easier to manage your schedule.
Both models are water resistant of 5ATM4, so you can take them in the shower or to the pool without a fuss.
Galaxy Buds
Samsung's new Galaxy Buds are designed to deliver a cord free connected experience for music lovers on the go. The Buds replace the original Samsung IconX model, which suffered from some teething issues.
The Buds are redesigned with a comfortable form factor, easy controls, clear and smart sound, and compact size.
The listening experience is enhanced by audio-tuning specialist AKG, so you can expect some quality beats. Also, to keep you aware of your surroundings, there's an Enhanced Ambient Sound mode that combines outside noise with your audio track or phone call.
For making calls, there's an Adaptive Dual Microphone with one inner microphone and one outer microphone in each earbud, which helps deliver your voice clearly in both loud and quiet environments.
Galaxy Buds can handle up to six hours of Bluetooth streaming, and up to five hours of calls. There's a compact case that holds a charge for up to seven hours, and can top up the Galaxy Buds to 1.7 hours on a 15 minute quick charge.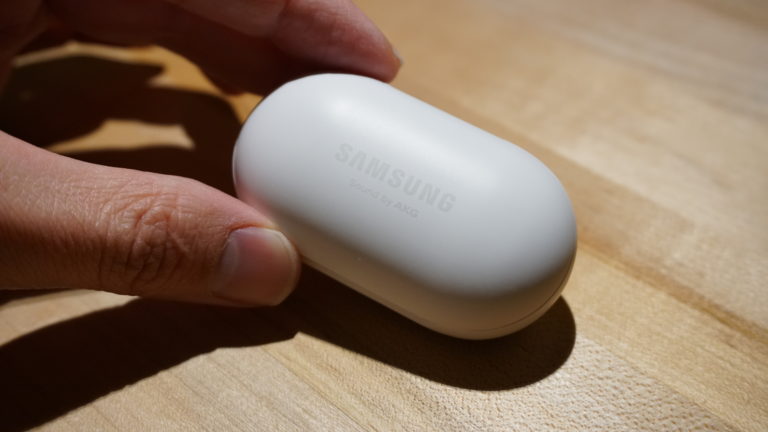 With wireless charging and device-to-device power sharing, you can also get a quick power boost from the new Galaxy S10, which you can read more about here.
Galaxy Watch Active Specifications
Colour
Silver, Black, Rose Gold, Sea Green
Dimensions & Weight
40mm, 39.5 x 39.5 x 10.5mm, 25g
Display
1.1" (28mm) 360 x 360 Full Color AOD
Corning® Gorilla® Glass 3
Strap
20mm (interchangeable)
Battery
230mAh
Processor
Exynos 9110 Dual core 1.15 GHz
OS
Tizen-based Wearable OS 4.0
Memory
768MB RAM + 4GB Internal Memory
Connectivity
Bluetooth®4.2, Wi-Fi b/g/n, NFC, A-GPS/Glonass
Sensor
Accelerometer, Gyroscope, Barometer, Heart Rate Monitoring, Ambient Light
Charge
WPC-based wireless charging
Durability
5ATM + IP68 / MIL-STD-810G
Compatibility
Samsung, other Android: Android 5.0 or higher, RAM 1.5GB above iPhone: iPhone 5 and above, iOS 9.0 or above
Galaxy Fit and Galaxy Fit e Specifications


Galaxy Fit
Galaxy Fit e
Colour
Black, Silver
Black, White, Yellow
Display
0.95" Full Color AMOLED
120 x 240
0.74" PMOLED
64 x 128, 193 ppi

Processor
MCU Cortex M33F 96MHz + M0 16MHz
MCU Cortex M0 96MHz
OS
Realtime OS
Realtime OS
Size
18.3(W) x 44.6 (H) x 11.2(T)
24g (w/strap)
16.0(W) x 40.2(H) x 10.9(T)
15g (w/ strap)


Connectivity
BLE
BLE
Sensor
HRM, Accelerometer, Gyroscope
HRM, Accelerometer
Battery
120mAh
70mAh
Durability
5ATM water resistance
MIL STD 810G

5ATM water resistance
MIL STD 810G

Memory
512KB internal RAM, 2048KB external RAM, 32MB external ROM
128KB internal RAM, 4MB external ROM
Charge
NFC Wireless
Pogo
Compatibility
Samsung, other Android: Android 5.0 or higher, RAM 1.5GB above iPhone: iPhone 5 and above, iOS 9.0 or above
Samsung, other Android: Android 5.0 or higher, RAM 1.5GB above iPhone: iPhone 5 and above, iOS 9.0 or above
Galaxy Buds Specifications
| | |
| --- | --- |
| Colour | Black, White, Neon Yellow |
| Size | Earbud: 17.5 (W) x 19.4 (D) x 22.3 (H) mm / Case: 38.8 (W) x 70 (D) x 26.5 (H) mm |
| Weight | Earbud: 4.9g per earbud / Case: 39.6g |
| Connectivity | Bluetooth 5.0 |
| Sensor | Accelerometer, Proximity, Hall, Touch, Ear on/off detection |
| Battery | Earbud: 58mAh / Charging case: 252mAh |
| USB | Type-C |
| Speaker | 5.8pi Dynamic Driver |
| Compatibility | Android 5.0 or later, RAM 1.5GB or above |
| Audio | Audio Codec: SBC, AAC, Scalable (Samsung proprietary) |
Pricing and availability information will be updated once available.
Valens Quinn travelled to San Francisco for the Unpacked 2019 Galaxy S10 launch event as a guest of Samsung Australia.