After a pretty successful run with its external super fast and light solid state drive, Samsung is doing a "Bionic Man" with its new drives, making them bigger, stronger, and potentially faster.
One of our favourite gadgets from 2015 is getting an update in 2016, with its replacement receiving a new port and some bigger innards, as well as some shiny new clothes to make it better when you take it out of the home and office.
Last year, Samsung's T1 SSD was one of the first in the world to show that you could deliver solid-state performance to an external hard drive, and Samsung did so with its expertise in the field of solid state drive development, taking this technology and transplanting it to an external case.
That resulted in one of the more impressive computer accessories we've ever played with, and it still holds true, even outperforming rivals.
This year, Samsung looks keen to improve on the T1 external by upping it to a T3.
We're not quite sure where the T2 is in this change, but what you can expect from the T3 is a Samsung SSD with the same up to 450MB/s transfer speed available in larger sizes, a more solid aluminium body, and a new transfer port.
That last one is especially important, as it addresses one of the chief concerns we had about the T1 when we reviewed it last year. Specifically, while it arrived with the more commonly found USB 3.0 port, owners of newer computers with a higher speed USB 3.1 port would be out of luck, and forced to use a conversion cable even to plug the drive in.
In 2016, however, Samsung's external SSD will arrive with the faster USB 3.1 port, handy given that it will also come in larger capacities, jumping from the maximum 1TB size of the T1 to a maximum of 2TB on the T3.
Yes, this means that Samsung is making a 2TB external solid state drive this year, which should be handy for those of storing way too much on those laptops, desktops, tablets, and phones.
Phones will be supported, of course, because you can already find a few phones out there sporting the USB Type C port as a charge and data connection, such as Google's Nexus 5X and 6P phones, as well as Microsoft's Lumia 950 and 950XL.
More devices are expected to get this port this year, as USB Type C starts to become the new international standard, taking over from microUSB.
Even Apple supports it with the MacBook, getting USB Type C in the form of Thunderbolt 3, which shares the same port.
"Following the successful worldwide launch of the Portable SSD T1 in 2015, we made several significant upgrades to the T3 based on the feedback and needs of our customers, which included content creators and business professionals in particular," said Un-Soo Kim, Senior Vice President of Brand Product Marketing for the Memory Business at Samsung Electronics.
"As such, the T3 delivers the outstanding performance, storage capacity and durability needed from an external storage device for today's mobile lifestyle, without compromising on style or security. It's the new portable external storage drive users can depend on in any situation or environment."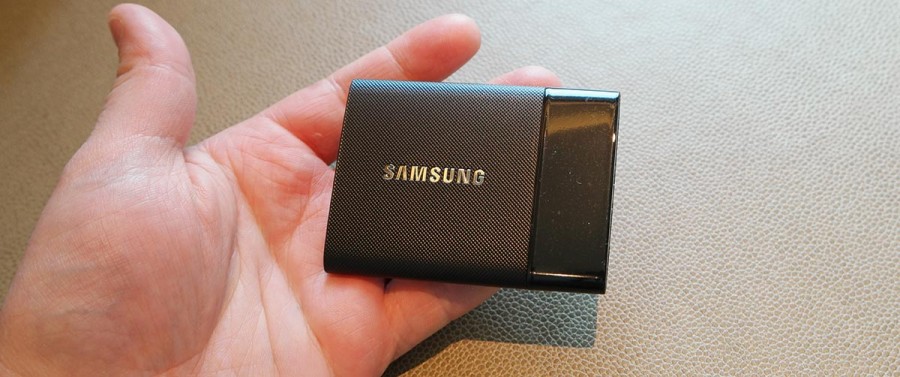 From a technical viewpoint, there doesn't appear to be a lot of difference between this drive and the one we saw last year, with Samsung appearing to rely on the same drive technology here, and not the M2 PCIe SSD tech we saw at its South Korean launch last year.
This difference in technologies means you can expect read and write speeds up to 450MB per second, instead of the 1500MB to 2500MB per second speeds offered by Samsung's other solid state technology.
In essence, the drive isn't faster in the T3 version being announced this week, at least not from what we can see.
That said, the connection theoretically is, and if you have a USB 3.1 connection on your computer and phone, the transfer rate is technically capable of more speed, pushing from the maximum of USB 3.0's 5Gbps speed all the way up to a theoretical 10Gbps, which translates to a real-world speed of 1.2 gigabytes (GB) per second.
We doubt the drive is going to bother with those speeds, specifically because Samsung's information on the T3 suggests that it can only reach a maximum of 450MB/s, much like its T1 sibling, well in reach of what USB 3.0 can achieve.
Still, it's a first step, and given Samsung has faster drives out for computers, it's only a matter of time until it finds a way to bring those to the USB 3.1 interface.
Maybe even later this year.
For now, expect Samsung's T3 later this year, possibly to sit alongside the T1 for people who don't have a standard USB port on their machine.