Samsung has just upped the ante in the TV world, unveiling a new 3D LED TV offering size, smarts, sex appeal, and a slimline look that makes it one of the more impressive sets you're likely to see.
Unveiled this week, the new Series 9 (ES9000) updates the now two year old Samsung Series 9 TV to a a massive 75 inch (technically 74.54 inches diagonally) LED-backlit TV with an insanely thin 7.9mm curved bezel, rose gold finish, slim base, and a minimalist look that has to be seen to be believed.
"Samsung understands that when purchasing a new smart TV consumers want amazing picture quality, connectivity and content, along with a sophisticated design," said Phillip Newton, Samsung Australia's Director of AV.
"Samsung's Series 9 Smart TV is crafted with the enthusiast in mind, and offers Samsung's most immersive large screen entertainment experience ever."
Looking at it last night, the screen is simply breathtaking, with impressive and close-to-perfect viewing angles, a wondrously sharp image, and some of the high end technologies already launched on Samsung's then-flagship TVs from earlier in the year.
Here with the Series 9, this is the new flagship TV, throwing in support for 1080p Full HD, two USB ports, three HDMI, a native 200Hz panel, a retracting HD camera that pops at the top and can be hidden when gestures and video chat aren't being used, two microphones, voice and gesture control, and Smart TV functionality through Samsung's hub services that can login to Foxtel, catch-up TV, and even let people play a big screen version of Rovio's "Angry Birds."
WiFi is built into the TV, allowing owners to jump on the net quickly and easily, and with the included Bluetooth functionality, sound can now be shared to Samsung's recently announced wireless dock systems to essentially provide wireless speakers and subwoofers.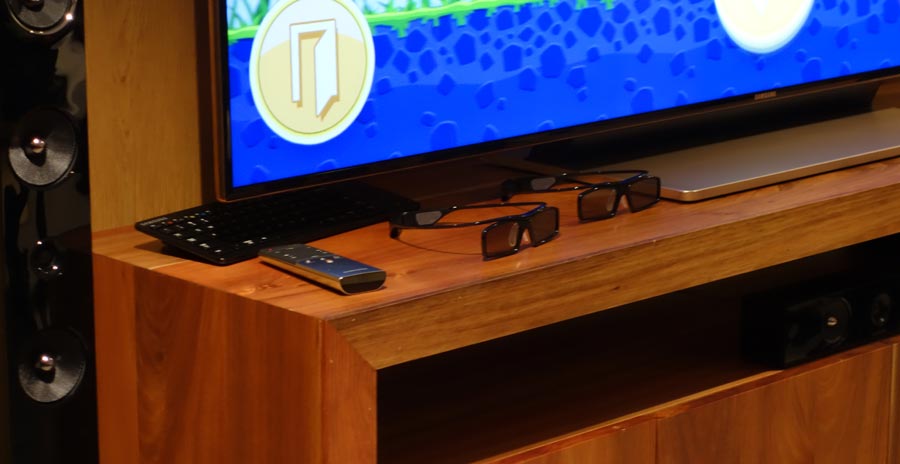 Unsurprisingly, 3D is an included technology, with active 3D technology used here, but four pairs of 3D glasses thrown in the box.
Useful, given that the ES9000 also comes with a $9,499 recommended retail price in Australia, less expensive than the $9,999 price it receives in America before taxes.
Samsung's TV isn't, strangely, the first massive screen we've seen launched this month, with the deluxe 75-incher joining Sharp's 80 inch display that arrived this week.
The two TVs are completely different beasts all together, with the Sharp 80 inch looking for anyone after the biggest picture there currently is, and Samsung's going after the person keen for what Samsung believes is the best picture on the market.
In both situations, it's probably not hard to see that you'll be getting a massive television, and while we have yet to find out which is better than the other, it would probably be hard to be disappointed with either.