When opting for a wearable gadget, there are numerous questions one needs to ask: what will it do, can it survive my life, and how much will it cost? Fortunately, Samsung has answered these with the Gear Fit2.
It's been a while, but Samsung's take on fitness is back, and fresh from an announcement last week, the company is releasing a new device developed from researched gleaned from the Gear S2 smartwatch and curved display of the S7 Edge.
Those learnings have resulted in a lightly bigger curved display, an updated operating system, and a design that should be more comfortable to wear, with the Samsung Gear Fit2 being all that plus a few extra features consumers are sure to find interesting.
"Many Australians love to lead an active lifestyle, and expect to be connected and mobile while on the go," said Prasad Gokhale, Vice President for IT and Mobile at Samsung Electronics Australia.
"The Gear Fit2 offers Australians a great suite of practical features, such as a music player, heart rate monitor, and exercise reminders, making it the perfect tool for achieving fitness goals and managing an exercise program," he said.
Aside for those features — many of which you'd probably expect in a modern day wearable designed for fitness — Samsung has brought over a 1.5 inch curved Super AMOLED display that wraps around your wrist, kind of like if someone had taken a Galaxy phone and had contorted and warped it to match your arm.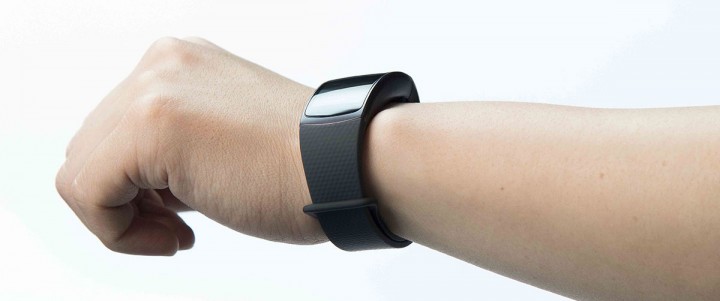 That screen is, of course, a touchscreen, and it protects innards tracking your progress, such as a gyroscope, accelerometer, barometer, and heart-rate monitor, while a GPS will track where you've been for information later.
Wireless technology is part of the package, because the Gear Fit2 needs to be able to talk to something, with Bluetooth 4.2 built into the device to do this, and a dual-core 1GHz processor working with 512MB RAM and 4GB storage.
An Android phone will be the only way to talk to the Samsung Gear Fit2, but you don't necessarily need a phone to make it work, with the device able to operate by itself and even play music stored on 2GB of storage using that same Bluetooth connection, letting you run without wires and without a phone.
Given the Fit2 is 30 grams on your wrist, we're sure there are people that will find this well-weighted and useful.
The device is also made for the elements, with IP68 dust and water resistance found on the unit, meaning it should survive a run in the rain and then some.
Pricing is clear, too, with a recommended retail price of $289 and an availability of now. Compatibility for this wearable extends to both the 2015 and 2016 flagships from Samsung, and we suspect probably other manufacturers since Samsung has made its Gear S2 smartwatch talk to other manufacturers, with HTC's One, LG's G-series, and Sony's Xperia Z line of phones also supported for that device.
As for where Samsung's other fitness wearable is in Australia — the also recently announced IconX — we can't say, but the moment news breaks, you can bet we'll have it here.