Samsung is returning to computers by embracing its love for tablets, and it's good news if you fancy a computer that's as thin and light as a Samsung smartphone.
The design and research team at Samsung has been making devices thinner and more elegant for a couple of years now, and while most of the work has been in the smartphone and tablet space, the big S is spreading out.
It's not enough to build for simply want to consume content on tablets these days, because why consume when you create content, too.
With that in mind and the engineering team all energised from its time working on Samsung's recent Galaxy inductees, the company has a new machine waiting in the arms made for people who like to work on the go, creating and consuming information while also pairing nicely if you happened to have bought one of those recent Samsung phones.
That's the idea in Samsung's Galaxy TabPro S, a concept that delivers a thin and elegant metal framed computer with one of the slimmest designs you'll find a Microsoft operating system on.
Starting with that size, Samsung has grabbed a 12 inch Full HD+ Super AMOLED panel, which essentially delivers 2160×1440 and roughly 216 pixels per inch, not far from what the iPad Pro achieves, so you won't be peeping pixels here.
Under that massive sheet of brightly coloured LCD, you'll find an Intel Core M processor from the sixth generation, making this machine quite up to date and paired with 4GB RAM and 128GB solid-state storage.
Interestingly, there's no microSD slot to upgrade this, bringing things back to the way Samsung worked last year, but the company is hoping that won't matter as much thanks to how dependent you'll be with the cloud and shared storage, particularly if you already have a Samsung Galaxy S7 phone.
If you can stick yourself in that category, Samsung's Galaxy TabPro S includes the sort of harmony and cohesion with Samsung phones that Apple laptop owners get on the iPhone, with a piece of software called "Samsung Flow" that will connect the TabPro S to the phone for quick pairing and 4G tethering.
This simplicity of always making sure your computer is always connected could mean your files are easily accessed in the cloud, meaning more than 128GB isn't necessarily as big a deal as you might think.
The Samsung Flow technology will also help for other reasons, such as delivering call notifications, texts, and other things that will normally come to your phone, except appear on the desktop of Windows 10.
Interestingly, it's only on the Galaxy S7 for now and only on Samsung's Windows 10-enabled Galaxy TabPro S, so if you have a different Samsung phone and a different Samsung tablet or computer, you're out of luck for the moment, though Samsung's representatives did tell GadgetGuy that tit could expand to other products later on.
Cameras are also included here with two 5 megapixel cameras — one for the front and one for the back — while GPS, WiFi 802.11ac, Bluetooth, and Near-Field Communication all make an appearance, as does a keyboard.
That's also one of the interesting inclusions, because while you might have to spend an extra $150 or so for a keyboard with Microsoft's Surface and close to $230 for Apple iPad Pro keyboard, Samsung is bundling one in the box, complete with a magnetic stand and two positions.
"The Galaxy TabPro S strikes a perfect balance between Samsung's renowned premium Galaxy range of devices and the depth of amazing features and functionality delivered through Microsoft Windows 10," said Prasad Gokhale, Vice President for IT and Mobile at Samsung Electronics Australia.
"This device will give Australians the ultimate mobile working and entertainment experience, whether they are creating or consuming content on the go."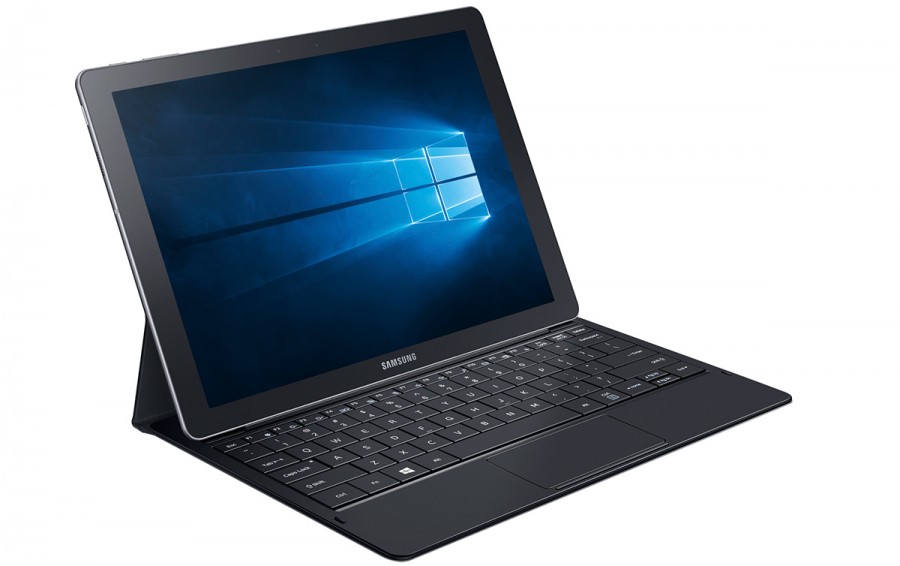 From the get go, it's hard not to be impressed by the design, with Samsung's super slick stylisation showing up the moment you take it out of the box.
Simply put, the Samsung Galaxy TabPro S is impossibly thin, especially for a computer, measuring 6.3mm thick and feeling great in the hand. The tablets weighs 693 grams which is hardly anything, and thanks to the Super AMOLED panel, Samsung has made the screen look stellar.
We're not going to necessarily vouch for colour accuracy, but the screen is super dynamic, with images popping off the screen, almost as if someone decided to give you a lovely OLED TV that your hands could carry around, because that's not far off what this is.
The charging port is quite interesting, that said, because this is the first time we've seen Samsung embrace USB Type C, and that's the only port outside of the 3.5mm jack the TabPro S offers.
While you might not be able to get much done initially with this, Samsung plans to offer accessories for bringing HDMI and standard USB to the port, and through our own testing, we found Apple's own MacBook Type C adaptor works with no problems.
There's even a Bluetooth pen on the way, just in case you plan on doing art and were being persuaded by an iPad Pro.
"The Galaxy TabPro S showcases our commitment to offering Australians a versatile ecosystem of devices that can support their work and lifestyle needs, whether they are seeking modes for more flexible working, or an engaging multimedia experience from a Windows device," said Gokhale.
All lovely a device as the TabPro S appears to be, we're a little concerned by the storage, or lack thereof.
We're not sure we agree that 128GB is necessarily enough, especially since once Windows 10 is installed, you only get around 85GB. It's also unusual for Samsung to not include a microSD slot, and we thought the return to expandable storage in the Galaxy S7 meant Samsung would be including it on all devices henceforth, but apparently not.
That said, we're excited about the level of harmony and cohesion Samsung's Flow could bring, not just because the Windows environment needs this, but because it could give Samsung owners exactly what they need: connection to the environment, allowing their phone to stay in their pocket while they work and still see the notifications from their mobile life.
If that's enough to persuade you, it won't take long to find this one in stores, with Aussie electronics and computer retailers getting stock of the Samsung Galaxy TabPro S from this week, priced from $1499 for Windows 10 Home or $1649 for a version with Windows 10 Pro.