A few years ago, Samsung changed the world when it introduced a bigger phone, with a size that Steve Jobs thought no one would buy. Back to present day, and even Apple has had to change its ways, and Samsung is ready with the fourth-generation Galaxy Note, launching in two versions.
"The choice for Australians is extensive," said Arno Lenoir, Chief Marketing Officer for Samsung Electronics in Australia.
"It's not just about more big screens. I think it's about bigger experiences, and it's about pushing the boundaries of design and innovation."
To show that, Samsung will be launching big screens that embrace bigger experiences, better design, and more innovation, and if you like the tablet-sized smartphones we now refer to as "phablets," the news is good.
In 2014, there will be two new Galaxy Note 4 models, both with big high resolution screens, but with different levels of innovation applied to them.
First there'll be the one likely to grab your attention, and ours too: the Galaxy Note 4.
As the name suggests, it's the fourth generation of Samsung's "Note" fable range, and this time includes a better screen than ever before, which has even won the respect of display testing body DisplayMate, which calls it one of the best screens it has ever seen.
That screen sits at 5.7 inches and boasts the same Quad HD resolution as the LG G3, sitting at 2560×1440, yet on a Super AMOLED panel, working with a light sensor that will change brightness and contrast to deliver a better viewing experience depending on the amount of available light, essentially delivering clear and vibrant detail where ever you are.
At 5.7 inches, this screen boasts 515 pixels per inch, almost 200 higher than the iPhone 6, and a little over a hundred higher than the iPhone 6 Plus, with a bigger screen, too. We could debate Retina resolution until we're blue in the face, and have in detail before, sufficed to say that this is a sharper resolution that most eyes won't be able to tell the difference on, with the result making this screen more like the printed text or image, albeit a bright one at that.
Underneath the hood, Samsung has delivered the goods, and this will be faster than most phones from the first half of the year, setting some benchmarks for speed in Australia not just in overall system spec, but also in what it can deliver on 4G LTE.
For starters, there's a 2.7GHz quad-core Snapdragon 805, a step up from the 801 we've seen all year, and partnered with 3GB RAM and 32GB storage, with room to move with a microSD slot.
Android 4.4 "KitKat" will run out of the box with Samsung's overlay on top, and you'll find support for 192kHz/24-bit audio (like LG's G3 had), with connections provided on WiFi 802.11a/b/g/n/ac, GPS, NFC, Bluetooth, infrared, heart rate monitor, microUSB over MHL 3.0, and some blazingly fast Category 6 4G LTE connectivity, boasting speeds as high as 300Mbps on a supported telco.
Also of note is the camera, which will not only shoot 4K video like its Galaxy Note 3 brother, but also take 16 megapixel photos with smart optical image stabilisation helping get shots in darkness, while the front camera is boosted to 3.7 megapixels and uses a low-light lens set to aperture f/1.9. Selfies even get a panoramic mode of sorts, with a 120 degree mode stitching several pictures from the front-facing camera for a wider self-portrait.
The stylus has also changed, ideal for people who want their phone to replace pen and paper, because that's the feeling Samsung is trying to get across here. Now, the pen has 2048 points of pressure sensitivity, responding more like a pencil or pen, even though the screen will still be slick to write and draw on.
Some other neat features have been included, such as three microphones and an audio recording mode that can apparently pin-point where people are to increase the sound of up to eight individuals when recording voices, while the battery now supports a fast charge capable of delivering 50 percent of the life of the 3220mAh battery in 30 minutes.
Oh, and if you missed out on the fingerprint sensor from the Galaxy S5, it's here too, stuck in the home button just like it was on that handset.
But that's not all there is from Samsung.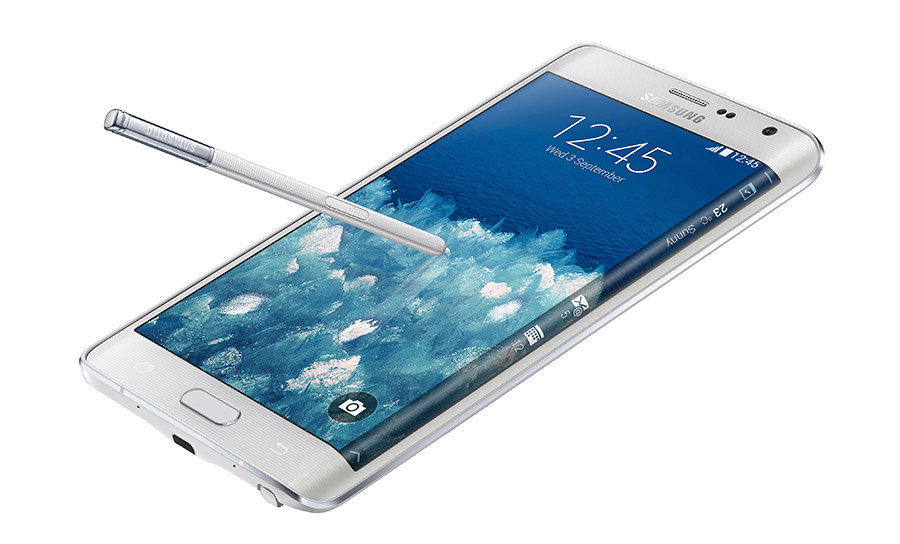 No, another version of the Samsung Galaxy Note 4 is appearing, this time with a curved screen, wrapped around to just the edge, which makes up the name: Samsung's Galaxy Note Edge.
From a spec point of view, it's almost the same handset, with the same 2.7GHz processor, same cameras, same storage and memory, same connections, same Category 6 LTE, and same stylus.
But the screen is a little different, with a 5.6 inch 2560×1440 display that wraps slightly around the edge delivering an extra 160 pixels.
This screen will deliver icons and shortcuts on the right edge, showing information in a slightly different way, and providing new ways to use your phone, such as turning it into a ruler, or letting stocks or tweets appear in a live stream on this edge.
Specs on paper tell us this screen may edge out (to use the pun) the Galaxy Note 4's display quality ever so slightly, at least from a pixel per inch point of view (especially if the 160 pixels have been added on), but it's slight, that's for sure.
The Note Edge will have a smaller battery, which is something people will want to pay attention to, still larger than other handsets at 3000mAh.
"The Galaxy Note range is renowned for offering a premium experience for Australians," said Lenoir, adding "with the addition of the Note 4 and Note Edge to our smartphone lineup, we're once again breaking new ground by delivering innovative products that will redefine the expectations Australians have of personal technology."
"Recognising our passion for new technology, Australia has been specifically selected as one of a select few countries in the world to launch the Note Edge, an exciting new device that will transform our understanding of smartphone screen technology."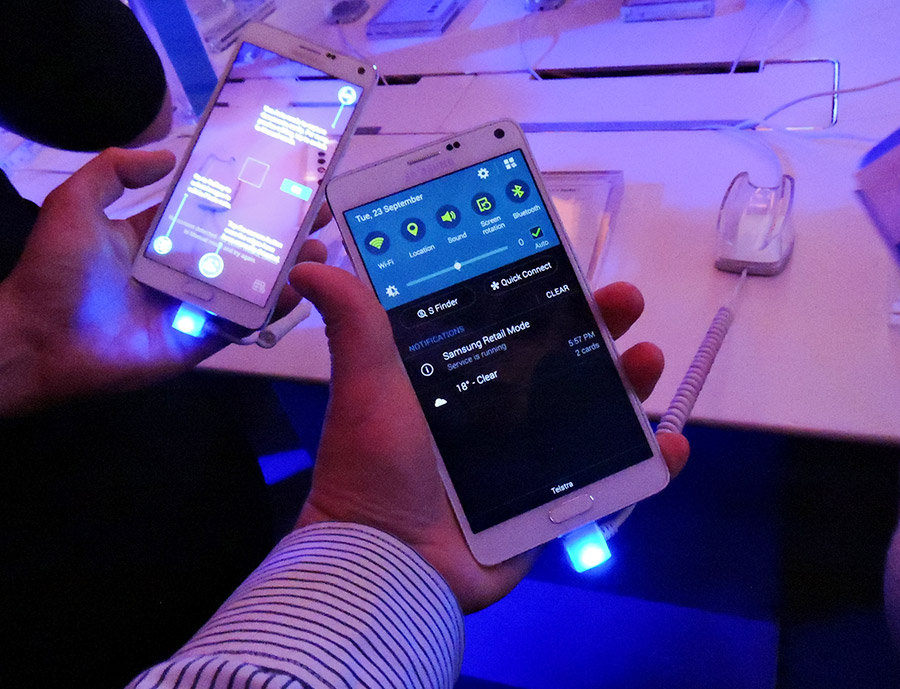 Hands-on with the products, and the Galaxy Note 4 feels like a refined product, light for the size and comfy in the hands, with texture on the back thanks to the fake leather with fake stitching, both of which are made out of plastic.
Samsung has made this feel more substantial thanks to a metal frame, and while this writer isn't normally a big phone guy, he likes what Samsung has made here, with a phone that doesn't feel as big as it should.
The screen is very clear and very bright, and while we didn't have our microscope on us at the time, this is one sharp and clear display, boasting lots of brightness and vibrance that isn't just hard to turn away from, is also hard to shoot.
We checked out the Edge for less time, and it too is an interesting concept, though one we need to spend more time with. We're intrigued by the curved glass, but outside of Samsung's apps and TouchWiz overlay, we're not sure what it would be used for.
If anything, it feels like you'll be able to have the most futuristic phone on the planet shortly, years before someone manages to find a way of making properly flexible phones that you can bend or fold for your pocket.
You will be able to make a decision on these phones for yourself soon, though, with Samsung delivering both to Australia in the coming months, with the Samsung Galaxy Note 4 fetching a recommended retail price of $949 (pre-orders start on October 15), while the Samsung Galaxy Note Edge will be available from November 5 for $1249.