Did the news of Samsung's latest phone get you all keen for a new phone? You don't have to wait long, and the plans are in from Aussie telcos to help you make a decision.
This year, every major telco will be offering the Samsung Galaxy S7 and S7 Edge, practically confirming the level of anticipation for Samsung's next phone a few weeks before consumers are even allowed to put their mitts all over it.
Worth knowing is that while Samsung had different sizes for the Galaxy S6 and S6 Edge last year, 2016 is a little different, seeing the return of a microSD storage slot and meaning Samsung only has to release one size of each and let the customers add storage where they see fit.
That means instead of having to decide between a 32, 64, or 128GB version of the phone, you'll only have to decide on whether you want the 5.1 inch Galaxy S7 or 5.5 inch Galaxy S7 Edge, as both will arrive with 32GB storage and that microSD slot for you to add storage using an optional microSD card.
And not even a week after Samsung first announced its new phone, pricing is in for both variations of the handsets due to be released on March 11 in Sydney.
Depending on which telco you're thinking of going with, you'll find some form of freebie in the pack, with a Gear VR very, very likely.
Optus
Preorders have already kicked in for Optus and its Galaxy S7 and S7 Edge variations, with the folks at Optus sending word that both handsets will be available I'm either black onyx, gold platinum, or silver titanium, with the phones on a $100 My Plan Plus plan over a period of 24 months.
The $100 My Plan Plus will include unlimited talk to standard mobiles and landlines, unlimited text, up to 400 minutes of international text, 12GB data per month, but no international roaming, and is one of the only plans to bring no handset repayment on the Galaxy S7.
The Galaxy S7 Edge will yield a $4 per month handset payment over the course of two years on that same $100 plan, but if pushed to a $130 plan, the S7 Edge monthly handset payment disappears.
Regardless of what you do choose, Optus has said that customers who pre-order either the S7 or S7 Edge before March 11 will receive a free Samsung Gear VR, which the S7 and S7 Edge is compatible with.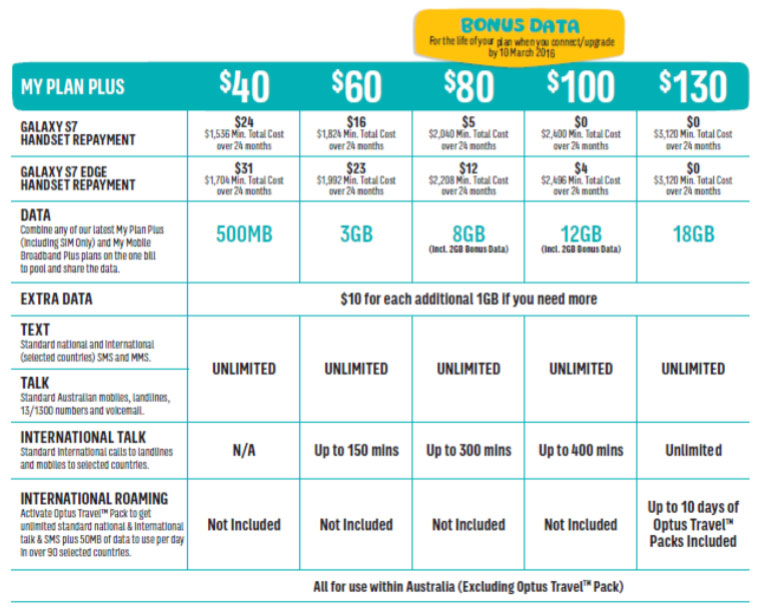 Telstra
Telstra will also be offering both the S7 and S7 Edge, as expected, with handset payment only being silenced for the S7 when you pay at least $135 per month, while the S7 Edge will attract a $6 per month repayment cost on top of this plan.
For that monthly cost, you'll find unlimited talk, unlimited text, and 15GB per month of data, while the lower $95 per month plan drops the data down to 6GB monthly and increases repayment options to $4 extra for the S7 and $10 extra per month for the S7 Edge.
Telstra is also providing a free Gear VR if you pre-order, handy for the entertainment buffs keen to see what VR is all about, and is also putting out a tablet bundle if you like to take your entertainment with you in more than one away.
This bundle is a little different and attracts either a $99 per month plan for the S7 or a $106 per month plan for the S7 Edge, with each including payment for the handsets as well as a Samsung Galaxy Tab A with data set to 5GB shared between both the tablet and S7/S7 Edge smartphone.
Virgin
The other part of the Optus network — Virgin — will be offering both the 5.1 inch Galaxy S7 and 5.5 inch Galaxy S7 Edge this year, and much like the other majors, you kind of have to pay a minimum of $100 per month to get the phone without paying it back monthly.
As such, the $100 plan will net you no repayment costs with the standard Galaxy S7, but you'll need to raise that to $130 per month for two years if you don't want to pay anything on the S7 Edge.
Virgin's $130 plan looks interesting at least for the first three months, with unlimited talk, unlimited text, Velocity frequent flyer points earned through the network, and 21GB per month for the first three months if switching to the network with 15GB included data for the rest of the two year plan or 15GB data for the entirety of the two years if you're already a Virgin member.
And again, the freebie for the Samsung Galaxy S7 and S7 Edge is a free Gear VR with every pre-order.
Vodafone
Finally, there's Vodafone, and much like Telstra, you'll need to spend at least $130 per month if you don't want to pay a handset cost, though there is no plan that we can see including the S7 Edge that doesn't incur a monthly handset cost.
That $130 per month plan is Vodafone's biggest option, and includes unlimited calls, unlimited text, 120 minutes international calls, a free 12 months subscription to either Spotify or a Fairfax online newspaper, and 15GB of data per month, as well as supporting Vodafone's $5 international roaming that extends your plan in supported nations.
And just like the other majors we've noted in this article, Vodafone will also be giving customers who pre-order either the S7 or S7 Edge a Gear VR headset.
Everyone else is doing it, so why not.
Kogan
We're not sure if Kogan technically qualifies as a major, but we thought we'd check in with the e-tailer given that it also operates a telco and sells phones.
This week, the store launched a new plan delivering 1GB of data per month for either $17 per month or $180 per year, with unlimited calls and text also activated on this plan, but no phones sold with it.
However, Kogan's people did point GadgetGuy to the information that it will be selling international variants of the Samsung Galaxy S7 and S7 Edge outright with the 32GB S7 being sold for $999 and the 32GB S7 Edge set to $1249.
Meanwhile, it is one of the only local stores that we know of selling the 64GB variant of the device, something none of the telcos appears to be receiving, with Kogan setting the 64GB standard Galaxy S7 for $1249 while the 64GB Galaxy S7 Edge will retail for $1349 outright.