Last year, Samsung's SodaStream equipped refrigerator was so big, if you wanted to see what automatic sparkling water was like from your fridge, you needed a pretty big kitchen. This year, though, the size restrictions have been relaxed a bit.
If you wanted a SodaStream system built into your fridge last year, you needed room for a massive 890 litre fridge. That's no small appliance, and Samsung has been working on shrinking the technology this year, resulting in the RF24HSESBSL.
You can probably ignore that model number, because all you really need to know is what the new fridge is, and that's a 680 litre model of last year's French door fridge with SodaStream dispenser built into the door, making it possible to get both still and sparkling water from the fridge door without needing to buy bottles of mineral or soda water again.
Like last year's larger version, the inside of the door takes a 60 litre CO2 canister from SodaStream, with the controls on the outside of the door providing three levels of carbonation for people who like their sparkling water with a light fizz, a moderate fizz, or a ton of fizz that tickles your nose.
"The 2014 Samsung sparkling water refrigerator is a very exciting appliance that we are immensely proud to announce in Australia," said Mike Lilly, Samsung Australia's Head of Home Appliances, adding that "it combines some of Samsung's most advanced and intelligent home appliance technology and design, with the popularity of a built-in SodaStream unit to offer Australians an experience that is entirely unique to any other refrigerator in the Australian market."
"We believe home entertainers especially will love this fridge not only for its sparkling water integration but also because it encompasses some of our most premium features that are available in the broader range of Samsung refrigerators such as, our Space Max Technology and Smart Divider drawer with four different temperature settings."
The latter features are just as important as the SodaStream system, with Samsung's Space Max cutting the interior insulation down to maximise the space inside the fridge, the Smart Divider allowing you to change the fencing of things inside the pull-out trays to keep food organised (below), and a twin cooling system with two evaporators making each compartment separate to stop food smells from mixing throughout the fridge.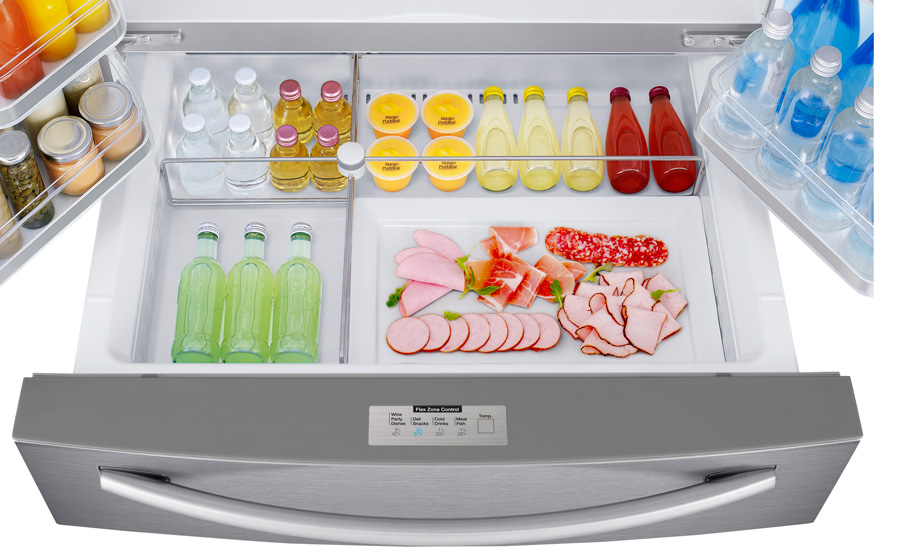 It's still a relatively big fridge, that said, with two doors and two pull out sections, but you'll find 220 litre of space for the freezer and 373 litres for the rest of your food in the fridge.
If you have the space — and of course the cash — you'll find Samsung's slightly smaller Sparkling Water Refrigerator in stores now for a recommended retail price of $4599.