The designers in Samsung's speaker department must be tired of the same old block, because in 2015 they're really shaking it up this year, with one portable and one less portable egg of a sound product.
Tall ovals could be the shape of the year if Samsung gets its way, with the company unveiling two rather unusual looking speakers designed to push sound out to 360 degrees, using a proprietary technology called a "Ring Radiator" to strike a balance with treble and bass.
The speakers are the WAM6500 and WAM7500, and they appear to look a little like eggs, or characters from the game "Portal 2", we haven't quite decided.
In any case, they're tall, ovular, and very white, resembling more a piece of art or stylish speaker design, with Samsung feeling like it is reaching more for a speaker look closer to what B&O might do rather than the tall functional boxes we're used to seeing from the company.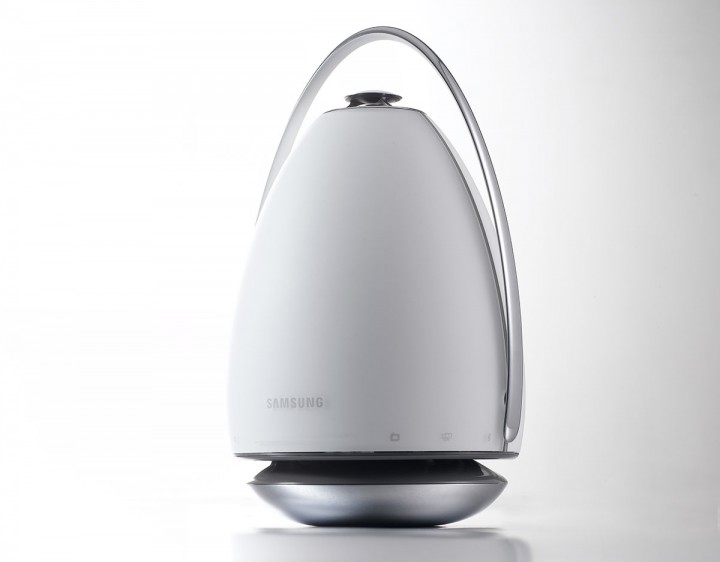 One of these can be moved (WAM6500) thanks to a handle up top, while the other is designed to sit still (WAM7500) and appears that way with a stand at the bottom and no handle to grasp, with the 6500 model also portable thanks to a battery.
"We know how much people love music and that's why we are expanding our portfolio to bring high-quality, wireless audio into the home," said Jurack Chae, Senior Vice President at Samsung Electronics.
Interestingly, this is one range we're not sure will reach Australia, with Samsung Australia releasing a statement that it will be bringing a new curved soundbar to Australia, but having no sign that the WAM6500 or 7500 speakers will find their way here.
"Samsung Electronics Australia is able to confirm that the new curved soundbar range will be launching in Australia later this year, with pricing and availability to be confirmed closer to the local launch," said Philips Newton, Vice President of Consumer Electronics at Samsung Australia.
"Building on our first range of Multiroom speakers that successfully launched in Australia last year, and our existing range of soundbars, the new range of curved soundbars push the boundaries for Samsung in terms of style, design high quality home audio solutions for the Australian home."
We'll let you know when we have more.