The latest computers are equipped with the latest ports, and one of these is the do-anything USB Type C port, with its reversible and harder to break connector. And now Samsung's pint-sized external drive will work with it.
Last year's solid-state solution from Samsung was a real game changer, with the electronics giant delivering one of the more impressive forms of a backup drive you could find.
While it wasn't necessarily the cheapest thing around, it was clear from the get go that Samsung's T1 SSD was something special, providing lightning fast speeds for speedy backups and a tiny and lightweight form-factor that made it easy to do this anywhere you went.
But one thing Samsung didn't have going for it was an easy and simple connection for new tablets and laptops. That's one thing the new breed of tablets and laptops share, with the port technology that is USB Type C something that makes them more suitable for portable work.
This one port acts as a charger for laptops and tablets, and as a way of sending out video like an HDMI port, and again like a way of transferring data.
In many ways, USB Type C (and its Thunderbolt 3 port) are the magic ports laptop owners have long wanted, with a cable that does everything, and it does it on computers on both the Windows and Mac side, as well as a few phones here and there, too.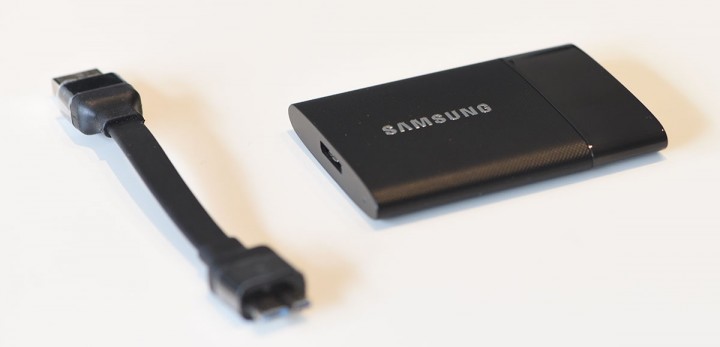 Last year, though, Samsung's T1 SSD wasn't quite ready for the new port, going with the USB 3.0 flat port hard drives have for ages, and while you could use it with the USB Type C ports through a special connector, it wasn't remarkably convenient.
Fortunately, Samsung has a fix, and it's coming in the form of a new drive.
That drive is the Samsung T3, a version of the T1 that takes pretty much the same storage from the first drive and plonks it into a more durable aluminium enclosure, pairing it with a USB Type C port.
The drive runs at speeds of up to 450MB per second, so nothing has changed there, and it's still super light, weighing in at 51 grams and yet supporting drops of up to two metres thanks to the internal frame and metal casing, different from the plastic encasing the original unit.
The storage also goes a little deeper in this model, providing amounts of either 250GB, 500GB, 1TB, and as much as 2TB depending on if you need that much space.
"Samsung is committed to innovation in portable storage and have delivered an incredibly well designed SSD solution that is market leading in terms of form factor, capacity and transfer speeds," said Todd Lynton, Director of Business Solutions at Samsung Australia.
"Many Australians travel throughout the country for work and lead mobile lifestyles. The T3 delivers outstanding performance, storage capacity and durability without compromising on style or security due to an on-board encryption functionality."
The on-board encryption isn't new and was there last year, providing both Mac and Windows people with a modicum of password protection, though it only works with newer computers and operating systems.
What is new, however, is an Android app allowing you to plug in the drive using a cable and change the password as well as check how much storage is left.
Pricing has also changed, and it even feels a little more normal, with the 1TB Samsung portable SSD fetching $649, while the 500GB and 250GB variants will cost $329 and $199 respectively.
And if you need that massive 2TB amount, you'll find it for only a hair more than what the 1TB T1 cost last year, with the 2TB Samsung T3 grabbing a recommended retail price of $1249.
Availability on this one has a timeframe of now, and you'll find it in Bing Lee, Harvey Norman, JB HiFi, and Officeworks.