Nest is a Google company dedicated to making your home just that bit more secure. After a few weeks with Nest Protect (smoke and CO detector), 4K Cam IQ and Cam Outdoor with Google Assistant support it is at the top of GadgetGuy's recommendations.
For reasons unknown, GadgetGuy has never done a review of Nest Protect or other Nest products. Just as well its PR company found out and corrected that. We would never have known just how easy to set up and how effective its products are.
Let's start with smoke detection 101
At a minimum, it is mandatory to have a battery or mains power photoelectric smoke detector on every level of your home. This includes owner-occupied, rental, relocatable, caravans and camper-vans or any other residential building where people sleep.
There are two basic types of detectors – ionisation alarms and photoelectric. Both types detect smoke as it reduces the amount of light its internal sensor can record. Ionisation is best for flame fires, but it is also more prone to false alarms. Photoelectric is more for smouldering fires that may take a longer time to take hold. Most Australian States will not allow ionisation or combo detectors.
Detectors use either 240V mains-power or a battery. If you use mains power, a licensed electrician must install it. My friendly sparky said that if there is a convenient 'unswitched' power source, e.g. not a nearby light fitting in the ceiling it will cost between $100-150 to install. If there is no power nearby, it could cost twice that depending on the power cable run.
New legislation mandates replacement anyway
But by 2022 detectors must have either mains-power or a 10-year tamper-proof, non-replaceable battery (that is the lifespan of these devices anyway). By 2027 you will have to replace all older battery-operated detectors anyway.
Most 10-year battery and interconnected models start at just over $100 compared to the older types from about $30.
There is no real advantage of one power source over the other. If you have lofty ceilings and it's a pain to change batteries when they start slowly beeping, then use mains. Or, if it is impossible to get mains power to them, use battery. My spies at JB say for retro-fits battery outsells mains ten-to-one.
Smoke detectors are the first line defence – they produce an audible alarm when smoke appears.
Most Australian States are legislating that you have interconnected alarms installed in every bedroom, living spaces (lounge, media room etc.), garage, connecting hallways and paths of exit. You can read more about the location and placement here.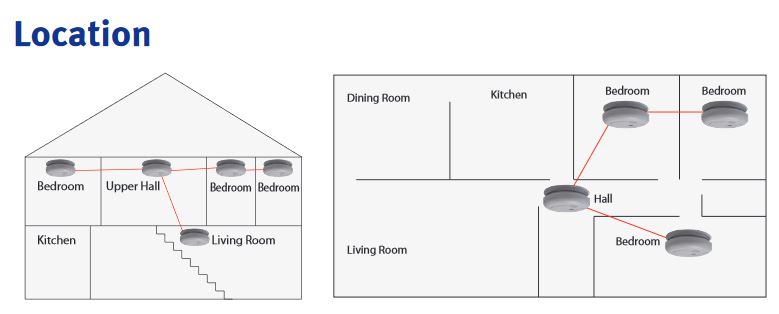 Interconnected means they all connect either directly (wired) or wirelessly (Wi-Fi or RF). If one detects smoke, they all sound. Some also link to an alarm, fire control or sprinkler system.
Some have CO sensors (carbon monoxide – the silent killer), heat sensors, humidity sensors, escape path lights, battery test, hush buttons and smartphone apps for remote control. That is where the industry needs to go, but it adds cost to the device.
Review: Nest Protect 2nd generation smoke detector
Website here
What is it?
A well designed, attractive, smoke detector that is an easy retrofit for any smoke detector (battery or mains power). It offers a far greater range of voice and visual alerts (good for vision and hearing impaired) and things like escape path lighting, added sensors and a smartphone app.
Power
It is available in two models – either 240V with three AA Lithium L91 replaceable backup batteries or a battery only model with six replaceable AA lithium batteries. At this stage, we must assume fire-authority approval for 10-year use. Both units come with the required batteries so it will be five to ten years before you need to replace them.
The recommended battery is Energiser brand L91 AA lithium batteries with a 2500mA capacity and a 20-year shelf life. The retail cost (Bunnings) of a 4-pack is around $3.75 each ($14.99).
Savvy buyers will find bulk buys and other brands online for a little less so as long as they are Lithium and 3000mA or more they should be fine. Don't use rechargeable AA Lithium batteries – they don't last and are a pain to change them.
We can't test battery life, but international reviews suggest up to ten years depending on escape path lighting use and other environmental factors.
Sensors
The smoke sensor is split-spectrum photoelectric – not ionising. It uses the traditional infrared sensor as well as a new blue LED. This combination, as found in commercial grade detectors, allows it to detect small and large smoke particles
In independent tests, Nest had 100% success rate in detecting both smouldering and flaming fires, and it has a humidity sensor to reduce shower steam false alarms – steam is not smoke!
In false alarm tests like frying or other flash fires, Nest Protect had an alarm 30% of the time while the other ionisation, photoelectric-ionisation, and photoelectric alarms sounded 48%, 54%, and 55% of the time, respectively.
The Nest benefit is earlier detection of smouldering fires, lower false alarms and a few side benefits.
Side benefits – it is smart too
It has a 10-year lifespan CO (carbon monoxide) detector. CO is known as the silent killer – a deadly by-product of wood or gas burning heaters in enclosed areas.
A microphone automatically tests the alarm once a month – a sound idea.
A motion detector (120° field of view to 6 metres) can help by illuminating escape paths when you need it. An ambient light detector knows whether its day or night.
The app
The Nest Protect app is available on Android and iOS, and it controls all Nest products.
First, you must create an entirely free Nest Protect account, but you will need a Gmail address.
Why an app? The Nest Protect device works regardless if you use the app or have Internet connectivity. But the app needs Wi-Fi. That allows for room/device naming and interconnectivity with other Nest products like Cams.
It can tell you things like battery life, alert you to alarms and locations, has a Home or Away Assist (geolocation) and more. I like the email alert feature.
To repeat – you don't need to use the app to use Nest Protect, but it adds some functionality to a 'dumb smoke detector'.
To use the Nest Protect to the app, you need Wi-Fi N 2.4Ghz. Nest Protect uses its own 'thread' mesh Wi-Fi between detectors to interconnect, and these have about a 15-metre radius.
You start by scanning the QR code on each Nest Protect. We found it easiest to set it up near the router, test it works (and it did the first time) and then move it into place. The app allows you to link (interconnect) Nest Protects.
As mentioned earlier you must mount the detector in the right location. For example, not within 3 metres of a stove or beside an air-conditioning vent. Just use the existing locations of the old detectors. On that point, as Nest is larger than the cheap detectors, it should cover any paint rings left from them.
Smart home integration
Nest being a Google company works flawlessly with Google Assistant. But frankly, the smartphone app is better to use for Nest Protect.
There is a level of IFTTT (If this then that), e.g. If it detects smoke, cut the mains power etc. It can also flash Philips Hue lights red if it detects smoke.
GadgetGuy's take: Smoke detector on Steroids
This is what smoke detectors should be instead of those dumb, cheap, highly unreliable ones we have all been using.
Our test was to grill some delicious, fatty lamb cutlets that always set off our old smoke alarm. It passed that test – Sold!
We also used a flame (lit paper in a metal bin), and Nest first informed me that the hallway detector had seen smoke. Then an ear piercing alarm went off. I appreciate how quickly the app turns it off. Nest Protect also had a polite voice alert as we put the test fire out.
It is really smart, and the app adds extra functionality and integration with Google Assistant and other devices. It's easy to install or retrofit too. And the 'green ring' light adds peace of mind that no occasionally red flashing LED can.
Price – hmmm it's a tad more than the cheapies
JB Hi-Fi has both the wired and battery versions for $189. Officeworks has both for $168. It offers three units for $159 each. Goodguys has a package with two cameras for $747.
Buy locally if only for the great support these companies provide. If you shop online ensure that it is a 2nd generation unit and the price includes local GST (10%) and delivery.
Passed all my tests - ordinary smoke detectors don't
Incredibly easy retrofit
What all smoke detectors shoud aspire to
A tad expensive but worth it for those extra few seconds it gives you to get out