Whoah! The first surprise when I unpacked the Sennheiser IE 80S BT wireless earphones was: is that a real, near-headphone-sized carry case in there with them? For a set of wireless earphones? Indeed, it was. The second surprise? I searched through my email for the relevant press release and found that Sennheiser launched them at the Hong Kong High End Audio Visual Show in August. Why "High End"? Because these are genuine audiophile in-ear earphones: they're a Bluetooth version of Sennheiser's wired IE 80S "ear-canal headphones".
Sennheiser IE 80S BT Features
But … Audiophile? Bluetooth? Same sentence?
Well, there is yet to be a perfect Bluetooth audio codec, but the Sennheiser IE 80S BT earphones do the next best thing: they support Qualcomm aptX HD codec, plus aptX Low Latency, plus AAC. That last provides better quality with iPhones.
As we'll see, I never actually experienced aptX HD with these earphones, but something so unexpected, I had to look it up.
The Sennheiser IE 80S BT earphones are wired together through a curved, flexible neck band. The buds are attached to ear loops. I guess it's a small point, but I love it: a red collar near one earbud makes identifying the right and left sides instantaneous, instead of having to peer closely for "L" and "R" markings.
The whole thing, neckband, buds and ear loops, weighs 31.5 grams. On each end of the neck collar are pods, into which the batteries are packed. The control buttons and microphones for hands-free use are on the left-hand pod. That's also where the USB Type-C charge port resides under a silicone cap. Because the pod is fixed to the flexible neckband, it doesn't twist. Once you get used to it, your fingers can find the pod-face with the buttons with little fiddling.
Ear fittings
Inside the semi-hard case were seven plastic packets. One contained the manual, another the USB Type-C charge cable. Another contained five pairs of silicone tips. Along with the ones already on the earbuds, there were three sizes each of single- and double-layer tips. Prefer memory foam? Three more packets contained three sizes of Comply tips.
Actually, on its website Sennheiser says that the three kinds of tips are Comply, silicone and … "lamellar". I guess that's the third kind. They look like they have two layers of silicone rather than one. According to Google, lamellar has something to do with small plates.
Anyway, thank you Sennheiser. In-ear transducers are perhaps the most intimate pieces of entertainment gear on the market. In providing many options for the best possible fit and comfort, Sennheiser is clearly recognising this.
That makes six packets. The seventh? Well, I stopped my exploration to write this bit of the review because, at the moment, the seventh item is a mystery. It's 50mm long plastic rod with what looks like to be a small, flat screwdriver tip on one end, and a loop made from very thin steel protruding from the other.
The quick start guide solved the mystery: the loop is for cleaning ear-gunk out of the earphones. I take steps to ensure ear-cleanliness so that's not a problem I have, but I suppose it could be useful.
And the screwdriver end? It turns out – surprisingly in these days of digital control and digital signal processing – that each earbud has a small grub screw which can be turned to adjust the level of bass.
Sennheiser Smart Control
The Sennheiser Smart Control app allows some adjustments to be made to the earphones. It connects to them and shows their battery level on its front page. You can switch the language of the prompts or set them to tones rather than spoken words. One panel shows the codec the phone and earphones are using.
And there's a five-band equaliser. Except that the EQ would not work for me. I turned the three upper bands (1kHz, 4kHz and 16kHz) all the way down to -12dB and the two lower bands (62.5Hz and 250Hz) all the way up to +6dB. No effect.
By the way, when you switch the EQ on, even though it has no apparent effect the voice prompt announced, "Effect mode director". When I switched it off, the voice announced, "Effect mode off".
The Sennheiser driver/control app talks properly with Android, so my phone showed a battery icon for the earphones in its notification bar at the top of the screen. Both the app and the Bluetooth connection screen showed the codec.
Listening
I expected it to be aptX HD, which my phone supports, but it wasn't. The Sennheiser Smart Control app reported it as "LHDC". The Bluetooth panel said "HWA". And I'd heard of neither. Apparently they are the same thing: "HWA" stands for "Hi-Res Wireless Audio" and "LHDC" stands for "low latency and high definition audio codec". It seems that it uses a relatively wide 900kbps channel to transmit audio, supporting up to 24-bit/96kHz signals. It's still compressed, and Wikipedia says that various bitrates of 400, 560 and 900kbps are supported. Note, uncompressed 16-bit/44.1kHz audio runs at 1,411kbps.
Anyway, it's better than SBC.
I found the sound conformed with Sennheiser standards. It's a bit brighter than neutral, in my opinion, with a forward upper midrange, sometimes leading to emphasised "esses". But it's nicely dynamic and well-defined. Listening to The Teskey Brothers debut album Half Mile Harvest on Spotify, the white hiss and low mains hum of the equipment in their home studio was audible, something I'd not previously noticed. But also audible was a lovely, full bass performance.
I did not fiddle with the grub screws controlling bass level because I think Sennheiser had it pretty much spot on. It was powerful and accurate, and not in the slightest overblown. Go on, turn it up if you want more, but I liked it just the way it was.
With quality classical and jazz recordings, the earphones were delightful. With harsher stuff, such as Elvis Costello's album This Year's Model, streaming at CD-level quality from TIDAL, none of the harshness was papered over.
If you're after just a pleasant listening experience, the Sennheiser IE 80S BT may be a bit too revealing for you.
Sennheiser IE 80S BT reliability
The connection with my phone was very reliable when the phone was on my person. Wireless earphones which have the two buds physically wired together are generally better in this way than true wireless models. I figure it's because of physically larger antennae.
The range was okay – just short of twenty metres in my usual measuring place, beyond which the Sennheiser IE 80S BT earphones dropped out very sharply.
The battery life is rated at six hours, but that's with music playback using the SBC codec. I didn't have that option because, as I mentioned, the phone and earphones decided between themselves to use the LDHC codec. Charge time is rated at 1.5 hours.
Anyway, the earphones implement a slightly confusing warning system. The same pleasant, English-accented lady's voice tells you the rough battery level whenever your switch them on. "At least eighty per cent", she says when you first switch them on … after you have fully charged them. The battery reporting is in 20% steps.
Here are a few timings I checked on as I mostly ran podcasts and music, although I did have one phone call in the middle of it: 80% battery remaining reported after 90 minutes; 60% at two and a quarter hours; 40% after three hours. Then at three hours and quarter hours, she politely asked me to "Recharge headset". That seemed odd, especially as the Sennheiser Smart Control app reported 40% battery remaining.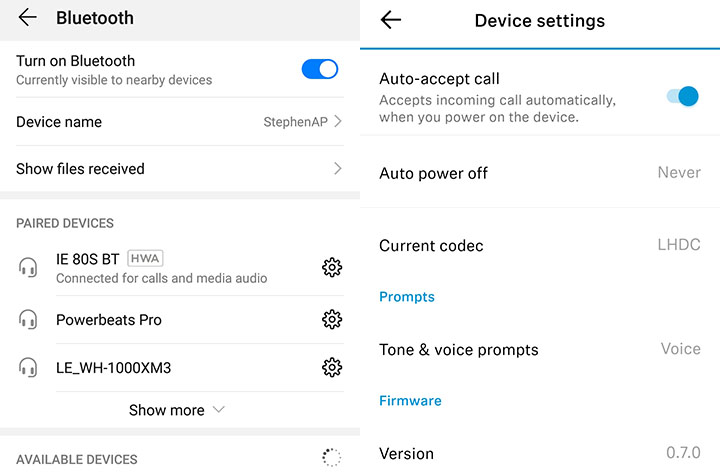 Warnings
Initially I though that might have been a bug, or a crook battery, but on reflection I think Sennheiser is just getting in early. Most Buetooth earphones I've used which give you a recharge warning do so just a couple of minutes before the battery runs out. Which is irritating when you're away from power.
I had to switch off the earphones for half an hour soon after that. When I switched them back on, I got the "Recharge" message again. A battery level of 20% showed on the app, but it switched over to 40% after a couple of seconds, although status icon remained low and red.
When I checked again around four hours in, the level was down to 20%. Then, at 4:32, with no further warning, the voice in my ears announced, "Power off", the music stopped and that was it.
Even six hours is a bit on the light side for one-piece wireless earphones in 2019. I think four and a half hours is quite disappointing.
Conclusion
That aside, the Sennheiser IE 80S BT Bluetooth earphones are a fine listen for those wanting higher quality than usually provided in wireless earphones … if they're prepared to pay for it.
Sennheiser's site for these earphones is here.
First class sound
Supports all important codecs (plus a surprising new one)
Includes protective case
Lots of tips to ensure comfortable fit
Relatively modest battery life
EQ function in (Android) app didn't work