The Sennheiser PXC 550 II is the next version of the PXC 550. The changes are subtle – voice assistance (all three), adaptive noise cancelling, BT 5.0, more hi-res music codecs, slightly longer battery life and an updated app.
Thankfully the PXC 550 II did not touch the original's marvellous compact design, the in-built USB DAC (for charging and music), warm and sweet sound signature (perfect) and usability (fold flat).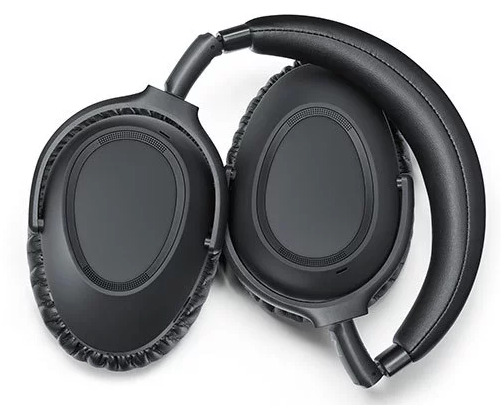 I must admit to using the originals several times a week since 2016. They have held up very well – a credit to the build quality. The PXC 550 II is an evolution of what is arguably the best 'travellers' ANC BT, over-the-ear, headphones on the market.
I use the term 'travellers' wisely. The PXC 550 II is 227g – lighter than most. They have 20/30 hours ANC BT/cable, 3.5/2.5mm jack for analogue sound, micro-USB for simultaneous charge and sound, BT 5.0 (and all it offers like pairing to eight devices and two active devices), auto-pause/resume and twist on/off make these ideal.
I reserve the term 'audiophiles' for its big brother – the Momentum 3 that is 305g and has larger 42mm drivers, sheepskin headband and bass that you can die for.
Its horses for courses. PXC 550 II – small and compact with excellent sound. Momentum 3 – big and deep with uber-excellent sound.
Sennheiser PXC 550 II
Website here
Price: $549.95
A note on price (fair street prices subject to fluctuations)
GadgetGuy does not comment on price – it is worth what people will pay for it. But we do comment on the value for money paradigm – bang for the buck.
If you don't want to spend $549.95, then there are some excellent BT/ANC cans like the JBL 650 ($199), Poly BackBeat Go 810 (from $180), Ausdom ANC7S ($139) and many more. What you lose is some bass (frequency response), lower levels of total noise attenuation and perhaps some lasting quality.
If you don't need to ask the price then the competitors are Sennheiser's Momentum 3 ($599), Sennheiser's original PXC 550 ($299), Sony WH-1000XM3 ($353), Bose 700 ($489), AKG N700 ($300), Jabra Elite 85h ($379) and to lesser extent Bose QC 35 II ($366).
As you read this review, we will point out subtle differences. Our judging paradigms are now: Fail, Pass and Exceed.
In the box – Exceed
PXC 550 II
1.2m 2.5-3.5mm cable with remote
USB-A to micro-USB cable
Airline 2 pin adapter
Half-moon case
Why? The 2-pin airline adaptor is an extra for most others. The half-moon case is smaller than most others. Due to the small power needs Sennheiser stuck to micro-USB instead of adding more weight with USB-C PD circuitry.
First impressions – Exceed
Matte black and flat-pack – sounds like IKEA but trust me it lasts a lot longer. It refers to the compact folded size, including the half-moon case that is perfect for many backpack front pockets.
It is the same as my PXC 550 – same case, size, look, touch, and accessories. But you know what I love – you can get Sennheiser replacement parts like pleather earpads for $25.95 for many years. So, no matter how much you use them – you can keep them in great shape.
Comfort-wise I have worn the originals for 10-15 hours at a time and never felt hot or fatigued. It is a close fit to make them smaller, so try it for comfort first.
Noise-cancelling – Exceed
It now has 'adaptive' NC meaning the four mics generate compensating anti-noise to match the external noise levels. It has four modes. Off, anti-wind, adaptive and full.
The full mode cuts external noise by up to 30dB – that is excellent. Consider that normal voice is about 60dB, a quiet library is 40dB and a diesel truck about 90dB.
My only gripe is that while Adaptive mode uses a physical switch, you need to use the app to select either adaptive or anti-wind. The latter clears up any issues of wind noise in hands-free mode – call quality is vastly better.
It matches Sony and Bose 700 for adaptive noise cancelling and well exceeds the Bose QC35 II.
Sound quality – Exceed
In terms of BT sound quality, the new ones are slightly better. The aptX/LL (low latency) means high-res music from Android (if using a Qualcomm chipset) and AAC for iOS. For everyone else (Windows), there is BT 5.0/SBC.
Until recently my favourite 'listening' headphones were the Sony WH-1000XM3 with the Sony ultra-high res LDAC codec (when you can get a device and content that supports it). But Sennheiser's Momentum 3 with aptX/LL and AAC matched or bettered these.
The app allows you to cycle through Neutral (flat as tested), Club (room impression), Movie (clear voice-over background), Speech (emphasises upper mid for clearer voice) and Director. It's a matter of finding the one that suits. Your choices save to onboard DAC.
Director removes the usual EQ slider and offers options for Boost, Spatial, Reverb and DLC (dynamic level control).
While I missed the older slider-style EQ, I soon got the hang of the Director 'options' and now probably would not go back to a hit and miss EQ.
Which brings me to sound signature – Exceed
We tested in neutral mode with BT and Cable with no difference in sound quality, although the volume is lower on cable.
Deep Bass: 20-40Hz – none
Middle Bass: 40-100Hz – building to quite strong
High Bass: 100 to 200Hz – flat (that means good)
Low-mid: 200-400Hz – flat
Mid: 400-1000Hz – flat
High-mid: 1-2kHz – flat
Low-treble: 2-4kHz – flat
Treble:4-6kHz – flat
High Treble: 6-10kHz – a slight decline*
Dog whistle: 10-20 – peak and decline after 18kHz
*The decline from 6-10kHz is deliberate to remove the harshness or harmonic resonance that occurs in that band – very well done.
Not surprisingly this is the same sound signature as the Momentum 3 – perhaps bass starts a little later and is not as tightly controlled. It is amazingly close given the 38 versus 42mm driver size and air volume of the 'cans'.
Maximum volume is 80dB over BT on Android – you can bypass this (in Android Developer options) and get over 100dB. Cable connection was just 77dB – still loud enough.
It matches or exceeds competitive Sony or Bose headphones.
Battery – Exceed
The 700mAh battery is good for 20 hours BT/ANC or 30 hours cable/ANC.
We tested Sennheiser's claim at 70% volume – correct.
Charge time from 0-100% is three hours with a standard USB-A 5V/.5A port. Quick charge is 1.5 hours use for 10 minutes charge.
You can use up to a 5V/2.4A (12W – maximum over micro-USB) charger, but we have been unable to verify (at this stage) if it reduces charge time. It is not USB-C PD compatible as this would have added weight and size.
But Sennheiser's secret weapon is the ability to listen and charge at the same time. It has a USB DAC so it can take audio and charge – this is amazing if you are on long haul if you can plug in the cable to a tablet.
GadgetGuy's take – PXC 550 II left all the good bits and subtly upgraded them
The PXC 550 II at $549 is quite a jump over the originals, and the differences are subtle.
If you see a pair of PXC 550 (original) on sale (as you will for under $300), then all you are really losing is BT 5.0/ACC. So unless you are an Apple user buy them.
In terms of sound quality and ANC, these really challenge the Sony WH-1000XM3, Bose 700, well exceed the Bose QC35 II.
I think they are a better buy for a traveller. And it is not far off the Momentum 3 – a great recommendation.
Sennheiser PXC 550 II specifications
Ear coupling
circum-aural
Transducer principle
dynamic closed-back
Transducer
2 x 32 mm
Frequency response
17 Hz to 23 kHz
Sound pressure level (SPL)
110 dB
Impedance
Active mode: 490 Ω
Passive mode: 46 Ω
THD (1 kHz, 100 dB SPL)
< 0.5 %
Noise cancellation
ANC technology with four pick-up microphones
Total noise attenuation
up to 30 dB
Pick-up pattern
(speech audio)
3-mic beamforming array
Power supply
built-in rechargeable lithium-polymer battery
3.7V, 700 mAh
micro-USB charging: 5V/345mA
Charging time of rechargeable battery
approx. 3 hours
1.5 hours use for 10 minutes charge
Operating time
20 hours (Bluetooth/ANC)
30 hours (Cable/ANC or flight mode)
BT
5.0
Profiles: HSP, HFP, AVRCP, A2DP, DIP
Codecs: aptX, aptX LL, AAC, SBC
Pair with up to eight devices
Weight (headphones)
227 g
Warranty
Two years
Positives
BT 5.0. aptX/LL, AAC for high res music
Huge battery life 20/30-hour BT/cable/ANC
Smart Pause/resume
Impressive noise cancelling is as good as it gets
Perfect traveller's, lightweight, comfortable, foldable headphones
Negatives
There is a lot of competition, now at lower prices