At last manufacturers are making USB-C, USB-PD (power delivery) power banks. The latest offering from Goal Zero – the Sherpa 100PD power bank offers 60W PD over USB-C – enough for most USB-C chargeable Windows and macOS laptops.
But wait there is more – The Sherpa 100PD has a built-in 5W Qi charge pad and 2 x 5V/2.4A (or 1 x 3.4A) USB-A ports, so it is a kind of a jack of all trades.
GadgetGuy has reviewed many power banks. Our 'A tale of very big USB-C power banks – and why you should buy one' and our following review of the innovative Dell 65Wh USB-C power bank is almost required reading to understand USB-C and USB-PD delivery.
We put it through the test lab and found the following
Review: Goal Zero Sherpa 100PD power bank $299.95
Website here (at review it was for pre-order only)
Size and weight 190.5 x 93.9 x 25.4mm x 635g.
It is about the same weight as the class-leading Cygnett 27000 mA – batteries are like that until we get fuel cells or pocket-sized nuclear reactors.
Batteries
It uses LG Chem 18650 sized, 3.7V batteries in parallel for a total of 25,600mAh@3.7V. They are good for about 500 full power cycles. LG is in the best power banks.
USB-C, USB-PD means it can intelligently deliver 5/9/12/15/20V at up to 3W. Fast charging starts with higher voltages until around 60% full, then it drops to mid voltages until about 80% and tops off with 5V. Intelligently means it only delivers what the device needs.
Recharge – so many ways
Recharge time depends entirely on the charger. Other reviewers mindlessly quote lower 'press release' recharge times – its clear none have tried this device over two weeks, and five recharges as GadgetGuy has.
If you use a USB-A, non-PD charger like a 5V/2A or 3A wall charger, it will take about 12/9 hours respectively.
If you use a car utility socket (cigarette lighter 12V – not a USB socket), you need a 12V to USB-C cable. Jaycar have a standard USB 12V that outputs 5V/3A for $29.95 and take about 9 hours. Belkin has a 12V to 27W USB-C USB-PD charger for $69.95, and this would reduce charging to about 5 hours.
You can use a solar panel, but these generally only have up to 5V/1 or 2A (5/10W) output. Under ideal circumstances, it will take about 30/15 hours of direct sunlight.
Choetech has 5V/4A/20W solar panel – review here, and it did it in a day! We did not try the like-specified Goal Zero Nomad 28 Plus $399.95 that claims 7-14 hours recharge time for the Sherpa 100PD.
If you have a 60W (or higher) USB-C, USB-PD wall charger you can do it in under five hours.
The Sherpa 100PD has two features that we particularly like – you cannot overcharge it so you can keep it plugged in and use it as a Qi charger mat. And it has a digital percentage of remaining life readout.
Qi charge
It is 5V/1A or 5W. That is enough to charge most smartphones albeit that it takes over eight hours to charge a Samsung Galaxy Note9 when a 15W Qi charger will do it in three hours. Still, it is more than enough to overnight charge.
Tests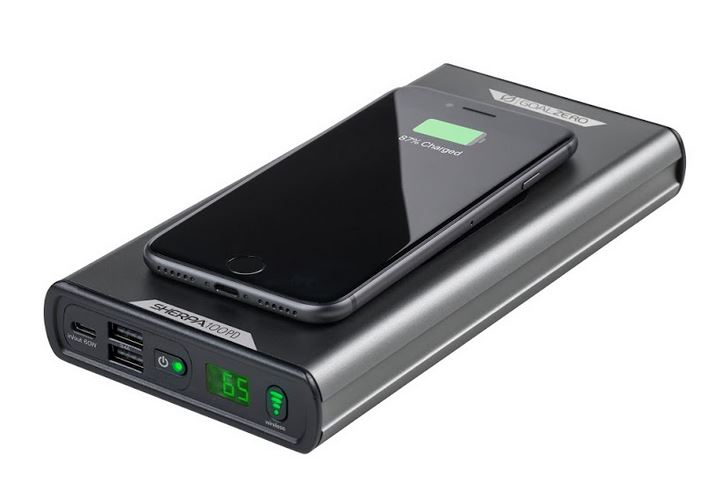 The battery is 26500mAh@3.7V. We measured the mAh rate at a constant 5V/2A draw and after typical charging efficiency loss got the equivalent of 35,000mAh hours useful charge from it – again like similar power banks.
If you have a 4,000mAh battery smartphone, it will recharge about eight times – more for lower mAh batteries.
We attached a Lenovo Yoga 930 (GadgetGuy review here), and it uses a 65W charger for a 60W, 7820mAh battery. Using the Sherpa 100PD, it charged from 0-100% in just over two hours, which is very marginally slower than the 65W wall charger. We got about two recharges from it.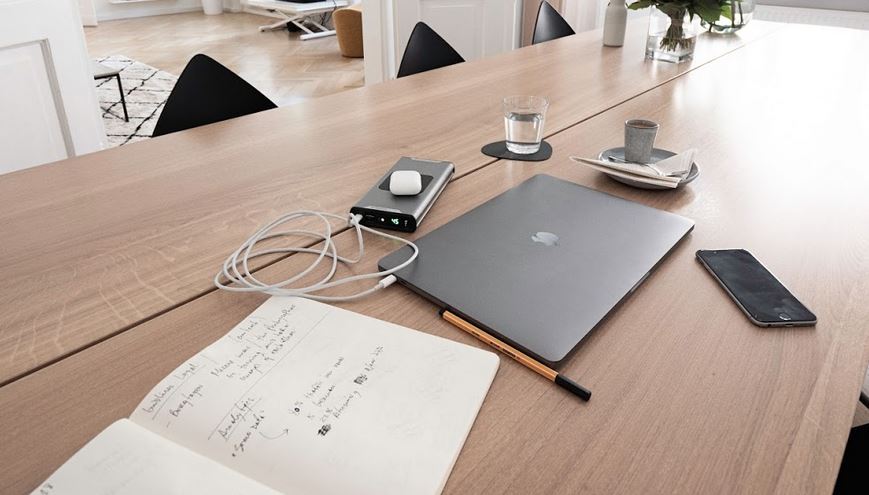 GadgetGuy's take – Sherpa 100PD – trust a Sherpa
We seldom comment on price – value is up to you to decide. As a power bank, it is most comparable to the Cygnett 2700mAh that at $179.95 is missing nothing but the Qi charge plate. I guess the 'street' pricing will determine value.
It is a very well-made device from a company that understands power.
QI pad adds value
Digital battery life readout
Can be left on charge – it knows when to fill up
2 USB-A ports or one for 3.4A charging