Best name ever! Seriously, can you think of a cooler brand name for headphones than Skullcandy? Well, now we're looking at the Skullcandy Indy true wireless earbuds. Not quite headphones, but are they still candy for your skull?
Skullcandy Indy Features
First, a confession. I have a soft spot for Skullcandy, quite apart from the name. Years ago, when the cable fatigued and failed in my favourite (wired) Yamaha earbuds, I went looking for an inexpensive replacement. Most sounded simply awful. But the $60-ish Skullcandy wired buds I purchased sounded respectable. Not great, but the sound was clean and reasonably balanced. Most of the others just about hurt my ears. So, take my pre-disposition into account in what follows.
The Skullcandy Indy true wireless buds come in the usual arrangement of the genre: left and right buds nestle in shaped nooks within the charger/carry case. The buds are shaped a little like those white ones from a certain well-known brand. But unlike those, they have silicon tips – three sizes are provided – so they conform to your ears, rather than demanding that your ears conform to them. This also helps seal in the bass. They also come with what Skullcandy calls "Stability Gels", which are small silicon wings or fins that wrap around the bodies of the buds and help lock them into place in your ears.
Each bud weighs 5.6 grams and the empty case weighs 48.5 grams. The case is only 30mm thick so it slips into a pocket without creating much of a lump. The buds are rated at up to four hours playback and they can be charged three times by the case for a maximum of sixteen hours.
The short rod protruding from each bud is capped with a microphone and two terminals for charging up the buds within the case.
Controlling the Skullcandy Indy earphones
The centre part of each bud is a touch-sensitive panel for controlling playback. One tap on the right one increases volume, one on the left reduces it. A double tap pauses and resumes playback and answers and hangs up calls. Tap and hold for power on and off. Tap and hold for a shorter time to skip forwards or backwards.
I didn't particularly like the double tap control method. Perhaps a third of my attempts resulted in a volume increase instead of what I wanted. You have to get the timing right and hit the right spot both times. Still, I expect one would get better with practice and that's a small trade-off for much more control than is offered by most buds.
Inside each bud is a 6mm driver. Skullcandy rates buds' frequency response at 20 to 20,000 hertz and their distortion at less than 3% at 1,000 hertz. They use Bluetooth 5.0 for connecting. There's no mention of higher quality codecs, so I expect the connection will be by means of the default SBC codec.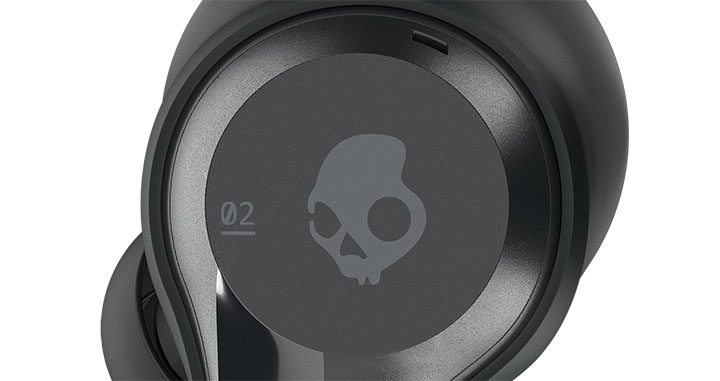 Setting Up
As is usually the case with these things, the buds were displayed separately within the packaging, not placed within the charge case. So, after a quick check to see which silicon tips would best fit my ears — the large ones it turned out — I put both buds in the case and plugged it into the power. It uses a Micro-B USB connection. After a little while I opened up the lid and noticed that a red light was lit on the rear of the right bud, while that on the left bud was not. I concluded from that that both buds had been supplied with a nearly full charge, that the left bud had by now been topped up but that the right bud still had a little way to go. Then I let them be for a few hours.
When I returned, the charge case was showing all three LEDs on the front lit. And neither bud had its red LED illuminated. Charging completed, I decided. I pulled out the buds, fitted them to my ears, opened up the Bluetooth connection menu on my phone and saw "Indy" there waiting. A quick tap and after a moment, the connection was made. But it wasn't complete. Only the right bud was working.
Seating things firmly
So, back to the case they went in order to switch them off; to reboot them. Then I noticed that the red light was on again for the right bud, but not for the left one. I started pressing the left one down harder into the case, and then its light came on as well. So, it seems, the buds had been near empty and an uncertain power connection had left the left bud uncharged. It still seemed a bit dicky whenever I put it in the case, with it sometimes taking a few seconds for the red light to come on. A firm blast of air into the sculpted nest in the case and a rub on the bud's contacts seemed to fix that.
After that, the power connection seemed to be quite reliable, but I also just got into the habit of pressing the buds in firmly and confirming that their indicator lights illuminated.
Getting the buds out was a bit tricky. Really, the only way to get a good purchase on them was to tug on the "Stability Gel". That tended to loosen it over time and at one point one of them just fell right off. I put it back, of course, but thereafter it seemed looser.
The Skullcandy Indy earphones are IP55 rated, so they'll be okay with your sweat and a bit of rain if you're out on a run.
In Use
Bluetooth 5.0 is reputed to offer a greater range. So, I put my phone on the usual rock in my garden and went for a walk. I was 65 paces away – let's say 50 metres – before there were any dropouts in any direction. That was up there with the very best Bluetooth earphones or headphones I've used.
In everyday use, there were very few dropouts. And those which I did experience seemed related to extraneous electrical fields. For example, there were a couple of locations around the outside of my usual shopping mall which caused all sorts of problems. Why there? I could see no ready source of interference. Within the mall, performance was perfect.
With phone calls the various people I spoke to seemed to understand me clearly enough.
Listening to the Skullcandy Indy earbuds
The audio performance of the Skullcandy Indy earphones was either quite good or very good, depending on how you want to look at it. On an absolute scale – without regard to price – the sound was quite good. There was a clear leaning towards an upper midrange emphasis, but it wasn't excessive. Importantly, it was nicely balanced by a surprising extended bass. That was delivered with real heft. Unlike some earphones, the bass wasn't overdone, but it was there.
That was clear on the likes of the group Primus and its album Pork Soda, in which the bass guitar does most of the lead work as well.
And all that made for an enjoyable, musical listen from the Skullcandy Indy earphones. The spoken word was also perfectly clear and coherent.
If you take price into account, the Skullcandy Indy earphones sounded excellent. You won't find many true wireless earphones at this price point able to perform in the same league.
Conclusion
I would have liked a little more work on the case, making it easier to properly seat the earphones and making it easier to get them out. But that aside, the Skullcandy Indy earphones were practical, and provide a good musical experience, all at a remarkable price.
As you might expect, the Skullcandy Indy true wireless earbuds are available not only from JB and Officeworks, but also from Billabong, Surf Dive 'n' Ski and Quicksilver. Oh, and also directly from Skullcandy Australia.
Positives
Very good value for money
Good sound quality with respectable bass
Negatives
A bit fiddly when placing in and removing from case