Speakers have to have a solid amount of punch to grab our attention, and usually yours, but the second generation of the Sonos Play:5 goes further, offering customisable excellent sound amidst multi-room awesomeness.
Features and performance
It might be normal for companies to upgrade their products on a yearly basis, but not every manufacturer feels the same need, and Sonos is one such group.
With its ranging being made up of less then ten products, one of the models that was initially introduced in 2009 is only now getting a second generation, and it's here in the Play:5 gen two, or just called simply the "Sonos Play:5".
While the name hasn't changed, the design has, with the plastic body getting a revisit to be slicker, brighter, and with more holes in the grill, looking cleaner across the board.
Even the logo gets a slightly different set of holes, and so no space is wasted, you find even tinier holes here to let more sound out. Woot.
The controls have also changed a bit, with the push buttons initially appearing on the unit replaced with touch buttons that ask you to lightly touch or swipe them to get a response, with the speaker sounding a chime every time you do so.
We couldn't find a way to turn this off, though given that you can switch the white LED found on top of the unit off, suspect Sonos could introduce a patch that changes this, too.
On the back, most of the ports we saw back in 2009 are still there, with wired Ethernet provided, one 3.5mm line-in port, and the single jug plug to power the speaker, meaning it's pretty easy to plug in and setup, and you don't need much space, merely a ledge, shelf, or table to hold the large speaker.
Inside the new Play:5, you'll find some upgraded technology comprising six Class-D digital amps working with three tweets and three mid-woofers.
Network support exists for more than just the wired Ethernet on the back, with 802.11b/g WiFi supported here, though if you have a Sonos setup already reliant on the Bridge and Boost network appliances for the Sonos mesh network, you can use that, too.
And then you just really need to get into the unit, and setting it up is a cinch.
Simply plug it in, load up the app, and if you already have a Sonos system, you're adding a speaker, with the connection being made in no time.
If this is your first Sonos speaker, however, you'll be creating one, and again, the app's simplicity and ease of use means this happens without too much effort. In fact, out of all of the multi-room products out there, the installation of the Sonos appears to have the least fuss, with a smooth and easy setup happening on iOS or Android, and there's even an app for both Mac OS and Windows, if need be.
With the speaker good to go, we need to get stuck into the sound, because that's the real reason you're checking out a review of the Play:5: how does it sound?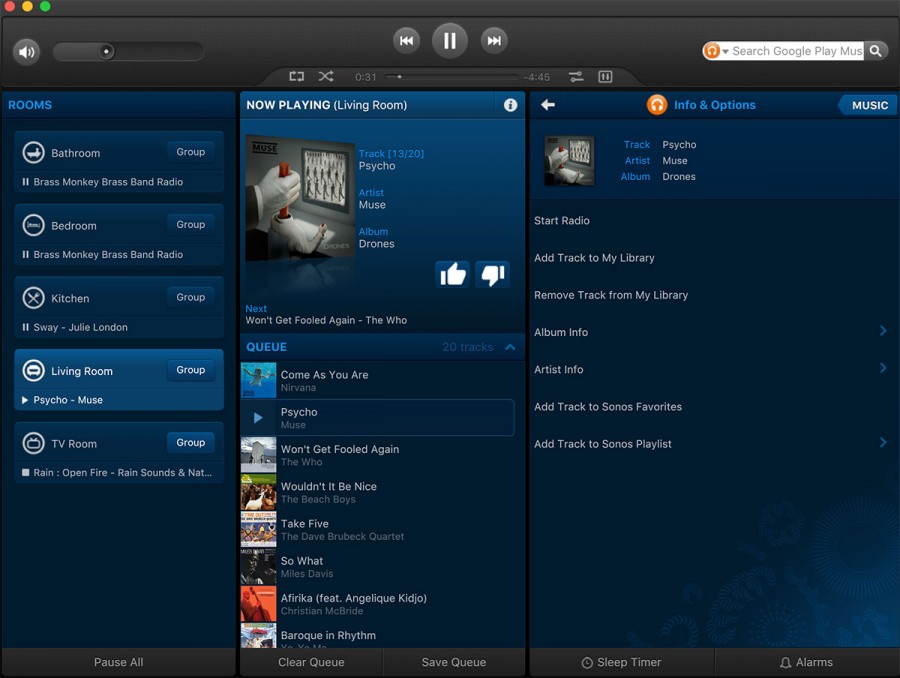 As usual, we're testing with GadgetGuy's sound test (the 2016 edition for this review), which you can listen to for yourself and play with on your product at home, and that has us start with the electronic sound of the Propellerheads, where the low sounds are a little warm and fairly loud, though the real strength is in the mids and highs.
After this, we get into some Imogen Heap, where the individual beeping tone of "Headlock" proves distinctive and clear across the mids and highs as they ring, until the chorus comes together and boosts both of these sections. Bass is a little less than we'd like at this point and feels like it needs to be tuned, though we'll keep going and see what happens.
In both the modern pop of Demo Lovato's "Cool For The Summer" and The Weeknd's "Can't Feel My Face", the bass is still feeling a little light, so at this time, we've opted to push it up a couple of notches.
It's a minor change, granted, but this slight difference has provided a deeper and more balanced bass, which we feel on Daft Punk's "Get Lucky" and Mark Ronson's "Uptown Funk", both of which demonstrate that this shift was the right thing to do to get the balance good and proper.
The solid sound continues in the R&B and soul with a warm "Billie Jean" (Michael Jackson), offering detailed vocals complete with more pickup of Jackson's finger-snaps, while the bass line and instruments offered up an almost vinyl-like sound.
The pop of Sara Bareilles and her recent track "Brave" revealed a solid attack with sharp vocals and instruments, and with the slight increase on bass we brought out of the EQ, found the balance of the track was good where ever we stood.