So many of the things we've written about at this year's CES have been 4K Ultra HD related that we're calling this the "Year of the 4K TV," and Sony is adding to that with more TVs and a Handycam that makes 4K family movies possible.
Expanding Sony's 4K TV range in 2014, the Bravia line-up will be receiving three new sets of TV models, with lots of telly choices jumping across several sizes to the other manufacturers producing Ultra High Definition televisions.
In the flagship range, Sony is releasing the X9500B TVs, bringing LED technology, Dynamic Range Pro for better colour, and a new backlighting algorithm to TVs in the 85 inch and 65 inch sizes.
Just below this is the X9000B series, which has a different version of Sony's Dynamic Range technology with Sony's Magnetic Fluid Speakers along the side. These TVs will come in a 79, 65, and 55 inch sizes.
And yet again, below these will be the X8500B, which will essentially be "entry level" 4K TVs, with 49, 55, 65, and 70 inch screen sizes.
We're not sure if the 4K Ultra HD quality will necessarily be something you can identify on a 49 inch TV, but at least it should bring the entry price down for this new standard.
Sony's "Peak Design" will also be used in select TVs, providing an almost thin mountainous design that expands at the bottom, making it possible to install large speakers and use them with slim TVs, all the while lowering the centre of gravity for the TV.
A camera will be joining these 4K TVs, too, a camcorder in fact that makes it possible for families and anyone else to shoot video for the Ultra High Definition TVs that are available now and later on.
Currently, content is a big problem for Ultra High Def TVs, as while Full HD Blu-rays, HD games, and standard definition DVDs and TV can be upscaled for the massive 3840×2160 resolution, there is very little native 4K content for playback on the insanely high resolution displays.
Last year, we saw that Samsung and Acer had given a couple of smartphones the ability to shoot 4K, but outside of spending big money on a RED camera, most people probably weren't going to make their own 4K videos.
Sony plans to change that this year with the FDR-AX100E, Sony's first 4K "Handycam" branded video camera, featuring an Exmor R CMOS sensor capable of recording 4K Ultra HD video and images through a 12x optical zoom lens, roughly equivalent to 29mm to 348mm.
A voice cancelling feature is also present to reduce speaking from behind the camera, but keeping as much of who you're recording in tact, with several neutral density filters making it possible to adjust how much light is coming into the camera, with control also provided to shutter speed and aperture, and even manual focus.
Sharing these videos can happen over WiFi and NFC, though 4K TVs will likely have to playback the videos with a supplied HDMI cable.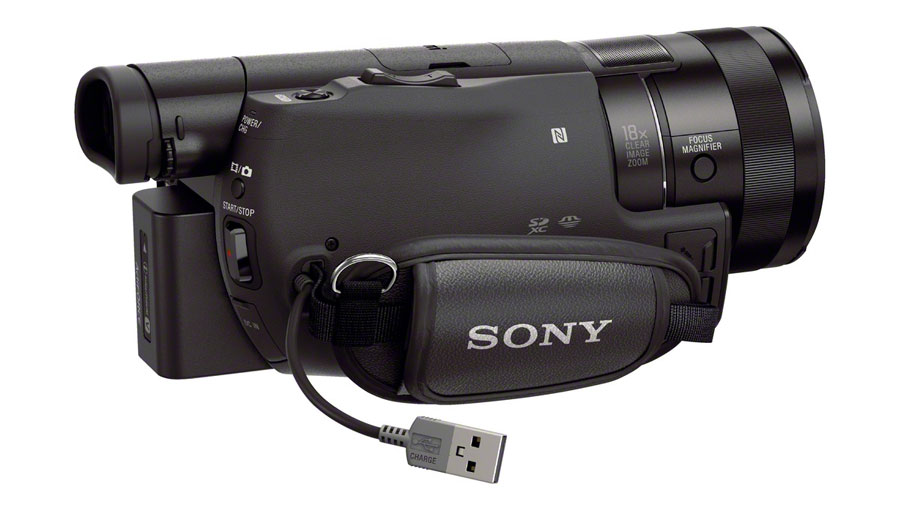 Pricing in Australia hasn't yet been announced for this one, though Australia will see the FDR-AX100E from May this year.
As for the TVs, we'll expect these sometime in the second quarter when manufacturers begin the regular TV and home theatre system changeover time, which is anywhere between March and May.