Forty megapixels. Or, more precisely, 42,177,408 pixels. That's the resolution of the Sony Alpha7RIII camera. Let's see if that makes a real difference.
My first real digital camera was an Olympus C-3030 Zoom. It cost something like $2,000 when I bought it some eighteen years ago. It offered 3.2 megapixels of resolution. It was so cool at the time. So sharp. Forty megapixels? Unthinkable.
Six years later I upgraded to a real DSLR, a 6-megapixel Pentax K100D. I have a general rule of trying to avoid upgrading technology until something has doubled: speed, resolution, whatever. Then I waited another eight years for my current camera, a 16-megapixel Panasonic DMC-GH4.
It has only been four years but were I able to afford it, I'd love to upgrade to the Sony Alpha7R III. As we will see, that 2.6x increase in resolution really does make a real difference.
Features
But first, let's check out some details on the Sony Alpha7R III. As the name suggests, this is the third version of the Sony Alpha7R. Like the last version, it features a full frame Exmor R CMOS sensor. "Full frame" means similar in size to a 35mm film frame. In this case, it's 35.9mm by 24.0mm.
Now, 42 megapixels is a lot of pixels, but since the sensor is fairly large, each pixel is relatively big. Compared to the GH4, for example, each pixel on this camera is more than fifty per cent bigger. And since it is back-illuminated, that allows each pixel to capture more light.
(Back-illuminated means that electronics and whatnot are on the back of the sensor, rather than the front. That way they don't impede the passage of the light.)
In most ways, the camera is identical to the Sony Alpha7 IIIwhich we reviewed a few months ago. See here.We were rather impressed. But this camera is even more impressive, but in mostways similar. For usability, check out that review. Both cameras are pretty muchthe same size and weight. The differences are:
42 megapixels versus 24.2 megapixels
A quad-VGA (1280 by 960 pixel) viewfinder versus an XGA (1024×768) viewfinder
Reduced battery life of 530 images versus 610 images when using the viewfinder
This one comes with a separate battery charger.
If you're a serious photographer, having a separate battery charger is important. You will want to have a couple of battery packs available at all times. And having to charge within the camera makes that very difficult.
But charging within the camera is possible, via both the USB Type-C and Micro-B USB sockets. Also on the side are sockets for HDMI, headphones, microphone and remote flash.
Sony Alpha7R III storage
With 42 megapixels and the ability to shoot RAW – each ofthose consumes 110 megabytes of storage! – youneed plenty of storage. There are two card slots, both compatible with SDXCmemory cards. One also supports various Sony Memory Sticks. The other supportsthe higherspeed UHS-II bus, so with the right card,there'll never be a storage speed bottleneck.
Video? Of course, up to UltraHD (3,840 by 2,160 pixels) at 30p. Also, 24p and 25p. And FullHD at up to 120p for some cool slow motion. There are a near unlimited number of picture functions. Anything you'll want to do in-camera you can do.
All that said, this camera really is aimed at still photographers rather than videographers. As far as I could work out, it doesn't support stop motion or time-lapse video creation.
Taking photos
With this camera, judging things like depth of field are very natural to experienced 35mm photographers. The internal geometry of this camera is kind of similar. But not exactly, since this is a mirrorless camera. That means the rear end of the lens can sit closer to the sensor, there being no hinged mirror in the way. With the supplied f/2.8 lens, shooting with a shallow depth of field is very easy.
But shooting with a tight aperture and relatively deep in-focus field is also straightforward since very high ISO ratings are available.
The downside of a full frame camera is size. Not so much the size of the camera itself – the body of the Sony Alpha7R III isn't much larger than that of my GH4 – but the lenses. Sony provided a couple: a 100mm prime and the FE 2.8/24-70 GM zoom. Because the latter has a maximum aperture of f/2.8 across the range, this is a large lens. The filter diameter is an impressive 82mm.
The length of the camera was more than 190mm with this lens attached. The weight was 1.55 kilograms. I confess: there were some photo opportunities involving travel where I left this camera behind, simply because it was too big for my carry-on and too expensive to risk in checked luggage.
Don't equate "mirrorless" with "compact".
That said, it was a delight to use. Again, it was similar inalmost all respects to the Sony Alpha7 III. So read about that there.What I'm going to (ahem) focus on here are the virtues of the 42-megapixel sensor.
42 Megapixels
I went wandering around the neighbourhood with the Sony Alpha7R III camera fitted with the 100mm lens. I'm used to a 600mm equivalent telephoto for taking bird photos. With the 100mm lens, my subjects were tiny. You just can't very close. Consider for example these two shots:
But with the resolution on offer here, you can just crop them down. That I did:
Lots of megapixels effectively extend the reach of your camera. I mounted the Sony Alpha7R III on a tripod and shot the Australian War Memorial from the south side of Lake Burley Griffin. I used the zoom lens with a focal length of 50mm, and I chose a f/13 aperture to provide accurate focus at all depths. You can see the War Memorial, can't you? It's there, right in the middle.
I switched over to my GH4 and took the same scene with the lens set at 25mm (which is 50mm equivalent) and again with an aperture of f/13. When I got back to the office, I cropped both shots down to 600 pixels wide. Here's what the 16 megapixels of the GH4 yielded:
And here's what the 42 megapixels of the Sony Alpha7R III yielded:
Say no more.
Big Pixels
So how about low light performance? I did take the camera to Taiwan a couple of months ago. Late evening there were a bunch of bronze kids "running" in front of a new apartment block. In Auto mode, the camera wound up the ISO to 4000. The result was sharp, yet smooth and minimal noise in the picture.
Same city, same evening. Here the camera chose a rather high ISO of 12,800, thereby keeping the shutter speed up at 1/160 second. That let me take a decent shot hand-held. The full frame looks nice: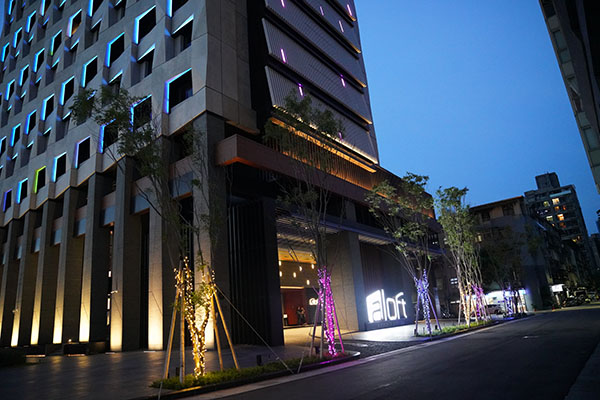 It's only when you zoom in to some of the detail that you see a light sprinkling of noise. But do remember, each of those pixels of noise is so tiny, that in most cases you'll never see them.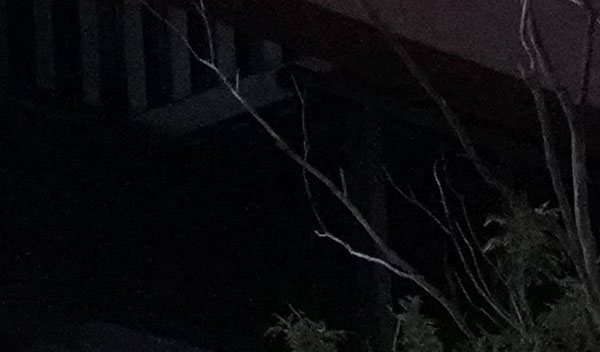 Transfers
Sony says that the USB Type-C port on the camera is "SuperSpeed USB (USB 3.1 Gen 1) compatible". I briefly got excited. I plugged it into my computer and dragged a set of 405 images, amounting to 4.13GB, over to it. It took 3 minutes and 13 seconds, for a transfer speed of almost 22MB/s.
That was disappointing. The UHS-II card in the camera is rated at 300MB/s read speed. I popped the card into a Lexar UHS-II card reader. The same photos copied across in just under 20 secondsfor a transfer speed of 213MB/s.
But there is one nice feature of in-camera transfer facilities. It organises the photos into virtual folders based on date. If you're using a separate card reader, all the photos are just in one giant folder. Or, at least, the 1,800-odd photos I've taken are all in one folder. The dated folders make for a useful first level of organisation.
Conclusion
Really, it's hard to see how a still camera could be any better than the Sony Alpha7R III. The thing is superb. Just remember, it'll typically be a bit of a lump to carry around. The site for the Sony Alpha 7RIII is here.
Superb picture quality
Resolution to burn
Twin card slots
Large and heavy (with lens)
Few trick modes (e.g. time-lapse, stop motion)